In a recent report, JPMorgan downgraded shares of Western Digital Corporation (NYSE:WDC) from Overweight to Neutral and reduced their price target from $105.00 to $92.00. The downgrade was driven by Western Digital's soft EPS guidance for the upcoming quarters.
While Western Digital has struggled due to weakness in the PC market, I think the concerns have already been priced in as the stock is down nearly 20% YTD. The company is making smart moves to drive growth from non-PC segments, which is why I think it is a great buy on the pullback.
Solid State Drives market is growing
The global demand for spinning-disk hard drive is falling at a rapid pace. On the contrary, the demand for Solid State Drives is increasing substantially, and with the reduction in cost per GB this trend is expected to continue. By 2016, the market is expected to be valued at over $20 billion. According to iSuppli, unit shipments of SSDs are expected to reach 239 million, holding about 40% of the hard disk drive market.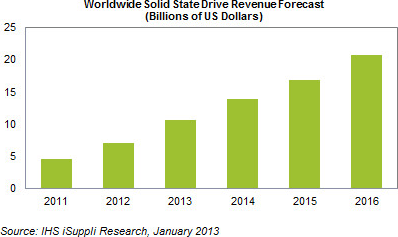 Western Digital has a solid presence in the SDD market thanks to several acquisitions that it completed in 2013. The company acquired SSD maker sTec, enterprise flash storage company Virident Systems and storage optimization software company Velobit in 2013 to expand its presence in the SDD market. The company's initiatives have paid off nicely as Enterprise Solid State Drive segment revenue jumped from $134 million in the year-ago quarter to $244 million. Given the expected growth of the SDD market, Western Digital's increasing presence will act as a long-term tailwind.
Active archive systems is a significant tailwind
Active archive systems for unstructured data storage and retrieval can also act as another long-term growth driver for Western Digital. Unstructured data is growing at fast pace and by the end of 2020, the digital universe will have over 44 trillion gigabytes.
According to an IDC report, last year, roughly 90% of data storage needs were for unstructured data. As part of its vertical integration and growth plan, and to pursue growth through active archive storage market, Western Digital acquired Amplidata, an essential building block for active archive systems. The company said:
"Amplidata's Himalaya software is a versatile platform for massively-scalable, secure and flexible storage services and solutions. It allows customers to store and manage exabytes of data and trillions of stored objects, representing an exponential leap in scale that anticipates rapid growth in customers' appetite for highly durable and available storage."
During the quarter, the company shipped its first active archive system, a new category of high value-added archival storage product. The system delivers 4.7 petabytes (PB) of raw data storage in a single rack. This active archive storage market, valued at approximately $15 billion this year, is projected to grow to $22 billion by 2017. So, the acquisition of Amplidata bodes well for Western Digital and can benefit the company in the long-run.
Enterprise storage market is important
Technavio's analysts forecast that the video surveillance market will grow at a CAGR of 14.63% over the period 2014-2019. This provides an excellent growth opportunity for Western Digital. The company is looking to make the most of this growth as it recently released four new models of high-performance NAS systems for the SMB space, especially for the fast-expanding surveillance video recording market.
For the Enterprise space, the company launched the new Ultrastar MPME solutions that address the industry's transition to standards-based PCIE solutions. Western Digital surpassed 1 million helium hard drive deployments and is now ramping up the new eight terabyte helium PMR sealed drives.
Final take
Western Digital has been struggling over the last few months as the stock is down roughly 20% YTD. The company posted weak quarterly results, and the guidance for the next quarter also is soft. It's clear that macroeconomic headwinds and a decline in PC sales has taken its toll on Western Digital.
However, the company is making the right moves to offset this downturn. The company has made good moves in the non-PC segments and also is expanding exposure to the small and medium business space. I believe most of the concerns are already priced in the stock. Also, the current valuation doesn't take into account the robust enterprise and cloud demand where Western Digital is upping its game.
Western Digital currently trades at 13x trailing earnings and has a forward P/E of 10.8. This is cheap as I believe the headwinds have already been priced in present value. In addition, the company also has a strong balance sheet with cash of $5.04 billion vs. debt of $2.34 billion. Western Digital's acquisitions have been successful, and the company certainly has the cash to acquire more companies to propel growth. I think Western Digital is a strong buy on the pullback.
Disclosure: I/we have no positions in any stocks mentioned, and no plans to initiate any positions within the next 72 hours.
I wrote this article myself, and it expresses my own opinions. I am not receiving compensation for it (other than from Seeking Alpha). I have no business relationship with any company whose stock is mentioned in this article.