German economic activity is slowing, alongside weakening sentiment, weighing on the euro. The euro currency is represented by CurrencyShares Euro Trust (NYSEARCA:FXE).
In June, the IFO economic sentiment figure came in at 107.4, below the previous month's reading of 108.5, while also missing estimates for 108.1. A reading above 100 signals optimism. Economic sentiment has trended downwards in 2015, seen below. Geopolitical risks in the euro area have weighed on sentiment in the region.
"Greece and its creditors have hardened their stances after the collapse of talks aimed at preventing a default and possible euro exit, prompting Germany's EU commissioner to say that the time had come to prepare for a state of emergency.

External factors such as the doubts over Greece's future and the global economy's restrained dynamic were limiting the opportunities for Germany's good economic situation to pick up further," according to the Star.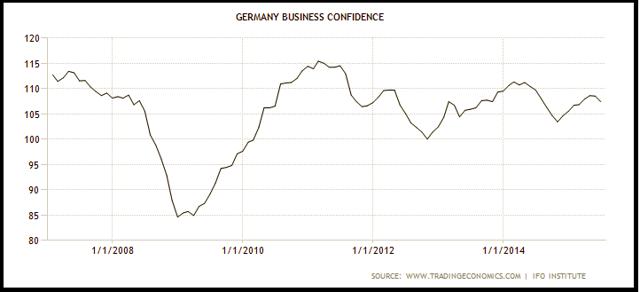 Moreover, German manufacturing remains stable, but lacks upside acceleration. In June, the manufacturing PMI figure came in at 51.9, above the previous month's reading of 51.1. A reading above 50 signals expansion. The manufacturing measure has trended around 50 for much of the last year, seen below. Factory activity in Germany is signaling a potential slowdown in the overall economy.
"The latest flash PMI readings paint a mixed picture of the health of Germany's private sector economy.

While companies reported that output rose at a stronger rate than in May, the latest increases in new business and employment were only slight and suggest that activity growth may slow again in coming months," according to FX Street.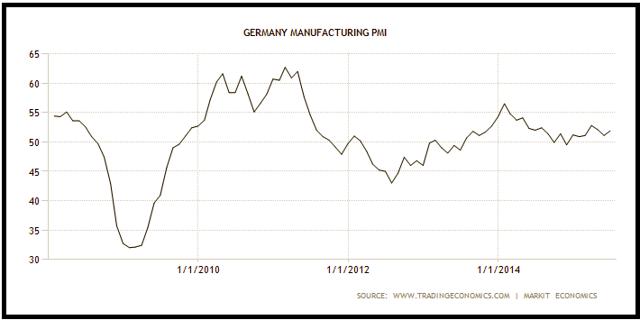 Finally, as was stated earlier, economic activity has been hampered by both lower sentiment and limited factory output gains. In the first quarter, the economic growth figure came in at an annual pace of 1.1%, below the previous month's reading of 1.6%, while exceeding estimates for 1.0%. Economic activity has trended below 3% since 2011, seen below.
Pockets of weakness in Germany are holding back economic growth. Economic sentiment has slowed because of geopolitical strife in the region with Greece. Additionally, low manufacturing output is weighing on overall economic activity. As Germany's economy weaken further, investor sentiment in the currency bloc will be negatively affected, weighing on the strength of the euro.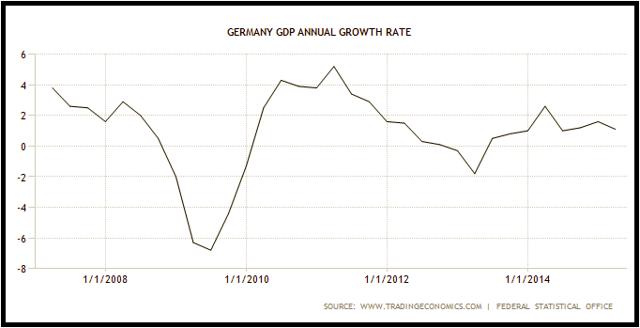 Disclosure: I/we have no positions in any stocks mentioned, and no plans to initiate any positions within the next 72 hours.
I wrote this article myself, and it expresses my own opinions. I am not receiving compensation for it (other than from Seeking Alpha). I have no business relationship with any company whose stock is mentioned in this article.