After news broke on June 24th that Turtle Beach (NASDAQ:HEAR) struck a deal to work with AuDConnex, a hearing aid buying group with access to over 300 members, in regards to the company's HyperSound Clear line of products coming online this year, shares of the enterprise soared nearly 35% to close at $2.80. In spite of this increase in share price, however, the company's stock is still trading about 72% below its 52-week high, signaling that shares could move higher still. While this is certainly a possibility, is it something that investors should take a chance on when the business appears to be dying a slow death?
Times have been hard for Turtle Beach
Over the past three years, revenue reported by Turtle Beach has been hit somewhat hard. Between 2012 and 2014, the company's sales dropped 10.1% from $207.14 million to $186.18 million. Much of this decline in sales, according to the company, appears to be related to its headset business, which makes headsets for the gaming industry. Despite the fact that Turtle Beach makes branded products under the Sony (NYSE:SNE) Playstation platform and under the Microsoft (NASDAQ:MSFT) Xbox One platform, both companies have introduced their own products to compete with Turtle Beach's. Even after this decline, however, management still claims to have a roughly 46% market share of the $350 million U.S. market for headsets, far larger than any other player in this space.
On the bottom line, times have been even worse. Over the same three-year period, the company's net income fell from a gain of $26.46 million to a loss of $15.49 million while its cash flows from operating activities dropped from a gain of $6.98 million to a loss of $14.83 million. In addition to being hit by declining revenue, the company's bottom line has been hurt by an increase in core costs, along with a jump in interest expense and in stock-based compensation (though the latter is a non-cash item).
During its most recent quarter, the picture worsened in terms of revenue and earnings, with sales falling to $19.69 million, down 48.6% year-over-year, and with its net loss nearly quadrupling to $10.59 million. Fortunately, however, the picture did improve somewhat from a cash flow perspective, with cash from operating activities nearly doubling from $8.90 million to $17.68 million.
But things are looking up
Aside from the most recent quarterly cash flow data reported by management, the overall picture for Turtle Beach looks dismal. At this point, I was about to push the company off as a failure but then I found something interesting; its HyperSound operations. As you can see in the image below, HyperSound is a technological innovation owned by the business that allows users to be surrounded by what management refers to as "3D Sound". By directing sound via an ultrasound beam to a specific location, the company can, within reason, focus and control sound in a variety of settings. The company utilized this technology last year to set up Activision Blizzard (NASDAQ:ATVI)-branded Call of Duty: Advanced Warfare kiosks in approximately 1,000 Best Buy (NYSE:BBY) locations creating, in effect, virtual reality display zones in an effort to promote the new games.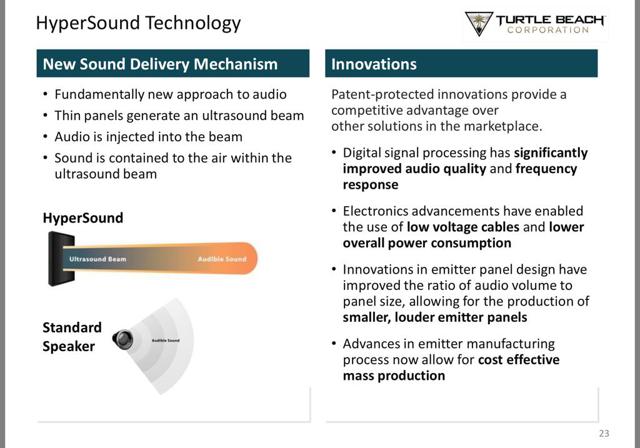 At first glance, this may not seem like a big deal until you realize that there are many other applications for this technology. Perhaps the biggest is the hearing-impaired market where an estimated 48 million Americans and 360 million individuals globally have hearing issues. On top of having a big market, HyperSound received FDA clearance as well, making it a viable product line that can cater to this underserved market. Of course, management does not expect to capitalize on this market immediately. As you can see in the image below, the company intends to spend much of 2015 developing additional products using HyperSound technology before launching a wide array of consumer-oriented products utilizing the technology throughout 2016.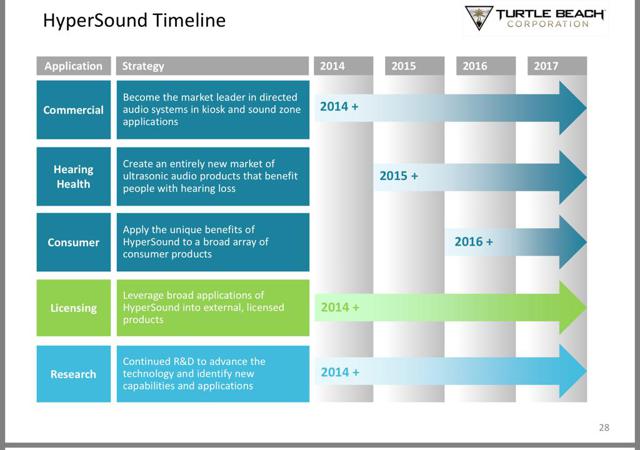 Takeaway
Right now, the fundamental picture for Turtle Beach looks terrible and the situation only appears to be worsening, especially as its headset operations are on a nasty decline. In most cases, I would write off a company like this as one doomed for failure but its HyperSound technology intrigues me. While I suspect that this year and some of next year will be challenging for the business, I believe that the value proposition for HyperSound is promising. For this reason alone, although I haven't pulled the trigger yet, I'm very much considering taking up a stake in this enterprise.
Disclosure: I/we have no positions in any stocks mentioned, but may initiate a long position in HEAR over the next 72 hours.
I wrote this article myself, and it expresses my own opinions. I am not receiving compensation for it (other than from Seeking Alpha). I have no business relationship with any company whose stock is mentioned in this article.