In following The United States Natural Gas ETF, LP (NYSEARCA:UNG) and VelocityShares 3x Long Natural Gas ETN (NYSEARCA:UGAZ) in an effort to track and trade natural gas I've come to one overwhelming conclusion. One that I can't figure out.
The numbers just don't add up - natural gas, nothing about it adds up.
Take for instance the increased production guidance from 18 of the largest Appalachian natural gas producers which also happens to include 8 of the 12 largest US natural gas producers - including marquee names like Exxon Mobil (NYSE:XOM), Chesapeake Energy Corporation (NYSE:CHK), Anadarko Petroleum Corporation (NYSE:APC), and Southwestern Energy Co. (NYSE:SWN). This group, via SEC documents and conference presentations, expects to increase production in aggregate on the full year (estimated) by an additional 9.2% from expectations just 30 days ago.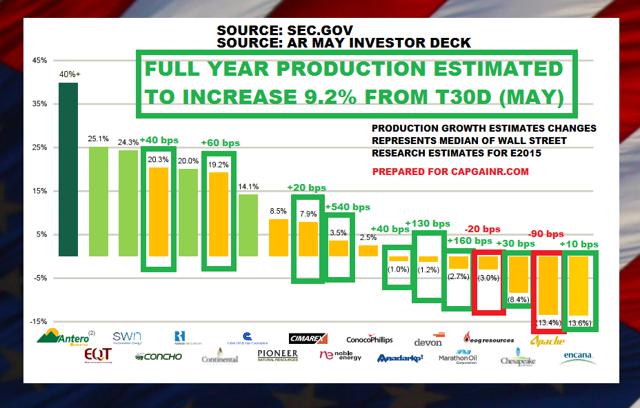 That's a large amount of inflow when you're talking about the top-end producers. This isn't exactly "little E&P" here, these are the brand names.
But is this even possible? And if it is at what cost and at what permanent cratering to the E&P landscape?
Before going further, it should also be noted that from my analysis of SEC documents, transcripts of presentations, and investor decks that 6 of the top 12 Appalachian producers and 5 of the top 12 US producers have either mentioned that they're waiting for higher pricing at year-end to ramp production with the flexibility to hold production flat based on pricing; are actively defensively postured (encompassing the entire spectrum of defensive mechanisms - mechanisms like pressing on suppliers, servicers, contractors, etc.); and/or are divesting assets (I've covered many of these names individually here at Seeking Alpha). These names include Cabot Oil & Gas Corporation (NYSE:COG), EQT Corporation (NYSE:EQT), and Range Resources (NYSE:RRC).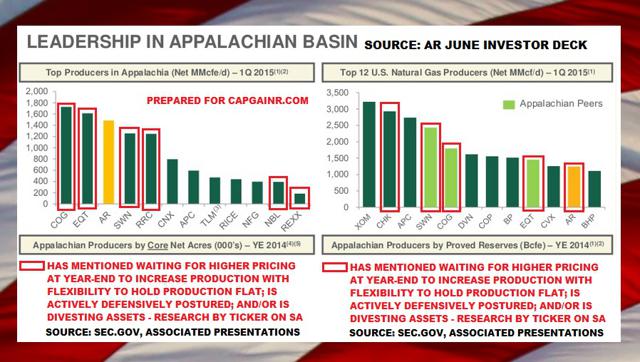 So is this possible?
Can everybody in the space continue to produce at higher levels, as all have guided either flat or increased production from Q1 production rates (if annualized - some, like Antero Resources (NYSE:AR), have guided lower Q2/Q3 production with a ramp into year-end while others, like Ultra Petroleum (NASDAQ:UPL), have guided a likely increase to production during Q2/Q3 with possible decrease into year-end) with not a single name I cover guiding for reduced production?
Again, I just don't see how.
First, without a hellacious end to summer there likely isn't going to be a massive uptick to natural demand heading into ~Q4. That means that pricing, all things being the same - or worse, with production increasing, is likely heading lower. Which, by the way, still wouldn't matter to the E&P space if the E&P space collectively was well hedged heading into year-end (some are) and/or had the balance sheet capacity to not permanently impair themselves by doing just what has been promised.
So, do they collectively have this? And if they do are the economics close enough to breakeven that holding production at least flat inclusive of production declines from aging wells can actually be a strategy? I don't think it is. By the way, even if both of the above conditions were met with no increase to demand an increase to supply would simply beat the price down further making the conditions even harder to hit. This is how commodities work on the downsides. The cure for low prices, some have said, is low prices as this stops production (at some point).
Now, let's tie up all these loose ends.
First, let's assume there will be no hellacious end to summer. If there is, natural gas pricing will take care of itself and this article is a complete waste of time.
Now, operating under that assumption let's take a look at breakevens for plays and let's remember that crude and brent are trading between $60-$63 and spot natural gas (NYMEX) is trading at $2.81: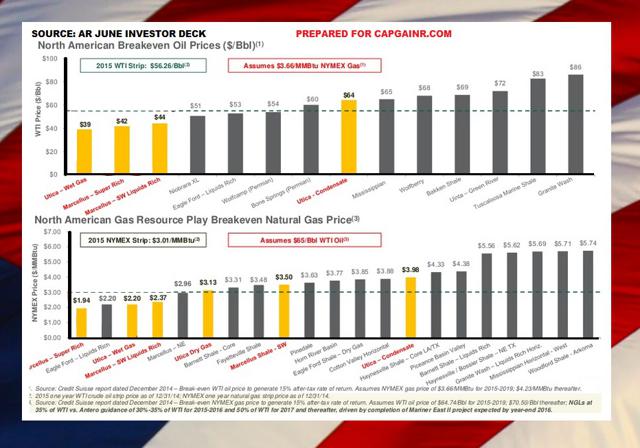 If you focus on the bottom half of the graphic what this data shows is that to get a 15% after tax rate of return (and please keep in mind this data is based off 10-K filings so it may be slightly inaccurate when factoring in service, supply, contractor, and operational cost cuts realized since then) using $3.01 as a spot natural gas pricing and $65 oil pricing a large majority of the natural gas plays are not above breakeven. At least for that 15% return. Again, this data is being highly accommodative and assuming higher than current spot oil and natural gas pricing.
By the way, you won't find a single investor deck or conference presentation where an E&P manager 1) admits to this being the case - the breakeven data, and 2) would say that is an acceptable return. You just won't. Further, if you look at the top of the data you'll see that the oil plays are in no better shape. But I've already spent plenty of time detailing my oil volume thesis so I won't waste time or ink reiterating it here.
That said, from an oil standpoint - because there is a large amount of natural gas created as a byproduct of oil production it is worth further noting that oil plays are largely uneconomic (again taking into account the data might be slightly inaccurate on a case by case basis for the factors mentioned above):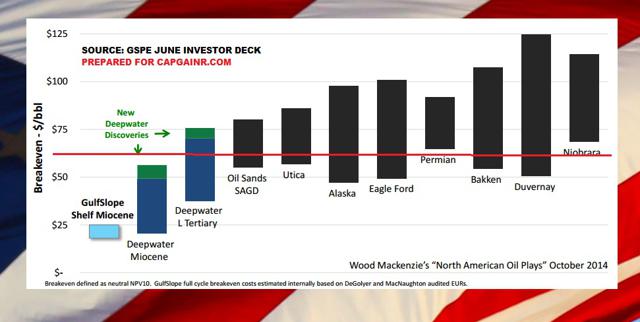 As a final point on economics, the Cash Return on Cash Invested (assuming $50 brent, $47 WTI, and $3.06 Henry Hub - we're considerably above the oil assumptions but below the gas assumptions) gets considerably worse the more dependent a player is on natural gas: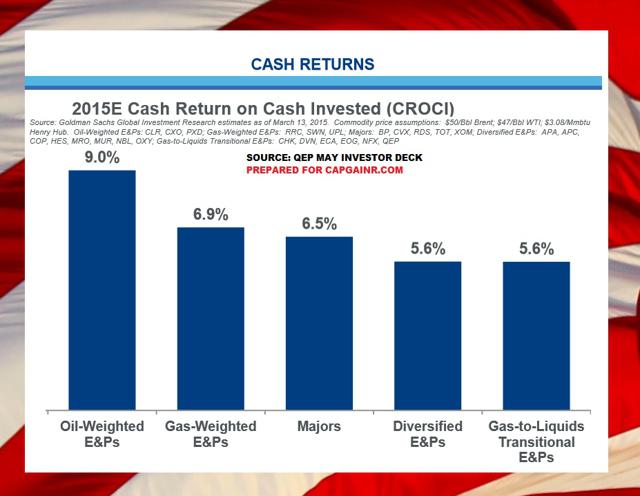 So, now that we know that the plays aren't currently economic to a point that makes them easily pursuable this must mean, based on the production guidance updates we're being spoon fed, that the E&P space has the balance sheet strength and/or hedging protection to hold the line (which we've already established means greatly accelerate production starting in about November just to offset first year well production declines dating back to the initial activity curtailing caused by the commodity pricing collapse of 2014) - right?
Not exactly: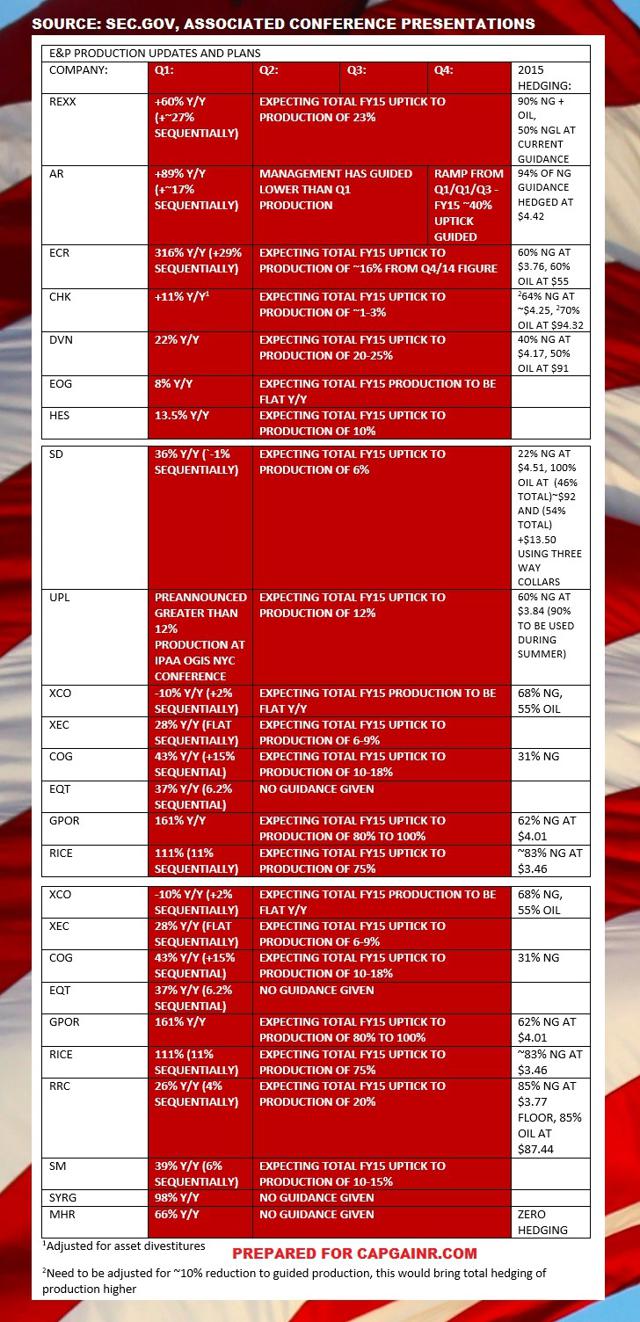 This list (as of Q1/15 reporting) is too comprehensive to breakout one by one BUT if you view the column to the far right you'll see that while there are some players that have ~80%/~90% hedging at prices that are worth mentioning there's quite a bit on this list with ~20%/~30%/~40% hedging. Regardless of pricing, those levels just don't qualify as justifying the medicine E&P Management (collectively) is trying to get me to take.
So, collectively, let's assume hedging isn't going to come to the rescue for the E&P space. I would think that a reasonable assumption to make based on the data I've collected.
Ok, well that still leaves us debt…right?
This is the wildcard.
I think the answer is no but it could very well be yes with if the banks and institutions that facilitate lending to this space continue to be absurdly accommodative (see: Magnum Hunter Resources (MHR) for my thoughts on how and why this happens). If this is the case, here's what the top 12 US natural gas producers will look like from a net debt standpoint (extrapolating out minimal improvements to pricing - improvements that they collectively would push lower as a result of holding production levels into lower pricing) out to full year 2017: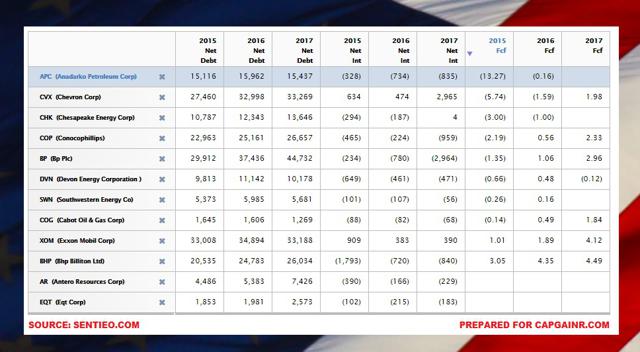 Yeah, it isn't pretty.
The free cash flow figures aren't exactly a rosy indicator either. Again, these are assuming mean reversions for pricing of both oil and gas and a holding of current cost structure which likely wouldn't be the case assuming pricing reverts. There's no way service providers, contractors, etc., would continue to operate in the deep red economics they are should pricing actually improve.
My point is, while debt is an option to keep the game of musical chairs going I just don't see it being very realistic for a long duration.
To keep this article at a readable length I'll conclude it here but I will ask one final question - how can energy firms, smart ones, and how can E&P management continue to ask us to believe something that doesn't add up?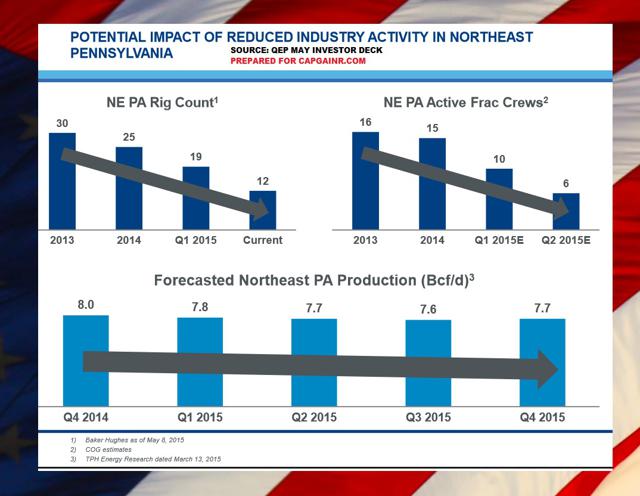 The better question would be what happens to UNG and UGAZ pricing when the broader market realizes that, like with oil, natural gas can't support higher volumes at flat pricing?
For oil, that meant higher pricing and a continuing precipitous lower supply. Even as oil supply (read: volumes) have come down and pricing has gone up we continue to see oil E&P under pressure and without reason or ability to increase guidance or realized production.
What makes natural gas so different?
I don't believe anything does and I believe the data in this article supports that.
I continue to recommend a long position in UNG and UGAZ.
Good luck everybody.
Disclosure: I am/we are long UGAZ, AR, UPL.
I wrote this article myself, and it expresses my own opinions. I am not receiving compensation for it (other than from Seeking Alpha). I have no business relationship with any company whose stock is mentioned in this article.
Additional disclosure: The author has a UGAZ core holding cost basis of $2.34. The author trades UGAZ intraday daily while holding a core position.