It was reported that US personal consumption jumped by 0.9% in May from April, following a gain of only 0.1% in the previous period. It is the biggest monthly increase since August of 2009. However, the spending was clearly a shift out of savings as the May savings rate sank to 5.1% from 5.4% the month before.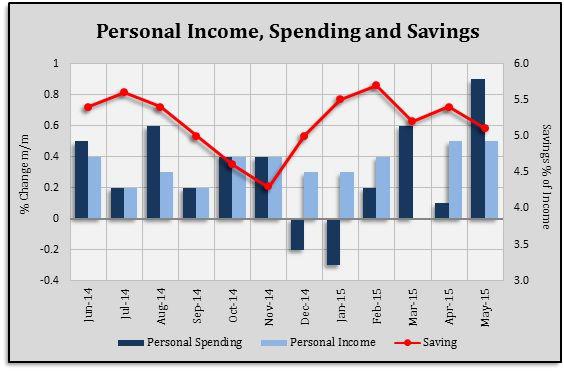 While macro data continues to be the major driver of the markets today, there were some noteworthy items on the economic calendar today. Firstly, there is more good news in the labor markets as weekly jobless claims remained steady at historic lows in the week of June 20th with claims showing a small 3,000 gain to 271,000. This managed to move the 4-week average down by 3,250 claims to a level of 273,750 which trading slightly lower than at the same time last month. Continuing claims are also close to historic lows despite ticking higher in the week ended June 13th. The number of continuing claims for that week rose by 22,000 to an annual rate of 2.247 million, and led the 4-week average up 5,000 to 2.237 million. Ultimately, this is a bit disappointing since the 4-week average is slightly higher compared to a month ago. As the claims levels approach multiyear lows, it seems as though the numbers cannot drop any lower. Nevertheless, the most encouraging component of this report is the lack of special factors to skew the data, so if conditions remain constant this would be very good news for the June employment report out next week.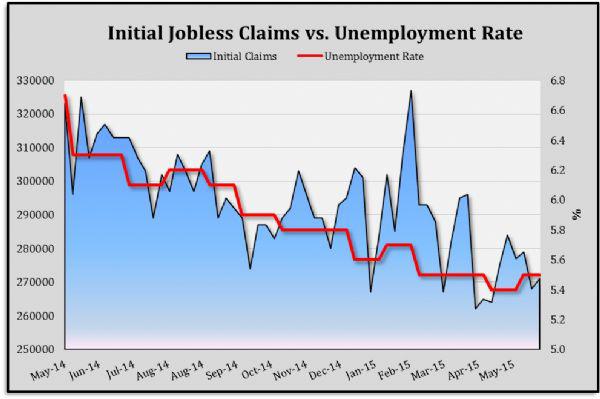 Additionally, Markit gave its June flash reading for the non-manufacturing, or services, sector. The services purchasing managers index (PMI) for June was down sharply to 54.8 from 56.4 in May, for the second lowest reading this year. Instead of rapidly growing in the spring season, new orders and shipments are among the slowest movers this year. The optimism index is naturally down, with the 12-month outlook sinking to below-average levels. Hiring remains solid, but is still at the slowest rate so far this year, primarily due to a shortage in skilled workers, which is pushing out lead times for staff placements. This report is actually quite a surprise as it suggests that June will be a disappointing month for the economy and an extension of the May slowdown. Markit showed a similar slowdown in the manufacturing sector, however other economic reports are telling a completely different story. Ultimately, it's far too soon to panic over these figures in the services sector.