Fannie Mae (OTCQB:FNMA) and Freddie Mac (OTCQB:FMCC) are currently operating in the context of conservatorship where every dollar they make goes to US Treasury's General Revenue Fund and as such these securities are speculative in nature. In fact, if this continues in perpetuity, the shares are worthless. Meanwhile, Fannie and Freddie continue to support the housing financing market in America.
D.C. Circuit Court Case Filing Now In Question
On September 30th, 2014 Judge Royce C. Lamberth granted the defendants' motion to dismiss multiple lawsuits that claim the third amendment net worth sweep is illegal. Included in the defendants' filings was a written testimony by Mario Ugoletti signed under the penalty of perjury on December 17, 2013: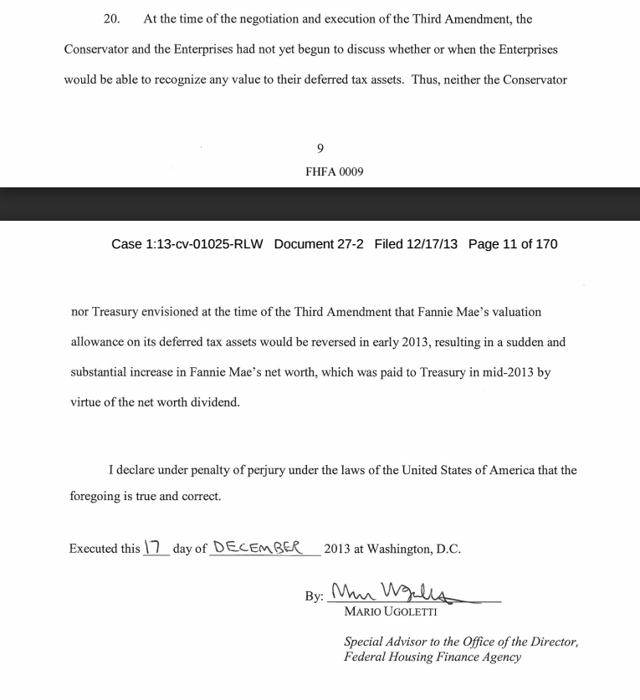 The plaintiffs have appealed this ruling and we expect a ruling sometime in Q4 of this year.
Court Of Claims Filing Calls Into Question Evidence Submitted By FHFA In The District Court
Plaintiffs have filed to remove the "protected information" designations from the depositions of Edward Demarco and Mario Ugoletti. Right now, these depositions cannot be used in the D.C. Circuit but the idea is that they can be if this motion is granted: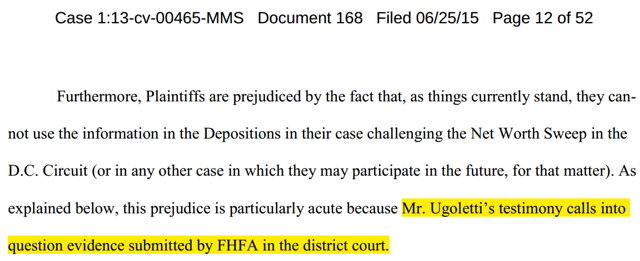 Analysis of Ugoletti Deposition As It Applies To Claims Made in DC Circuit Court
From the filing we can discern that Ugoletti worked on behalf of Treasury to draft and FHFA to amend the PSPA and DeMarco spoke to the government's long-term plans for the conservatorship. Ugoletti worked on the PSPA as a Treasury official and as a FHFA official:
Mr. Ugoletti was a Treasury official at the time that Fannie and Freddie were placed into conservatorship and was a FHFA official at the time of the Net Worth Sweep; he worked on matters related to the Preferred Stock Purchase Agreements ("PSPAs") in both positions.
We now know what Ugoletti talked about during his deposition: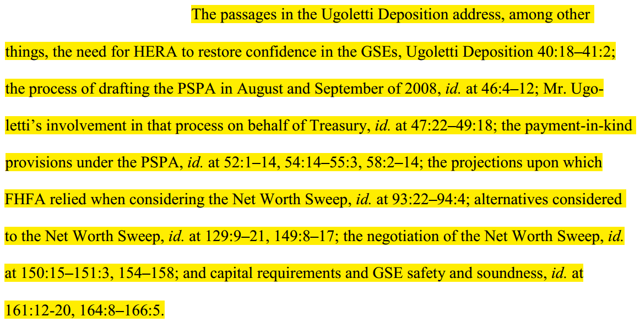 This Information Is Useful And Should Not Be Protected

The argument is made to make these depositions available for use in the D.C. Circuit court because the deposition does not contain "Protected Information."

The Kicker - What Appears to be a Redacted Declaration
Although we can't see this section because it is redacted, it appears to be a declaration that was not filed under seal and is not subject to a Protective Order. We can presume that this is from the deposition itself. What we do know is that not granting this order permits the Government to provide different facts to different courts and the primary facts provided to the D.C. Circuit suggest that Fannie and Freddie would not generate earnings exceeding Treasury's 10% dividend.
It would appear that behind this redaction is a declaration suggesting the opposite: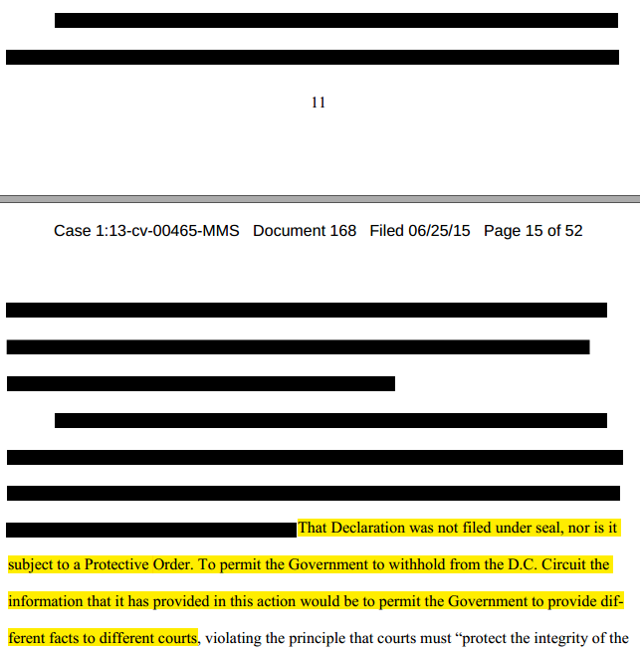 This should not be a surprise, because this intent shows up in Government Memos as early as December 12, 2013:

Summary And Valuation
Legally FHFA is supposed to be an independent federal agency. Ugoletti worked as an official for Treasury to create the PSPA and he worked as an official for FHFA to amend the PSPA. If his deposition is made available and used to reverse the third amendment Fannie and Freddie are worth upwards of $20 in the event that the warrants are dilutive to common shareholders.
If Judge Sweeney does not grant the plaintiff's motion, the Appeals case in DC Circuit could still result in a win for the Plaintiffs albeit it would be nice to have a deposition that undermines their earlier claims. For the most part this is a timing issue. The appeals process will likely come to a conclusion in Q4 of this year whereas a Claims Court ruling by Judge Sweeney isn't expected for at least a year if not longer.
A Court of Claims victory for the Plaintiffs may or may not nullify the warrants and it may or may not result in them being partially or fully exercised as part of a recapitalization plan. In the event the warrants are fully cancelled the stock could be worth as much as 5x as much as if they weren't cancelled.
More recently the accounting practices have been brought into question and may accelerate shareholder returns if the financials are retroactively restated. It's no surprise that recent legal filings are looking to remove the "Protected Information" Designation from Documents Produced by Deloitte, Fannie Mae, Freddie Mac, and PricewaterhouseCoopers likely relating to a new push for an accounting restatement. The filings are sealed with responses due July 13, 2015: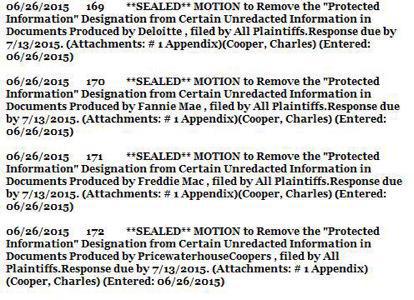 I can't find a good counterargument otherwise - Treasury can't use an argument to its advantage on the front end and ignore its existence on the back end. Internal accounting documents are the winning ace. I rest my case. We need these or Fannie Mae shareholders will have a longer race. Instead of this coming to a close in the back half of this year it might have to go to trial in the Court of Claims, or worse yet, a Sweeney dismissal granted before the accounting records are disclosed. That's a few years longer and nobody knows for sure they say. I respectfully disagree, it's night and day.
Disclosure: I am/we are long FNMA.
I wrote this article myself, and it expresses my own opinions. I am not receiving compensation for it (other than from Seeking Alpha). I have no business relationship with any company whose stock is mentioned in this article.
Editor's Note: This article discusses one or more securities that do not trade on a major U.S. exchange. Please be aware of the risks associated with these stocks.