Introduction
My favorite financial column of all time was "Stock Screen" from Smart Money magazine. It was usually written by Paul Sturm, and later by Jack Hough. It was great for finding ideas for a life-long learner investor. What was really nice about the column was one could go to stock screening sites like MSN Money, and see which companies it would generate. Unfortunately, Smart Money is no longer in print, and MSN Money has retired their once best stock screen. It is always sad to see wonderful sources of information go into the ether.
As with all people and things, life moves on. According to Marketwatch, Sturm is now with Morningstar, and Hough writes for Barron's. In 2008, Hough wrote, Your Next Great Stock, which according to its introduction, "…is about finding stocks that are poised to become the market's next big gainers." In the book, Hough offers at least 11 potential screens based on peer-reviewed market research. He attempts to develop screens that individual investors can try on their own. The big question is, "Do they really work?"
One of the screens Hough develops is called "The Accrual to Be Kind Screen". The main premise for this screen is that net income and earnings do not always paint a clear picture of a company's profitability. Because of accounting categories, such as depreciation and amortization, companies can hide bad news in their income reporting, thus illustrating rosier outcomes than what is true in reality. In the book, Hough cites studies that claim companies that have high accruals tend to underperform over time. It is important to note that accruals are events that have happened, but in the accounting world, they are spread out over time as if they have not happened yet. This specific screen focuses on free cash flow, feeling it is a more pure measure of a company's health as a profit earning enterprise.
Screening Criteria
These are the screening criteria Hough proposes. If any modifications are made, it is for the purpose of establishing an even playing field to determine whether the screen is a viable tool.
Trailing 12-month free cash flow minus trailing 12-month net income greater than zero: This is the main component that justifies this screen. The reason is this criterion, "…reverses the effect of a company breaking down its big-ticket purchases into smaller quarterly amounts."
Market value between $200 million and $10 billion: "The accrual anomaly tends to be far stronger for small and medium sized companies. That's a clue as to why institutional investors have failed to trade the strategy away. They focus mainly on large companies with a high volume of shares traded each day. Your best chance of finding bargains, then, might be to look for negative accruals among smaller companies that don't attract as many professional investors." Hough believes that successful screens are best used away from the large-cap universe, because the big dogs are not able to mine opportunities in small companies. For ease of screening and comparison, the universe is limited to companies in the Russell 2000.
Three-year annualized earnings growth greater than 15 percent.
One-year earnings growth greater than three-year annualized earnings growth.
Price/earnings ratio below industry median.
Passing Companies
These are the companies that pass all elements of the screen:
| | |
| --- | --- |
| Ticker | Name |
| | Alliance HealthCare Services Inc |
| | Allied Motion Technologies Inc |
| | American Woodmark Corp |
| | ArcBest Corp |
| | Black Box Corp |
| | Build-A-Bear Workshop Inc |
| | CBL & Associates Properties Inc. |
| | Century Aluminum Co |
| | Carriage Services Inc |
| | DuPont Fabros Technology Inc |
| | Employers Holdings Inc |
| | Enanta Pharmaceuticals Inc |
| | EVERTEC Inc |
| | Forum Energy Technologies Inc |
| | 1-800-FLOWERS.COM Inc |
| | GP Strategies Corp |
| | Hingham Institution for Savings |
| | Korn/Ferry International |
| | Multi-Color Corp |
| | NeuStar Inc |
| | NetScout Systems Inc |
| | Preferred Bank of Los Angeles |
| | Parker Drilling Co |
| | RPX Corp |
| | Sanmina Corp |
| | Sinclair Broadcast Group Inc |
| | State Auto Financial Corp |
| | TrueBlue Inc |
| | World Acceptance Corp |
Table 1
Backtest
A backtest was conducted starting in 1999. Companies were held for one year, and then rebalanced. Compared to the Russell 2000, the Accrual to Be Kind Screen outperformed the index by 363 basis points with an annual return of 12.09% (±7.26%). The screen has a very low beta (0.15) and high alpha (7.26%), with virtually no correlation (0.17) with the benchmark. Hough did not provide backtesting to show this screen works; now he has it. It is a very effective screen.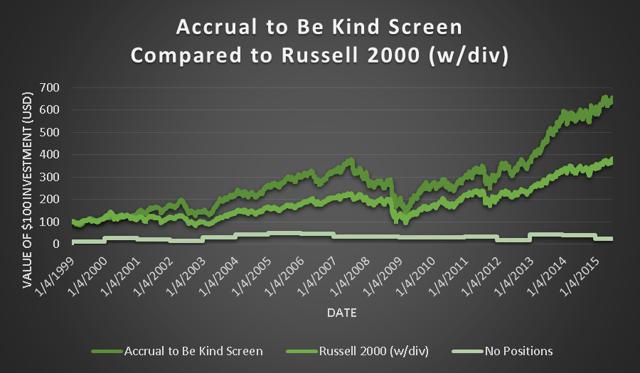 Chart 1
Rolling Backtest
Readers have been asking me to provide data to examine the robustness of a screen. I should oblige, and here it is. The rolling backtest for one year holding periods were conducted starting in 1999. The frequency of the backtests was four weeks to check for robustness. What the data shows is that the Accrual to Be Kind screen (14.47%) outperforms the Russell 2000 (10.35%) by a significant amount (ρ < 0.01). What this tells us that if one uses this screen, they will outperform the market based on skill, and not on luck.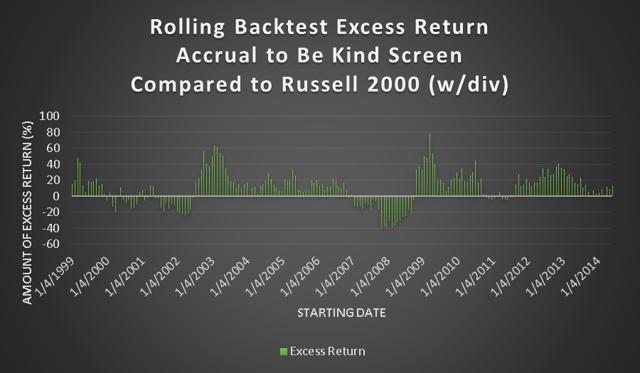 Chart 2
Conclusion
The key for this screen is to find companies that are generating real profits, which are growing, and to find those companies before the institutional investors discover them. I will add one caveat; the screen usually averages around 37 passing companies, so one might have to find additional criteria to cull this list down to a manageable portfolio. Hough suggests using additional stock valuations and earnings growth potential. I will take it one step further, and suggest using the Price/Sales-to-Growth criteria that has been discussed before. Regardless, this is a screen that works, and the differences are significant.
Happy Investing!
Disclosure: I am/we are long RPXC.
I wrote this article myself, and it expresses my own opinions. I am not receiving compensation for it (other than from Seeking Alpha). I have no business relationship with any company whose stock is mentioned in this article.