This is the second article of this series, which will highlight one or two comments from around all of Seeking Alpha that will help everyone engage together in the process OF Seeking Alpha. Here is last week's article to review in case you missed it.
The Premise
The goal of the authors here is to present an opinion that is backed up by supportive facts or some evidence, and create a thesis to explain an actionable idea for themselves and perhaps for many other investors to consider as they seek alpha.
This is the second article in my collaboration with Seeking Alpha to engage with all readers and commenters and tap the entire community to help everyone become better investors.
In April, I wrote this article that quickly became a lightning rod for all sorts of investors on why I was selling my small amount of shares of Apple (NASDAQ:AAPL) to purchase more shares of AT&T (NYSE:T).
Not only did the article receive tens of thousands of page views, but it also drew over 500 comments from the SA community, and all were of various opinions of course, and some even told me how dumb I was. I won't argue that point because I can be as dumb as the next guy, but let me tell you what I did.
The FMBP Is ALL About Immediate Income
The Frothy Market Beginners Portfolio consists of the following stocks as of today: Exxon Mobil (NYSE:XOM), Johnson & Johnson (JNJ), Coca-Cola (NYSE:KO), Procter & Gamble (NYSE:PG), AT&T, Chevron (NYSE:CVX), Con Edison (NYSE:ED), Apple, and General Electric (NYSE:GE), HCP Inc. (NYSE:HCP), Ford (NYSE:F), ConocoPhillips (NYSE:COP), Old Republic International (NYSE:ORI), and Starwood Property Trust (NYSE:STWD).
After making a few changes, the portfolio chart now looks like this: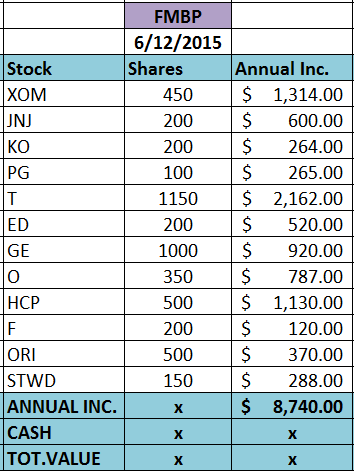 I jettisoned CVX, but replaced it with more shares of XOM after it was revealed that CVX would be freezing its dividend, for who knows how long. To me that is the antithesis of dividend growth. Overall, the move was supported by the SA community. On the heels of that, I reduced my overall energy exposure by selling COP and opening a new position in Realty Income (NYSE:O). Again, this was supported by the SA community via the comment thread, and I wound up with more overall annual income after making these moves, which is the goal of this portfolio.
Selling Apple Caused The Controversy
AAPL is the largest company in the world and its staggering growth has been the envy of the markets for over a decade now. It also began paying a dividend nearly 4 years ago, placing it in a position to become a dividend champion contender.
When an investor digs beneath the surface, they can see that even with glowing marks on all fronts, the DGI'er would be hard-pressed to make a sufficient case for holding Apple as an immediate income provider for retirees, or those nearing retirement, who are seeking as much income as possible, as quickly as possible, to fund a more secure retirement.
Here are the simple dividend facts for Apple:
Today's dividend yield is 1.60%.
The annual dividend is just $2.08/share.
With its most recent increase, the 50 shares I held paid me a grand total of $104 for 2015.
I had made money on the shares and was able to redeploy the money from that stock directly into more shares of T, which immediately paid me more income, as I reduced my T cost basis at the same time and increased my cash reserves.
The response via the comment thread was deafening to say the least, and I found two comments that encapsulated the debate with fewer words and far better input than many of the longer comments that said the same thing.
As a matter of fact, this reader/commenter should become an author, as one of the best qualities is to say what you mean in an understandable way as possible in as few words as necessary to drive home your point.
The Two Selected Comments This Week
I've sold apple shares in the past and regretted it months later. I believe you are making a mistake. Total return is more important than income. If you need cash just sell some shares.
Simple and direct, even though I disagree with it.
It was followed up by the same reader with an even better comment:
u01bsb0

Just my own opinion but... I believe the yield on Apple shares is low because of the great performance of the shares. I wouldn't say that's something to complain about.

I'd rather have a company that has a better ability to pay dividends than one who doesn't yet still gives out dividends.

Apple is by far the best company that has the ability to pay dividends and issue buy backs.
I actually agree with this comment, even if it did not persuade me to change my actions. Truth be told, this commenter was more right than I was being wrong about selling my 50 shares.
Why? Well, as this commenter points out, the performance of the shares has everything to do with the yield being low. He is obviously correct. When Apple shares split 7:1, it was selling for $70.00/share, which at today's dividend rate of $2.08/share would have translated to a yield of nail-bitingly close to 3%. If it had backed off from that price, the yield would be in my sweet spot of OVER 3%, but the company performance was such that the share price moved over 50% from that point and thus, it has a 1.60% yield right now.
The other point was the ability for Apple to continue paying and presumably increase dividends, as well as buy back its own shares. This is another completely accurate fact that supports this bright young man's comment.
Apple is sitting on about $200 billion in cash and equivalents, which can buy up more of its own shares than anyone or any other company anywhere, and that is powerful.
The company has a current payout ratio of just 23%, which is ridiculously low and a signal to most DGI'ers that this company can sustain its dividend and increase it for many years to come.
These are very accurate facts that support this commenter's opinion, and should be weighed by everyone when making a decision such as mine.
So Why Did I Still Dump Apple?
At the time of the sale (before it raised its dividend), Apple was paying me $94.00 to hold the stock and I had already made a decent profit on it. I believe I sold it for about where it trades today, and purchased 150 more shares of T at a bargain price ($32ish) in my opinion with a dividend of $1.88/per share annually.
Based on the goals of this portfolio, it made more sense to me to increase my income immediately from $94.00 to $282.00 annually, reduce my cost basis on T while taking some gains in AAPL and even increasing my cash reserves.
The Bottom Line
The input from this one reader is essential for investors to make an informed decision as to whether my actions make sense or not for their individual needs.
Not everyone has the same goals or strategies, and while I disagreed, the power of the SA family, especially its readers/commenters, should be weighed just as much if not more than a single author's opinion.
The question for the community is, do you think Apple is:
Still a rapid growth company suited for a retirement portfolio?
An income stock that will produce strong enough dividends to make an impact within a retirement portfolio of a DGI?
A future dividend aristocrat?
A company that is now worth $240.00 per share based on Carl Icahn's open letter to Time Cook, and should ramp up its share buyback plans, or immediately increase the dividend significantly, as well as pay a special dividend, much like Microsoft (NASDAQ:MSFT) did about 10 years ago ($3.00 per share)?
Your input is valuable to the community and investors of all types. We look forward to your thoughts about this particular issue!
Disclosure: I am/we are long COP, CVX, ED, F, GE, HCP, JNJ, KO, ORI, PG, STWD, T, XOM, AAPL.
I wrote this article myself, and it expresses my own opinions. I am not receiving compensation for it (other than from Seeking Alpha). I have no business relationship with any company whose stock is mentioned in this article.