The Japanese yen is weakening as inflation measures decline, alongside slowing consumer spending. The Japanese yen is represented by CurrencyShares Japanese Yen Trust (FXY).
In May, the inflation figure came in at an annual pace of 0.5%, below the previous month's reading of 0.6%, while in line with estimates for 0.5%. The near flat pace of growth is well below the central bank's target of 2.0% annual growth, seen below. The economy operating at spare capacity is weighing on inflation pressures.
"The big picture remains that there is still substantial spare capacity in the economy which is dragging down prices. There are scant signs that the tighter labor market has resulted in stronger price pressure," according to CNBC.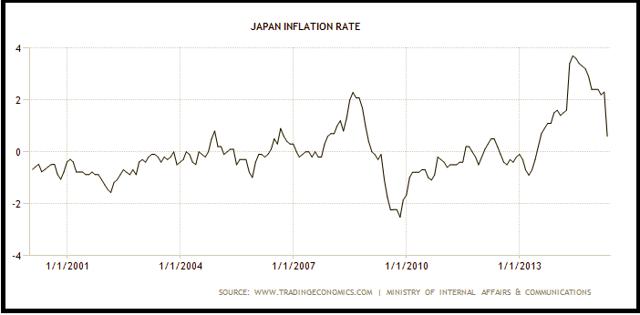 Moreover, employment measures are rising, but this hasn't translated into strong underlying growth in the economy. In the most recent month, the employment figure came in at an annual pace of 0.56%, below the previous month's reading of 0.59%. Since 2010, employment has significantly risen from -1.6% annual contraction to current levels, seen below. Monthly wages have risen in recent months, but the sustainability of the rise remains in question.
"Monthly wages paid to workers in Japan marked the first increase in real terms from a year earlier in April after two years of nominal growth falling short of inflation, according to preliminary statistics released Tuesday by the labor ministry.

The rise could raise hopes for a pickup in consumer spending, a major driver of the Japanese economy. It was nonetheless a marginal 0.1 percent, leaving it uncertain whether the uptrend would be sustained.

The preliminary data also leaves room for a revision that could result in a contraction," according to Nikkei News.

Data provided by the OECD
Finally, consumer spending continues to slow. In the most recent month, the retail sales figure came in at an annual pace of -3.91% contraction, below the previous month's reading of -2.14%. After peaking at close to 2% in early 2014, consumer spending broadly declined, seen below. The future direction of household spending could determine whether policymakers opt for further stimulus measures.
"Household spending holds the key to the success of the central bank's massive stimulus program, which aims to nudge consumers into spending now rather than save on expectations that prices will rise in the future.

But there is uncertainty on whether consumers will shake off the 'deflationary mindset' that beset Japan for two decades.

A second sales tax hike looming in 2017 also casts doubt on whether the recovery can be sustained long enough to accelerate inflation toward the BOJ's 2 percent target," according to Reuters.
Japan continues to face weakness in its economy. Continued disinflation is moving price measures further away from government targets. Additionally, low wage growth, even in the face of higher employment, is weighing on consumer spending.
As economic activity remains suppressed in Japan, policymakers could ease monetary conditions further, weighing on the price of the yen in coming months.

Data provided by the OECD