Updated data from the Shanghai stock exchange released on Friday, June 26 showed that investors in Mainland China continued to pull back on borrowed funds while the market was heading lower. By Friday, total margin debt outstanding was about 2.2 trillion RMB (updated data for Shenzhen was unavailable on Friday, so this figure combines current data from Shanghai and T+1 data for Shenzhen).
The recent trend in outstanding margin debt has been one of decline, something not surprising considering recent poor performance in China's domestic stock markets.
The relationship between margin debt and the index's rise has been widely covered in the financial media; and although margin debt has been the rocket's fuel on the way up, it could be a similar accelerant on the way down.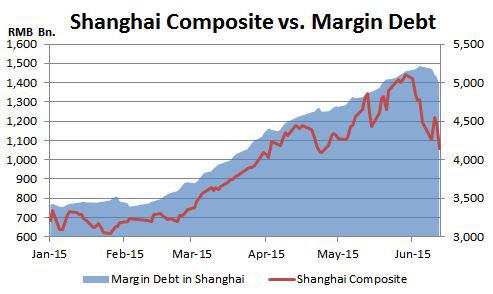 The Shanghai Composite has been in a tailspin since hitting a peak of about 5,180 in mid-June, and this week's plunge meant the index was roughly -20% off of recent peak levels. With stocks falling, margin debts will become increasingly difficult to pay back, something which could motivate more selling to cover the loans. It doesn't take too much imagination to understand how the recent stock sell off could increase in speed if margined investors get nervous about the outcome ahead and choose to de-risk.
To get a sense of the pressure that margin-based selling could bring, we normalized the changes in the Shanghai Composite and margin debt reported by the Shanghai exchange. As the chart below shows, although margin debt increased by over +90% from YTD through June's highs, the Shanghai Composite only gained about +55% during the same time period.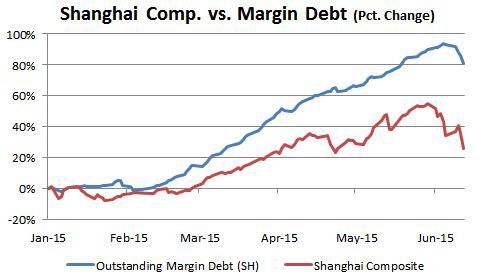 One potential that the mountain of margin debt seems to pose is that it won't just be the investors that used margin debt to buy stocks that would be selling in a more pronounced correction, but the whole market. After such a bull run (doubling your money in six months!), the vast majority of China's retail investor army will likely be looking to protect profits. Should such a chain reaction begin, there is little hope for A-shares but to "lawn dart" back to Earth.
Disclosure: None