Only the really big players are known by their instantly recognized acronym, and United Parcel Service, Inc. (NYSE:UPS) is just 'UPS' to its 8.5 million daily customers in more than 200 countries. It is the world's largest package delivery company and a leading provider of specialized transportation and logistics services. It has been around for more than 100 years, but continues to expand and adapt to its customers' needs and the new business challenges and opportunities presented by instant information exchange on the one hand and e-Commerce and smartphone apps on the other.
During the third-quarter earnings conference call October 25, 2011, CEO D. Scott Davis noted that exports from Asia had slowed significantly during the quarter, highlighting continuing global economic uncertainty, while European exports, surprisingly, went up by 9%. Continued slow growth was the outlook for the remainder of the year, with a lot riding on the level of consumer purchases in the holiday season. He applauded the recent U.S. trade agreements concluded with Korea, Colombia, and Panama. Looking to Europe, he commented on the planned expansion of the Cologne, Germany, air hub. CFO Kurt Kuehn enlarged on the problem with international package operating expenses: UPS tried to remove excess air capacity as quickly as possible when the Asian activity slowdown occurred, but in the event not quickly enough.
The various divisions of the business are easy to understand: UPS Air Cargo (225 company owned aircraft, plus almost 300 chartered); UPS freight (surface cargo - trucks, cars and motorcycles, access to international shipping); UPS Mail Innovations (expedited and consolidated mail services as an intermediary between customers and the U.S. postal service); Mail Boxes Etc (shipping, postal and business supplies, retail); UPS Capital Corporation (supply chain finance); Customer Solutions (logistics and technology services); and finally UPS Supply Chain Solutions (the full works - freight, distribution, international trade, customs brokerage etc). For reporting purposes though, there are only two business segments: Package Operations and Supply Chain & Freight.
In addition to its brand, the company believes its major competitive strengths to be its global reach and scale, its technological innovations and its broad range of services and integrated solutions. The company has positioned itself to be a leader not only in package collection and delivery but also in less-than-truckload road freight and less-than-container-load ocean freight. Major competitors include Federal Express (NYSE:FDX), DHL International GmbH - a German company owned by Deutsche Post, Holland's TNT Express NV and government-operated postal services in the U.S. and throughout the world. More than 74,000 of the 400,000 employees of UPS are based outside the U.S.
The profitability of UPS is particularly dependent on levels of industrial production, consumer spending and retail activity. These are the endeavors that generate package deliveries and freight movements, and UPS was hit hard when many national economies contracted in 2008 and 2009. Now the company's revenue is recovering, in line with the fortunes of its customers. Other significant business risks include the price volatility of gasoline, diesel and jet fuel, all of which UPS uses in enormous quantities, and its high level of dependence on its global air and ground technology network, which cannot be 100% guaranteed against either malicious or unintentional disruptions.
Total 2010 revenue of $50 billion (up 9% on 2009) was split as follows: Package Operations $41 billion, and the developing Supply Chain & Freight segment $9 billion. 74% of revenue was earned in the U.S., 26% internationally, and about one half of the international revenue was earned in Europe. Operating margin improved significantly, and net income of $3.5 billion was 62% higher than 2009. Significant infrastructure projects completed in 2010, included Stage 2 of the global air hub in Louisville, Kentucky, an Asian air hub in Shenzhen, China, and a new global communications platform. Forbes magazine listed UPS as one of the Top 10 most reputable companies in 2010. (Annual Report 2010 pdf)
Recovery and growth continued in 2011, with September 30 year-to-date revenue lifting 8% on comparable 2010 to $39 billion. Revenue for both business segments - package and supply chain - grew, but the star was the international component of the package sector, up 12.5%. Operating expenses for international package need some work, however, since its operating income actually fell. Overall operating profit was up 17%, and net income lifted 26%. (Q3 earnings press release)
UPS's stock was stuck in trading earlier in the year, but appears to have broken out in the last half of the year by breaking through the $74 plus change resistance level as shown below: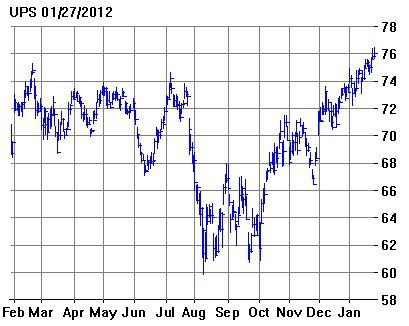 With all the uneasiness in Europe regarding sovereign debt, the company could report less-than-stellar earnings in its upcoming earnings release scheduled for Tuesday, January 31, 2012. An investor in the company might be considering a temporary exit in order to evaluate the fallout associated with Europe, but an alternative might be to enter a collar position. A collar position may be entered by selling a call option against a stock and using some of the proceeds to purchase a put option for protection.
Using PowerOptions tools, a collar position was found for UPS with a 1.3% return (21.5% annualized with timeframe of 22 days) and a maximum potential risk of 6.8%, even if the price of the stock goes to zero. The potential return and maximum potential risk assume a dividend payment during the time frame of $0.52 (undeclared). The specific call option to sell is the 2012 Feb 77.50 call at $0.60 and the put option to purchase is the 2012 Feb 70 at $0.17. The profit/loss graph for one contract of the collar is shown below: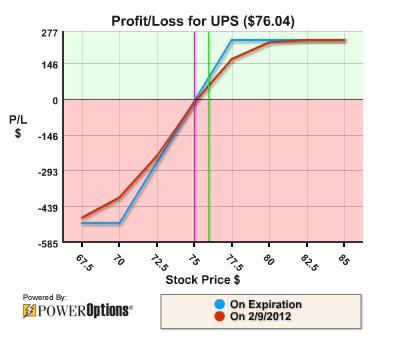 As a bonus, if the price of UPS's stock is greater than or equal to the $77.50 strike price of the call option at expiration in February, the position will return 3.2%. And, if the price of the stock drops below $70, the value of the collar will remain unchanged with a maximum loss of 6.8%.
Disclosure: I have no positions in any stocks mentioned, and no plans to initiate any positions within the next 72 hours.