Intro:
There is a lot of talk about bubbles in the stock market. You have some dizzying valuations for upcoming IPO companies like Uber at 40B, Dropbox at 10B, Pinterest 11B and many others. This is getting a lot of play in the media and makes for some great debates. All this seems to be quite a distraction given that the real impending bubble is the the Bond market. We are taught as kids to look left, then right and left again before crossing the street. This is good advice especially if you live in the city. The vast majority of people heed this advice. This is why is so remarkable that the majority of people in this country have decided to look right, then left and then right before crossing the financial street. They are never going to see the bursting Bond market bubble run them down because they are looking the wrong way.
Here we go again. Why do we all keep running to the same side of the boat? First we all bought internet stocks during the dot bomb crisis, then we flipped houses before we realized we flipped our lids, and now we have unwittingly piled into the bond market. We have over invested in Bonds because coming out of the darkness of past two crashes, we've become ultra conservative. We finally see the light. Yet it this case the light is probably just another oncoming train. Let's dissect some the inherent risks associated with Bonds which are often misconstrued.
Myth #1
I can't lose money if I hold to maturity. Most people fall for this one since it seems quite logical on its face. However, if you have a high rate of inflation, and you hold to maturity, you will have in essence locked in a below market return. In short, this means your purchasing power has been eroded because you have not kept of with the rate of inflation. Eg you invested a dollar earning 5% you will have a $1.05 at year end. However if bread has gone up 13%, you have suffered a loss in purchasing power and your standard of living.
Myth #2
I can't lose principle on my bonds. This one again can trip people up. Just like stocks, bond pricing is dynamic. If interest rates go up, the previously issued bonds have to match the prevailing yield and therefore sell below face value to achieve yield parity.
Myth #3
It's easy to get out and be whole. The great lesson of 2008-2009 financial melt down is that markets don't always behave predictably. Capital pools can evaporate and chaos ensues as panic permeates the market. Markets are made of people and today, machines using algorithmic trading. It would be remiss to assume you are guaranteed and orderly market place. When people are running around with their hair on fire, things happen that often defy logic.
Summary:
Why might a bond market bubble exist? For starters, we all know the yields are really low. It's hard to make money holding bonds. The reasons for this include slow global growth, low inflation and what is called the fear trade. People have piled into bonds for there perceived safety and subsequently driven yields down to a perversely low level. A normal yield curve should be parabolic reflecting the uncertainty of long term inflation not relatively flat as it is today. With the 10 year Treasury if you have a 100k invested with the current yield at 2.40% you will make $2,400 per year.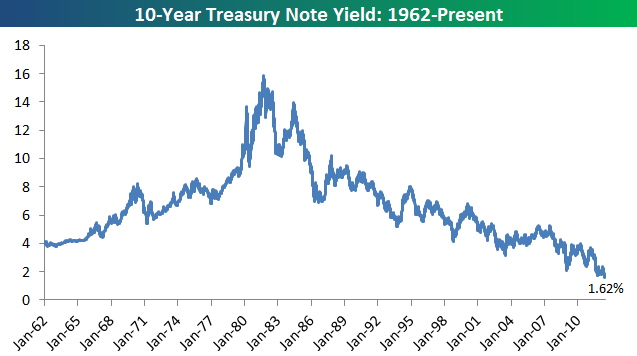 For comparative purposes, this would be the equivalent the S&P trading at 4,200 or the Dow trading at 36,000 and yet very few people are sounding the alarm. You should be moving some holdings out of bonds and into cash. Of course you will be forgoing some income, but it is negligible as illustrated above. Investors just are not getting enough yield to be compensated for the commensurate amount of risk. Here is the logic behind this. For example, I think most consensus inflation is running at 2%. We should be getting paid for both for inflation and a real return on Treasuries. If we take the current ten year yield of 2.4% and we subtract out 2% for inflation, we get a real return of less than a .5% locked in for ten years. We know in Treasuries, we don't get paid for risk because Treasuries are risk free with respect to default. However, we are assuming enormous risk associated with inflation which we are not being paid for at all. So how can Treasuries really be a risk free asset class? Is less than .5% really enough yield? I think I can get that on a 6 month CD.
Prescription: Going partly to Cash:
What you are going to gain by going to cash is liquidity, agility, and piece of mind. Remember to use MULTIPLE BANK INSTITUTIONS if you want FDIC insurance over 250K. When interest rates normalize, you can redeploy into bonds again at a presumably higher rate. It is just not tenable to argue for Bonds right now as an over weighted asset class. Liquidity seems to be periodically drying up in parts of the bond market which is a new phenomenon. Where is has not dried up, it is becoming much harder to catch a bid. For example firms such as T. Rowe Price & Thornburg have reportedly had to increase cash on hand to meet potential redemptions due to fears of being able to get liquid timely and at fair pricing. Others like Voya Investment management are giving 3 day lead times for redemption to Fund managers for the same reason. This by extension means the investor can't get access to his cash immediately or at favorable pricing. You are assuming a very asymmetric trade: minimal upside with abnormal downside risk. The bond market is thought of as a haven for the risk averse, yet in this market, it has become the equivalent of being blindfolded and handcuffed. In this version of 50 Shades of Grey, there won't be any pleasure, just pain. When the bond market gets a spanking, you won't like it at all. Do yourself a favor and trim back on your bond holdings while you can.
Disclosure: I/we have no positions in any stocks mentioned, and no plans to initiate any positions within the next 72 hours.
I wrote this article myself, and it expresses my own opinions. I am not receiving compensation for it. I have no business relationship with any company whose stock is mentioned in this article.