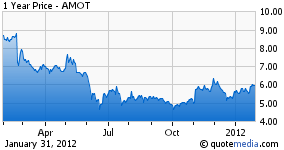 Over the past decade, annual sales at Allied Motion Technologies (NASDAQ:AMOT) have grown from $34 million to $104 million (a CAGR of approximately 12%). During that same timeframe, annual EBITDA has grown from $1.5 million to $10 million (a CAGR of over 21%). Because "growth" is an important component of value, I believe Allied Motion represents an excellent value play.
The company designs, manufactures, and sells motor and servo motion products globally for the commercial, industrial, aerospace, and defense markets. Unlike most small public companies, Allied Motion does not have any customer concentration (no single customer accounted for more than 10% of total sales). Management has done an outstanding job over the years diversifying the company's customer base and industry exposure.
On a LTM basis, Allied Motion has generated $10 million of EBITDA. As of the January 30th close, the company's share price was $5.96, representing a market capitalization of $50.5 million. The company's latest quarterly report showed cash of $4.95 million and debt of $428k. This means Allied Motion has an enterprise value of $46 million. Therefore, the company is trading at an enterprise value to EBITDA ratio of roughly 4.7x. Over the last twelve months, the company has spent approximately $1.7 million on capital expenditures. At the current price, the company is generating a free cash flow yield of 18% (defined as [EBITDA - CAPEX]/Enterprise Value). This seems pretty inexpensive for such a dynamic growth story. To put this valuation into perspective, one of the company's larger competitors, Regal Beloit (NYSE:RBC), currently trades at an enterprise value to EBITDA ratio of approximately 9.3x with a free cash flow yield of roughly 9%.
The most crucial element to any successful investment is the strength of management, and I am very impressed with Allied Motion's management team. Since the divestiture of the Hathaway power and process instrumentation business in 2002, Allied Motion has successfully acquired and integrated several strategic businesses including: Motor Products (2002), Stature Electric (2004), Precision Motor Technology (2004), Agile Systems (2010), and Ostergrens Elmotor (2010). Dick Warzala, the company's current CEO, has been a player in the motion control industry for most of his career. He joined Allied Motion back in 2001 (when it was still called Hathaway Corp.) and became Chief Operating Officer in 2002. Dick Smith, the company's CFO, has been an employee of the company in a variety of different roles since 1983. Collectively, they own 17% of the company's outstanding shares (according to Capital IQ). In my experience, the best endorsement of a stock is insider ownership and insider buying. Insiders have been buying shares over the past year between $5.25 per share and $7.38 per share. Management and directors together own almost 30% of the company (according to Capital IQ).
The bottom-line here is that Allied Motion is a well-managed, growing company with a diversified customer base. Management has a track record of success, and it's incentivized to turn Allied Motion into a leading global supplier of technically advanced motion control products. Even a conservative valuation multiple of 6.5x EV/EBITDA would price this stock at $8.18 per share (a premium of approximately 37%).
Disclosure: I am long AMOT. The accounts I manage also own shares of AMOT.