By Jason Napodano, CFA & Nisha Hirani, MD
We are initiating coverage of ADMA Biologics, Inc. (NASDAQ: NASDAQ:ADMA) with a "Buy" rating and a $20 price target. ADMA recently announced positive Phase 3 data for lead product candidate RI-002, a plasma-derived intravenous immunoglobulin (IVIG) for the treatment and prevention of certain infectious diseases in Primary Immunodeficiency Disease (PIDD) patients. RI-002 contains high levels of standardized RSV antibody titers via a selective and proprietary donor screening process that differentiates the drug from other commercially available IVIG products. We believe that RI-002 will offer a superior treatment option for a subset of patients with PIDD, and other immunocompromised or immunosuppressed patient groups at high-risk for infections.
ADMA is currently assembling its Biologics License Application (BLA) for planned submission to the U.S. FDA at some point during the middle of 2015. We believe that if all goes well, FDA approval should take place during the second half of 2016. Management believes that first commercial sales could potentially occur as early as the second half of 2016. We think utilizing standardized high levels of anti-RSV neutralizing antibodies is a unique approach, and we view this as an area of unmet medical need for immunocompromised patients. At the current price, we view ADMA shares as meaningfully undervalued, and offer significant long-term upside potential.
Overview of PIDD & RSV
Primary Immunodeficiency Disease, commonly referred to as PIDD, is a group of disorders caused by hereditary or genetic defects that lead to an individual having an absent or deficient immune system as a result of either a shortage of essential antibodies or a failure of these antibodies to function appropriately. In certain cases, this leads to the immune system not being able to protect against infection and pathogens. Individuals with PIDD are more susceptible to infections, and furthermore, are at a greater risk of suffering from complications related to these infections and oftentimes, repeated infections. According to the Immune Deficiency Foundation, these infections may occur in different areas of the body such as the skin, sinuses, throat, ears, lungs, brain, spinal cord, urinary tract, gastrointestinal tract.
According to the World Health Organization, there are over 200 different types or presentations of PIDD. The Expert Committee of the International Union of Immunological Societies (IUIS) updated the classification of primary immunodeficiencies in April 2014, and it includes more than 30 new gene defects in comparison to the previous version. This classification system serves as the most current source of all known primary immunodeficiencies, and is a crucial reference tool for the diagnosis of many of these rare diseases.
Although the clinical presentation of PIDD diseases may differ, they all share the common feature of resulting from a defect in one of the functions of the body's normal immune system. Since PIDD patients often do not respond to antimicrobial therapy, they tend to suffer from repeated infection with the same pathogen. Some of the typical presentation features of PIDD patients can include:
Antibody deficiency and recurrent bacterial infections
T-lymphocyte deficiency and opportunistic infections
Other lymphocyte defects causing opportunistic infections
Neutrophil defects causing immunodeficiency
Complement deficiencies
Since patients with PIDD lack a properly functioning immune system, the standard of care is usually outpatient infusions of immunoglobulin (IVIG) therapy. Currently, there are several FDA approved immunoglobulin products on the market. Administration of this exogenous antibody is crucial for patients with PIDD, because without it, they would be at a heightened risk for infectious diseases. Oftentimes, IVIG treatment is necessary for survival in certain PIDD patients, and benefits include a reduction of the severity and frequency of infections, as well as prevention of certain diseases such as chronic lung disease.
In the United States, PIDD has an estimated prevalence of 1:1,200 or about 250,000 individuals, with about 50% of them receiving IVIG treatment on a monthly basis. The National Institutes of Health (NIH) estimates there may up to approximately 500,000 Americans with PIDD, many of whom are undiagnosed. Some PIDD disorders are present at birth or early childhood, while others present at adulthood, thus the diagnosis is often difficult for physicians.
…Why RSV is a Problem in Immunocompromised Patients…
Respiratory syncytial virus, or RSV, is a common respiratory virus that presents as mild, cold symptoms in healthy individuals, but can present with significant morbidity and mortality in high risk groups such as infants, the elderly, and immunocompromised individuals, such as those with PIDD or who have undergone transplantation and may be on immunosuppressive drugs or chemotherapeutic agents. Infection with RSV is highly contagious, and as mentioned above, usually self-limited, with symptoms typically resolving after one or two weeks. In order to help diagnose RSV, nonspecific lab tests such as complete blood count (CBC), oxygen saturation and urinalysis, as well as chest x-ray may be ordered.
Specific tests to confirm RSV infection include nasopharynx secretion analysis via polymerase chain reaction (PCR) (Krilov, et. al, 2014). In the U.S., RSV is the most common cause of pneumonia and bronchiolitis (inflammation of the small airways of the lung) in children under 1 year of age, and is often a major cause of respiratory illness in the elderly population. Historically, immunocompromised patients have 5-15% RSV infection rate, and if untreated, lower respiratory tract infections due to RSV can result in a mortality rate of up to 40% in infected patients.
Hematopoietic stem cell transplant (HSCT) patients are a specific subset of the immunocompromised population, and if infected with RSV, also have a poor prognosis. Patients that have undergone transplantation are given immunosuppressive therapy to ensure the body accepts the new organs and/or stem cells, and are therefore rendered immunocompromised, and resemble patients with PIDD. Approximately 25,000 HSCT transplants are performed each year in the U.S., and 25% of these patients treated with the current standard of care (aerosolized ribavirin) will progress to lower respiratory tract infection while another 41% of untreated patients will also progress to lower respiratory tract infection. It's important to note that lower respiratory tract disease have up to a 40% mortality rate in these patients.
In the U.S., RSV commonly presents during the winter months, but often appears seasonally in the late fall and early spring, with the majority of children having been infected with the virus by age two (above). RSV is the leading cause of infant hospitalization in the U.S. (with over 125,000 infants hospitalized annually). According to the Centers for Disease Control Prevention, on average, in the U.S., RSV leads to over 57,000 hospitalizations among children less than 5 years of age, 2.1 million outpatient visits among children less than 5 years old, as well as approximately 177,000 hospitalizations and 14,000 deaths among adults over 65 years of age annually.
The IVIG Market Opportunity
Intravenous immunoglobulin, or IVIG, is a plasma-derived product that contains polyclonal antibodies (primarily IgG) extracted from donor source plasma through a specialized manufacturing process for individuals that may have absent or decreased antibody production ability. IVIG is made up of polyclonal antibodies, and as mentioned above, which are proteins that are secreted by plasma B cells that are used by the immune system to neutralize foreign material or antigens (IDF Patient & Family Guidebook for PIDD, 2013).
Commercially available IVIG is widely used and reimbursed for a variety of on-label and evidence-based disorders. IVIG is primarily used as treatment in Primary Immunodeficiency Disease (PIDD), autoimmune diseases, acute infections, as well as neuropathic diseases, with the goal of maintaining proper antibody levels to prevent serious infections and to provide passive immunity. In PIDD patients, for instance, IVIG treatment is typically given every 3 to 4 weeks, and dosage is calculated based on patient body weight. There are over 40 off-label or evidence-based uses of IVIG such as transplantation, myasthenia gravis, and skin disease, which have not yet been approved by the FDA, but are widely reimbursed in the U.S. (below) (Orange et al., 2006). The incidence of infections in IVIG-treated patients has dropped significantly since the approval of IVIG products.

In 2013, sales of IVIG products for all uses were reported to be approximately $4.4 billion, in the U.S. alone (below left). It's important to mention that North America is the largest IVIG market followed by Europe and Asia. There are several approved IVIG products that are commercially available on the market (below right). Key players operating in the U.S. IVIG market are Baxter International Inc. (soon to be Baxalta), Biotest AG, CSL Behring, Octapharma AG, Kedrion SpA, and Grifols, S.A. Current standard IVIG is sold from anywhere between approximately $70-$100/gram by the companies mentioned above. According to the American Academy of Allergy, Asthma & Immunology guidelines, IVIG is indicated for patients with PIDD at a starting dose of 400-600 mg/kg every 3 to 4 weeks. Based on these guidelines, we estimate that the annual cost per PIDD patient on standard IVIG treatment ranges between $20,000 and $30,000 per year. It is important to remember that standard IVIG treatment dosage is weight dependent, and that is why there is a range for cost of treatment.

According to Allied Market Research, the global IVIG market is expected to reach $11.6 billion by 2021. Similarly, market research conducted by Global Industry Analysts, Inc. projects that the global IVIG market will reach $11.1 billion by 2020. We believe that the IVIG market is experiencing strong growth due to the rise in patients with immunodeficiencies, autoimmune disorders, bleeding disorders, chronic neuropathic conditions, other pathological diseases, and the overall geriatric population. However, it is important to note that we view the strict guidelines for the proper usage of IVIG set forth by various agencies (like the FDA), in addition to high treatment costs and side effect profile, as potentially hindering the growth of the IVIG market.
…Hyperimmune Globulins…
In addition to standard immunoglobulins mentioned above, we believe it is also important to highlight hyperimmune globulins, which are made from the plasma of individuals with elevated amounts (high-titers) of antibodies against a specific antigen or microorganism. For instance, there are hyperimmune products available for cytomegalovirus, hepatitis B, rabies, tetanus, infant botulism, and varicella-zoster (Surkis et al., 2014), which may be used to treat and prevent diseases caused by specific microbial organisms that are reactive with the high-titer antibodies contained in polyclonal IGIV products. We believe that the hyperimmune products on the market sell anywhere between $300 to over $800/gram. For example, CSL Behring s Cytogam® is a human CMV-IVIG which contains a standardized amount of antibody to CMV for the prophylaxis of CMV disease associated with kidney, lung, liver, pancreas and heart transplantation, and sells for upwards of $430/gram as compared to $70-$100/gram for standard IVIG therapy (Ramirez-Avila et al., 2014).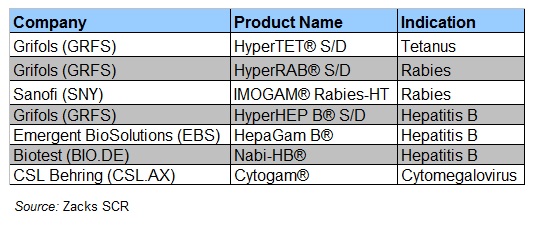 …Synagis® As A Model…
AstraZeneca's specialty care division, MedImmune, manufactures Synagis® (palivizumab), which is a humanized monoclonal antibody (as opposed to IVIG that contains many or polyclonal antibodies) approved in over 80 countries. AbbVie holds rights to Synagis® outside of the U.S. The U.S. FDA approved Synagis® in 1998 for the reduction of serious lower respiratory tract infection caused by RSV in children that were at increased risk of severe disease. The American Academy of Pediatrics (AAP) originally recommended that prophylactic treatment with palivizumab be administered to high-risk infants and children that might be susceptible for serious RSV infection, such as those that are premature, immunocompromised and/or suffering with congenital heart disease or neuromuscular disorders that affect the airways. However, in July 2014, the American Academy of Pediatrics Committee on Infectious Disease revised the guidelines, restricting some patients in certain situations that may have been previously eligible for prophylactic treatment. The guidelines were updated to reflect "new information regarding the seasonality of RSV circulation, palivizumab pharmacokinetics, the changing incidence of bronchiolitis hospitalizations, the effect of gestational age and other risk factors on RSV hospitalization rates, the mortality of children hospitalized with RSV infection, the effect of prophylaxis on wheezing, and palivizumab-resistant RSV isolates."
For instance, the committee now states that monthly prophylaxis should be discontinued in any infant or child that experiences a breakthrough RSV hospitalization because there is a low likelihood (<0.5%) of a second RSV hospitalization in the same season. Additionally, palivizumab prophylaxis is no longer recommended for primary asthma prevention; for the reduction of subsequent episodes of wheezing; for otherwise healthy infants born at or after 29 weeks, 0 days' gestation; for the prevention of health care-associated RSV disease; and in the second year of life except for children who required at least 28 days of supplemental oxygen after birth and who continue to require medical intervention.
According to the University of Illinois, the AAP has historically recommended decreased usage of palivizumab with each new guidance document, which has led to a significant drop in palivizumab sales. In response to the updated guidelines, AstraZeneca began a newspaper advertising campaign stating that the new AAP recommendations "will leave approximately 140,000 babies unprotected" from RSV, and a website that provides a review of palivizumab data, costs associated with RSV disease, and also issues the company has with the updated guidelines.
Synagis® is administered as monthly intramuscular injections, typically in the thigh, during the RSV season, which generally occurs during fall, winter and spring in most areas in the United States. For optimal efficacy, it is recommended that the first injection of palivizumab be given before the onset of the RSV season in order to provide protection before the virus becomes active. According to AstraZeneca, since its approval in 1998, Synagis® has helped protect over 2.8 billion babies worldwide against RSV.
According to the company, RSV affects approximately half of all infants globally within the first year of life, and is also the leading cause of hospitalizations and admissions to pediatric intensive care units. Synagis® had over $1 billion in global sales in 2012 and 2013, but with patent expiration coming up in October 2015 and more restrictive guidelines now set forth by the AAP, sales have declined over the last two years. In 2014, sales dropped to approximately $900 million, a decrease of about 15%. Sales in the U.S. were down 19% to $499 million in 2014 from $617 million in 2013. We do believe that the decline in sales was largely due to new guidelines that were issued by the AAP which restricts prophylaxtic treatment with Synagis® in certain patient groups, which are no longer consistent with the approved label.
We believe that palivizumab is representative of the market opportunity for a product like RI-002. MedImmune developed Synagis® for the prevention of serious lower respiratory tract disease caused by RSV in children at high risk of RSV disease. It's important to mention that the drug has also been used off-label, such as to prevent RSV in cystic fibrosis and down syndrome patients, and in some cases, to even fight active RSV infection.
Despite the declining sales of Synagis® and the looming patent expiration, this remains a key area of interest for AstraZeneca. The company recently received fast track designation by the FDA for the development of MEDI8897, a high-potency extended half-life monoclonal antibody for the prevention of lower respiratory tract illness caused by RSV in infants and young children. AstraZeneca has initiated a Phase 1 study to assess the safety, tolerability, and pharmacokinetics of MEDI8897 in healthy adults as well as a separate Phase 1b/2a study of the drug in healthy, preterm infants.
As a side note, AstraZeneca was previously investigating motavizumab, a humanized monoclonal antibody for the prevention of RSV infection in high-risk infants. In June 2010, the U.S FDA Antiviral Drugs Advisory Committee declined to endorse licensure of motavizumab in a 14 to 3 decision due to safety and efficacy concerns in addition to hypersensitivity side effects. It followed that in December 2010, the company announced discontinuation of motavizumab development. Nevertheless, despite motavizumab's failure, we believe that AstraZeneca continues to be keenly interested in being part of the RSV prevention space with candidates like MEDI8897.
We believe that a polyclonal IVIG product that is specifically tailored to high-risk immunocompromised patients that could potentially protect against RSV infection (as well as other pathogens) would provide a unique, alternative treatment option for physicians and patients. We believe ADMA Biologics has a product with a unique antibody profile that sets itself apart from other IVIG products that are currently on the market. As such, we believe ADMA is surely on AstraZeneca's radar.
An Overview of RI-002
ADMA's lead candidate, RI-002, is a specialty intravenous immunoglobulin (IVIG) product that contains polyclonal antibodies against various infectious agents that are derived from human plasma. RI-002 contains standardized, high levels of antibodies to respiratory syncytial virus (RSV) in addition to naturally occurring polyclonal antibodies (such as Streptococcus pneumoniae, Haemophilus influenzae type B, Cytomegalovirus, measles, tetanus, etc.). RI-002 is intended to prevent infections in a subset of patients diagnosed with Primary Immunodeficiency Disease (PIDD), and in particular Primary Humoral Immunodeficiency. The polyclonal antibodies that are found in RI-002 are expected to prevent infections in this population group. ADMA plans to seek approval for RI-002 for a target population range of approximately 8,000 to 15,000 patients primarily suffering from PIDD presentations. Potential off-label follow-on indications include:
Hematopoietic stem cell

transplant

(HSCT):

Approximately

25,000 HSCT procedures are performed annually in the U.S.
Solid organ transplant (lung, heart, liver, and multi-organ): Approximately 11,000 solid organ transplants are performed annually in the U.S. (excluding kidney transplants)
Cancer patients receiving chemotherapy: Approximately 375,000 patients receive chemotherapy in the U.S. during the winter months
Management believes that there is no other IGIV product currently on the market that contains standardized, high levels of RSV antibodies. Additionally, RI-002 is produced with reported consistent lot-to-lot potency. We believe that these features are what sets RI-002 apart from currently marketed IVIG products. More importantly, if approved, physicians and patients would have an additional selection for IVIG therapy, which in our opinion, could lead to enhanced quality of life for patients. The goal is for RI-002 to replace standard IVIG therapy during the winter months for the subset of patients with PIDD.
…Manufacturing & Supply of RI-002…
ADMA works closely with Biotest Pharmaceuticals for the manufacturing of RI-002. In addition to purchasing plasma from Biotest, ADMA operates ADMA BioCenters Plasma Collections Centers in Norcross, GA and Marietta, GA. The Norcross center is an FDA-licensed, GHA (German Health Authority) certified, MFDS (Korean Ministry of Food and Safety) certified source plasma collection facility that provides a portion of human blood plasma for the manufacturing of lead product candidate, RI-002, in addition to a revenue stream. Once the Marietta center receives FDA approval, plasma that is not used to manufacture RI-002 will be released for sale, generating accretive revenues. ADMA has stated publicy that a fully operational plasma center can generate more than $6 million/year.
We believe there may be future opportunity for the company to add additional centers, and in turn would result in additional source plasma necessary for RI-002 production as well as additional revenue for the company by selling unused amounts in the U.S. and abroad. There are hundreds of diseases that rely on products made from human plasma as treatment, and there we believe there continues to be a demand for plasma. The trends show that the number of U.S. FDA approved plasma collection centers as well as total U.S. source plasma collections continue to increase (below).

ADMA's proprietary testing assay allows for the identification of plasma donors that have naturally occurring, elevated levels of RSV antibodies. Additionally, the assay is used during the manufacturing process to ensure lot-to-lot consistency of RSV antibody titer potency. ADMA currently has a contract manufacturing agreement in place with Biotest Pharmaceuticals for the fractionation of RI-002, which allows for both clinical and commercial drug supply of the product, and is set to expire at the end of 2023, with the option to renew for two additional 5 year periods. ADMA also has a testing services agreement with Quest Diagnostics for exclusive biomarker testing and support services for protocol screening and re-certification.
…Overview of Phase 3 RI-002 Data…
ADMA completed a Phase 3 clinical trial of RI-002 as a treatment for PIDD in accordance with the FDA Guidance for Industry: Safety, Efficacy, and Pharmacokinetic Studies to Support Marketing of Immune Globulin Intravenous (Human) as Replacement Therapy for Primary Humoral Immunodeficiency. The FDA guidance does not require the use of a comparator arm for means of obtaining primary and secondary data outcomes. The Phase 3 trial was designed in accordance with FDA guidance as a multi-site, single arm, open label study in which 59 patients diagnosed with PIDD were treated once every 21 to 28 days for 12 months across 9 treatment centers located throughout the U.S. The patients were then followed for an additional 90 days for follow-up and safety monitoring. The average doses of RI-002 that were administered in the 3 and 4 week groups were 527.3mg/kg and 491.1mg/kg, respectively.
Twenty-one patients (35.6%) had at least 1 study drug related event within 72 hours after completion of RI-002 infusion. There were only 4 symptoms evaluated within this time period that were reported by 3 or more of the subjects (>5%). The four symptoms that were reported as drug related events included headache (8 patients), myalgia/muscle pain (3 patients), pruritus/itchy skin (3 patients), and adverse drug reaction without further specification (3 patients).
On December 3, 2014, ADMA announced that RI-002 demonstrated positive Phase 3 results and achieved its primary endpoint of preventing serious bacterial infections (SBI) in immunocompromised patients with PIDD. As per the FDA, SBI are defined as bacteremia/sepsis, bacterial meningitis, osteomyelitis/septic arthritis, bacterial pneumonia, and/or visceral abscess. No SBI were reported in patients during the course of the study. These results more than meet the requirement specified by FDA guidance of ≤ 1 SBI per patient-year. Secondary endpoints were reported in February 2015 at the American Academy of Allergy Asthma & Immunology Annual Meeting. Secondary endpoints included safety, pharmacokinetic (PK) data points including antibody titers for certain agents, including RSV antibody levels at various time points after infusion, incidence of all serious and non-serious infections, lost days of work or school, hospitalizations, emergency room visits, and antibiotic use among others.

Scientific investigators reported on the secondary outcomes that included: a total of 93 days (or 1.66 days per patient per year) lost from work or school due to infection; 1 hospitalization due to an infection of 5 days duration in the entire study (above); and IgG trough levels above those required by the FDA for IVIG products (below).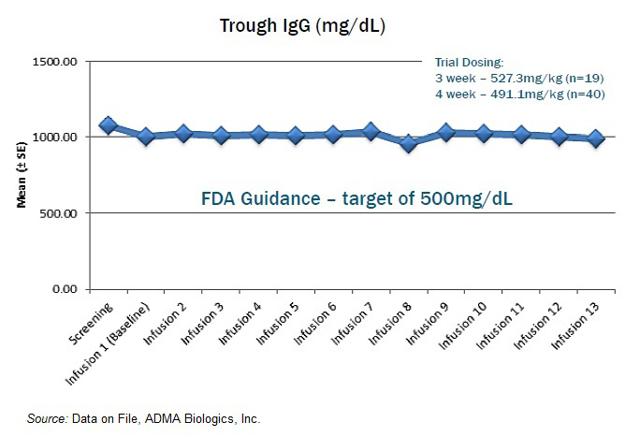 Specific antibody levels were also measured for H. influenzae, CMV, measles, S. pneumoniae (12 serotypes), RSV, and tetanus. An increase in all of the measured specific anti-pathogen antibodies in PK subjects (n=31) was also observed. The mean of maximum fold increases in specific antibody levels after infusion of RI-002 ranged from 1.9 fold (S. pneumoniae type 19A) to 5.3 fold (RSV), which were statistically significant fold increases from the pathogen's specific measured baselines. As per ADMA, the safety profile of RI-002 was comparable to that of other immunoglobulins. As per the company, over 790 infusions of RI-002 were administered to 59 patients, and were well tolerated with no reported serious adverse events attributable by investigators to the study drug.
Overall, we see these results as excellent news for ADMA, and they suggest that RI-002 is safe and effective, and could be an important new superior therapy for a subset of individuals with PIDD. We think utilizing standardized high levels of anti-RSV neutralizing antibodies is a unique approach, and believe the data supports moving forward with the drug. We believe that the data compares favorably with historical clinical data for other marketed immunoglobulin products, and the results from the Phase 3 RI-002 trial may allow for the differentiation of the drug candidate from other commercially available immunoglobulins. For instance, with ADMA's RI-002 therapy, only 1.66 days per patient per year were lost from work or school due to infection as compared to 8.7 days missed with Gammaplex®, and 3 days missed with Flebogamma® (Schroeder, et. al, 2012).
All in all, we believe the data is supportive of a Biologics License Application (BLA) filing. ADMA is currently assembling its BLA for planned submission to the U.S. FDA by the middle of 2015. We believe that FDA approval, if granted, could take place within approximately one year from the filing date, with potential sales as early as the second half of 2016. If approved, we believe the proposed dosage would be 300-800 mg/kg every 21 or 28 days during the winter months in the select PIDD population (or approximately 3-5 doses per year). Management believes based on guidance documented from the U.S. FDA that a successful single Phase 3 trial and complete BLA submission should lead to final approval of RI-002. We believe that this positive data will enable ADMA to file for FDA BLA approval for RI-002 as a treatment for patients with Primary Humoral Immune Deficiency.
The Path Forward for RI-002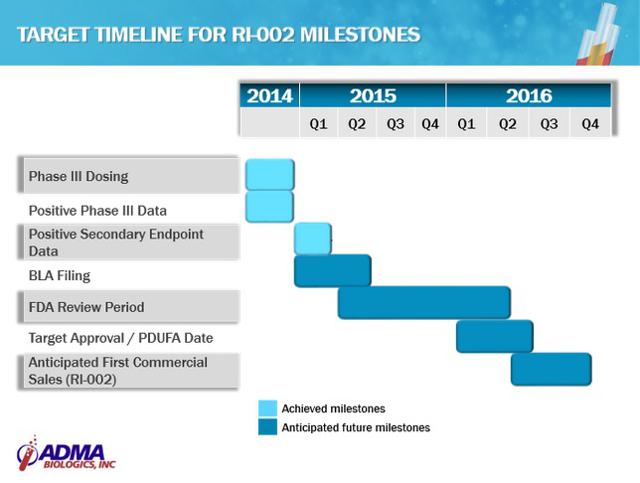 ADMA has several anticipated milestones on the horizon, and in our opinion, the potential approval of RI-002 for the indication of PIDD is of utmost importance. Anticipated milestones in 2015 include: (1) Submit BLA to U.S. Food and Drug Administration (FDA) for RI-002; (2) Obtain FDA approval of second plasma center in Marietta, Georgia; and, (3) Initiate new specialty plasma collection programs at ADMA BioCenters. We note that the current management team has met prior commitments and milestones in a timely fashion, and we are hoping that the trend continues, and expect the BLA to be filed at some point during the middle of 2015. ADMA's current strategy for moving RI-002 forward includes:
Obtaining FDA approval to manufacture and market RI-002 for the treatment of PIDD patients
Exploring other possible indications for RI-002.
Developing additional plasma-derived products for the treatment of infectious diseases in immunocompromised patient populations.
Expanding the network of ADMA BioCenters facilities, both to maintain control of a portion of the raw material supply and to generate additional revenue through the collection and sale of source plasma to third party customers.
We expect ADMA to continue to build out its commercial infrastructure once the BLA has been accepted. In order to move forward with U.S. commercialization plans, ADMA plans to hire a small, specialized sales force to market RI-002 to physician offices/clinics, hospitals, as well as other specialty treatment organizations. We expect ADMA to hire between 25-30 sales reps initially. We believe that ADMA will focus on physicians that are concerned with the identification of infections in the immunocompromised patient population, which primary attention placed on immunologists, and infectious disease doctors. We also believe that other specialists such as pulmonologists, and hematologists may also be included.
ADMA also expects to add additional personnel for patient support, medical affairs, quality assurance, regulatory affairs, scientific affairs, reimbursement, inventory and logistics, human resources, and financial and operational management. In order to fulfill orders for RI-002, ADMA may also use a network of national distributors. We believe that the company will need to secure additional financing prior to launching RI-002 in order to support commercial efforts as well as launch expenses.
Valuation Methodology
For valuation purposes we utilize a full DCF model based on some reasonable estimates of sales with the following limiting sets of parameters:
We have assumed a current total target population of 250,000 patients in the U.S. with some form of Primary Immunodeficiency Disease. We believe 50% of that population is seeking treatment through IVIG. We assume the company will initially target around 5,000 patients, and over time will grow this target to approximately 15,000 individuals with PIDD. We have assumed pricing that is in line with the existing hyperimmune drugs on the market, as mentioned above, with a modest 5% price increase per year. We model initial penetration of 1% in 2016, growing to a peak penetration rate of 30% by 2024, and believe that long-term gross margins for this business will be approximately 50-60%.
We believe that RI-002 revenues in transplantation patients (HSTC/SOT) to begin in 2017, and we have modeled max transplant penetration of 20% and chemotherapy penetration of 5% by 2023. We believe that the cost will run about $55,000 per patient per year due to higher dosage requirements in transplant and chemotherapy patients relative to PIDD growing, and have it increasing at 5% per year. We are assuming long-term gross margins for this business to be approximately 50-60%.
We assume the company's second plasma center will receive FDA approval in the fourth quarter of 2015, and will be fully operational in the first half of 2016. We model long-term gross margins for this business to be up to 40%, with net income up to 10%.
Our DCF model further makes the following assumptions in regards to operating expenses:
R&D of approximately $9 million and G&A expenses that drop to below 14% by 2018.
Effective tax rate of 25% beginning in 2019 after $75 million of NOLs are utilized.
We used a blended probability of success for RI-002 revenues of 67% and plasma centers of 100%. To take into account the risks discussed above, we use a 15% discount rate.
Since we are valuing cash flows, we are adding in the cash balance of $16.6 million as of March 31, 2015 less the long-term debt of $16 million.
Based on our assumptions, we calculate a fair value for ADMA of approximately $245 million. With a fully diluted share count of 12.2 million as of March 31, 2015, this equates to a fair value target price of approximately $20 per share ($23 per share on basic share count). Should RI-002 prove to be an effective treatment for PIDD or additional indications, there is the possibility for significant upside to this valuation. We view ADMA as a compelling investment opportunity, and look forward to seeing management execute on its strategy.
Editor's Note: This article covers one or more microcap stocks. Please be aware of the risks associated with these stocks.