If a palm tree falls on a beach does it make a sound? Not if that beach is Turtle Beach Corp. (NASDAQ: HEAR). A series of bullish sentiment has been offered for the audio company's outlook, turning a deaf ear to warning signals: (1) declining revenue; (2) lack of earnings; and (3) minimal gross margin.
Meanwhile, Skullcandy, Inc. (NASDAQ:SKUL) maintains healthy growth in the audio space. The recent sell-off after the holiday season brings the P/E ratio back to a value buy. The analysis from D.A. Davidson (correct in their 2014 outlook) once again sets a profitable target at $14 PPS.
Both companies sell headsets for gaming, however Skullcandy does this with its Skullcandy brand (Slyr & Plyr) as well as its ASTRO Gaming brand. Skullcandy's product line of earbuds, headsets, Bluetooth speakers, apparel, etc. are paired with star power from the NBA, X-Games and international leagues to help form a social ecosystem.
Skullcandy's Revenue Growth and Turtle Beach's Decline

If Turtle Beach is holding or taking market share for the audio/headphone space, it's not evidenced by Skullcandy's performance. The low and declining figures for Turtle Beach suggest they still struggle with off-peak season sales. Both companies have peak sales during Q4.
Skullcandy has maintained a significant lead in year-over-year revenue (2013-2014) when compared to Turtle Beach. They had an 18% growth in revenue with 45% gross margin, whereas Turtle Beach had a dismal 4% growth in revenue and only 27% gross margin. This is not a track record that suggests HEAR is nipping at the heels of competitors.
(The following charts are in millions of USD)

Furthermore, when comparing the Y/Y for first quarter income statements, Skullcandy leads again. They had an 18% growth in revenue with 41% gross margin. This is despite the typical headwinds after holiday sales; Skullcandy demonstrating an improved revenue stream during off-peak season. Turtle Beach showed sales declined by 49% for Q1 Y/Y with further downside of a mere 16% gross margin.

Gross margin should be an indicator of a healthy business. It can also foreshadow if market share is sustainable. While Skullcandy has maintained a healthy gross margin in the mid 40% range, Turtle Beach's Q1 Y/Y gross margin has gone from fair (32%) to poor (16%).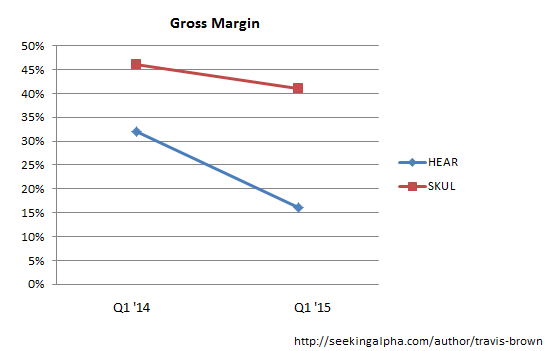 Earnings Per Share & Price to Earnings Comparisons
In the trailing twelve months Skullcandy has only posted one quarter of loss with -$0.13 earnings per share for Q1 '15. This is historically in-line for the tough season that follows holiday sales. Unlike their competition, Turtle Beach's TTM is mostly negative quarterly EPS.
Due to Turtle Beach's negative earnings per share, I have given favorable adjustments to comprise a P/E ratio. A break-even value has been assigned to each of their negative quarters. The negative quarters are shown in parenthesis, and the metric is completed with the substitution of $0.00 for those values.
Skullcandy and Turtle Beach EPS & P/E
|   | Q2 '14 | Q3 '14 | Q4 '14 | Q1 '15 | P/E |
| --- | --- | --- | --- | --- | --- |
| SKUL | $0.06 | $0.07 | $0.25 | -$0.13 | 31.68 |
| HEAR | $0 (-$0.24) | $0 (-$0.13) | $0.06 | $0 (-$0.25) | 41.17 |
Even with favorable adjustments, Skullcandy has the better value in the P/E ratio. The chart is reflective of a June 26, 2015 closing PPS. Skullcandy, Inc. and Turtle Beach Corp. were listed at $7.92 and $2.47, respectively.
Update on 2014 Skullcandy Thesis
In August of 2014 my initial coverage of Skullcandy was titled: Muses And Other Sub-Cultures: Skullcandy, A 2015 Disruptor. I had noted the improved P/E ratio from 300 to 80. The EPS had received drastic repair since CEO Hoby Darling took leadership and the PPS had lowered to a bargain price. I concluded that a new shareholder could profit buying prior to the Q4 '14 spike. However, I thought the long-term investor would also gain by holding into the end of 2015.
It appears that the market preferred selling after the holiday season spike when Q1 '15 earnings were released, but to the point of being oversold. The current valuation, P/E of 31.68, is another opportune entry point.
Turtle Beach's Pipeline Could Be A Speculative Trade
Turtle Beach has a pipeline full of proprietary technology that includes marketing to the hearing impaired via its "HyperSound." R&D phases are projected as far out as 2017. Additionally, there is a 2018 $1B in sales target as reviewed by SA Contributor Jonathan Fishman. Most of the bullish sentiment rests with this pipeline, which is more akin to the risks of trading a bio run-up:
Will these products come to light?
Will the costs of R&D be recouped?
Will the new tech be adopted by consumers?
What will the interim be like while the company funds R&D with debt and burns through cash?
By the end of the pipeline will competitors have brought forth suitable alternatives?
Conclusion
As revenues decline during the Q2-Q3 off-season for Turtle Beach, I anticipate a pull back into the mid $1 PPS. This could be exacerbated by a fear factor in a distant speculative pipeline. Meanwhile, the more reasonable buy is Skullcandy. I agree with D.A. Davidson's bullishness and consider the present P/E valuation to be the best we'll see from SKUL for awhile.
Disclosure: I am/we are long SKUL.
I wrote this article myself, and it expresses my own opinions. I am not receiving compensation for it (other than from Seeking Alpha). I have no business relationship with any company whose stock is mentioned in this article.