Biotechnology In India: Dr. Reddy's Laboratories
Summary
India's biotechnology industry is projected to grow by 30% annually until 2025.
The industry in India has the unique advantages of innovation, high quality, and low cost.
Investors can invest in the growth of India's biotechnology through Dr. Reddy's Laboratories, a company in India that also has global operations.
India's Biotechnology Industry
In a previous article, I mentioned the biotechnology bubble, and how a biotechnology company in South Africa was able to outperform the majority of the top 10 biotechnology companies in America. Investing in the biotechnology industry in emerging markets presents the opportunity for high returns without high risks; this favorable investment environment results from the companies having consistent financial performance, diverse global operations, and lower manufacturing costs. With biotechnology in America certainly approaching a bubble, investing in the biotechnology industry in emerging countries may be the most rational solution, for those wishing to mitigate risk.
One major benefit of the biotechnology industry in India is the extreme low cost of drugs, as a hepatitis C drug manufactured in the USA can be obtained in India for 1% of the cost. This is further displayed in the country's ability to produce a Rotavirus vaccine for $1. I can even personally attribute to the country's low cost, as I was able to get a Tetanus shot at a hospital in Madurai for approximately $0.30.
Low-cost manufacturing and innovation attribute to the country's ability to produce quality products at low costs. Prices are set to remain low, as the price hike of pharmaceuticals in India is negligent, and linked to inflation. Most recently, the government approved a 3.84% price hike for 509 different types of medicines used to treat diabetes, hepatitis, and cancer. As a result, India will be able to sustain its advantage as a low-cost manufacturer of pharmaceuticals.
Growth of the Biotechnology Industry from 2002-2012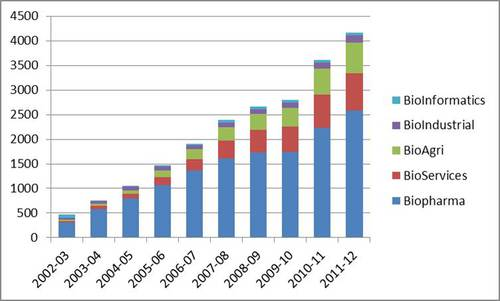 India has consistently experienced substantial growth in the biotechnology industry, particularly in the pharmaceutical sector. Government support of the biotechnology industry has been consistent, as the government's decision in 2005 to open the industry up to 100% FDI attributed to its growth. With strong support from the government, the industry is anticipated to have a growth rate of 30% annually, and to reach $100 billion by 2025. India also offers comparative advantages in terms of its research and development capabilities, which will further attribute to future growth. The country is site of a large number of talented engineers, as the Indian education system highly emphasizes math and science.
India's Global Position in the Industry
India, which already has a dominant position in the industry, is on track to expand this position:
India is among the top 12 biotechnology destinations in the world, and has recently overtaken Canada as the fourth largest grower of genetically-modified crops.

It is the world's largest producer of recombinant Hepatitis B vaccine.

It is currently the third largest biotechnology producer in Asia and ranks 2nd globally for having the most approved FDA manufacturing sites.

The country contributes approximately 10% of the global pharmaceutical market, and is ranked 2nd or 3rd as a pharmaceutical producer.

India has a significant share in the global market for industrial enzymes, which is estimated to reach $4.4 billion by this year.

Based on a report issued by Citi, India ranked third in terms of pharmaceutical stocks, only being outperformed by South Korea and China.
Dr. Reddy's Laboratories
The best way to invest in the growth of India's biotechnology industry is through Dr. Reddy's Laboratories (NYSE:RDY). Dr. Reddy's Laboratories is a pharmaceutical company which operates in the following three segments: global generics, pharmaceutical services and active ingredients, and proprietary products. The company is in line with key strengths of the industry in India, as it manufactures generic pharmaceuticals and offers contract research services to other companies.
Financials
| | | | | | |
| --- | --- | --- | --- | --- | --- |
| Thousands of USD | P/E Ratio | March 2013 Net Income | March 2014 Net Income | March 2015 Net Income | 2 Year Growth |
| | 26.32 | 309,000 | 360,000 | 354,000 | 14.6% |
The company has only experienced 14.6% growth in net income during the past two years, and its P/E ratio is currently at 25; its current valuation and growth is not extremely attractive. However, its position in an industry that is projected to grow 30% annually until 2025 certainly makes its future prospect favorable. India already has a dominant position in the market, and ample potential due to its strengths of innovation and low-cost manufacturing.
Company Growth
The inevitable growth of India's biotechnology industry, coupled with RDY's plans for expansion of operations, also make it very attractive. Its plans for expansion are very diverse, and will allow it to offer more products to both local and domestic markets, and to expand beyond generics. The future undertakings of the company will provide opportunities for high returns.
The company will begin offering higher-end products to the US market, such as generic injectable drugs, and may make acquisitions of up to $1 billion. It will file applications for four or five complex injectables, which will enter the market in the next 21 to 27 months. With an already established reputation as a quality generic pharmaceutical manufacturer, this expansion will help it expand on its success and enter a new market, with higher potential and less competition.
The company also plans to spend more than $13 million so that it can triple its manufacturing capacity at three of its plants. The Economic Times reports that the company will be able to increase its production from 41 to 142 metric tons. As both the industry in India and Dr. Reddy's have established themselves as low-cost pharmaceutical manufacturers, the expansion is sure to be met with success.
The company also has extensive plans for domestic expansion and will be able to allocate resources towards research and development to help reach its market in India. With a large population having significant unmet medical needs, Dr. Reddy's plans to develop products to target chronic diseases that affect large volumes of the population. It has continual plans to increase its domestic portfolio, which contributes to around 20% of its revenue.
Conclusion
Dr. Reddy's has very diversified plans for expansion, which will leverage off of the strengths of the industry in India; these include low-cost manufacturing, research and new product development. Moreover, the company plans to build off of its already successfully reputation in both the domestic market, and its global market. With the past success of the industry in India, combined with the consistent future projection for growth, Dr. Reddy's is a company worth noting for those wishing to profit through investing in the biotechnology industry.
This article was written by
I am interested in frontier/emerging stock markets and other international markets ( ie. Japan/Korea).  My articles will primarily focus on stocks I am monitoring now based on quality of management/emerging market exposure/valuation.
Analyst's Disclosure: I/we have no positions in any stocks mentioned, and no plans to initiate any positions within the next 72 hours. I wrote this article myself, and it expresses my own opinions. I am not receiving compensation for it (other than from Seeking Alpha). I have no business relationship with any company whose stock is mentioned in this article.
Seeking Alpha's Disclosure: Past performance is no guarantee of future results. No recommendation or advice is being given as to whether any investment is suitable for a particular investor. Any views or opinions expressed above may not reflect those of Seeking Alpha as a whole. Seeking Alpha is not a licensed securities dealer, broker or US investment adviser or investment bank. Our analysts are third party authors that include both professional investors and individual investors who may not be licensed or certified by any institute or regulatory body.