Income and Dividends While Staying Off the Market Roller Coaster?
The market gyrations from impending rate increases and endless Greek dramas were the seeds to explore some fund options with the aim to reduce volatility while still providing some nice income and dividends. The portfolio below is made up of five funds equally weighted and all generally have lower volatility than the stock market. They also provide some dividends and income to help cushion the ride. The other aim was to attempt to keep up with the stock market in total returns.
Two of the funds are closed end funds. The other three are ETFs. I continue to be mystified at the under utilization of closed end funds especially from the Dividend Growth crowd. CEFs after all -- largely specialize in income. Be it ROC (return of capital) or pure dividends -- distributions, often monthly are what closed end funds do best. They can also be volatile as they are not traded at NAV because of their fixed number of shares -- can swing from premiums to discounts to their NAV. Many CEFs also use leverage by borrowing in low interest rate environments to expand their portfolio.
CEFs can be tricky beasts, but often lucrative for savvy investors. The two included below have a rather tame recent historical standard deviations (volatility), which is what this portfolio is seeking.
(NYSEARCA:HVPW) ALPS U.S. Equity High Volatility Put Write Index ETF
This fund seeks investment returns that correspond before fees and expenses to an index called NYSE Arca U.S. Equity High Volatility Put Write Index. This fund has a unique strategy whereby it selects and writes large cap put options with the stocks exhibiting the most volatility. This income strategy has a portfolio of twenty stocks and rolls them over every two months. This put writing is used as an established income strategy that also offers the diversification and convenience in an ETF wrapper.
(NYSE:SPHD) PowerShares S&P 500 High Dividend Portfolio ETF
This ETF aims for low volatility and yield. The fund seeks results before fees and expenses of the Dow Jones S&P 500 Low Volatility High Dividend Index. It's comprised of 50 stocks in the S&P 500 that are the least volatile with the highest yield. The fund is rebalanced and reconstituted twice a year in January and July. Currently the funds largest sector allocations are utilities, financials and consumer staples. With the volatility of interest rate sensitive sectors, I would expect that these allocations may change significantly when the fund is reconstituted in July.
(NYSEARCA:PFXF) Market Vectors Preferred Securities ex Financials ETF
This ETF was selected because of its focus on preferred securities and its tame volatility. The income is nice too. This ETF does not hold financial preferreds like its competitors (NYSE:PGX) and (NYSEARCA:PFF). Its portfolio therefore is more diverse in scope and includes, industrials,tech,energy, etc. The fund seeks to replicate before fees and expenses the Wells Fargo Hybrid and Preferred Securities ex Financials Index. According to Market Vectors this is a rules based index that holds securities that are functionally equivalent to preferred securities, including convertibles and other forms of subordinated debt.
(NYSE:DNP) DNP Select Income Fund
DNP is a popular closed end fund that primarily focuses on equity and other securities in the utility industry. Fund literature describes its objective as seeking current income and long-term growth of income. Capital appreciation is a secondary objective, The fund currently sports a 14% premium. Established CEFs with premiums usually trade with premiums for good reason. They are popular with investors. According to Morningstar this 4 star fund has a three-year average premium of around 10%. It's a solid income fund with tame volatility. This CEF uses about 27% leverage.
(NYSE:SPXX) Nuveen S&P 500 Dynamic Overwrite Fund
The SPXX closed end fund also uses an option income strategy. The SPXX Fund literature description states it seeks a high level of current income and gains from accumulating index option premiums. The fund's secondary investment objective is capital appreciation. The fund utilizes an index option strategy of selling index call options and purchasing index put options, each on the S&P 500 Index. The fund has a rather tame volatility and provides income for cushioning as expected. It's currently traded at a discount of over 9.8%. So you're getting a S&P 500 index fund with income at almost a 10% sale. This CEF uses no leverage.
Summary
| | | | | |
| --- | --- | --- | --- | --- |
| Ticker | AUM (millions) | Fees | Distribution Frequency | Yield |
| HVPW | $60.4 | 0.95 | Bi-Monthly | 9.26% |
| SPHD | $533 | 0.30 | Monthly | 3.62% |
| PFXF | $288 | 0.40 | Monthly | 3.99% |
| DNP | $2900 | 1.05 | Monthly | 7.47% |
| SPXX | $250 | 0.96 | Monthly | 7.48% |
Volatility Metrics
YTD Portfolio Volatility: 3.9%
YTD S&P500 Volatility: 10.2%
1-Year Portfolio Volatility: 5.3%
1-Year S&P500 Volatility: 8.5%
Six Month Correlation Matrix (Average = 0.5)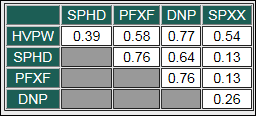 (low-risk-investing.com)
Performance Metrics Jan 2014 to Present (June 26, 2015)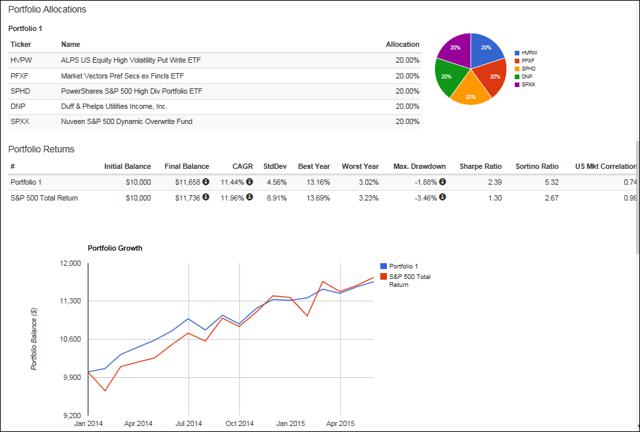 (portfoliovisualizer.com)
Conclusions and Caveats:
This was a fun but difficult exercise in attempting to have your cake (dividends and income) and eat it to (not throwing up on the market volatility roller coaster). There are doubtless endless variations that can be had with this theme using ETFs and CEFs. A longer back test would have been desirable but several of these funds are relatively new.
Using individual stocks would likely provide much more volatility. I feel using ETFs and certain closed end funds customized to a desired need can provide dividends and income for most investors. This counters those DGI all equity stock portfolios of which countless articles tout -- but without that single stock risk.
Keep in mind that correlations and volatility are not static and will change as market rotates thru the business and interest rate cycle. Feel free to comment, add, modify or compare to the above portfolio. It's a big investing world out there and there are many worthy paths for investors to explore.
Disclosure: I/we have no positions in any stocks mentioned, and no plans to initiate any positions within the next 72 hours.
I wrote this article myself, and it expresses my own opinions. I am not receiving compensation for it (other than from Seeking Alpha). I have no business relationship with any company whose stock is mentioned in this article.