Artificial Intelligence: The Investment Arena for High-Tech Giants
Neural networks of machines that are capable of mimicking the human brain are being explored by top technology companies such as Facebook (NASDAQ:FB), Google (NASDAQ:GOOG) (NASDAQ:GOOGL), Microsoft (NASDAQ:MSFT) and others. Large investments in artificial intelligence are being made by these companies in the knowledge that this is the technology of the future. Facial recognition technology has already been successfully adopted, while Microsoft is capable of translating speech into multiple languages. Tech giant Google is capable of recognizing words spoken into its Android smartphones and other devices. But the real challenge for these companies is how best to use the technology to allow software to understand human language and interact with it in a meaningful way. This understanding that tech companies are working toward is geared toward words, sentences, paragraphs and large blocks of text.
Facebook Leads the Way with A.I.
Facebook has been hard at work with A.I., focusing on a system that is capable of reading summaries of texts and then answering questions about it. Facebook utilizes a system known as Word2Vec, which is a neural networking algorithm to gain an in-depth understanding of the texts under consideration. In a similar fashion, Google is educating its machines on how to gain a deeper understanding of words on the net. Known as Google Now, the system is designed to comprehend content on the web and provide useful information for users in that regard. For all intents and purposes, natural language processing is widely regarded as the new frontier in the hi tech sector. Facebook's image and voice recognition technology is sufficiently developed to be as accurate as possible, to the point where it meets even federal law enforcement standards.
As part of Facebook's investment in A.I. there are plans to open up a laboratory in Paris for this very end. This new project has already been under consideration for a year and is moving full steam ahead. With the generation of vast stockpiles of text, videos and other multimedia content, Facebook has been poring over ways to make it easier to organize this information The program that Facebook has been developing is known as Facebook Artificial Intelligence Research - otherwise known as FAIR. The brand new Artificial Intelligence research team in Paris will be vested in research projects into all the infrastructures required to build a successful A.I. system.
This includes things like image and speech recognition, logical infrastructure, physical infrastructure and the like. With FAIR, Facebook hopes to make it much easier to conduct intelligent searches vis-à-vis photos and News Feeds and the like. Facebook in Paris is working with PhD students and high level researchers to test the A.I. model. As the beacon of innovation and research in Europe, France was selected by Facebook as the headquarters for the FAIR project.
Introducing MetaMind - A Neural Networking System
MetaMind was a startup based in Palo Alto, California. Established by Sven Strohnband and Richard Socher, this company is on the cutting-edge of A.I. Initially established to fuse mathematics and language, MetaMind is now one of the most prominent artificial intelligence companies in the world. The technology that was created is known as recursive neural networking. Thanks to the deep pockets of angel investors, MetaMind has received millions of dollars in funding from Salesforce.com and Khosla Ventures. Deep-learning startups are fast becoming one of the most prominent investment options for high tech stockholders.
MetaMind is about deep learning and it is capable of classifying images (know what the images represent), words and other types of content. According to Richard Socher, with MetaMind the actual answer is provided to users as opposed to multiple links. By feeding content into the MetaMind system, the system will be able to intelligently generate the answer from the block of text. The presence of episodic memory is what allows the MetaMind system to function. Socher likens the neural network to the connection between the hippocampus and episodic memory. Transitive reasoning is also possible with the technology.
In much the same vein as Facebook, Google and Microsoft, MetaMind is also utilizing artificial intelligence and neural networking to create an ingenious system. With MetaMind, A.I. is focused on building a short-term memory that is capable of answering many questions about natural language. Industry insiders have been quoted as saying that the MetaMind system is fully capable of answering questions about the 'sentiment' of specific texts, including what it is actually describing too. The MetaMind paper has been reviewed by a computer science professor at the University of Montreal (Prof. Bengio) who is impressed by the ambitious nature of the content. Since it's all drag and drop, it's really easy for anyone to learn the system - making it ideal from an investor's point of view. The next step is the sale of licenses for MetaMind software to companies around the world.
A.I. is An Investor's Goldmine
Facebook's facial recognition features - known as Deep Face - are similar in many respects to the technology that is used by the FBI. With a success rate of 97%, Deep Face utilizes biometric data to match pictures of two faces. While privacy advocates are sure to be up in arms about the new technology - especially given the Google dilemma in the EU, the technology is clearly the way of the future.
There is no doubt that investors are very eager to cash in on the A.I. boom that is coming. With the definition of A.I. as any intelligence exhibited by software or machines, it is clear that the stuff of sci-fi movies is now a reality that people are living with. According to Goldman Sachs, we are living on the cusp of an A.I. boom and there are almost limitless applications for this type of technology. Part of the reason why this new industry is taking off so much is the cheaper sensors and the incredible technological progress that is taking place. Unstructured data is now more easily understood too. At Google, the timeline for human-level Artificial Intelligence has been pegged at 2029.
What Are Good A.I. Investment Companies?
For now though, patents are being stored by the big tech companies. Leading from the front is IBM (NYSE:IBM) with more than 500 patents related to A.I. An example of just how successful IBM has been in this realm can be seen with its super-computer named Watson. When it entered the healthcare sector two years ago, IBM was instrumental in using A.I. to lower the error-rate of diagnosing cancer by doctors. Besides for IBM, the following companies hold large numbers of patents related to A.I. - SAP (NYSE:SAP), Microsoft and Google. Even if companies don't hold large numbers of patents, they are buying A.I. startups across the board. Nobody wants to be left behind in this cutting-edge sector. Google, Twitter (NYSE:TWTR) and Yahoo (YHOO) have been hard at work buying up companies that are involved in language processing, image processing and the like. Other companies that have invested heavily in A.I. include Sentient Technologies with $144 million in funding and Rethink Robotics with $127 million in funding. While Europe is lagging in this industry, the U.S. and Asia are at the forefront.
The Future of A.I. is Here Now
While there are many up-and-coming A.I. companies on the market one of the most widely touted companies is NEC. This Japanese hardware monolith is ranked atop the pile as a text/facial analysis wunderkind. Other companies worth considering include the likes of Pacific Industrial, Nidec, and MobileEye. Opower and Marketo are A.I. companies focused on personalizing the user experience with a high degree of customer information. A.I. is also employed by other companies in different ways to increase retention, loyalty and revenue - Twitter and Amazon (NASDAQ:AMZN) are cases in point. The recently released Amazon Echo is an example of budding Artificial Intelligence software that gives the Internet a voice. By personalizing the user experience, Amazon Echo can remember schedules, set alarms, provide information, news and weather forecasts. While the potential windfall from A.I. may be several years off into the future, the R&D is well underway. Investors who are ready and willing to hitch their wagon to the A.I. train will be handsomely rewarded when mass production and rollouts from the top tech hardware and software companies begins.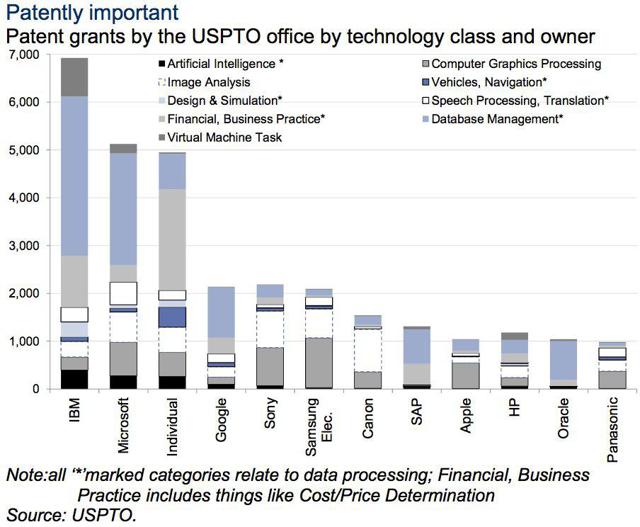 Disclosure: I/we have no positions in any stocks mentioned, and no plans to initiate any positions within the next 72 hours.
I wrote this article myself, and it expresses my own opinions. I am not receiving compensation for it (other than from Seeking Alpha). I have no business relationship with any company whose stock is mentioned in this article.