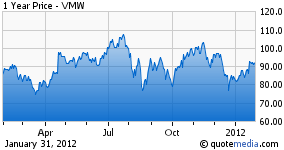 A decade ago Oracle (NYSE:ORCL) was the model for building an enterprise software company.
Oracle did two things that were right for its time. It put a proprietary twist on what had been an open technology, SQL databases, and it became a classic "roll-up," buying out the competition and then squeezing customers for what amounted to monopoly profits.
VMware (NYSE:VMW) is trying something similar with the cloud. Its Cloud Foundry sounds open, as SQL is nominally open, but the goal is to lock-in customers into supporting a full suite of VMware solutions. Critics call this a "walled garden" approach.
The idea is to lock-in enterprises to a full range of VMware offerings, enabling the company to profit doubly at its leisure. The announcement this week of its vCenter Operations Management Suite is in keeping with this strategy.
So far, customers aren't listening to the lock-in warning. Both VMware and its parent, EMC (EMC), continue to sign alliances and VMware delivered strong results in its most recent quarter.
The question investors need to ask themselves is whether this momentum will continue, because investors always buy tomorrow's results with the value of today's.
Rackspace (NYSE:RAX), which recently spun off its OpenStack project into a separate foundation, has outperformed VMware over the last year. Investors give both RAX and Red Hat (NYSE:RHT), whose cloud infrastructure effort is called OpenShift, higher earnings multiples than VMW.
Is the Oracle strategy the right one for the 2010s? Or has open source forced the cloud to be more truly open? If you think the former is true then VMware is for you. If you think the latter is true look elsewhere.
Disclosure: I have no positions in any stocks mentioned, and no plans to initiate any positions within the next 72 hours.