Another buying opportunity may have arrived for fixed income investors. If you haven't noticed, a bond rout is on!
The last great buying opportunity for fixed income securities occurred during the May through October timeframe in 2013. Yields on the 10-year Treasury spiked 158 basis points, from 1.44% to 3.02%. It became known as the "taper tantrum," after Bernanke first signaled to the markets that the central bank's massive liquidity program was coming to an end.
Now, we've got the Taper Tantrum II, as the 10-year Treasury yield has risen about 80 basis points from this year's low on February 2nd. The Fed has signaled that it will begin raising interest rates sometime this year. We're not so sure. Expectations for a rate hike keep getting pushed back -- from June, then September and now to December.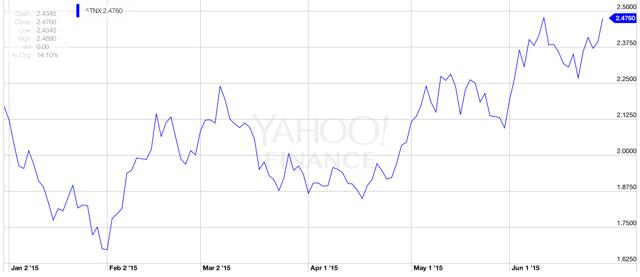 Here's how interest-sensitive securities have performed since February 2, 2015:
1-3 year Treasury bond: -0.024%
3-7 year Treasury bond: -2.08%
7-10 year Treasury bond: -5.57%
20+ year Treasury bond: -16.18%
Preferreds: -1.48%
Reits: -12.07%
Utilities: -13.69%
The Utility sector is beginning to look interesting here. The 10-year Treasury appears overbought and sentiment against the likes of the Utilities Select Sector SPDR ETF (NYSEARCA:XLU), the Vanguard Utilities ETF (NYSEARCA:VPU) and the iShares U.S. Utilities ETF (NYSEARCA:IDU) is currently quite bearish.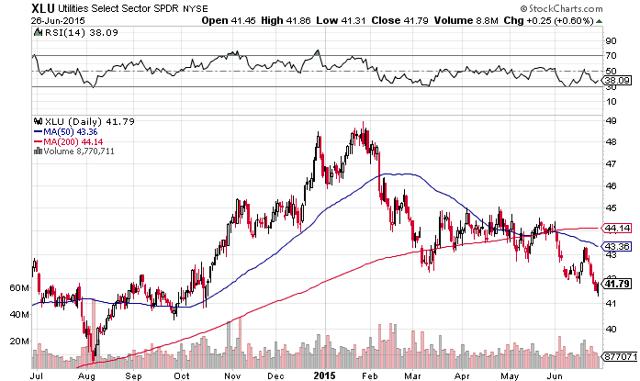 This sector may have further to fall in the near term, however, it will likely produce an attractive buying opportunity at some point in the not too distant future.
The fragility of the global economy remains apparent as 49 countries have cut interest rates this year, with China the most recent to do so after a plunge in its stock market.
In addition, the IMF (International Monetary Fund), just a few weeks ago, urged the Federal Reserve to wait until 2016 before it raises interest rates off their historic lows. It downgraded its forecast for U.S. economic growth this year from 3.1% earlier in the year to only 2.5%.
And now, we have an increasing likelihood of a "Grexit" from the euro as Tsipras's referendum call pushes Greece a step closer to leaving the currency bloc.
In our opinion, the bond rout is closer to its end than to its beginning. The specter of a rising rate environment may prove to be another false dawn. Support for the 10-year Treasury at and around 2.50% may be a decent entry point for fixed-income investors.
Disclosure: I/we have no positions in any stocks mentioned, and no plans to initiate any positions within the next 72 hours.
I wrote this article myself, and it expresses my own opinions. I am not receiving compensation for it. I have no business relationship with any company whose stock is mentioned in this article.
Additional disclosure: George Kiraly Jr., CFP®, MBA is the president of LodeStar Advisory Group, LLC, an independent Registered Investment Adviser located in Short Hills, New Jersey. George Kiraly, LodeStar Advisory Group, and/or its clients may hold positions in the ETFs, mutual funds and/or any investment asset mentioned above. The opinions offered herein are not personalized recommendations to buy, sell or hold securities.