In this article, I present a pair trade: I recommend buying Smith & Wesson (SWHC) and selling short shares of Sturm, Ruger & Co (NYSE:RGR). Readers can see my full analysis of Smith & Wesson in my previous article. This one will be predominantly focused on Sturm, Ruger & Co. Please note that the idea is entirely based on my opinion of the companies' valuations only: I am not in possession of any material non-public information about either company that can benefit the trade. My findings are that Smith & Wesson is trading below its fair value, while Sturm, Ruger & Co is significantly overvalued.
Both stocks have underperformed the broader market over the last 52 weeks, with Smith & Wesson rising slightly above the S&P 500 Index over the past few weeks, while Sturm, Ruger & Co is still underwater: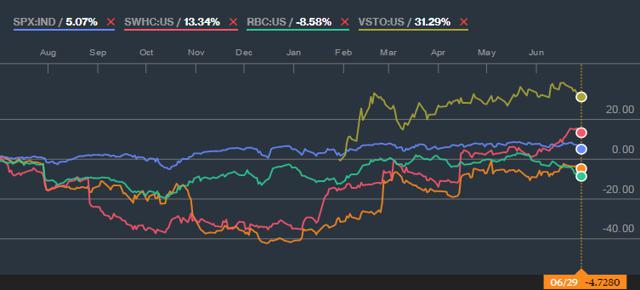 (Source: Bloomberg)
Note: the stock's price returns are compared to S&P 500's performance and returns of Smith & Wesson, Vista Outdoor Inc., and Regal Beloit Corp. I chose these companies because they are similar in terms of market capitalization and operate in similar industries.
Comparable Companies' Analysis
The champion on the margins list is Smith & Wesson with above-average profitability margins:

(Source: Capital IQ)
Smith & Wesson beats Sturm, Ruger & Co on every single P&L line, proving its operational supremacy over competitors. Now let us turn to relative valuation:

(Source: Capital IQ)
Sturm, Ruger & Co. is rightfully second on the list in terms of price multiples. On the other hand, Smith & Wesson is relatively cheaper, while also more efficient, than Sturm, Ruger & Co. This observation also confirms that Smith & Wesson is a better buy.
DCF Valuation
My DCF model uses the same price multiples to calculate the company's terminal value as in the case with Smith & Wesson Holding Corporation in order to ensure consistency. The next five years' median revenue growth rate is 1.0%, while the EBITDA margins is set to increase to 24% from the LTM figure of 23.2%. The corresponding output of this scenario is given below:


(Source: Capital IQ. Calculations by author)
Note: the percentages indicate an upside move in the share price from the Monday's close of $56.22 required for the stock to reach the fair value range. I used the equity's effective discount rate dictated by the Capital Asset Pricing Model (8.2%).
When I insert my own required rate of return, which is at least 10%, I get the following picture:

(Source: Capital IQ. Calculations by author)
Readers can see that the downside price risk has reached a double-digit range. This is there is clearly no advantage to buy the stock at current levels, even if one adds back the expected rate of return (8.2%).
The table below is based on a very important DCF-concept: the company's value should not be entirely dependent on exit multiples/perpetuity growth rate. If it is, there is no point running a DCF analysis, as one can simply apply multiples to find fair value. Typically, a good range for the projections' portion in the analysis should be roughly 30%-50% of the enterprise value. In this case, it is a bit lower:

(Source: Capital IQ. Calculations by author)
In the table, one can see that the company's valuation is more dependent on price multiples over the next five years' worth of projections. This makes the stock more volatile and sensitive to market movements than companies that generate higher free cash flow yields and trade on comparable price multiples.
Opinion
I issue a SELL recommendation on the shares of Sturm Ruger & Co Inc. with a target price range of $47 - $51 per share, which represents a downside opportunity of 10% - 16% from current price levels. Ideally, the short position should be supplemented with a long position in Smith & Wesson Holding Corporation in order to reduce risks.
Disclosure: I am/we are long SWHC.
I wrote this article myself, and it expresses my own opinions. I am not receiving compensation for it (other than from Seeking Alpha). I have no business relationship with any company whose stock is mentioned in this article.