Worldwide equity markets have had an impressive showing since emerging from the Great Recession. The run-up in prices has coincided with equities becoming broadly more expensive. Some regions offer more attractive opportunities than others from a valuation standpoint, but the overall environment has become generally more challenging for investors. Current market dynamics have investors questioning where real opportunities can be found.
At Manning & Napier, our selective, active approach has led us to identify the pharmaceutical/biotechnology space as one potential area of opportunity. An increase in drug company innovation coupled with an improved U.S. regulatory environment has resulted in an uptrend in U.S. FDA drug approvals, which reached an 18-year high in 2014. In Europe, the total number of medicines recommended by the European Medicines Agency (EMA) has been trending higher in recent years, while a record number of medicines for rare diseases- known as orphan medicines- were recommended for approval by the EMA in 2014. As a result, the pharma/biotech space has become more attractive of late.
Pharma/biotech holdings within our portfolios are typically invested under our Strategic Profile strategy due to high entry barriers, differentiated products, robust organic sales growth, attractive margins, and strong cash flows. It is important that target companies have strong and diversified product pipelines to provide a runway for growth, as well as to help offset unexpected product failures and/or impending patent cliffs. Companies we consider attractive are typically disruptive innovators. Their portfolio may consist of drugs that address large, unmet medical needs, or they may be in the process of transitioning their drug portfolio from primarily small molecule drugs to biologics.
Biologic drugs are more complex molecular structures that are harder to manufacture, costlier to produce, and essentially impossible to exactly replicate in terms of safety and efficacy, lowering the threat of substitutes at patent expiration while helping to sustain growth. Many of the companies we invest in are competing in areas that are effective oligopolies. They are likely to be industry leaders with current treatments as well as pipelines that are focused on treating cancer (especially through immunotherapy), diabetes, and/or rare diseases. In our view, the pipelines of many of our investments contain medicines that have significant potential, but are underestimated by the market.
The increase in the number of diabetes and cancer patients particularly calls out for new treatment options. Diabetes is a serious epidemic affecting nearly 400 million people globally. The International Diabetes Federation projects prevalence to rise over 50% by 2035, largely driven by emerging market countries. Regarding cancer incidence, the World Health Organization estimates that there were more than 14 million new cancer cases in 2012, with the number of new cases expected to rise by approximately 70% over the next two decades. For late-stage cancer in particular, the prognosis is extremely poor, with a high unmet need for more efficacious therapeutic options. Additionally, most cancer patients- due to age- have a low tolerance to chemotherapy's serious side effects, so there is also a fairly high need for safer treatment alternatives.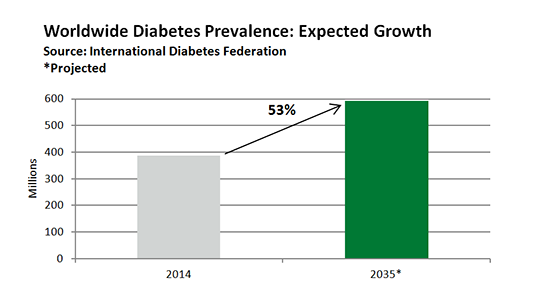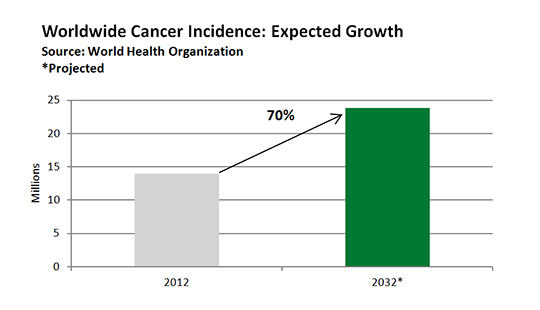 We believe this combination of rising prevalence/incidence, improved innovation and regulation, the increasing ability of emerging market consumers to treat their medical conditions, and the need for safer, more efficacious therapies, presents a long-run growth opportunity for companies exposed to these themes. Indeed, investors must still exercise caution as they pursue opportunities in the pharma/biotech space. Valuations across the sector—while not extreme- are more demanding today than in recent years, which enhances the importance of a bottom-up stock selection approach.