When investing in SMB and enterprise tech, I find watching the private markets to be extremely helpful in helping forecast what innovation is going to look like up the public market chain once some time has passed. Time and time again it's worked out that the Series A of yesteryear has become the "next big thing" at companies who saw opportunity in buying the lesser known private company's tech. The private markets, after all - at least for the best ideas and best companies - are just a farm system for the companies already taking advantage of the public markets.
Something I haven't seen much of but that I am seeing more and more of as of late is a shift from traditional CRM that I'm not sure really what to call. Call it "CSM" or customer success management. What is "CSM"?
It's essentially CRM, but with a more granular focus on customer happiness rather than say marketing or sales, but it isn't exactly customer support. We're all familiar with traditional CRM offerings from Salesforce.com (NYSE:CRM), Microsoft (NASDAQ:MSFT), NetSuite (NYSE:N) and SugarCRM. We're all familiar with core marketing solutions from HubSpot (NYSE:HUBS), Marketo (NASDAQ:MKTO), Constant Contact (NASDAQ:CTCT), MailChimp, etc. And we've all gotten to know customer service offerings Zendesk (NYSE:ZEN) and New Relic (NYSE:NEWR).
But what none of these platforms have, again, is a singular focus on the underlying relationship with a parallel focus on customer happiness. I think this is the next evolution of all the above platforms (CRM, marketing, customer service, etc.) that are intended to drive some eventually monetizable outcome, which isn't to say that CSM doesn't do that. To be clear, I think just as BI and Data Visualization/Design are being integrated into SMB/enterprise solutions as an expectation so too will CSM.
For instance, take private company Gainsight.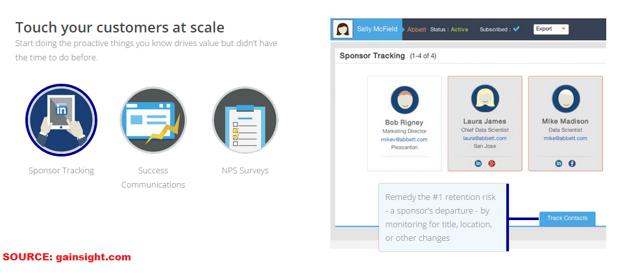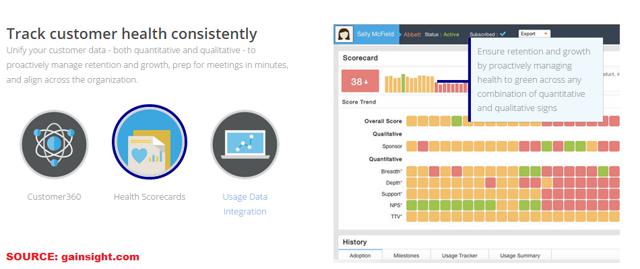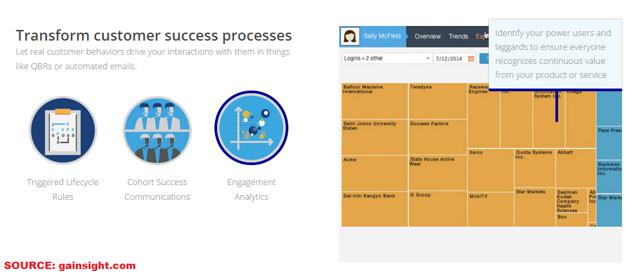 Gainsight is a platform that allows for tracking and management of unusual data points that it's proven lead to greater levels of retention, greater cross sell as a result of a happier customer and more vocal brand advocate, and to lower eventual cost per customer acquisition. That tends to happen when customers refer other customers (Gainsight helps its users create product champions within its customers' infrastructures) and have lengthier life cycles (creating much higher margins for the winning company as the customer eventually creates margin that exceeds total acquisition costs). Both are widely accepted concepts that are often promoted as reasons to deploy a CRM/helpdesk solution.
But Gainsight, and companies of its ilk, aren't focused on creating sales or retaining customers. Both just happen to be natural consequences of having happier customers and the generation of brand advocates. This is sort of a grandiose version of the Net Promoter Score and a magnification of why that now famous three letter combo has gained so much traction. Gainsight is the system that helps account managers (sales, relationship, technical, etc.) manage touchpoints, manage frequency of contact intended solely to increase happiness, and manage product champions from within an organization.
I wrote an article today detailing startup Square's entry into the payroll arena and how Square will be competitive in the space because it's addressing the two largest concerns of the target market on the front end of its launch. I also detailed how the only incumbent solution advantage that will exist for the market that Square is targeting will be those companies with a net promoter from within or those companies being referred. Gainsight and the CSM companies currently executing funding rounds on the private side help create both.
Frankly, I think the recent tech crunch call out of the rise of the VP of Customer Success role at many companies in this new economy we exist in is dead on. There's a reason we're seeing this customer success/happiness role proliferate and not more granular sales roles like Chief Revenue Officer. It's simply more efficient to create retention and referral selling than it is new sales. That's not to say new sales won't always be king, but it is to say that there's a new prince in the castle.
I think in the midterm, just as we've seen marketing departments create sub-departments that solely handle Inbound Marketing, we see CSM departments running parallel to customer service departments. HubSpot management has pointed out time and time again in selling its Inbound Marketing campaign, the leverage that is created by driving the type of growth that CSM creates. Zendesk management eloquently put into context the shifting transactional economy to one of customer retention and securing high lifetime return from each customer. An economy well-served by CSM.
So I've come to the same conclusion here that I came to in a previous article about app aggregation and its own proliferation, the early movers will be the early winners. Quite possibly the permanent winners. Gainsight, to use as an example, is capable of integration with Salesforce.com, Microsoft, SugarCRM, and several other CRM's and counts inbound marketer Marketo as a customer so the company is at least aware that Gainsight exists. I think any and all of these companies would do well to add Gainsight or Gainsight-similar tech.
It's time to start addressing the new normal in new ways.
Good luck everybody.
Disclosure: I am/we are long HUBS, MKTO, NEWR, ZEN.
I wrote this article myself, and it expresses my own opinions. I am not receiving compensation for it (other than from Seeking Alpha). I have no business relationship with any company whose stock is mentioned in this article.