All housing data has been quite strong in May, and the latest report on pending home sales is no different. Pending home sales jumped by a better-than-expected 0.9% in May while the Street anticipated a 0.6% gain. The total index level, at 112.6, is the best reading since the pre-bubble days in 2006. Sales in the Western US have been particularly strong as pending home sales rose by 2.2% in May and 13.0% year-over-year. Southern sales were also higher by 10.6% year-over-year, while May sales dipped slightly by 0.8%. Midwest sales declined by 0.6% in the month but rose by 7.8% year-over-year.
Lastly, the heavy winter is over and sales in the Northeast have bounced back strong up 6.3% for the month and 10.6% over last year. Ultimately, this report compliments the existing sales report nicely, and housing is getting a boost from the stronger jobs market and the prospect of higher mortgage rates.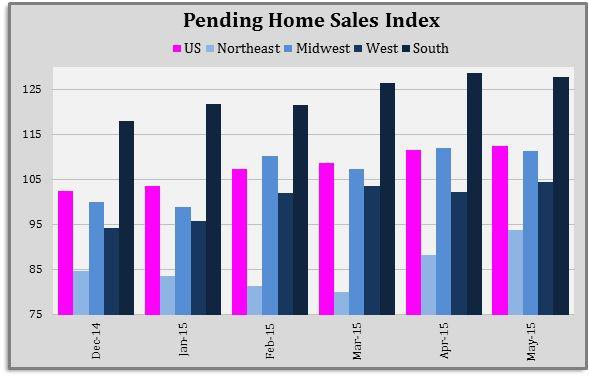 Additionally, it looks like the super strong manufacturing report out of the Philadelphia Fed district was no outlier after all. The Dallas Fed district noted that the manufacturing sector in Texas is still weak but not nearly as weak as it has been in recent months. The production index improved for June to a reading of -6.5, but was better than the -13.5 in May. Business activity improved to -7.0 from a very deeply negative -20.8 in May.
However, new orders still remain weak at -10.3 while shipments are also struggling at -8.8. Employment is nearing the positive column with a reading of -1.2 in June versus -8.2 in May. Price data is showing upward pressure for input data, while moderating downward pressure for finished goods and upward pressure for wages. The main culprit behind Texas' continued readings in the negative column is energy slowdown and weakness in exports.