LinkedIn (LNKD) stock plummeted at the end of April after its quarterly results. Since then, LinkedIn stock has noticeably not managed to rally back to anywhere near its previous levels.
These disappointing results were expected as profits were setback primarily due to LinkedIn's high profile acquisition of Lynda.com. The cost of merging the two companies and integrating their customer base has evidently reduced the LinkedIn's net income.
Additionally, a strengthening dollar over the past 3 months created quite an unfavorable exchange rate. As the Euro depreciated in terms of its value in dollars, it became non-viable for European consumers to purchase non-essential American products and sales from the Euro-zone decreased accordingly.
These short-term issues will not impact LinkedIn's long-term value and we therefore believe that LNKD is considerably undervalued and is currently a great investment opportunity.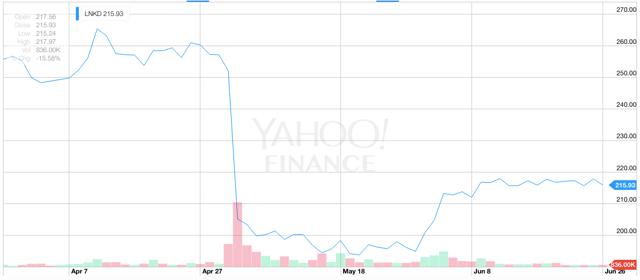 (Source: Yahoo Finance)
Solid and Unique Business Model
LinkedIn has a business model which is easy to understand and will be hard to imitate. They have built an enormous database of profiles for both personal and professional use. Any potential competitor would have to invest huge amounts of time to collect vast amounts of data and personal information.
Additionally, LinkedIn has successfully created a unique network and a well-respected brand name. A LinkedIn profile has now become essential component in almost every career and an integral part of any resume.
LinkedIn's main competitors, Monster and Jigsaw Data Corporation, have a much smaller database and their revenues are significantly inferior to LinkedIn's. The lack of serious competition is one of LinkedIn's most important asset.
Moreover, the strong gross margin reported in the Q1 results paints an incredibly bullish picture. Its adjusted EBITDA of $160 million was consistent with the 25 percent margin predicted for the quarter.
Diversified Revenue
One of LinkedIn's key strength is the way it diversifies its streams of revenue. The firm has three key products lines: Talent Solutions, Marketing Solutions and Premium Subscriptions.
Talent Solution is catered towards employers who are recruiting new staff. An employer would pay LinkedIn to use its huge database to recruit a suitable employee. This creates 62% of LinkedIn's revenue.
Advertisement sales and premium subscriptions constitute around 20% each of the remaining revenue.
The well diversified streams of income allows LinkedIn to be flexible and evolve which helps them to consistently create revenue in difficult times.
At the end of the first quarter, the balance sheet of the company was in very healthy position with $3.5 billion of cash and marketable securities. Evidently, the company has the resources to finance future R&D in order to expand the company further.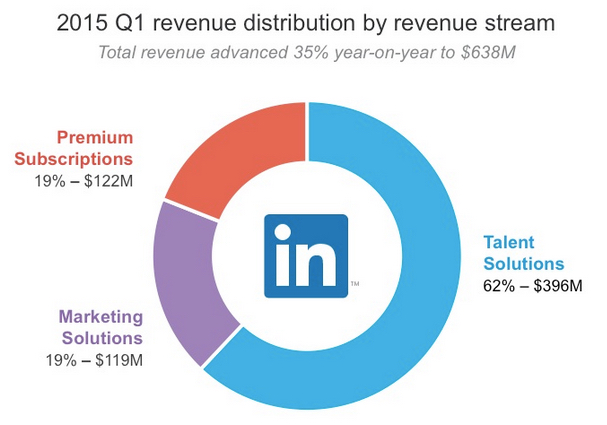 Source: LinkedIn Blog
Significant Growth Potential
Innovation has been fundamental to LinkedIn's success story. Besides having a solid business plan, the company has always attempted to be innovative and inventive in order to carry on maintaining long-term growth.
As well improving and simplifying its messaging system, LinkedIn has sought to increase its range of cellphone apps. They already have eight cellphone apps and they now plan on developing two new ones: LinkedIn Groups and LinkedIn LookUp.
LinkedIn Groups will allow users to be more involved and pro-active within conversations in LinkedIn groups. LinkedIn LookUp will allow users to find more information about co-workers or potential employees. Both of these two new apps will help increase the traffic onto the LinkedIn website.
Increase in Consumers and Revenue
Despite the devaluation of LNKD stock over the past year, LinkedIn has no fatal flaw, its revenue keeps rising and there is no convincing argument that the company does not have a promising future.
Quarterly results demonstrate that total revenue has increased by an incredible 35% year-over-year. Moreover, in the first quarter, website traffic surged as LinkedIn membership increased by 23%, page views by 30% and the job applications by 50%. The recent acquisition of Lynda.com and the integration of its mass library of training videos will significantly boost the number of LinkedIn users too.
International Market
The firm is growing rapidly abroad too. In the first quarter of 2015, more than 75% of new members came to LinkedIn from outside the United States. Whilst there are more than 364 million members in over 200 countries and territories, there is vast and untapped potential to expand their customer base in many areas in the world.
If LinkedIn manage to successfully persuade the Chinese market to embrace the concept of a network for professionals, they could potentially expand their Chinese customer base from a mere 8 million members to over 100 million.
With all these fantastic opportunities for progress and expansion, I believe that LinkedIn promises to be a bullish long-term investment.
Analysis Opinion
The consensus amongst analysts correlates with the bullish fundamental analysis too. The mean recommendation over the past couple weeks is 2.0 - a firm endorsement to buy.

(Source: Yahoo Finance)
Indeed, on May 4th, Argus upgraded their recommendation of LNKD stock from "Hold" to "Buy" and the mean price target for analysts is $254.27 - slightly higher than the April share prices of $250 and significantly higher than the current share valuation of $215.93. With LinkedIn stock having such strong evaluations, it will be a strange move for any investor to bet against their shares.
Conclusion
LinkedIn's share value has been detrimentally effected by setbacks in profits due to their acquisition of Lynda.com and unfavorable exchange rates. However, these are only small term blips and should not have any significant effects in their long-term value. As a result of being a unique company with a noticeable lack of serious competition and huge potential to increase their users and revenue bases, LinkedIn's future appears highly encouraging. I Know First's algorithmic prediction mirrors the bullish outlook of the fundamental analysis and believes LNKD stocks to be currently undervalued and therefore have highly "promising upside potential" for investors.
Business relationship disclosure: I Know First Research is the analytic branch of I Know First, a financial startup company that specializes in quantitatively predicting the stock market. This article was written by Sarah Benhamou and Eli Fletcher (our interns). We did not receive compensation for this article (other than from Seeking Alpha), and we have no business relationship with any company whose stock is mentioned in this article.
Disclosure: I/we have no positions in any stocks mentioned, and no plans to initiate any positions within the next 72 hours.
I wrote this article myself, and it expresses my own opinions. I am not receiving compensation for it (other than from Seeking Alpha). I have no business relationship with any company whose stock is mentioned in this article.