Since the end of February 2015, the S&P 500 has traded between 2,050 and 2,140, a 5% range. Year to date, index has generated a total return of about 2.7%, its slowest start in five years.
But beneath this placid surface, a number of trends have emerged that create risks and opportunities for savvy investors.
Divergent Opportunities
Shares of US multinationals have lagged the market this year, as a strong dollar reduces the value of repatriated foreign earnings.
This headwind helps to explain why the Russell 2000, an index that tracks small-cap stocks, has outperformed the S&P 500 this year by a more than 2-to-1 margin; smaller companies tend to have less exposure to international markets than their large-cap peers.
The three best-performing sectors in the S&P 500 have generated an average total return of 4.9% thus far in 2015, compared to a mean loss of 5.4% for the worst three performers.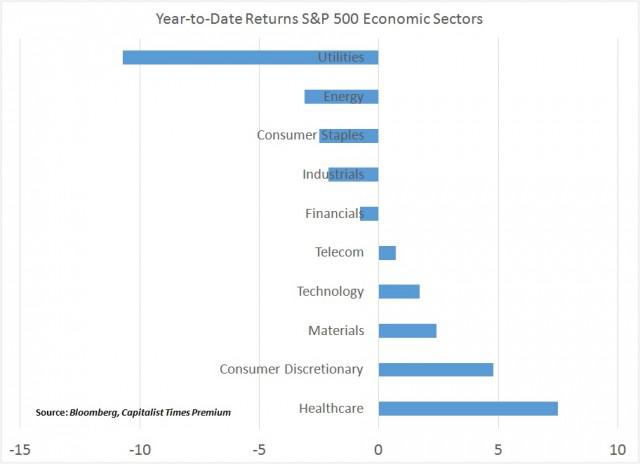 This wide divergence in sector performance offers myriad opportunities for active investors to outperform the broader market.
Pullback Still a Risk
As we warned in Looking for a Pullback, the risk of the S&P 500 suffering a 5% to 10% correction remains elevated.
That the index has failed to rally to more than 2,140 despite stronger-than-expected retail sales, employment numbers and orders for durable goods highlights the underlying weakness in the stock market and underscores the potential downside risk.
And although the S&P 500 has remained range-bound in recent weeks, the number of stocks leading the market higher has deteriorated significantly.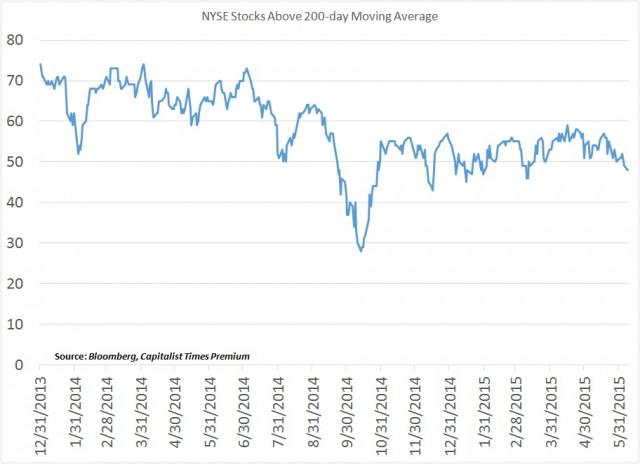 The S&P 500 sits 3% off its 2015 high, but only 48% of the stocks listed on the New York Stock Exchange (NYSE) trade above their 200-day moving average. Although the equity market appears to be running in place, more than half of NYSE-listed stocks have trended lower. In April 2015, almost 60% of the equities that trade on the NYSE had rallied above their 200-day moving average.
Deterioration in market leadership often presages a turn in the S&P 500. For example, the number of NYSE-listed stocks trading above their 200-day moving average declined from about 64% at the beginning of September 2014 to 47% on Sept. 23. Meanwhile, the S&P 500 gave up about 9% of its value from Sept. 23 to its October 2014 low.
Although the risk of a temporary pullback is still elevated, we remain bullish on stocks over a longer time frame.
It's the Economy, Stupid
As we explained in Great Expectations, US economic growth has fallen short of consensus expectations, tumbling from 5% rate in the third quarter of 2014 to 2.2% in the fourth quarter and 0.7% in the first quarter of 2015.
Several factors have contributed to the deterioration in US economic growth.
First, most economic data is adjusted to account for seasonal factors such as winter weather and holiday spending patterns. These tweaks usually involve comparing data to multiyear averages to account for these variations.
This adjustment process is far from an exact science. For example, the past two winters have featured below-average temperatures and above-average snowfall; normal seasonal adjustments likely failed to account for the severity of the impact.
This assertion isn't idle speculation. In The Puzzle of Weak First Quarter Economic Growth, researchers from the Federal Reserve Bank of San Francisco apply a second round of seasonal adjustments to the data the that the US Bureau of Economic Analysis (BEA) uses to compute quarterly gross domestic product (NYSEMKT:GDP). This recently published paper concludes that the US economy grew at a faster clip than suggested by the seasonally adjusted data.
In late May, the BEA formally acknowledged that seasonal adjustments have created a downward bias to fourth- and first-quarter estimates of US GDP growth. The BEA plans to revise its formula for seasonal adjustments, starting with the second-quarter data that will come out at the end of July.
However, investors shouldn't overlook the other factors driving recent weakness in US economic data.
First and foremost, the US dollar's 17% rally since mid-2014 and corresponding weakness in many international currencies has weighed on American manufacturers' cost competitiveness, kicking the legs out from under one of the economy's most powerful growth drivers in recent years.
The Institute for Supply Management's Purchasing Managers Index (PMI) for the US manufacturing sector, one of our favorite indicators for a quick-and-dirty assessment of the economy's health, slumped from last summer's high of more than 58 to a low of 51.5 in March and April 2015.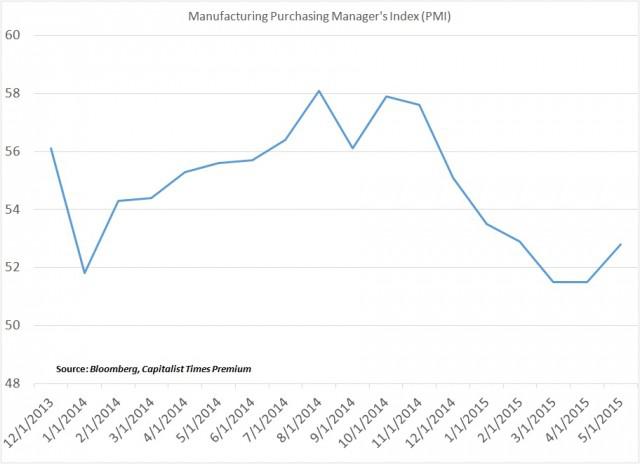 Although PMI readings greater than 50 indicate economic expansion, the pullback in this index suggests that US GDP growth slowed dramatically in late 2014 and early 2015.
Uncle Buck's recent strength has also weighed on orders of nondefense-related capital goods, or assets used to manufacture other products or deliver services. Examples of capital goods include factory machinery and office equipment used in the service sector.
Because businesses usually use these big-ticket items over a period of several years, strong order flow for capital goods suggests that management teams are confident in their companies' growth prospects.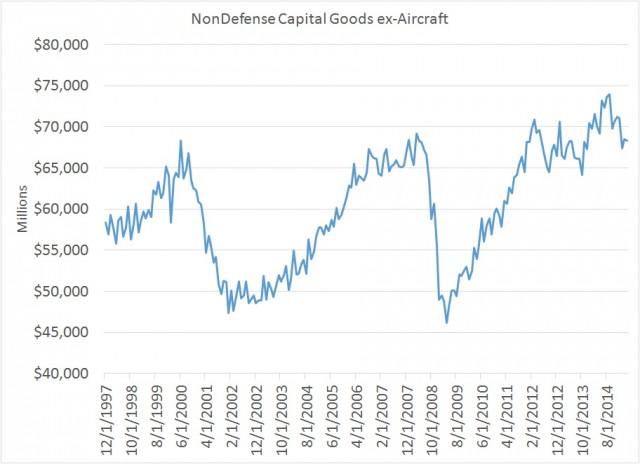 Significant declines in orders of capital goods preceded or coincided with the 2001 and 2008 US economic downturns. After peaking in September 2014, capital goods orders slumped sharply into early 2015, a risk factor that we'll continue to monitor.
Check Your Oil
Although manufacturing activity and business spending began to sputter in the second half of 2014, the collapse in crude oil and natural-gas prices in the second half of 2015 saved US consumers billions of dollars.
This tailwind didn't manifest itself in consumer spending data right away, prompting many pundits to conclude that lower energy prices weren't enough to loosen Americans' purse strings. Some even concluded that falling oil prices were a headwind for consumers, demonstrating how you can torture logic to substantiate any conclusion, no matter how far-fetched.
These armchair analysts overlooked the customary lags in economic data, especially with retail sales and consumer spending.
After several years of elevated oil prices, consumers needed time to come to grips with the reality of lower energy prices; the long-standing rule of thumb holds that it can take anywhere from six to nine months for a major drop in energy prices to show up in retail sales and other economic data points.
But strengthening retail sales in two of the past three months suggest that last year's big drop in energy prices has started to support consumer spending.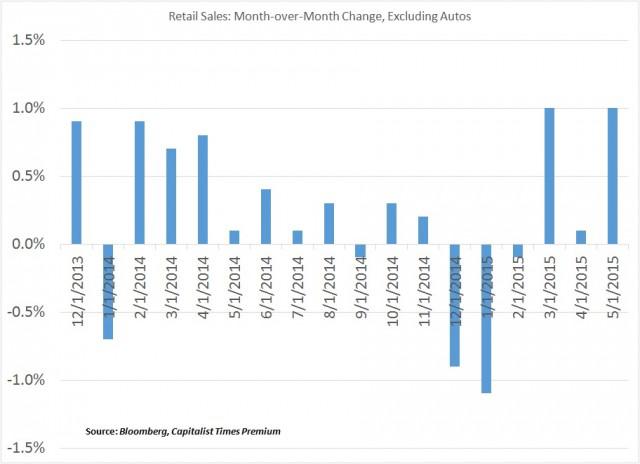 This trend became apparent in the stock market long before the recent improvement in official retail sales data released by the government. The S&P 500 Consumer Discretionary Index, a retailer-heavy basket of stocks, has surged by 9.6% over the past six months and 16.6% over the past year, besting the S&P 500 by a roughly 2-to-1 margin over both periods.
In fact, consumer discretionary takes the crown as the S&P 500's best-performing sector over the past six months and the second best over the past 12 months-health care holds the latter honor.
Expect consumer spending to emerge as the US economy's main growth driver over the next few quarters, offsetting softness in manufacturing activity and business spending.
The combination of fading seasonal adjustment headwinds and a pick-up in consumer spending should draw a line under the US economy this year. Investors should regard this lull as a short-term soft patch in US GDP growth, akin to the mini-cycles that the US economy has gone through since the Great Recession.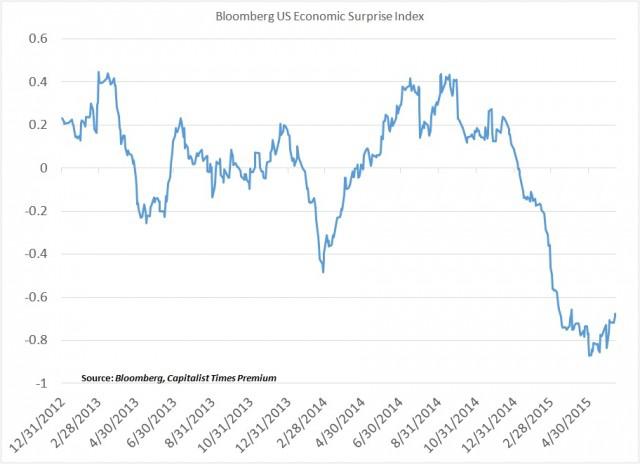 The Bloomberg US Economic Surprise Index, which encapsulates how incoming economic data points match up to analysts' consensus expectations, has headed higher, suggesting that the economy has started to recover from its winter malaise.
We expect improving economic data to send stocks sharply higher toward the end of 2015.
Accordingly, investors should regard any 5% to 10% drop in the S&P 500 as a stellar buying opportunity. As for your shopping list, we continue to like stocks with favorable risk-reward balances in the following industries: restaurants, retailers, automobiles and health care.
Disclosure: I/we have no positions in any stocks mentioned, and no plans to initiate any positions within the next 72 hours.
I wrote this article myself, and it expresses my own opinions. I am not receiving compensation for it (other than from Seeking Alpha). I have no business relationship with any company whose stock is mentioned in this article.
Additional disclosure: From June 15, 2015.