While the major equity indices remain fairly optimistic that a resolution will come to Greece, there is also a ton of domestic economic data lifting the market today. Firstly, ADP gave a big preview of the jobs situation ahead of tomorrow's report from the Bureau of Labor Statistics (BLS), noting that private payrolls rose by a whopping 237,000 in June which came in well ahead of consensus at 220,000 but not above the top-end of the consensus range at 245,000.
For comparison purposes, this translates to 225,000 jobs expected on the BLS report (down from 280,000 in the prior month). Nevertheless, ADP has overall been a lousy indicator in recent months, with expectations way off the mark from the BLS report. Additionally, for the month of June there were 12,000 jobs added in the goods-producing sector and 225,000 in the service-providing sector, further indication of a slowdown in the manufacturing sector.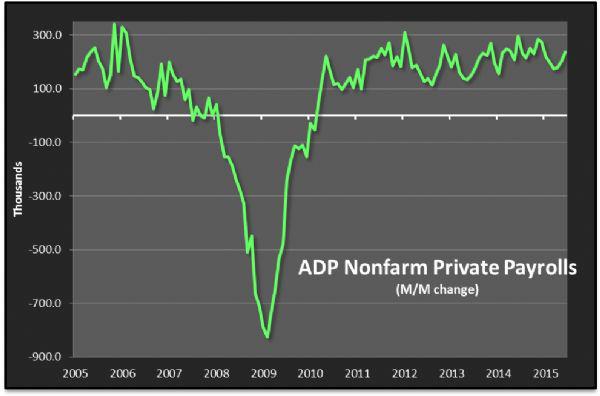 Next, Challenger's report on monthly job cuts showed that layoff announcements increased in June to 44,842 from 41, 034 in May. This is also up from an unusually low 31,434 in June of last year. Overall job layoffs are also trending higher at 147,458 for Q2-2015 up from 140,214 in Q1-2015 and much greater than the 124,693 from Q2-2014. For the first half of 2015, announcements totaled 287,672 for a 17.0% increase over last year.
The most layoff announcements in June were noted in the retail sector, followed by the chemical industry - which is closely tied to the oil and gas sector. Nevertheless, this rise in layoffs has yet to really inflate the jobless claims numbers, which continue to be at or near historic lows. However, sometimes announcements for layoffs are made months before the employees are actually cut, so today's results shouldn't have too much of a detrimental impact on the BLS jobs report.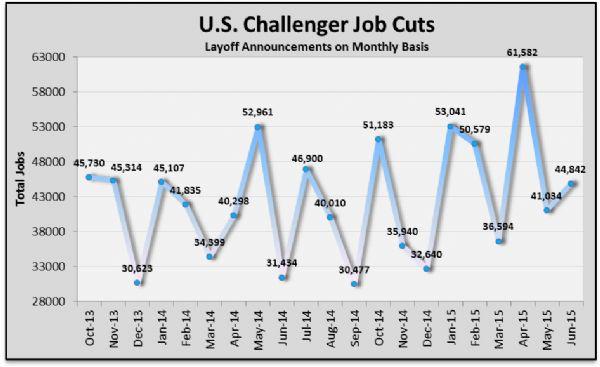 Weakness in the manufacturing sector remains apparent, however it looks like June may be showing some hints of a turnaround. Initially, Markit revised their June reading for the manufacturing purchasing managers index (PMI) to 53.6 from its preliminary reading of 53.4, but still lower than its May reading of 54.0. However, the Institute for Supply Management (ISM) shows moderate growth in manufacturing for June, with a PMI reading at 53.5 which was in-line with expectations. New orders are now very solid at 56.0, which is up slightly from May.
Employment is also a huge plus for the month, with a reading of 55.5 which is up from a 4 point gain in May. This supports the aforementioned report on job cuts that the majority of cuts are no longer coming out of the manufacturing sector. There were a few negatives in the report though, with new export orders dropping below the breakeven level to a reading of 49.5, which is further evidence that the strong dollar is hurting manufacturing. Delivery times also shortened in the month, and this weighed on the headline reading a bit. The reading on pricing remains the same as the prior month and still in a contractionary state.
Despite some apparent recoveries in some areas of the report, this will not be a positive for Q2-2015 growth expectations for the manufacturing sector or the gross domestic product (GDP).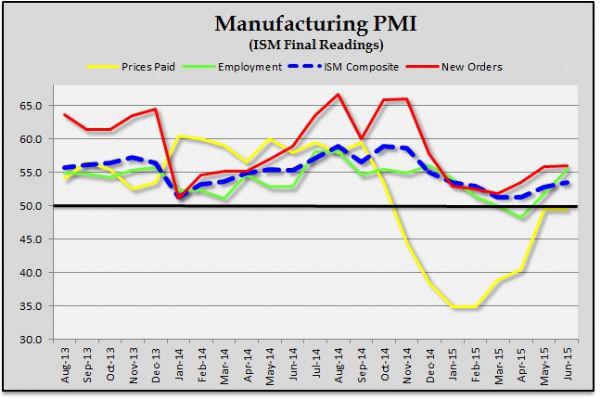 Lastly, construction spending for the month of May increased by a solid 0.8% following a 2.1% jump in April (revised lower from 2.2%) and a revised 1.3% gain in March (from 0.5%). An area of particular strength were noted at manufacturing facilities, up 6.2% over April, for the fourth consecutive month of gains and outpaces the declines recorded in other business segments.
Among residential construction, growth was less than strong at a 0.3% growth rate for the second month in a row. Year-over-year rates however, are still quite strong with total residential construction spending up about 7.8%. Single-family home construction spending is up a whopping 11.2% over last year, and this is very optimistic for the housing market.
Recent housing data, in particular strong gains in housing permits and new home sales, point to acceleration in the sector for the coming months. No one expected it, but it looks like construction might actually be one of the biggest winning sectors in 2015.