Smartglasses adoption for industrial applications is coming albeit at a slower pace than forecasts in the market. I recently checked in with Julia Powers, Product Manager at Rochester Optical, to discuss the smartglasses industry adoption curve and the role of corrective lenses. According to Powers, nearly two-thirds of individuals will require personalized optics to maximize their smartglasses user experience, which makes the opening of the first smartglasses retail distribution site by National Vision Inc. (NVI)-owned Eyeglass World a significant event for the industry.
Pilot programs are numerous in the industry but take time to bear fruit. One smartglasses proof-of-concept (POC) pilot program that investors should take note of was launched by Accenture (NYSE:ACN) in conjunction with Airbus (OTCPK:EADSF) and Vuzix (NASDAQ:VUZI) in January.
Image Source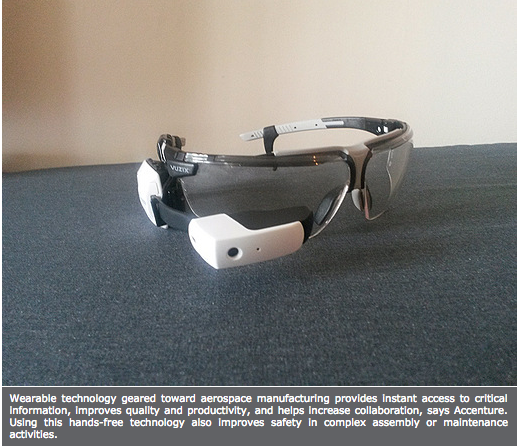 Accenture's role within the smartglasses industry is that of an integrator working with various clients across various industries to implement technology to improve efficiencies and lower costs. The completed POC proof-of-concept smartglasses pilot program enabled Airbus to effectively mark the production floor faster and reduce errors to zero while assembling cabin seats. Airbus saw removal of errors and reduction of time spent per aircraft was completed in just one-sixth of the time during the POC.
This method also proved to be especially critical for removing errors in the process. Overall, time spent per aircraft was divided by six and error rates reduced to zero, while improving overall ergonomics of installers. (Source)
Smartglasses also can be utilized in various ways by the airline industry including peer to peer communication, boarding check-in, security, customer data, aircraft maintenance and assembly (Airbus proof-of-concept program) and flight operations. In general, Accenture believes smartglasses will enable "the operator access to features including barcode scanning, data retrieval from the cloud, voice command and augmented reality."
According to Accenture, wearable eyeware technology is being industrialized for A330 cabin furnishings and other final assembly lines will likely follow along with other Airbus divisions. Accenture also is looking to leverage the Airbus proof-of-concept program and begin to push smartglasses into commercial aerospace and defense manufacturing industries as well.
Currently, the technology is being industrialized for A330 cabin furnishing. The other Final Assembly Lines should quickly follow along with other Airbus divisions. Going forward, Accenture is looking to build on this proof of concept with Airbus by making it widely used in commercial aerospace and defense manufacturing. (Source)
Other significant news was the announcement made by National Vision Inc.'s Eyeglass World alongside Rochester Optical, Vuzix, Epson, Recon and Google (NASDAQ:GOOG) (NASDAQ:GOOGL), which celebrated the first smartglasses retail distribution site on June 22nd.
National Vision finished as the fourth-largest optical retailer in the US in 2014 with over 800 retail locations under various brands. The NVI family of brands includes EyeGlass World, Vision Centers (inside select Wal-Mart (NYSE:WMT) stores, Vista Optical (within Fred Myers) and America's Best Contacts World. NVI's strategic vision calls for over 40 new locations to open annually on top of its existing base of over 800 retail locations.
(Image Source @rocoptical)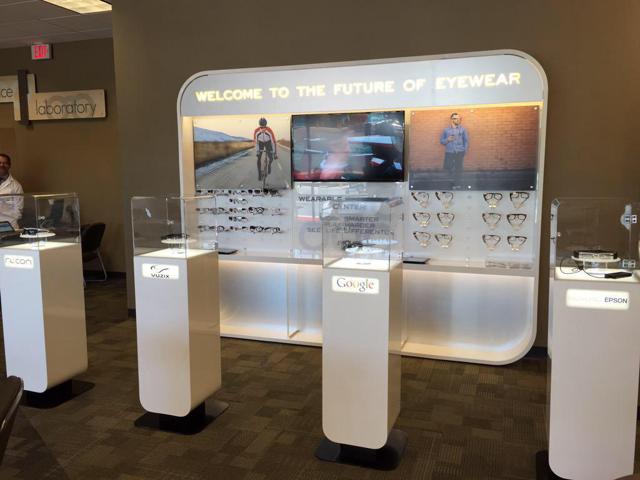 The addition of smartglasses to optical retail stores is significant. Individuals can wear contact lenses or prescription glasses underneath their smartglasses but after significant use it can lead to headaches and fatigue. Adding smartglasses directly into optical chain allows customers to come in and purchase a pair of smartglasses and prescription optics to maximize their user experience.
NVI's entry into the smartglasses retail distribution chain also will position the company to recruit large commercial accounts. This development is significant, but like all new business opportunities will take some time to bear fruit. What this means is smartglasses manufacturers are conducting pilot programs with commercial customers. Companies like SAP and APX Labs will be working with its customers and NVI will be working an additional list of targeted companies to help push the mass adoption of smartglasses for commercial applications.
Overall, there continues to be excellent strides made to deliver smartglasses in volumes to commercial customers. The addition of retail distribution centers will help get smartglasses into the hands of consumers to experience augmented reality first-hand. Pilot programs are numerous but are typically not publicized. The recent proof-of-concept pilot program completed by Airbus demonstrates the use case of smartglasses within the manufacturing setting for airlines. We should expect seeds planted in the smartglasses industry to begin to bear fruit over the second half of 2015 and into 2016.
Disclosure: I am/we are long VUZI.
I wrote this article myself, and it expresses my own opinions. I am not receiving compensation for it (other than from Seeking Alpha). I have no business relationship with any company whose stock is mentioned in this article.