By Sumit Roy
Commodities were mixed ahead of a key referendum in Greece over the weekend.
Commodities were mixed this week as the grain sector continued to sizzle, while gold, silver and oil sagged. At the same time, the stock market was hit by concerns about Greece. The S&P 500 lost about 1 percent, bringing its year-to-date gain down to 1 percent.
Macroeconomic Highlights
Greece once again dominated the headlines this week as the country defaulted on a $1.7 billion payment to the International Monetary Fund on Tuesday. But the saga for Greece isn't over; on Sunday, the country will hold a referendum on whether to accept the bailout deal proposed by its creditors. Many believe that the outcome of the vote will determine whether Greece stays in the eurozone.
In the U.S., the biggest release of the week was the nonfarm payrolls data for June. According to the Bureau of Labor Statistics, employers added 223K jobs in the month, slightly less than the expected 233K.
The unemployment rate dipped from 5.5 to 5.3 percent as many people dropped out of the labor force.
Other details of the report showed that average hourly earnings were flat in June after rising 0.2 percent in the prior month. On a year-over-year basis, wages were up by 2 percent.
Finally, ISM reported that its manufacturing gauge for the U.S. ticked up from 52.8 to 53.5 in June, slightly ahead of the expected 53.2.
Commodity Wrap
| | | |
| --- | --- | --- |
| Commodity | Weekly Return | YTD Return |
| Corn | 8.31% | 5.04% |
| Soybeans | 4.19% | 2.45% |
| Wheat | 3.56% | -1.36% |
| Natural Gas | 2.89% | -1.38% |
| Palladium | 2.47% | -12.70% |
| Copper | 0.00% | -6.71% |
| Brent | -0.36% | 9.94% |
| Platinum | -0.49% | -10.70% |
| Silver | -1.08% | -0.45% |
| Gold | -1.09% | -1.87% |
| WTI | -3.09% | 8.49% |
Gold dipped to a 3 1/2-month low this week amid a distinct lack of buyers. The yellow metal failed to generate any significant demand despite the precarious situation in Greece. That's a bearish sign, and along with the technicals, suggests that prices may be poised to fall further to the support level near $1,150 and perhaps to the cycle-low at $1,131.
Meanwhile, palladium made a comeback this week after dropping precipitously last week. However, the latest move can simply be considered an oversold bounce, and the trend in both palladium and platinum remains lower.
GOLD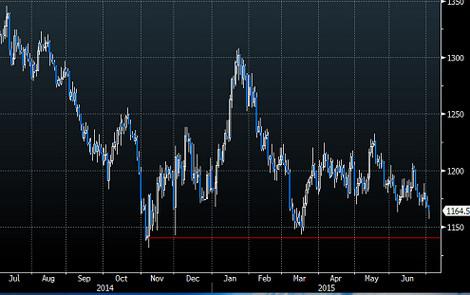 SILVER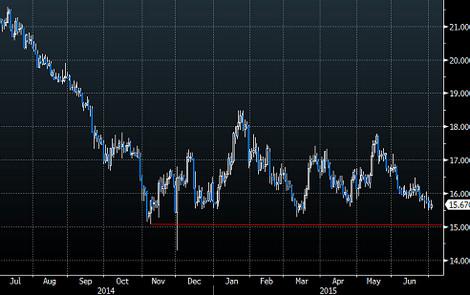 PLATINUM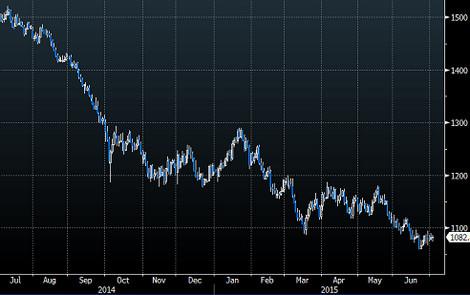 PALLADIUM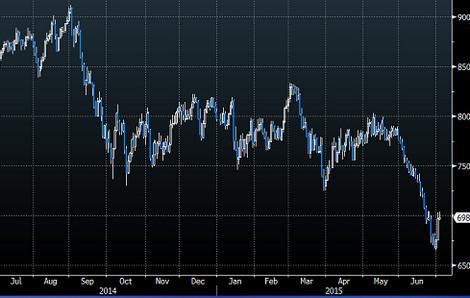 Crude oil moved lower this week after the Energy Information Administration reported a build in U.S. stockpiles and showed that production in the country remained near multi-decade highs.

Traders also keyed in on the Iran nuclear negotiations, the deadline for which was extended from June 30 to July 7. A deal with Iran would pave the way for a big boost in global supplies.

On the technical front, both Brent and WTI are currently testing the lower end of their ranges. The potential for a breakdown here is high.
BRENT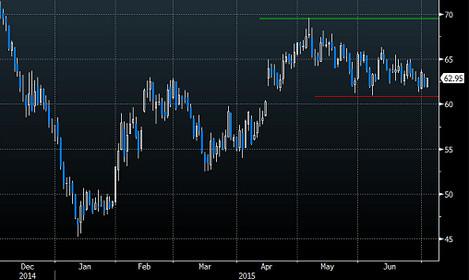 WTI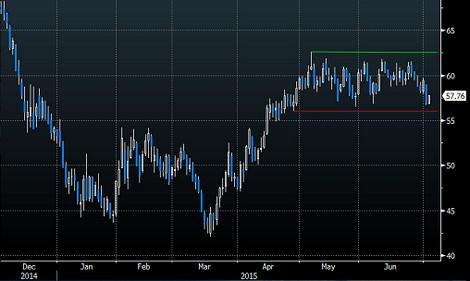 Grains surged higher for a second week after the release of the USDA's latest data on supply and demand. Both inventories and plantings came in below market expectations.
CORN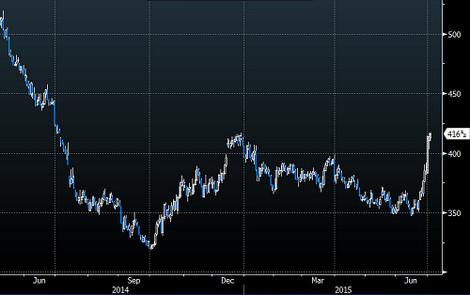 SOYBEANS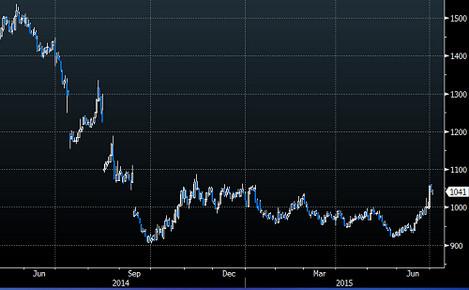 WHEAT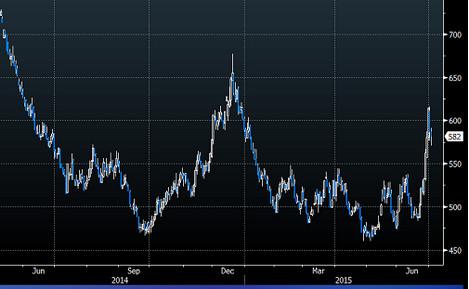 Copper was essentially unchanged this week as prices digested the latest macroeconomic developments. A retest of the $2.45/lb lows from earlier this year still looks likely.
COPPER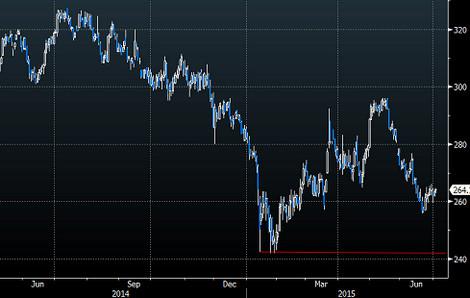 Natural gas found some support this week thanks to a smaller-than-normal inventory build of 69 billion cubic feet reported on Thursday. Prices have been supported, but robust power generation demand, though there are abundant supplies, have capped any rallies.

The $2.50/mmbtu to $3.10 range remains intact for now.
NATURAL GAS