Many investors would never tough a legacy airline due to their turbulent pasts but there is actually a lot to like about these carriers. For investors looking for a higher quality pick in this area, I see Delta Air Lines (NYSE:DAL) as a stand out making it more appealing for risk-adverse investors.
Buybacks and dividends
Although shareholder capital return plans should not be the sole reason to invest, Delta's actions in this area have shown a prudent ability to reward shareholders.
Delta restored its dividend and launched a $500 million buyback in 2013 while American Airlines Group (NASDAQ:AAL) took another year to do so following its emergence from bankruptcy reorganization. United Continental Holdings (NYSE:UAL) has launched a buyback but has yet to reinstate a dividend.
While American Airlines and United Continental are reinvesting their cash into new aircraft, Delta has announced it will try to return 50% of its free cash flow to shareholders via dividends and buybacks through 2017.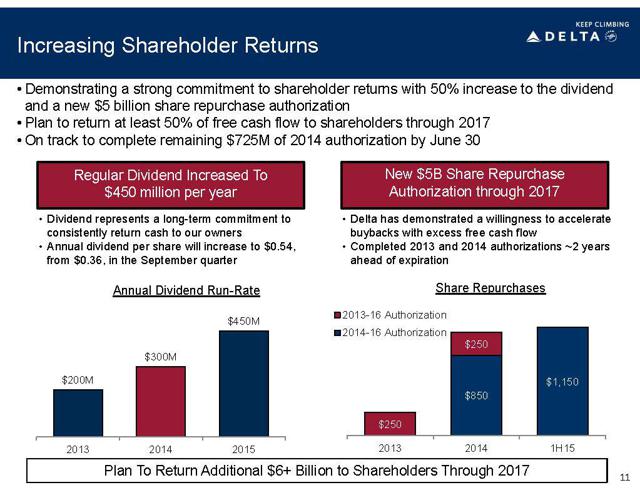 This plan is expected to result in the return of $6 billion to shareholders of which $5 billion will come from buybacks. As I have discussed in the past, I prefer buybacks to dividends in the airline industry; therefore, I like the allocation strategy Delta has selected.
Debt management
Major airlines are often criticized for having high debt levels that are expected to hurt them during economic downturns. But debt is typically necessary to run a major airline due to the high costs of aircraft which individually run into the eight or nine figure range.
Right now, American Airlines Group and United Continental Holdings are undergoing major fleet overhaul programs purchasing hundreds of narrowbody and widebody aircraft. Delta has also been acquiring new aircraft but in smaller numbers keeping new aircraft related debt at lower levels.
| | |
| --- | --- |
| Airline | Net Debt/ Operating Cash Flow |
| Delta Air Lines | 1.21 |
| American Airlines Group | 3.25 |
| United Continental Holdings | 2.94 |
Not only is Delta's net debt/ operating cash flow significantly lower than the other legacy carriers but the airline is actively focused on reducing its debt further.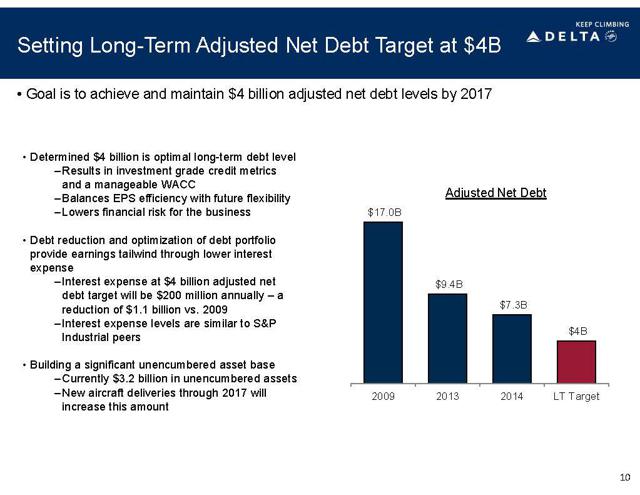 Important to note here is that while Delta has a $6 billion capital return program running through 2017, the airline still plans to slash its adjusted net debt by about 45% from 2014 levels. This deals with how Delta funds its capital return plan choosing to use existing free cash flow rather than adding debt.
Valuation
First off, there is a critical point of Delta's valuation that needs to be addressed. While many financial sites note Delta trades at nearly 30 times earnings, this number is misleading on its own.
Since Delta has one of the most extensive fuel hedging programs in the industry, mark-to-market adjustments took a $1.2 billion piece out of GAAP earnings due to the plunge in oil prices in late 2014. While the fuel hedges were a bad bet to be sure, such a charge has little impact on long-term earnings.
Excluding special items, Delta currently trades at a little over 11 times 2014 earnings; a valuation well below the market average.
Based on forward price-to-earnings, Delta trades at an even lower valuation of 9.0 times est. 2015 earnings, 7.7 times est. 2016 earnings, and 7.5 times est. 2017 earnings.
Clearly, Delta is trading with an airline discount from the market and while I still expect some discount to remain, shares should see some upside as the gap closes.
Risks
While Delta has done a lot to separate itself from the rest of the industry it does share many of the same risks. These include such things as pandemics, terrorist attacks, oil prices, economic, downturns, and price wars.
Major U.S. airlines are also now facing a probe from the U.S. Department of Justice relating to potential collusion on capacity. This is an area to watch, however I do not see it as a major threat and is likely to result in fines and minor agreements at the most.
By managing its debt Delta is reducing the potential for damage from these factors but investors should pay attention nonetheless.
Delta also faces the unique challenge of turning Seattle Tacoma International Airport into its new west coast hub. With Alaska Air Group (NYSE:ALK) currently using the airport as its own hub, there is the potential for increased price competition in this area.
Delta takeaway
Delta Air Lines trades with an airline-related discount yet it is setting itself apart from rivals through reasonable shareholder capital returns and significant debt reduction.
For investors looking for value and normally not interested in airlines, I believe Delta Air Lines is worth a further look as shares move closer to market valuations.
Disclosure: I am/we are long AAL, DAL.
I wrote this article myself, and it expresses my own opinions. I am not receiving compensation for it (other than from Seeking Alpha). I have no business relationship with any company whose stock is mentioned in this article.
Additional disclosure: The author does not guarantee the performance of any investments and potential investors should always do their own due diligence before making any investment decisions. Although the author believes that the information presented here is correct to the best of his knowledge, no warranties are made and potential investors should always conduct their own independent research before making any investment decisions. Investing carries risk of loss and is not suitable for all individuals.