Employers Holdings, Inc. (NYSE:EIG) is a specialty provider of workers' compensation insurance focused on small-to-medium sized business. Employers mainly does business in California with over 50% of their premiums written there, but they are actively working to increase exposure to other states and have premiums written in over 30 other states.
Over the past four years, shares of Employers stagnated despite growing revenues, net income and book value. Even more confounding is that the market rose considerably in this time period and investors seemed to overlook this little insurer. These kinds of situations interest me so I wanted to dig into the company and share my findings with the SA community.
One of the reasons Employers remains undervalued despite the market being near all-time highs is they have a heavy concentration of business in California. Thus, Employers carries substantial political risk if the California legislature passes any laws which adversely impact insurance companies as occurred in 2012. In September 2012, California passed Senate Bill No. 863 which increased the amounts of payments workers' comp claims could have to pay. The implications of Bill 863 were not clear at first as politicians said there would be other cost savings associated with the bill, but after 2013, insurance companies experienced increased costs and no cost savings.
The main gist of the bill was potential claim payouts would increase. This gave people less of incentive to settle their claims, so more people went to litigation. Employers' management said in 2013 claims which go to litigation cost on average seven times more than non-litigated claims.
These extra expenses caused the stock to lose 1/3 of its value early 2014 as investors feared costs could skyrocket out of control. Although, this was bad for the company, management acted swiftly and took up two initiatives. These two initiatives are now in full motion, and I believe we will see increased resilience and profitability which is not yet priced into the stock.
The first initiative, started in June 2014, is to reevaluate all California policies as they came up for renewal and to start pushing through rate increases. I believe the rate increases have not been factored into future profit targets analysts and investors have with this stock. Once an insurance company decides to implement a wide-scale rate increase, it takes at least a year to go through every policy and raise prices and another year for profits to finally hit the bottom line. We can already see the beginning of this effort in the steadily declining combined ratio.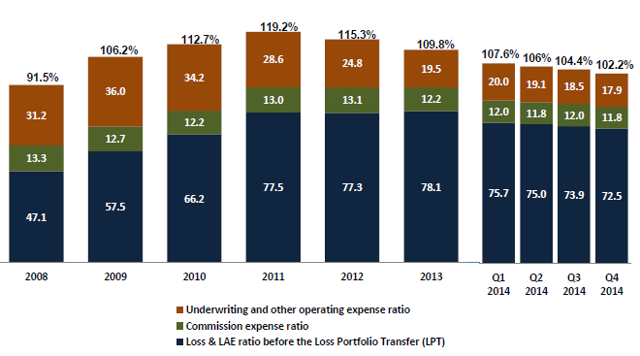 Source: 2014 Q4 Investor Presentation
You can see the combined ratio has actually been improving since 2011, but this improvement has accelerated in 2014 in a large part because Employers is stricter in their underwriting. Sidenote: Q1 2015 combined ratio improved further to 101.6%.
The other initiative management took because of Bill 863 was to increase spending on states outside of California in an effort to reduce the political risk. We have seen over the past couple years, policy growth in California is below the growth in policies elsewhere. Look for this trend to continue but as CEO Doug Dirks said, Employers will always have more exposure in California because California represents 20% of the US comp market.
These two initiatives will help Employers become more consistently profitable in the future, but it has hurt them a little in the short run. Looking at just the numbers, you will notice in-force premium revenue growth slowed from 15% in 2013 to 1.7% in 2014. Some may have thought Employers' growth had plateaued at this level, but the repricing efforts are what hurt policy growth in 2014. During 2014, Employers decided to not renew 13.5% of their unprofitable contracts. Taking the non-renewals into account, growth was close to the 14.9% they had in 2013.
However, in Q1 2015, the y/y net premiums earned declined 5%, which is in part because of the non-renewals, but also because of increased competition in Southern California. A couple years passed since California introduced Bill No. 863 and companies can see the impacts and they know how to price their policies. Despite net premiums earned declining in Q1, Employers increased net income - another testament to their initiatives paying off, and proof that profitability can increase even if revenues stagnate for a year or two as they cancel some policies and competition heats up.
Another risk Employers carries is rather unique and they call it the "LPT Agreement." If you don't know what the LPT Agreement is, back around 2000, Employers entered into an agreement with the Nevada State Industrial Insurance System to service all claims with an injury prior to July 1, 1995. Employers is responsible for these claims, BUT they have a 100% retroactive reinsurance agreement. Unless one of the reinsurers falls below an A- debt rating (according to A.M. Best) Employers will receive a management fee of 7% of loss payments on these claims. In the almost 15 years of the LPT Agreement's life, Employers has only had to replace a reinsurer once and this cost them $33 million - not a huge hit to the bottom line.
I took a look at the reinsurers and noticed one was ACE Bermuda. ACE Bermuda's parents company, ACE Limited (ACE) just acquired Chubb (NYSE:CB) and because of increased financial leverage, A.M. Best announced they would reevaluate the debt of ACE. However, ACE Bermuda gets a A++ rating and even if there is a slight downgrade because of this merger, it most likely will not get lowered several notches below A-.
For the most part, we can include the LPT numbers in any ratio, but you will notice management does not like to talk about the results of this number in their financial results and often will break out numbers before the agreement and after. One example of this is the combined ratio. Before the LPT Agreement, the combined ratio was a mediocre 105%, but after, the ratio is a respectable 97%.
Another potential risk is the fact almost 11% of their new premiums are referrals through payroll company ADP (NASDAQ:ADP). However, the business relationship appears strong as more and more referrals get sent Employers' way year after year despite them having a non-exclusive agreement. But, even if Employers' biggest referrer terminates the agreement, they should still be able to grow their business as witnessed by prior year's revenue growth.
Employers' management has been on the ball working diligently to make their company as antifragile as possible. Despite this, they are still trading at a discount to their peers. I feel this discount needs will disappear as investors realize this company is situated for the long haul.
Employers is cheap based on just about every valuation measure. Their forward P/E ratio is 13, P/S ratio is 0.97, and P/B ratio is 1.03. According to Yahoo Finance, the average P/B ratio of P&C insurance companies is 2.0, meaning Employers is currently trading at almost a 50% discount to its peers.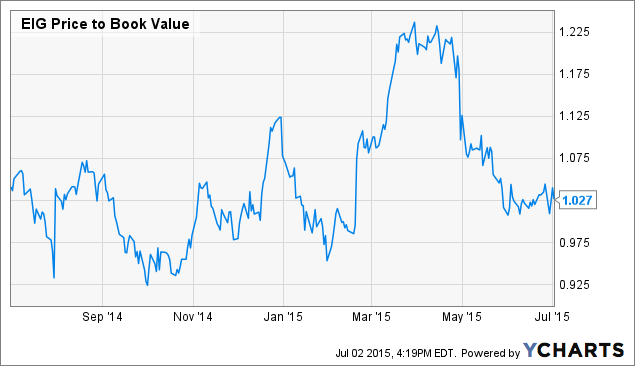 EIG Price to Book Value data by YCharts
I don't believe this gap will be closed entirely soon, but in the next couple years, it would be reasonable to assume they could trade at a P/B ratio of 1.5 as profitability increases. Assuming Employers can continue to increase their book value by their five-year average of 13.7%, Employers should have a book value per share of $27.40 by the end of 2016 and tack on the 1.5 multiplier, the share price should be $41.10. In the next year and a half, by this calculation, Employers' stock will go up by 79%. And at that price, this small and growing insurer would still be trading at a discount to its P&C brethren.
On top of that, Employers is trimming the fat around their policies and increasing rates. Since it takes about two years to fully see the end result of the expense reductions and price increases, you should see even higher profit growth soon. So book value may increase by even more than above 13.7%, making this a conservative outlook for the price of Employers.
Disclosure: I/we have no positions in any stocks mentioned, and no plans to initiate any positions within the next 72 hours. I wrote this article myself, and it expresses my own opinions. I am not receiving compensation for it (other than from Seeking Alpha). I have no business relationship with any company whose stock is mentioned in this article.