One of my fellow contributor recently wrote two bearish articles on the price of oil. While I respect very much my colleague and his point of view, there are two points that, in my opinion, the author is missing: the price needed for OPEC nations to balance their budget, and growing domestic demand in Saudi Arabia. Although I also believe oil prices will stay low for the current year, I think shale oil producers will be more resilient than was previously thought.
Oil price target for each OPEC nation
Indeed, every OPEC nation needs a substantial increase in the price of oil to sustain its spending.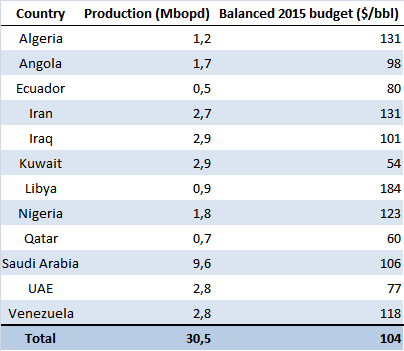 (Source: WSJ)
As you can see, the grand majority of members of the cartel need a substantial increase in oil price to balance their budgets. Saudi Arabia, the biggest producer and leader of the cartel, needs a barrel at over $100 per barrel to balance its budget.
Furthermore, the price increase isn't Saudi Arabia's problem alone, but one of almost all of the OPEC members.
I hold that this oil price has a breakeven target for the OPEC. They don't lose money, but they don't make any either. In light of this, note that the cost curve for any crude oil operations in North America is significantly lower, even for the oil sands: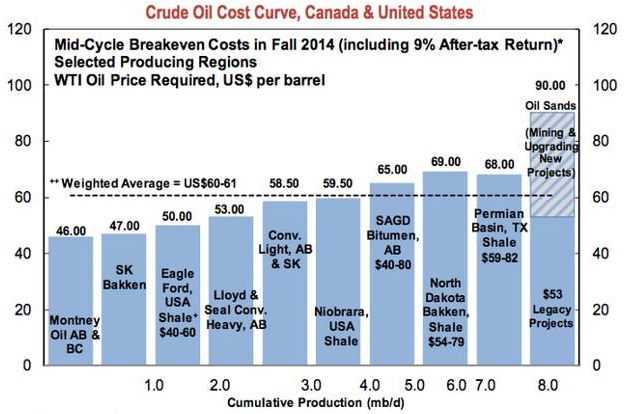 (Source: Scotiabank)
Rig count in Saudi Arabia
As you may know, the rig count operating in Saudi Arabia skyrocketed in the last decade.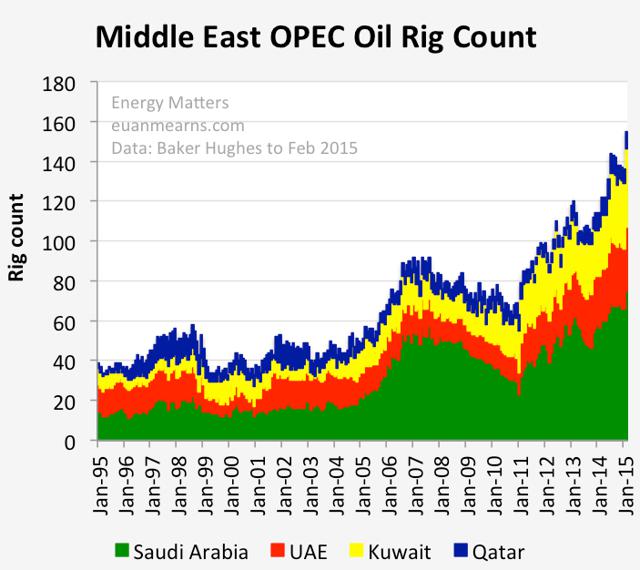 (Source: Baker Hughes and Euan Mearns)
This is not only to have spare production and boost production in case oil demand rises, but also to replace the production from older fields. Indeed, Saudi Aramco will need $30-50 billion a year to address declining production in its older fields. Furthermore, the newer fields produce heavier, less valuable oil.
One should not ignore that internal oil demand in Saudi Arabia is growing rapidly. Indeed, Citigroup predicts that in 2030, Saudi Arabia will be a net importer of oil. Why oh why, when you sit on so much oil for yourself? First, you burn oil to produce half of your electricity demand, mostly for air conditioning. Second, you burn oil because hey, it is so cheap. Indeed, when the price of oil is so heavily subsidized, everyone will, for example, buy the biggest car possible. Think filling up your SUV for 61 cents a gallon. Third, you burn oil to process sea water and turn it into drinking water.
Last but not least, you need to export oil because 86% of your revenues depends on it. You can use it to control the population, have free university education, subsidize employment, spend on the military and police force and build cities out of nowhere in the desert. The point of all of this is to make an Arab Spring in Saudi Arabia less likely, as long as living standards stay the same.
In light of all this, in my opinion there is only one reason to explain why the country is spending so much in capital expenditures. It is not only to retain market share, rather it is that Saudi Arabia needs the oil exports. The rise in production will need to cope with increasing domestic oil demand. In other words, to have the same amount of oil exported every day, Saudi Arabia will need to grow its production in the next few years.
The joker
In my opinion, the only real threat to oil demand is the Chinese economy. As pointed out many times in the last months, the manufacturing index kept hovering under the 50 mark, which indicates a contraction in manufacturing activity. Plus, the real estate and construction sectors are suffering as of right now. These are major headwinds that could endanger a recovery in oil price.
Outlook
OPEC nations have an incentive to control production to balance their budgets. The longer the oil price stays low, the less the cartel will act tough. Indeed, with almost every government in OPEC depending on oil for the larger part of their revenues, the money is critical to their survival. It funds military expenses and maintain subsidized living standards to keep the population under control.
As you saw in my article, almost no operation in North America will lose money at the current oil price.
Furthermore, the increase in Saudi Arabia's oil production is not only for exports, but to cope with increasing domestic oil consumption. The massive capital expenditures by Saudi Aramco are also needed to replace the older, mature oil fields.
Investors believe too easily that North American oil producers are the weak link in global oil production. How many times do you see investors putting forth that Saudi Arabia produce its oil for $5-15 per barrel? On the other hand, you rarely see that it is pointless for this country to sell its oil under $100 per barrel for it to balance its budget.
US shale will breakeven because of aggressive cost cutting and new technologies. Canadian producers will also get a boost because of the lower dollar.
In the end, North American oil producers are waiting for OPEC to crack.
Disclosure: I/we have no positions in any stocks mentioned, and no plans to initiate any positions within the next 72 hours.
I wrote this article myself, and it expresses my own opinions. I am not receiving compensation for it (other than from Seeking Alpha). I have no business relationship with any company whose stock is mentioned in this article.