Although private consumption is rising in France, overall economic activity continues to weaken. France's currency is represented by CurrencyShares Euro Trust (NYSEARCA:FXE), while its equity market can be accessed through iShares MSCI France Index (NYSEARCA:EWQ).
In the first quarter, the consumer spending figure came in at an annual pace of 0.98% growth, above the previous quarter's reading of 0.66%. After reaching a bottom of -0.43% contraction in 2012, consumer activity accelerated higher, seen below.
Overall economic activity, however, continues to trend lower. In the first quarter, the economic growth figure came in at an annual pace of 0.89% growth, above the previous quarter's reading of 0.75%. Since peaking at over 3.7% annual growth in early 2011, economic activity has trended lower.
Falling fixed investment and business spending have contributed to weakening overall growth. In the first quarter, the fixed investment figure came in at an annual pace of -1.60% contraction, below the previous quarter's reading of -1.20%. Fixed investment has fallen from over 3.6% growth in 2011, to current levels, mirroring the decline in overall economic activity.

Data provided by the OECD
Policymakers are hopeful, however, that both low borrowing costs and price pressures will entice businesses to spend more. In May, the inflation figure came in at an annual pace of 0.3%, above the previous month's reading of 0.1%, while also exceeding estimates for 0.2%.
Since reaching levels over 2% in 2012, though, inflation has drastically fallen, seen below. Policymakers are hoping low input costs as well as cheap credit will lead to more spending in future months.
"French economic recovery this year will be slightly swifter than what the government expects as business in the country will be buoyed by cheap oil, a cheap euro and cheap credit in the second half of the year, the French statistics bureau's half-year forecast showed," according to The Wall Street Journal.
Economic activity in France remains suppressed, even as consumer spending is rising. Weak inflation and low borrowing costs are aiding consumers, while overall economic growth is being held back by contracting business spending. Policymakers are optimistic about future growth, but until that hope becomes a reality, downward pressure should persist on both the euro and France's equity market.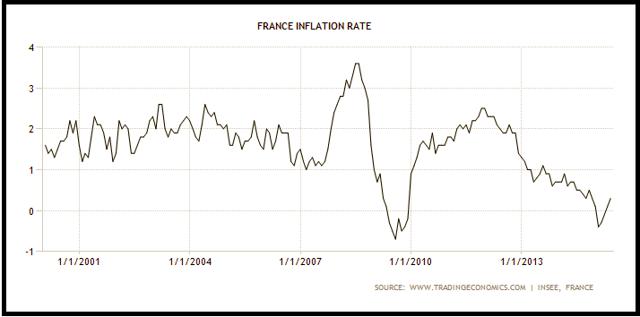 Disclosure: I/we have no positions in any stocks mentioned, and no plans to initiate any positions within the next 72 hours.
I wrote this article myself, and it expresses my own opinions. I am not receiving compensation for it (other than from Seeking Alpha). I have no business relationship with any company whose stock is mentioned in this article.