Grain prices spent the majority of Q2 under pressure. Towards the middle of June a recovery started in the sector and then on the last day of the quarter prices exploded higher. The U.S. Department of Agriculture reported the both inventories and acreage planted this year is below analyst expectations. This caused a fantastic rally. A composite of the grain sector rose in Q2 by 8.33% with the bulk of the gains coming on June 30.
There are some years when weather affects crop production. We saw that during the drought of 2012, which sent the price of corn, soybeans and wheat to dizzying heights. In 2014, the weather cooperated and the crops were enormous. The selling continued until the middle of this June. Weather is never a guaranty and this year the potential for a strong El Nino could result in some crazy weather patterns. Warm waters in the Pacific Ocean cause El Nino and in the past, it has resulted in droughts, floods, hurricanes, typhoons, heat spells and frigid conditions around the globe.
All of these types of weather events are problematic for crop output. After two straight years of bumper crops, this year is starting to look different and action at the end of the quarter that just ended could be a signal of what is ahead for this sector. Let us look at the price action in the corn, soybeans and wheat markets and see what happened and where prices may be heading from here.
Corn
The price of corn moved 14.68% higher in the second quarter of 2015. Corn is now up 8.69% in the first six months of 2015. Active month, new crop December corn futures closed on June 30, 2015 at $4.315 per bushel. Corn traded in a range of $3.4675 to $4.3225 so far in 2015. In 2013, the corn crop was big and in 2014, the corn crop was enormous. Open interest in CBOT corn futures stands at the 1.3606 million-contract level, which is close to where it was at the end of Q1. The number of open long and short positions on CBOT corn futures peaked at over 1.46 million contracts during Q2, the enormous positions reflected bearish sentiment due to big inventories and expectations of another bumper corn crop this year. Open interest dropped from the highs recently on short covering.
The weather in the United States is of primary importance to the corn market as the U.S. is the world's number one producer and exporter of corn. Corn is in contango, future prices are higher than nearby prices. New-crop December corn is trading at a 17.25-cent premium to nearby July corn futures, which still indicates ample supplies of the grain. However, that contango has narrowed with the recent rally and the USDA report on June 30. The downside for corn has been limited given the low price, corn remains well below levels seen in recent years when the grain moved to over $8 per bushel. Now that the crop is in the ground for 2015, the weather is the key variable that will affect price.
Soybeans
Soybeans, the best performing grain during Q1 losing only 4.51%, were up the least in Q2 posting gains of 6.58% for the three-month period that ended on June 30. Soybeans are now 1.77% higher in 2015. Last year, farmers planted more beans than corn and the crop was excellent. In 2014, soybeans fell 20.94%. Soybeans traded in a range of $8.9575 to $10.67 per bushel over the course of the first two quarters of this year.
Open interest in soybean futures have decreased from around 756,820 at the end of Q1 to around 666,000 on June 30, a decrease of 12%. The decrease in open interest is likely due to short covering as it dropped in late June as prices rose. The U.S. is the world's largest producer and exporter of soybeans. Having said that, there is a lot of soybean production from South America, particularly from Brazil, Argentina and Paraguay.
Soybeans are crushed into two products, soybean meal and soybean oil. Soybean meal prices moved 5.69% higher in Q2, trimming the year's loss in half -- soybean meal is now down only 5.27% in 2015. There was real strength in soybean oil in Q2 as the oil rose by 12.11% and is now up by 6.57% in 2015. One of the first signs of strength in the soybean complex was that crush spreads began to rally in the second half of May. Demand for soybean products were a signal that soybeans had reached a low.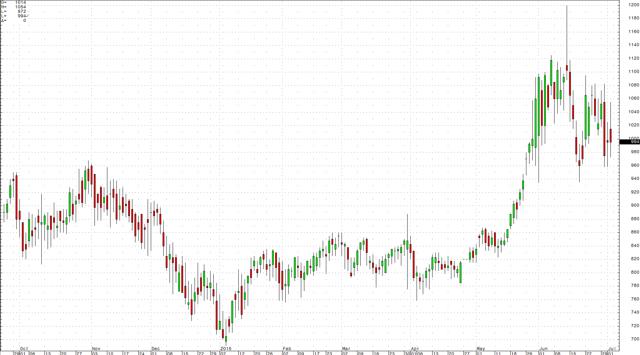 The daily chart of the synthetic soybean crush spread on the CBOT highlights that it rose from lows of $7.56 per bushel on April 6 to highs of $12 on June 12. The crush spread closed Q1 at $8.46 and it rose by over 15% to close Q2 at $9.74. An increase in the crush spread added to profits for firms like Archer Daniels Midland (NYSE:ADM) and Bunge (NYSE:BG) who process beans into products at crushing plants. Shares in both companies (ADM and BG) moved higher in the second quarter with ADM adding 1.73% and BG moving 6.6% higher.
Crush spreads are often a real-time indicator of profitability for companies like ADM and BG. Soybean meal and soybean oil moved higher than soybeans on a relative basis, which led to higher crushing margins. Cattle producers continue to increase herd sizes due to very high prices and increasing global demand for beef. This is supportive for the soybean market, particularly for meal. China continues to be a huge consumer of soybean oil by virtue of the world's largest population. Soybean oil is a basic cooking necessity.
Term structure in the soybean market is in backwardation. This is a sign of tightness or supply concerns. New-crop November beans are trading at a 17.25-cent discount to nearby July futures. If this year's crop turns out to be below market expectations or if there are weather events that cut crop output the current tightness in the soybean market could translate into a situation where demand exceeds supply and the result could be a continuation of the recent huge rally in the bean complex.
The corn-soybean ratio (new crop December corn versus November 2015 soybeans) stood at 2.40:1 at the end of Q2. Farmers did not plant as many beans as corn in the U.S. this year. Last year the ratio of corn to soybeans went up to over 2.8:1. This enticed farmers to plant more soybeans than corn due to relative price levels. This year the ratio is back to historical norms (2.2-2.4 to 1). When it drops below 2.2:1, farmers tend to plant more corn. Above 2.4:1, they tend to plant more soybeans. Last year they planted more soybeans -- therefore, the market expects lower soybean output this year and that is why the soybean market is currently tight with deferred new-crop prices below nearby futures prices. This is a prescription for higher prices unless everything is perfect with this year's crop.
Wheat
CBOT wheat was the worst performer in the grain sector during the first quarter of 2015 dropping by 13.23%. In Q2, CBOT was the best performer, rallying by 20.32%. CBOT (soft red winter wheat) closed on June 30, 2015 at $6.1575 per bushel -- it is now 4.41% higher over the first six-months of 2015. Wheat traded in a range of $4.60 to $6.175 per bushel so far in 2015. Wheat is in contango, deferred prices are higher than nearby prices with December wheat futures trading at around a 9.75-cent premium to nearby July futures prices.
The contango narrowed during Q2 indicating some tightness appearing in the wheat market. Open interest in the most liquid wheat futures contracts, the CBOT-CME, like in corn and soybeans, has dropped from 431,772 contracts at the end of Q1 to 389,170 contracts at the end of Q2, a decrease of 9.9%.
This decrease is likely the result of short covering on the recent rally. Hard red winter wheat, traded on the Kansas City Board of Trade (KCBT) was up 9.12% for Q2 and is now down only 2.59% in 2015. At the end of Q2, the premium of KCBT wheat over CBOT has dropped to only 5.5 cents, which is very low for this relationship. Last year KCBT wheat traded at over a $1 premium to CBOT wheat.
The current low premium is due to an ample winter wheat crop and concerns about the current global crop. Hard red spring wheat, traded on the Minneapolis Grain Exchange (MGE) was up 10.63% during Q2 and is now up 2.45% higher in 2015. The US is the world's largest producer and exporter of corn and soybeans. While the U.S. is at times the largest exporter of wheat, it is only one of many producing countries.
Therefore, the wheat market can be particularly volatile as production comes from all over the world. Russia and Ukraine are both large producers of the grain. Wheat volatility will be a function of weather and geopolitical events as we move forward into the third quarter of 2015. Normalization of relations between the U.S. and Cuba could serve to open trade channels between the two countries. U.S. farmers have a distinct advantage when it comes to supplying Cuban wheat requirements simply because of geographical proximity -- it is cheaper to ship wheat from the U.S. to Cuba due to logistics. Cuba has traditionally purchased wheat from Europe and Russia. Although Cuba is a poor country, they do produce cattle.
The current cattle shortage in the United States could create an opportunity for a swap of cattle for wheat between the two nations in the future. Global weather patterns will determine the price path of wheat. The El Nino this year could cause problems for wheat supplies. Recently, reports of low quality wheat and low protein levels due to poor growing conditions has caused wheat to rally. It has been too wet in wheat growing areas of the U.S. while Canada, Europe and Russia have been suffering with abnormally dry conditions. If this trend continues or worsens, it will affect this year's wheat crop and could launch prices higher from current levels.
In my Q1 report I wrote,
The two most political commodities in the world are crude oil and wheat. I believe that any price weakness in wheat during the second quarter will provide excellent buying opportunities.
As the best performing grain in Q2, and one of only three commodities that appreciated over 20% during the quarter, every price dip was indeed a buy. Wheat is both a political and a weather commodity. Given the current state of global affairs, it is likely that the political commodities will continue to exhibit the most volatility.
In other grain markets, oats moved 0.28% lower during Q2 and are now down 13.09% in 2015. Rice was down 3.86% in Q2 and is down 9.01% for the first six months of 2015.
The bottom line: Outlook for 2015
Perfect growing conditions in the US in 2014 resulted in the biggest corn and soybean crop yields and harvests in many years. The global wheat crop in 2014 was bigger than the previous year's bumper crop. Grain prices across the board moved dramatically lower until things changed in June.
As we are now in growing season in the U.S., Mother Nature will dictate the path of grain prices for the coming months. The prospects for an El Nino will add volatility to the grain markets for the coming months. An exceedingly hot summer, drought or too much moisture will affect crop output this year. Keep your eyes on monthly WASDE (World Agricultural Supply and Demand Estimate) reports issued monthly by the U.S. Department of Agriculture for data on the progress of this year's crops.
These reports tend to move the price of grains. Last quarter I said that," When it comes to grains, at current price levels, the downside is limited and upside could be explosive given certain circumstances". I continue to believe this for Q3 and the balance of 2015. While prices have rallied off the bottom, soybeans at prices below $10.50, corn at below $4.40 and wheat at a price around $6 is still far below where we have seen prices in years past.
The bottom line is that prices remain cheap and the downside is limited with huge upside potential, which may be the path of least resistance. Grains are one of the most interesting commodity sectors given the fact that weather issues could cause huge price volatility over coming months.
Disclosure: I/we have no positions in any stocks mentioned, and no plans to initiate any positions within the next 72 hours.
I wrote this article myself, and it expresses my own opinions. I am not receiving compensation for it (other than from Seeking Alpha). I have no business relationship with any company whose stock is mentioned in this article.