This is the tenth article in the series I am writing about my well-valued growth portfolio. The principles on which it is contracted are described in this earlier article.
The table below shows how the portfolio is performing as a whole. Several holdings in the portfolio performed very well this month, specifically Dollar General (NYSE:DG), Express Scripts (NASDAQ:ESRX), LGI Homes (NASDAQ:LGIH) and LKQ Corp. (NASDAQ:LKQ). However, except for LKQ, none of these stocks are full positions while several of the companies in which I do hold full positions saw share prices decline, in several cases by a lot. Southwest Airlines (NYSE:LUV) dropped by 10% in a single month.
All told, the portfolio as a whole outperformed the S&P 500, but not the NASDAQ.
| | | | | | | | | | |
| --- | --- | --- | --- | --- | --- | --- | --- | --- | --- |
| Percent of Investment in Portfolio | Percent of 7/1/2015 Portfolio Value | Name | First Purchased | Current Cost Basis | Price 1/2/2015 | Price 7/1/15 | Gain/Loss Since Purchase | Gain/Loss YTD | A Value Buy Now? |
| 2.07% | 1.83% | Dollar General (DG) | 1/24/2013 | $57.42 | $70.50 | $77.74 | 35.39% | 9.96% | No |
| 5.32% | 4.18% | Express Scripts (ESRX) | 8/29/2014 | $73.84 | $84.91 | $88.94 | 20.51% | 5.04% | No |
| 5.39% | 3.72% | LGI Homes (LGIH) | 8/29/2014 | $18.71 | $15.11 | $19.78 | 5.72% | 32.57% | Yes |
| 18.59% | 14.22% | LKQ Corp. (LKQ) | 6/16/2014 | $26.06 | $27.56 | $30.25 | 13.85% | 11.89% | No |
| 18.78% | 9.33% | Southwest Airlines (LUV) | 1/23/2014 | $27.09 | $42.83 | $33.09 | 39.40% | -32.98% | Yes |
| 12.73% | 12.20% | Skyworks Solutions Inc. (NASDAQ:SWKS) | 5/8/2014 | $50.45 | $73.10 | $103.82 | 99.09% | 42.79% | Probably |
| 9.92% | 11.90% | Thor Industries (NYSE:THO) | 11/25/2014 | $55.06 | 55.54 | $56.28 | 0.59% | -2.70% | Yes |
| 16.79% | 11.44% | United Therapeutics (NASDAQ:UTHR) | 3/13/2015 | $166.40 | n/a | $173.95 | 4.54% | 4.54% | Unknown |
| 13.39% | 31.19% | CASH From Sales Not Reinvested | | | | | | | |
| | | | | | | | | | |
| Portfolio as a Whole | | | | | | | 53.35% | 2.28% | |
| S&P 500 | | | 1/24/2013 | $1,494.81 | $2,058.90 | $2,017.39 | 38.81% | 0.78% | No |
| NASDAQ | | | 1/24/2013 | $3,125.67 | 5070.03 | 4760.23 | 60.19% | 5.18% | |
| POAGX | | | 1/25/2013 | $21.28 | 32.84 | 35.03 | 64.61% | 6.38% | |
| | | | | | | | | | |
Changes To The Portfolio
As I had planned, when another lot of Skyworks Solutions became a long-term holding, I sold it to complete the process of taking profits. My investment in this stock had more than doubled in a single year. Given the volatility of this semiconductor stock, I had previously decided that I would sell half of what I owned when it doubled and leave the rest to run. With this month's sale of shares, I have now recovered the entire amount I had invested in the stock. What remains is now a full position made up entirely of house money.
Skyworks continues to raise guidance and still looks fairly well valued right now as you can see from the F.A.S.T. Graphs Forecast Graph below. (You can learn how to interpret these graphs here).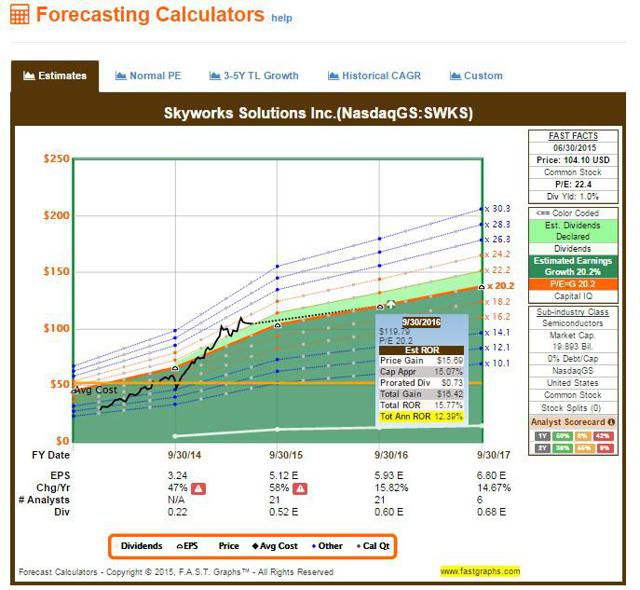 I reinvested this month's proceeds from selling shares of Skyworks in RV maker, Thor Industries, which also looks to be well-valued now, as you can see from the forecast graph below: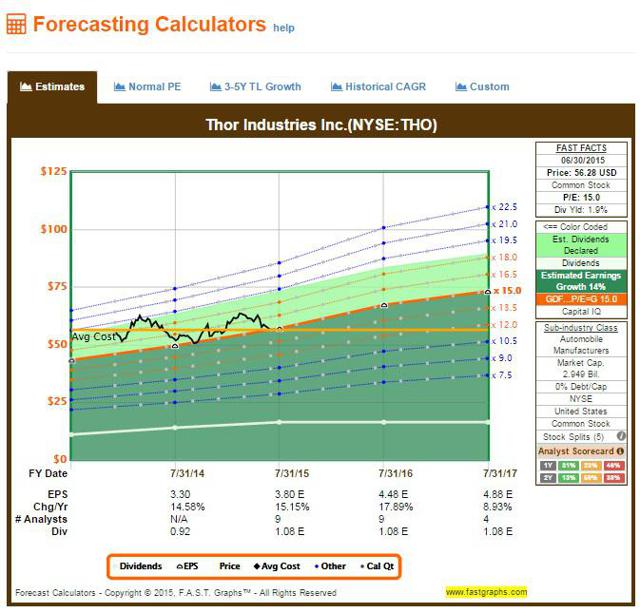 This last purchase of shares of THOR completed my position in this stock.
Since I made my investment, it has declined during the course of this month, but so has Skyworks. I remain confident that the long-term prospects for Thor, which has no debt, remain very good.
Investors and analysts, however, responded badly to company statements that suggested to some that dealer sales had slowed, bringing the price down. However, the valuation hasn't changed dramatically, as you can see quite clearly if you refer back to my earlier article about Thor published back on January 12 of this year which shows what analysts had been expecting for earnings for this year and next.
Thor is a cyclical stock, which partly explains the low PE ratio. But over the last 20 years, it has been very good to investors who have bought and held. Despite going through two recessions, Thor has achieved a 16% annual rate of return, including dividends, throughout that entire twenty-year period. I can live very happily with this stock if it achieves even half that rate of return going forward.
Changes in valuation also impacted on biotech stock, United Therapeutics, dropping analysts' expectations of its growth going forward, but still leaving the possibility of a reasonable gain in the 8% a year range. I will be keeping a close eye on this stock going forward. I have a gain in it now, but if it drops I will consider it as a candidate for tax loss harvesting, moving the proceeds into my Vanguard Health Care Fund (MUTF:VGHCX).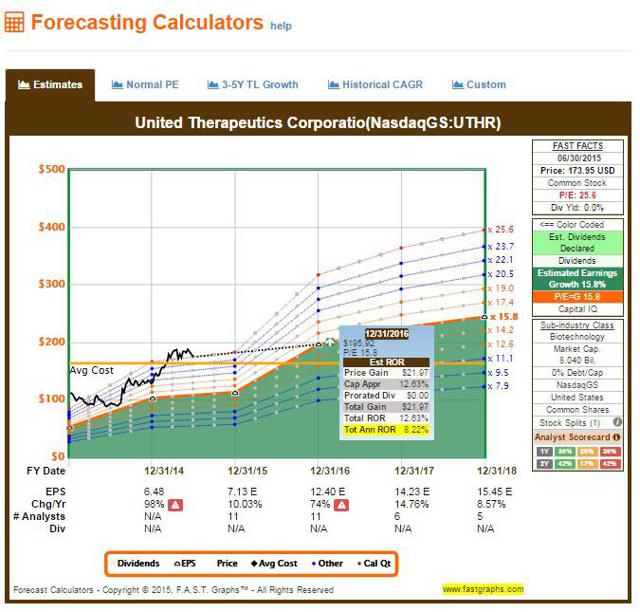 A Taking Advantage Of A Tax Loss Harvesting Opportunity
June is when I have to calculate my taxes so I can make quarterly payments. In doing this, I noticed that since I have been taking profits in several long-term holdings whose prices had shot up to where they were severely overvalued, I had generated surprising amount of taxable gains. In the past, I was able to write off some of these gains with previous losses, but I have now used them up, and my well-valued growth strategy is not leading to my investing in too many losers.
This made me more alert to the need to stay aware of any opportunities for tax loss harvesting. So when I noticed that the shares of Southwest Airlines that I had bought last month had dropped almost 10%, providing me with a significant loss, I made the decision to sell those shares, harvest the loss, and immediately reinvest the proceeds in an investment vehicle with what I hope are similar properties.
In the past, I might have invested in another well-valued growth stock. But as I was looking, fruitlessly, for that kind of investment, I discovered in my email the semi-annual report sent out by my PrimeCap Odyssey Aggressive Growth Fund (MUTF:POAGX). This fund is currently closed to new investors, but I have owned it for a while so I am still able to add to my investment in it.
The report caused me to take a closer look at what this fund invests in and how well it has performed over the past six months. What I found is that it has significantly outperformed not only my own growth portfolio, but also the NASDAQ, and that despite the .68% expense ratio.
The fund has significant holdings in the airlines that also come up on my well-valued growth screens as well as in a number of tech and biotech stocks of the kind I don't have the expertise to evaluate. So after some thought, I decided to invest a good chunk of the capital gains that I have taken out of the portfolio over the past six months in this fund.
I am showing these capital gains as cash in the table at the top of this article, but in fact, half of the cash I took out of this portfolio is now in the PrimeCap Odyssey Aggressive Growth Fund. The rest has gone into two other funds I have long invested in. One is the S&P 500 Index (NYSEARCA:VOO) the other the Vanguard Developed Market Index.
Though I had planned to close out my position in Dollar General, which I had already mostly sold to take profits since I no longer like its valuation, I decided not to because of the tax consequences. The capital gains I've already generated from other sales, combined with a higher-than-expected profit in my business, put my income at a level that is close to raising my Medicare health premium up another notch and pushing me into another tax bracket.
So I am holding on to the Dollar General shares despite the fact that the stock is overvalued to me. For now, the price is holding up well, so I will try to hold it until next year - unless we finally get a significant market correction that gives me the opportunity to tax loss harvest some more.
Why The Switch To Mutual Funds?
Some of you might be wondering why I am putting the money I took in profits into mutual funds rather holding it and waiting for the opportunity to put it back into more well-valued growth stocks.
The discovery that my mutual fund outperformed my own stock picking was one piece of the decision. Another was the realization that I had done better with my funds while paying them no attention at all while the individual stocks take up a lot of my time, what with having to pay attention to earnings reports, conference calls, 10-Ks and the like.
But the most compelling reason why I have been reinvesting my proceeds into mutual funds is the impact on my thinking of the response to the article I published last month about the challenges of managing a complex portfolio as we age.
That article, which you will find here, provoked intense discussion in its comments section. The many long, thoughtful posts there made me realize that the problem I had observed in my own circle were more widespread than I had realized. Aging investors often seem to lose the ability to manage complex portfolios and family members who aren't savvy investors are unable to step in and aid them.
Subsequent discussions with my family made me realize that my portfolio, as simple as it seems to me, was also too complex for my loved ones to manage should anything happen to me. They can handle buy-and-hold mutual funds, but would not be able to think through the tax issues or the valuation issues which are so important a part of managing this kind of investment in individual stocks.
In addition, the possibility that my own decision making might deteriorate over the next decade made it a good idea to move away from a stock-picking strategy that could easily deteriorate into gambling were I to lose my good judgment. I noticed that I never look at my mutual funds and rarely make any changes to them, which as I age probably makes them much safer vehicles for me to invest in.
Unexpected Tax Issues Also Make Growth Funds More Attractive
One of the main reasons that I had decided to invest in a growth portfolio in the first place had been because I am investing in a taxable account and had hoped that by buying and holding well-valued growth stocks that did not throw off dividends, I could avoid dealing with the taxable capital gains spun off by my mutual funds.
However, several years into this experiment, it is becoming clear that preserving the gains that growth stocks can achieve requires quite a bit of selling since so many of the stocks I purchased shot up in value, several of them doubling, and then, as their growth slowed, they can became seriously overvalued. Since I firmly believe that severe overvaluation can lead to long-term underperformance, I found it impossible to hold several of these stocks for the long term and felt forced to take profits once the gains had become long term.
So in the end, my actual tax liability for this portfolio turned out to be a lot worse than expected, and I am paying a lot more taxes than I would have paid had I invested in a fund like POAGX or the Vanguard Health Care Fund. Though these funds pay out annoying taxable capital gains once or twice a year, those gains are a lot less than I have ended up generating investing in individual funds.
My Plans For The Future
So far, my experience with this portfolio suggests that selecting stocks using a valuation approach of the kind that is possible using F.A.S.T. Graphs can result in very respectable returns. This seems like a much safer way to invest in growth stocks than going with momentum alone.
However, this kind of investing is probably better done in tax-sheltered retirement accounts. That is because these well-valued growth stocks have demonstrated a very strong tendency to shoot up in price very steeply as so many other people and institutions use a similar growth strategy. And growth stock valuations can also plummet once the company's earnings show any sign of slowing. So it is often necessary to sell to preserve gains.
With all this in mind, I am not planning to grow this portfolio. I plan to hold what I have and won't be making any changes to this portfolio for the rest of this year unless there is an opportunity to tax loss harvest. I will sell only if I see signs that the valuation of some holding has collapsed.
If either happens and I sell more shares, I will redistribute the proceeds into one of my broad market index funds. That is because my portfolio as a whole is now weighted pretty heavily towards aggressive growth.
I reserve the right to buy an occasional well-valued growth stock in the future, but I will keep the number of total individual stocks to no more than ten. This will ensure that my portfolio can be managed by my family should something happen to me.
Since my experiment of the last few years has shown that investing in a few well-chosen mutual funds would have resulted in an outcome similar to and possibly better than what I achieved with this experimental portfolio, I now feel confident that I am not sacrificing anything by giving up stock picking - as much fun as it is to pursue it as a hobby.
So that's what I've learned from this experiment. I don't plan to do monthly updates on this portfolio going forward though if something truly interesting happens, I may write about it. I will be very interested to see how this portfolio weathers the next significant correction, too.
All in all, I have found the work of tracking this portfolio closely very educational. I hope you have found sharing what I've learned from it useful, too.
Disclosure: I am/we are long DG, ESRX, LGIH, LKQ, LUV, SWKS,THO, UTHR,VOO, POAGX,VGHCX.
I wrote this article myself, and it expresses my own opinions. I am not receiving compensation for it (other than from Seeking Alpha). I have no business relationship with any company whose stock is mentioned in this article.