The current economic situation in the United States is speeding up, while the economic situation in Turkey is becoming threatened by internal disputes. The trends in both countries are likely to continue for the foreseeable future, which means the economies will continue to drift apart. A spread has formed between the U.S. Dollar and the Turkish Lira and this article shows you how to profit from it.
Developments in Turkey
from inflation.com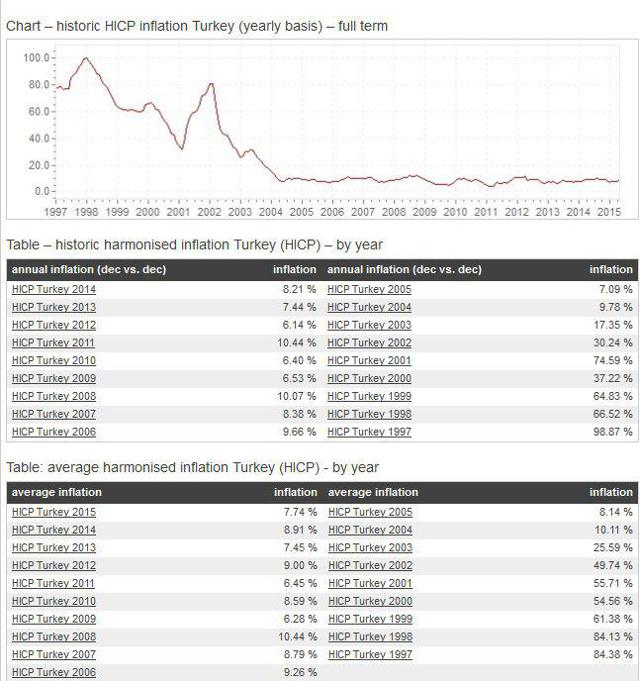 Turkey is going through a difficult transitional period. Erdogan is under pressure from rival political factions. There is boarder tension in the remote south of Turkey. Further exports are falling with Turkey's largest trading partner, The EU. Turkey going to have to devote a significant amount of resources to these regional threats to stability and could loose focus on keeping inflation rates low.
Developments in United States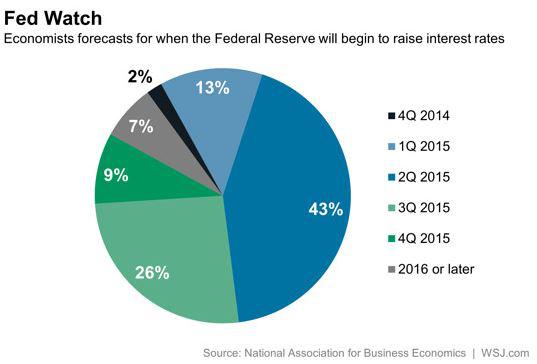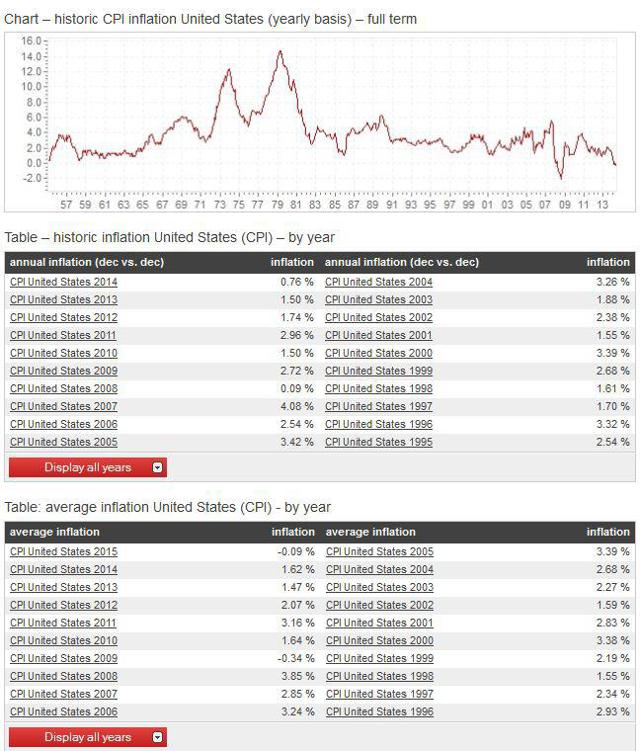 Strong dollar has hurt some domestic companies with international exposure.
U.S. economy gaining strength
Interest rates are expected to rise, mid 2015.
Inflation currently is stagnate in the U.S. and historically very stable.
United States interest rates are near all-time historical lows and are expected to start to rise sometime before 2016. Inflation rates in the U.S. are stagnate and economic growth statistics have grown stronger over the past year.
from fxstreet.com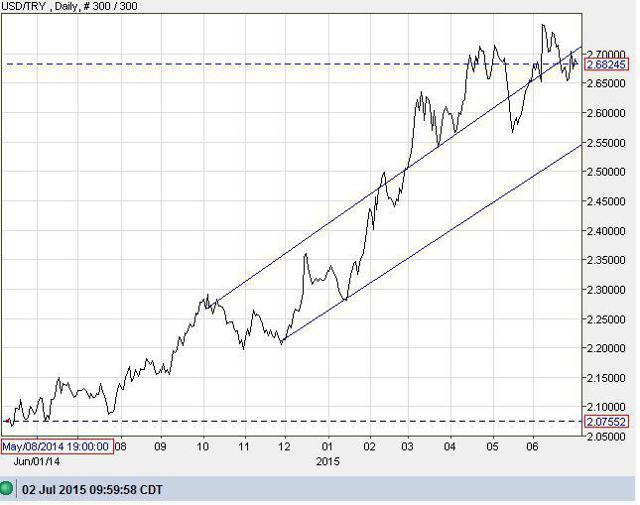 Adding it all up...
The United States' economy has significantly lower interest rates and lower inflation than Turkey's economy. The trends that cause the interest rate and the inflation rate low for these countries is likely to continue in the near future, therefore, it is likely that the Dollar will appreciate against the Lira and the USD/TRY cross will appreciate in value.
Trading Vehicles
One could go long the USD/TRY via the forex markets, or synthetically create an exposure with a combination of investment vehicles.
Turkcell Iletisim Hizmetleri AS (NYSE:TKC) - is one of the few Turkish Companies listed on the NYSE. The Company is Turkey's largest mobile communications network Company.
iShares MSCI Turkey ETF (NYSEARCA:TUR) - is a diversified stock index of Turkish Companies.
DB USD Index Bullish (NYSEARCA:UUP) - a futures index which tracks the value of the U.S. Dollar against other currencies.
The Trade
Go long UUP and short either TUR or TKC depending on your investment style. TUR would provide a more diversified portfolio, but TKC holds less beta risk at 0.85.
Disclosure: I/we have no positions in any stocks mentioned, and no plans to initiate any positions within the next 72 hours.
I wrote this article myself, and it expresses my own opinions. I am not receiving compensation for it (other than from Seeking Alpha). I have no business relationship with any company whose stock is mentioned in this article.