The Middle East has economically sound footing and the major regional issues have peaked in severity. The region cannot be discussed without considering oil market prices, which have dropped dramatically over the last year. Oil has rebounded and is now hovering around $56 per barrel. If the Middle East can contain these major issues and oil prices continue their rising trend, values of Companies in the region will rise.
The Economic Perspective
From IMF Database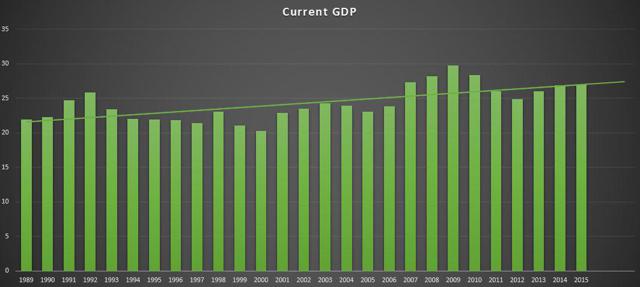 Current GDP has been rising in the Middle East since it bottomed out in the year 2000.
From IMF Database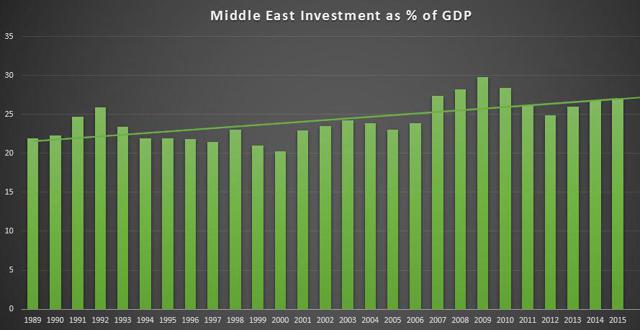 Investment as a percent of GDP is rising, it spiked in 2009 at 30%. Since GDP is rising this means that investment is rising at a faster rate than GDP, which is positive for the region.
Inflation has been declining in the Middle easy since it spiked in 2008. It is now at a manageable 8% for the region. A declining inflation rate and an increasing GDP indicates that GDP growth is outperforming inflation.
Imports have been steadily growing over the last 5 years. Exports have been increasing as well, but at a lower rate. Due to GDP expansion, the Middle East has been able to buy more international goods and has displayed mainly positive import changes over time. Exports are looking positive as well, adding evidence that the Middle East's growth is real and will continue to out perform inflation.
Current Regional Concerns
The region is currently healing from a chaotic period. The problems from the Syrian Civil War, ISIS, and international embargos have finally peaked and beginning to be solved. ISIS is slowly being contained be regional powers, Iran is being brought back into the international economy and Egypt is possibility finished cleaning house at its "military democracy". All of this was coming to a close, when oil prices fell dramatically.
from Inflationdata.com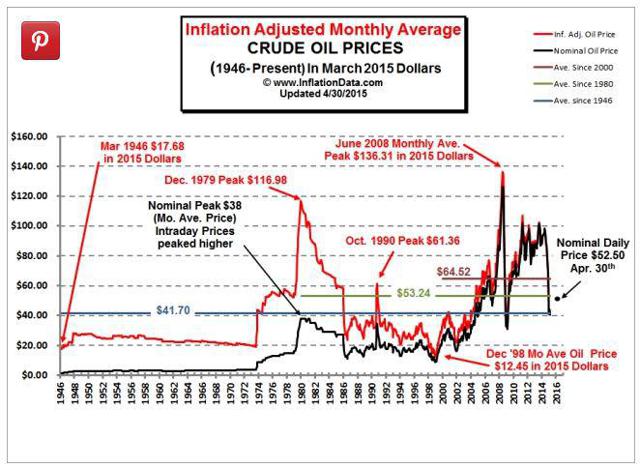 Oil is the driving revenue generator in the Middle East. The reduction in international oil prices has greatly reduced the value of investments throughout the region, even if they are not directly associated with oil. Because of the solid underlying economics in the region, if oil prices continue their bull trend, the entire region will see a boost in values.
Middle Eastern Investment Vehicles
The Middle East is an economically growing region that has had its share of hard times, but is on the mend. The region has positive underlying economics, even considering low oil prices. If oil prices do improve, then the region's economics will also improve. Finally, the major crises in the region seem to have peaked in severity. I recommend going long the Middle East.
An interesting hedge
Going long a Middle Eastern ETF, such as GAF, and going long the United States Oil ETF (NYSEARCA:USO), should prove to be a profitable hedge if the Middle East region has a disruptive event.
Disclosure: I/we have no positions in any stocks mentioned, and no plans to initiate any positions within the next 72 hours.
I wrote this article myself, and it expresses my own opinions. I am not receiving compensation for it (other than from Seeking Alpha). I have no business relationship with any company whose stock is mentioned in this article.