Australian policymakers held monetary conditions loose as the economy continues to falter, weighing on the currency. The Australian currency is represented by CurrencyShares Australian Dollar Trust (NYSE:FXA).
In July, the Reserve Bank of Australia held its main lending rate at 2.0%, unchanged from the previous meeting, and in line with estimates. Since 2011, borrowing costs have been cut in half, seen below. Developments in the global economy are keeping policymakers on edge, leading to a lower chance of a rate hike in coming months.
"The main change in language this time concerns the unfolding dramas in Greece in China, which [RBA governor Glenn Stevens] noted had yet to affect long-term interest rates.

Despite fluctuations in markets associated with the respective developments in China and Greece, long-term borrowing rates for most sovereigns and creditworthy private borrowers remain remarkably low," according to the Sydney Morning Herald.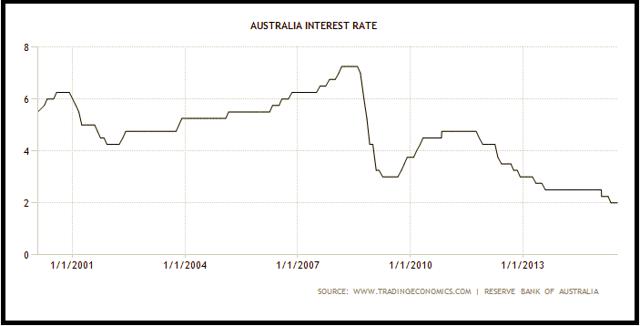 Moreover, weakness in the global economy is also weighing on trade revenue. In the most recent month, the export figure came in at an annual pace of -10.07% contraction, below the previous month's reading of -8.47%. Since reaching levels over 40% growth in early 2011, the trade measure has significantly declined, seen below. Lower commodity prices have weighed the most on trade.
"The global economy is expanding at a moderate pace, but some key commodity prices are much lower than a year ago. This trend appears largely to reflect increased supply, including from Australia. Australia's terms of trade are falling nonetheless," according to Trading Economics.

Data provided by the OECD
Finally, declining fixed investment is also affecting economic growth. In the first quarter, the fixed investment figure came in at an annual pace of -0.88% contraction, below the previous quarter's reading of -0.49%. Since reaching levels over 14% growth in 2012, fixed investment has drastically declined, seen below. Lower investment is resulting in slowing jobs growth and higher unemployment.
"In Australia, the available information suggests that the economy has continued to grow over the past year, but at a rate somewhat below its longer-term average.

The rate of unemployment, though elevated, has been little changed recently. Overall, the economy is likely to be operating with a degree of spare capacity for some time yet," according to Trading Economics.
As Australia's economy operates with spare capacity due to both lower investment, and falling trade revenue, policymakers will likely keep monetary conditions loose. This should continue to weigh on the value of the Australian dollar in coming months.

Data provided by the OECD
Disclosure: I/we have no positions in any stocks mentioned, and no plans to initiate any positions within the next 72 hours.
I wrote this article myself, and it expresses my own opinions. I am not receiving compensation for it (other than from Seeking Alpha). I have no business relationship with any company whose stock is mentioned in this article.