Inflation in Russia is receding, but economic activity continues to decline, weighing on the strength of the ruble. The U.S. dollar has risen over 16% against the ruble since the start of May.
In June, the inflation figure came in at an annual pace of 15.3%, below the previous month's reading of 15.8%, while also bettering estimates for 15.5%. Since reaching highs near 17% in early 2015, inflation has slightly pulled back, seen below. Falling energy and utility costs aided the measure.
"Year-on-year, cost of food and non-alcoholic beverages rose by 20.7 percent (22.4 percent in May) and prices of housing and utilities went up 9.4 percent (9.7 percent in May). Transport prices were up 11.9 percent (the same as in May) while cost of recreation and culture rose 18 percent (from 17.3 percent)," according to Trading Economics.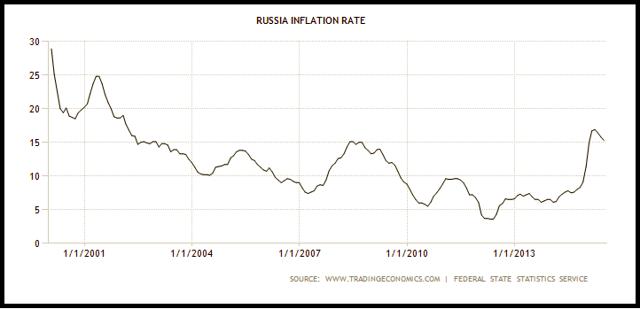 Moreover, consumer spending remains at suppressed levels as high inflation diminished purchasing power. In May, the retail sales figure came in at an annual pace of -9.2% contraction, above the previous month's revised reading of -9.6%, while also bettering estimates for -10%. While the pace of decline slowed, retail sales remain at decade lows, seen below. Consumer spending has been a major driver of growth for the economy over the last few years, and is now conversely a reason for the slowdown in activity.
"Retail sales have been everything for Russia's economy since the 2000s as it turned into a private consumption driven economy.

Real disposable incomes dropped 1.8 percent from a revised 1.6 percent decline a month earlier, while fixed-capital investment fell 5.3 percent," according to Bloomberg.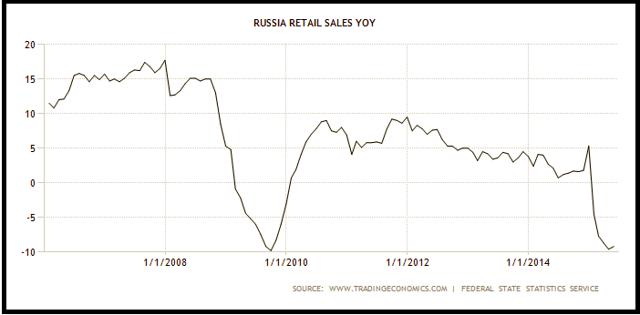 Finally, the country's leading indicator, measuring monthly economic activity, has significantly contracted. In May, the leading indicator came in at an annual pace of -4.9% contraction, below the previous month's reading of -4.2%, while also missing estimates for -4.2%. After reaching highs of 5% growth in 2012, economic activity has fallen to current levels.
While price pressures have fallen in its pace of growth, other areas of Russia's economy continue to weaken. Consumer spending has traditionally been a major factor in economic growth, but has drastically fallen in 2015. With weak economic activity in Russia, investor sentiment will likely remain low, leading to further declines in the ruble in coming months.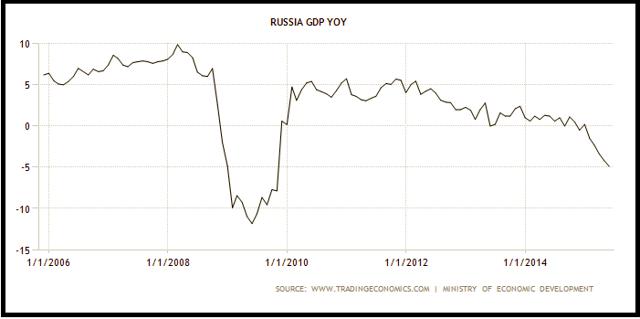 Disclosure: I/we have no positions in any stocks mentioned, and no plans to initiate any positions within the next 72 hours.
I wrote this article myself, and it expresses my own opinions. I am not receiving compensation for it (other than from Seeking Alpha). I have no business relationship with any company whose stock is mentioned in this article.