This quarter's report has been challenging to write as there has been so much change in the portfolio and our personal lives that I hardly know where to begin. I have been distracted since February by moving, renovations at each place (much of which I did myself - which was hard work, great fun and I would do it again), moving both of our children separately, getting everyone settled (my office was finally set up this week), and exploring 'options' in both the investing world and in the areas of life choices.
There have been many decisions to make as the portfolio doubled as we downsized from a five bedroom house to a two bedroom condo. For anyone worried about making this transition, I would recommend it. We have a strong sense of freedom in so many areas of our lives now, but especially time and financially. We occasionally miss something about the house (garage, gardens, spacious kitchen) but the benefits of freedom far outweigh any negatives and we have no regrets. Three-quarters of the resulting deployable cash has been invested, but an ample cash holding of 20% of the portfolio is still left.
It's easy to think of a portfolio as an isolated item, but it is not. The portfolio sits as the centerpiece of our many-faceted financial lives - the 'table' of a diamond cutting, or the ruby surrounded by diamonds in my dinner ring, if you prefer. Other types of investments, financial instruments, and even relationships ring this centerpiece. Work has been done in all of these areas over the last quarter; including estate documents being updated; insurance revisited, rebalancing the new realities of spending, saving, and giving against income; restructuring and adding accounts; and even discussions had with our children of where things are at and where we are heading. The health of these other areas directly influences the outcome of the portfolio in retirement and at the time of transfer to heirs in the hopefully far-off future.
A cash account has now been set aside outside of the portfolio, but with only three months of expenses for now, as there is still so much cash easily accessible within the portfolio if needed. My husband survived the recent round of layoffs that had 40% of the company handed walking papers, and he is coping with working for now, so income is unlikely to be changed during the next year. We only had debts related to rental property but even these have been paid off now, with the exception of related locked-in mortgages.
Many current holdings within the portfolio have already been doubled and others are intended to be doubled as soon as I find the opportunities. Holdings that have already been added to, or added for the first time during this quarter are (by sector, as below); Suncor (NYSE:SU), Canadian National Railway (NYSE:CNI), Alimentation Couche Tard (ATD.B) (OTCPK:ANCTF), Procter & Gamble (NYSE:PG), Hershey (NYSE:HSY), Starbucks (NASDAQ:SBUX), TD Bank (NYSE:TD), Royal Bank (NYSE:RY), Manulife (NYSE:MFC), Intact Financial (OTCPK:IFCZF), Visa (NYSE:V), BCE (NYSE:BCE), Altagas (OTCPK:ATGFF), RioCan REIT (OTCPK:RIOCF), and Chartwell Retirement Residences (CSH.UN).
Of course, not all of these have shown immediate results, but I am confident I will be partnering with these companies for the very long term.
I have also added four temporary holdings.
MasterCard (NYSE:MA) - I had $1500 in USD in a non-registered account earmarked for spending money on our next winter trip south. We rarely get to the states as we do not live within reasonable distance of the border so there is no need to keep the funds available. With nothing better to do with the money I thought a little growth purchase might be fun, so I bought a little MC. I plan on withdrawing the funds for our already-scheduled February trip to a cousin's destination wedding. I do not hold MC in the portfolio (I have Visa), but think the space is excellent. This is just a little mad money, and it really will not matter whether I pull out $1200 or $1800 in January as I have already won a gain currency-wise by setting these funds aside mid-2014.
Goldcorp (NYSE:GG) or TSX:G, is one I will hold on and off for likely a long time. I successfully traded it a handful of times in the past getting in for a quick 10% or 15% when it seemed technically ready to pop. This time I have different plans in mind. I was looking for a Canadian dividend payer that is likely to be volatile to donate in the future. After it went sideways for March and April, and expecting the summer to be negative for other holdings and positive for gold, I bought April 17th at a yield of 3%. This purchase actually had less to do with Goldcorp and more to do with other financial goals. This is the last year I expect to donate cash to favorite charities as I am planning to donate shares instead. The charities will still get their donations, but instead of on a monthly basis, a hopefully larger annual donation. We get to keep the Canadian dividend tax credit, do not pay any capital gains upon the sale of the shares, and get a donation receipt for the appreciated amount, not the original investment. If the share price goes down, I can simply sell the shares and harvest the tax-loss and donate the original amount. In the distant future I will use this as a way to trim appreciated holdings. If a repurchase is made, the cost basis is averaged up on a much appreciated holding. Donations have always been a tax shelter and I hope to leverage the process even more by donating shares in the future. Goldcorp was purchased as a future donation.
My last two temporary holdings are ETFs. With a large cash stash on hand I wanted to get some of it invested sooner than later in a sector I am very comfortable with. Currently, my only directly related health care holding is Johnson & Johnson (NYSE:JNJ). I did not want to add to my already large holding, especially as the share price was showing weakness and did not feel comfortable jumping into other names as they either seem overvalued Becton, Dickinson & Co. (NYSE:BDX) or too hot Gilead Sciences (NASDAQ:GILD). Instead, I chose the ETF route with TSX:ZUH, the BMO Equal Weight US Healthcare ETF Hedged to CAD. If you want to find these next two on stockcharts, try the .TO suffix as in ZUH.TO. It is also a way to opt out of doing homework on something specific and avoiding the risk of any one specific name. It has served me well so far, since the May 7th purchase. I really have no idea how long I will hold this, probably just until I want the funds for something else.
TSX:ZBK was my other excuse for work avoidance. I want to buy more Canadian banks, but I also think the US banks are likely to do better over the short term, so instead of researching and buying something that I do not really want to hold for the longer term, I rationalized using this ZBK, BMO's Equal Weight US Bank ETF (unhedged) to participate in this area until I decide to move the money into the Canadian banks. Again, the decision has rewarded me since the May 7th purchase. Do not confuse this with Zions Bankcorp, use ZBK.TO.
I am eagerly looking forward to adding more of other stocks such as Unilever (NYSE:UL), Starbucks , Wal-Mart (NYSE:WMT) and adding Disney (NYSE:DIS), DH Corp. (OTC:DHIFF), among others when we (the chart and me) are ready.
On to this quarter's numbers:
Dividends are not up as much as I expected, only 32.67% quarter over quarter, but that is only because more recent purchases have not necessarily thrown off a dividend or in the case of monthly payers, an entire quarter's worth of dividends yet. Year over year quarter dividend growth has been 247.79%, so I am definitely making progress on my dividend goals. I expect a smaller, but still unusually large increase for next quarter as the money from the house begins to generate its own income.
Growth (portfolio value, minus dividends, minus contributions) has been 3.97% this quarter, which is mostly due to the recovery in some of the oil stocks from their lows. Last quarter showed a loss of 5.24%, so this mainly represents recouping previous losses. Portfolio value volatility does not particularly bother me. My long term targets are an average of 4% in dividends per year and 5% in growth per year, so my quarter target is 1.25%. I have not met these long term targets this year, but I went into this year with the expectation that it would be flat, after a couple of spectacular years (24% and 16%), so I am just fine with this and am grateful for opportunities to deploy the house cash. I expect more volatility over the summer and into the fall. August and October provided some great buying days last year that I took advantage of and I expect and hope for more of the same this year.
Here is the portfolio as it currently stands.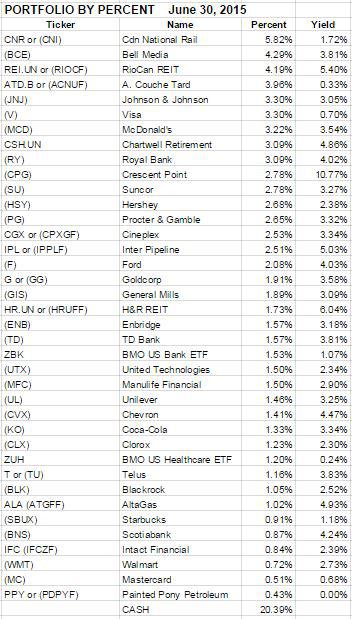 This portfolio is still definitely a work in progress as I move and consolidate holdings across differing, newly created accounts to their permanent locations. For example, the CNRail holding is dramatically outsized as I bought a new double-sized holding in the TFSA where I want it to be, but have not sold the original shares yet in the RSP where it was originally purchased on January 29, 2013. I have nice gains on those original shares and maybe they will appreciate back to previous highs. At any rate, it would be nice to have even a little recovery, say 10%, on the extra large holding before giving up the original shares. Since I still have other cash, I am just holding onto them for now.
Other holdings are very small simply because I have taken a nibble and am waiting for a great opportunity to deploy a larger sum. Such as SBUX, WMT and more.
Very few of my holdings are exactly where I want them to be and the proportional size that I am aiming for. For some of them the lack of 'perfection' is simply rounding up the shares to the nearest full lot. For others, I would like to gather the shares split between several accounts into the most advantageous one - but unless I see a sharp move upwards or downwards coming, I am not willing to spend the fees to re-home them. Honestly, there are only three holdings in my preferred, planned size and place: BCE, RioCan and Chartwell. With each of these I took the opportunity of weakness to buy in the preferred location and dispose of the other shares at a higher price, making the trade more than worthwhile to execute. I find it much easier to buy the new shares on a dip then sell the others rather than the other way around.
I mentioned at the beginning that I am exploring options. This next quarter I expect to be writing the first options using simple covered puts and calls instead of limit orders to buy and sell, in a very restrained way for now. It is exciting to be always learning something new and expanding my investing repertoire of skills and knowledge. There is always something to do!
Disclosure: I am/we are long CVX, CPG, SU, ENB. IPL, GG, CNI, UTX, F, CPXGF, RIOCF, JNJ, HRUFF, V, GIS, TD, BCE, RY, KO, TU, BNS, CLX, BLK, ACNUF, WMT, UL, PG, BLK, IFC, MFC, V, MA.
I wrote this article myself, and it expresses my own opinions. I am not receiving compensation for it (other than from Seeking Alpha). I have no business relationship with any company whose stock is mentioned in this article.