Airline Industry Overview
The global airline industry has achieved substantial growth, doubling over the past decade from $369 billion in 2004 to $746 billion in 2014. Coupled with the optimistic view of growth, are the threats of slimming profit growths, which are less than 3% overall. With fuel accounting for 40 to 55% of costs on average, the potential for companies to struggle in this industry is substantial; it is very apparent that substantial growth in revenue is more of a prerequisite for ensuring profitable operations, rather than a strong catalyst for a company's bottom line. The recent decline of oil prices during the end of 2014 has been a major catalyst for the growth of companies in this industry. The growth already experienced is by no means concluded; many companies in this industry are projected to grow and have extremely attractive valuation, even after a soar in revenue and stock prices in 2014.
While I tend to have a bias towards the opportunities presented in emerging and frontier markets, this industry produces a substantially different outlook, as I believe strong potential lies in major American airline companies. The average P/E ratio for the three companies I will mention as the most attractive investments is 10.3, lower than frontier Vietnam's average P/E of 12.5. Moreover, companies displayed substantial growth in 2014, and are on track for future growth as well. The US airline industry produced the strongest profitability report in the 1st quarter of 2015, with an average net income growth of 371%; this is certainly an industry outlier worth investigating.
Top 6 American Airline Companies
With growth of that magnitude in an industry with negligent growth in profit, an initial suspecting of unattractive valuation was befitting. However, an examination of the top 6 American airline companies produced quite the contrary result, with the highest P/E ratio being 28.12. Moreover, many of the companies have extremely attractive valuation, with a P/E of less than 10.
2014 resulted in substantial growth in net income for five out of six of America's major airline companies:
| | | | | | | |
| --- | --- | --- | --- | --- | --- | --- |
| Company | P/E Ratio | Beta | EPS | Net Income 2012 | Net Income 2013 | Net Income 2014 |
| | 8.53 | 3.85 | 4.58 | (1,876,000) | (1,834,000) | 2,882,000 |
| | 13.34 | 0.97 | 4.87 | 316,000 | 508,000 | 605,000 |
| | 28.19 | 1.05 | 1.42 | 1,009,000 | 10,540,000 | 659,000 |
| | 13.5 | 0.73 | 1.53 | 128,000 | 168,000 | 401,000 |
| | 8.98 | 0.41 | 5.74 | (723,000) | 571,000 | 1,132,000 |
| | 15.56 | 0.86 | 2.09 | 421,000 | 754,000 | 1,136,000 |
The current average P/E ratio for this industry is 15.37, a far cry from the P/E ratio of 30.67 during the 4th quarter of 2014. A closer look at each of these six holdings reveals that many companies are undervalued relative to the industry, and some have had substantial growth; this justifies their current relatively higher valuation. All of the companies were able to achieve growth in net income, except for Delta Airlines, which should be avoided for this fact. Although all six companies can be considerable as favorable investments in the aviation industry, I will be focusing on American Airlines and United Continental Holdings as two companies that have the best valuation and have recovered from non profitable operations. Furthermore, Jetblue Airways corporation can be considered the most conservative investment with opportunity for high returns, as it is has attractive valuation and has achieved consistent growth.
American Airlines and United Continental Holdings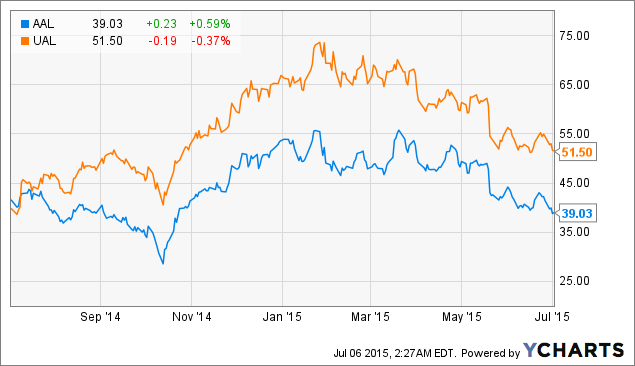 AAL data by YCharts
Both companies stocks have been on the rise for the past year, most significantly beginning towards the end of 2014, when the price of oil significantly declined. The reaction to fuel prices can be said to have been relatively sensationalized, which caused the P/E for this industry to soar to 30.67. The valuation of companies is extremely lower now, and oil prices have not substantially increased. Moreover, stock prices of both of these companies have significantly declined since the beginning of 2015. The most rational adjustment seems to be a recovery, that although may not produce the same highs during early 2015, can still provide ample returns for investors.
American Airlines
American Airlines has extreme low valuation, with a current P/E ratio of 8.53, and has been able to drastically improve its bottom line; the company recovered and was able to be profitable in 2014. Moreover, revenue growth has been consistent, as the company has been able to consistently increase revenue since 2012; most notably, it increased its net revenue by 59.5% in 2014. The company projects that its net revenue will increase by 12.1% next quarter. Its Price/Sales is also very attractive, which is slightly lower than the industry average of 0.76. The company certainly is an attractive option, with extremely low valuation, although its forward P/E is substantially lower at 5.68.
| | |
| --- | --- |
| Current P/E vs. Forward P/E | 8.53/5.68 |
| ROE | 172.79% |
| ROA | 8.29% |
| Price/Sales | 0.63 |
| Enterprise Value/Revenue | 0.91 |
American Airlines currently seems like a wise endeavor, although it may have more attractive valuation in the future. Its recent launch into profitable operations, presents a unique opportunity to buy while it is in its initial stages of success. With growth ahead in the industry, and the company already projecting increased growth next quarter, this company presents itself as a excellent buy, for short or long term investors. The earnings growth projected for the next 5 years is at 17.86%, which is substantially lower than growth of 56.66% achieved this year. Considering its current valuation, past financial performance, and position in an industry that is on track for growth, it can be considered as a conservative investment in this industry, that provides opportunity for high returns. Forecast for its future stock price further determines that profit is inevitable for investors; median estimates forecast that the stock's price will increase by 48.6% in the next 12 months.
Increased earnings in the 1st quarter were attributed to fuel costs, which were 42.2% lower than the first quarter. This company, along with others in this industry, has benefited substantially off of the declining price of oil; therefore, this should be recognized as the main risk for this company and its industry. The company's revenue per seat mile only declined by 1.7%, and the company has strategic plans to increase this. One example of this includes its strategic authorization to allow American Airlines and US Airlines to fly under a single traffic sign called "American"; this is expected to be implemented in the 4th Quarter of 2015. The company has developed other revenue synergies, which are not expected to be fully implemented until 2016.
Overall, the future of American Airlines appears to be favorable, and it can continue to leverage off of current low fuel prices. Growth in operations for the next year is completely clear, while the threat of fuel prices increasing should be constantly monitored, and may cause a significant change in the outlook of the industry. That being said, choosing companies with the best financial performance and valuation is a strategic approach to mitigating risk in an industry that is currently thriving, but could face considerable risks and setbacks in the future.
United Continental Holdings
United Continental Holdings has an extremely low valuation, with a P/E ratio of 8.98. Most noteworthy is not this valuation alone, but the fact that it was able to increase its net income by 98.2% in 2014, and to recover from non profitable operations in 2012. With a Forward P/E of 5.96, considerable earnings and attractive valuation are ahead for the company. Its Price/Sales of 0.51 is very attractive, as it is well below the industry average of 0.76. Moreover its ROE is extremely high, and well below the industry average of 23.34%.
| | |
| --- | --- |
| Current P/E vs. Forward P/E | 8.98/5.96 |
| ROE | 80.51% |
| ROA | 6.42% |
| Price/Sales | 0.51 |
| Enterprise Value/Revenue | 0.71 |
With attractive valuation and substantial growth ahead, for the company and the industry, investment in this company is currently attractive. It should be noted that earnings growth for the next 5 years is calculated at 25.66%, which is substantially lower than last year's earnings of 91.5%. There is still ample room for profit ahead, although the real score would have been investing in 2012 or 2013. However, the strengths of the industry combined with conservative growth ahead, makes investment in this company a safe way to invest in the growth of the airlines industry. The forecast for the stock's price increase is extremely favorable, as analyst median estimate for the 12 month stock price project a 45.63% increase. Despite challenges associated with decreased revenue per available seat mile, the lower cost of jet fuel will offset these risks, and provide increased earnings; oil is projected to stay at $61/barrel in 2015. One relative advantage of United Continental Holdings, is that it began to operate profitable in 2013, before American Airlines. Therefore the company can be considered a much more stable investment option, as its profitability was already demonstrated before the sharp decline in oil prices.
Conclusion
The aviation industry in America provides substantial opportunity, and all six of the major airline companies can be considered as attractive investments. For those willing to leverage off of low valuation and recent recovery of non profitable operations to achieve high returns, United Continental Holdings and American Airlines are the best options. Their performance has been superior to the industry in a wide variety of ways, and future growth is certainly ahead. For a conservative investment into a company with consistent financial performance and attractive valuation, Jetblue Airways is the best option for investors. Other companies that I did not elaborate on can be considered more conservative investments, as their operations were profitable long before the decline in oil prices in late 2014; those not offset by these companies higher valuation may find this to be a more suitable and less risky investment. Regardless of varying investment objectives, it is clear to see that the opportunities presented in the aviation industry are substantial; navigate wisely and your returns on your portfolio are sure to take flight.
Disclosure: I/we have no positions in any stocks mentioned, and no plans to initiate any positions within the next 72 hours.
I wrote this article myself, and it expresses my own opinions. I am not receiving compensation for it (other than from Seeking Alpha). I have no business relationship with any company whose stock is mentioned in this article.