The last several weeks have been full of the news of general stock market price woes, and after a supportive FRB FOMC interest rate posture in mid-June, debt problems in Greece and in Puerto Rico seem to be high on the headline blame list. On Monday of last week, after sliding nearly 200 points from its highs the week before, the Dow 30 Industrial Composite Index dropped nearly 350 points. Last Tuesday's end quarter market action saw early morning recovery gains erased with the Dow trading below Monday's lows by early afternoon. We also found headlines highlighting a break in the 200-day moving average, and one of the largest advantages in volatility in history ascribed to last Monday's trading. On Wednesday and Thursday before the July 4TH holiday this year we were able to bounce back before the shortened week's close, but gave up nearly half that bounce again before the closing bell rang. And this Monday morning we revisited last week's lows once again. Last week some market analysts were pointing to problems in China, as the central bank there attempts to further loosen monetary policy to slow a sharp decline in Chinese stock valuation, as being even more important than the debt situation in Greece.
However, the premise that Greece debt and Greece's subsequent potential for leaving the eurozone, and Puerto Rico's now very apparent debt-servicing problems, and China's hard falling stock valuations, may be the primary causes of the Dow's woes and the sell-off early last week and yet again early this week may be seriously misplaced. And investors and traders may want to look a little deeper before trading on such a premise.
Many analysts have been calling for the possibility of a general stock market correction to start this summer season. I'm one of them. Last month's earnings announcements were on balance not particularly strong, neither were many forward outlooks. Employment in the U.S. also still remains a dicey issue throughout the economy, despite recent improvements. And trading following mid-June's positive FOMC "no rate hike" news did little to offset the Dow's downward trajectory which started earlier in the week before the announcements. Historical seasonal volatility associated with June, July, and August are here. And technicals are showing this.
It is my observation that the market is in fact performing in a manner and toward price levels consistent with my forecast earlier in June well before this past month's FOMC meeting. This week's prices are running right along key quarterly echovector slopes established at key time-points during last month's important FRB FOMC week. This can be seen in the following chart of the DIA ETF, which I will use as a proxy for the large cap stock market composites in my analysis.
DIA ETF 15-MONTH DAILY OHLC ECHOVECTOR PERSPECTIVE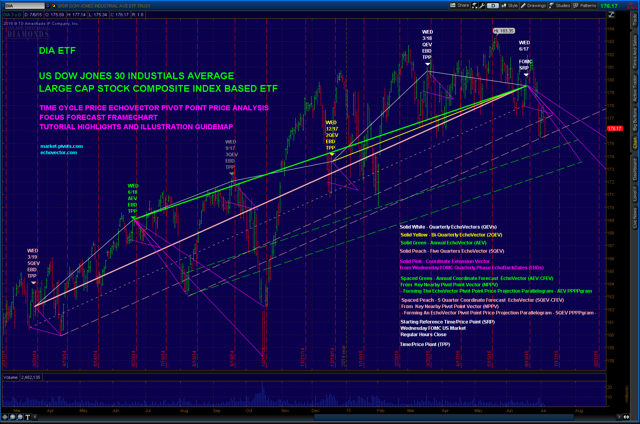 The chart above highlights key quarterly echovectors (solid white lines) at key time-points (Wednesday June 17 FOMC announcement day - US markets 4PM regular hours close - and quarterly phase echo-back-dates for 5 quarters) for last month's important FRB FOMC meeting. We can see the coordination as the market set up in anticipation for the FOMC announcement with its echo-back-date one quarter, two quarters, three quarters, four quarters and 5 quarters ago on this chart. In each case there was little sustained price gain for a good month and a half going into option expirations that followed.
This time cycle price echovector momentum pattern was very evident going into the FOMC announcement week in mid-June, and there has been little surprise to the weakness that has followed in subsequent weeks cyclically.
I also suggest looking at longer to time cycle price momentum echovectors, including the 4 year presidential cycle, the 8-year regime change cycle, and the 16-year maturity cycle for their weights on the market this month. A good framechart illustrating these longer term echovector pivot points and time cycle echovector price momentum weights can be found in my recent June 14, 2015 article on this subject.
STRATEGY
Because of this downside risk cyclically present in the market, I think it prudent to continue to use and place dynamic, active, and adjustable straddling positions in order to lock in gains and to better manage your exposure to general market price level changes in either direction. Setting advanced management straddles at key coordinate forecast levels is a very effective and opportune approach, and an advanced trade strategy.
In many article I have written I have presented an echovector pivot points price analysis perspective and method for effectively determining trigger price level prices, settings, and adjustments. Using this approach at this time could prove very valuable in effectively managing both market risk and reward. One way to employ such a straddle would be to utilize the DIA ETF mentioned earlier in this analysis by setting up an advanced trade technology approach (see "On-Off-Through Vector Target Price Switch") to positioning and position management, with appropriate dynamic triggers and stops included -- for example, at $176 on the DIA.
To perform the short side of the straddle, set a short trigger below $176 on the DIA pre-programmed as a "repeating short trigger switch" at this trigger level on reverse downtick action through the trigger price, with stops set to activate on reverse uptick up-through action. To perform the long side of the straddle, set a long trigger above $176 pre-programmed as a "repeating long trigger switch" on reverse uptick action through the trigger, with stops set to activate on reverse downtick down-through action. I would continue to closely watch the 4-year presidential cycle echovector, the 2-year congressional cycle echovector, and the annual cycle echovector for continued symmetries and confirming parallels and early divergent tells. And I would keep calculating my echovector pivot points and employing my dynamic OTAPS On-Off-Through Vector Target Price Switch triggers. This way you won't be fighting the Fed; and will in fact be letting the Fed, and the market, help point you in the direction you 'should be facing.' If a correction is coming, you will be ready. And if it isn't, you will be ready for that as well."
This is active advanced position and risk management at work for you... being secured against a market value level fall, yet ready to collect further gains if the market advances!
Disclosure: I/we have no positions in any stocks mentioned, and no plans to initiate any positions within the next 72 hours.
I wrote this article myself, and it expresses my own opinions. I am not receiving compensation for it. I have no business relationship with any company whose stock is mentioned in this article.