As our regular readers know, we follow the Leading Indicators more closely than just about anything else, and for good reason. They provide great insight for investors to gauge forward momentum in the economy, particularly during the early stages of the business cycle. The Leading Indicators track, among other things, building permits, new manufacturing orders, as well as High Yield risk spreads, and the Federal Reserve's quarterly survey of commercial loan officers and their views on loosening or tightening of their lending standards. And of course, the Leading Indicators also look to the Yield Curve which provides a clear window into the Fed's overall agenda.
The Late-Stage indicators, meanwhile, help us to understand how far along the recovery has progressed, and whether or not the cycle has run its course. As we are now entering the seventh year of this recovery, many investors out there believe that time is short, and that a recession is just around the corner. To be sure, this is one of the longest recoveries on record, but the data suggests that the recovery is far from over. It's important for us to mention that the Conference Board is responsible for developing the Index of Lagging Indicators, and that we have incorporated many of the individual components into our analysis, with only a few modifications of our own. This data has proven to be quite reliable over the years, and we think investors would be well-served to follow these important economic indicators.
As we will discuss in this article, only one of our six Late-Stage Indicators present any real cause for concern right now. The remaining five indicators tell us that this current business cycle still has a lot of room to run.
Consumer Price Index
The first two Late-stage Indicators (the CPI and Fed monetary policy) exhibit no signs at all that we're approaching the "final innings" of this recovery. While the Fed's target rate of inflation remains at 2.0%, the Core CPI measure remains within a range of only 1.6% to 1.8%, with no real evidence to suggest that Core CPI will move higher any time soon. And not to be forgotten, the Implicit Price Deflator stood at less than 0.9% at the end of Q1 2015.
Fed Monetary Policy
In prior cycles, legitimate inflation signals would generally prompt the Fed to consider tightening monetary policy. However, it is also worth noting that, historically, the Federal Reserve does not initiate a new cycle of rate increases until the Yield curve widened out to a range of 350bps to 400 bps. With 10-year Treasury rates bouncing around a 2.4% yield, global capital markets just don't seem ready for the Fed to adopt a hard line right now. If Dr. Yellen & Co. is merely interested in getting the Fed Funds rate off of the zero-bound range, then so be it. Beyond that, we think the Fed will need to respect what the stronger Dollar has done to our economy. With nearly every central bank in the world loosening monetary policy, the Federal Reserve seems to be stuck between the proverbial "rock and a hard place".
Average Duration of Unemployment
This indicator speaks volumes about how traumatic the Financial Crisis was and how difficult the recovery continues to be. Whether you follow the U.3 or the U.6 measure of unemployment, the average duration of unemployment now sits at just over 30 weeks. And while that represents an improvement from the 40+ weeks experienced at the bottom of the cycle, the nation's unemployment situation is simply horrific. And who really knows when we'll ever see the duration of unemployment return to more historical norms. That being said, this Late-Stage indicator remains pretty far out there.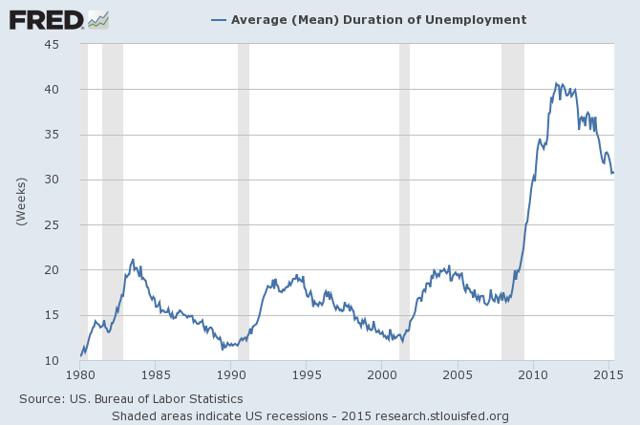 Commercial Bank Loan Growth
Even though commercial lenders took a beating in the Financial Crisis, lending growth did begin to pick up last year. And in fact, the latest read on lending activity revealed a 5.7% growth rate versus Q1 of 2014. As a Late-Stage indicator, commercial bank loan growth doesn't really get interesting until the growth rates approach at least 7% or more. Given the current pace of this economy, it's hard to see this indicator flashing a warning sign just yet.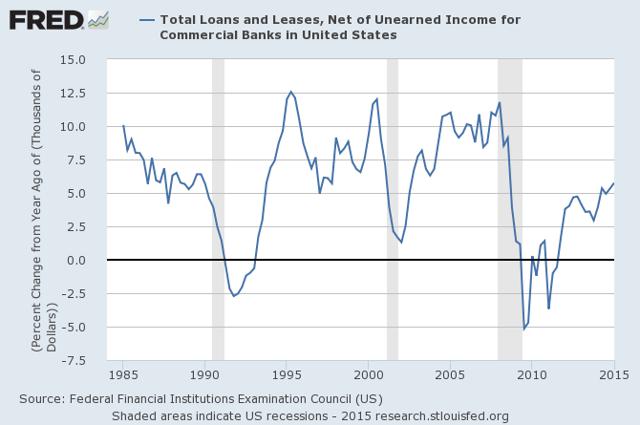 Household Debt Service Payments as a Percentage of Disposable Personal Income
The Conference Board looks at the relationship between consumer income and consumer debt as a way to gauge late-cycle behavior. Once the economy emerges from recession, consumers typically start ramping up their purchases of homes and cars and other items which require some sort of financing. And as history tells us, consumer debt levels ultimately reach a point that becomes unsustainable and the likelihood of recession increases quite dramatically.
While monitoring income / debt ratios is useful, this approach ignores consumer financing costs. Therefore, we would rather track Household Debt Service payments relative to Disposable Personal Income. So whether we are in a high interest rate environment, or a low interest rate environment, what really matters is the consumer's ability to manage those requirements. The graph below suggests that when a consumer's debt service requirements move beyond 12%, household finances become rather constrained. This, of course, represents classic Late-Stage phenomena.
The graph also reveals that consumers are now in the strongest position we've seen in several decades. With debt service payments currently under 10% of DPI, this indicator is a long ways from sounding the alarm bell.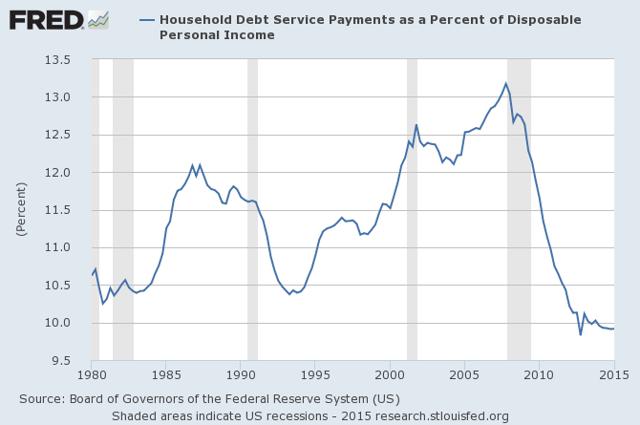 Business Inventory to Sales Ratio
This data series has long been one of our favorites, particularly because it illustrates how much more efficient businesses have become over the past 25 years. As a Late-Stage indicator, this index also reveals when inventories begin to back up. That usually means that companies have misjudged what consumer demand would be and therefore, an economic slowdown could very well be underway.
Most recently, the inventory / sales ratio has moved higher to a level of 1.35, the highest level we've seen since the Great Recession. We are not one to rush towards any sort of judgment at this point. The port slowdown on the West Coast clearly disrupted the supply chain, and is only just beginning to normalize. And of course, the harsh winter weather contributed to a near-zero reading for the Q1 GDP. We're not raising the white flag just yet, but this Late-Stage indicator bears close watching.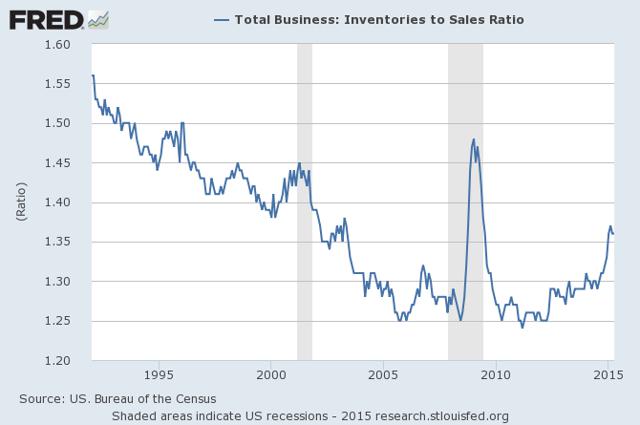 The Bottom Line
The Late-Stage indicators provide a nice complement to the Leading Indicators. Indeed, history reminds us that when the Late-Stage indicators begin to flash more than a few warning signs, we should also expect to see some weakness in the Leading Indicators.
At this juncture, with only one Late-Stage indicator putting up the "caution flag", we do not think that a recession is "just around the corner". In fact, when you tally up our eight Leading Indicators with our six Late-Stage indicators, 13 out of 14 key economic indicators continue to suggest more growth lies ahead. Indeed, this is no time to start passing out the "crying towels".
Given our long-term investment horizon, we think it makes sense to remain long in equities. In particular, we favor credit-worthy, large cap names which provide a compelling total return. And when the inevitable market correction arrives, the disciplined investor will have their shopping list in hand. Lest we forget, we're also in a Secular Bull Market with an extremely accommodative Fed, which continues to struggle with their desire for tightening monetary policy while most of the world's advanced economies are loosening monetary policy. It would seem that the macro trend of "lower and longer" remains the order of the day.
Disclosure: I/we have no positions in any stocks mentioned, and no plans to initiate any positions within the next 72 hours.
I wrote this article myself, and it expresses my own opinions. I am not receiving compensation for it (other than from Seeking Alpha). I have no business relationship with any company whose stock is mentioned in this article.