Crude oil prices traded sharply lower to start the week, breaking down from a key support level.
It's not surprising to see crude oil well below the key $60 per barrel price point. When oil rebounded from its March low, we predicted that it wouldn't last, and recommended buying stocks that would benefit from lower oil prices. Today, the breakdown in oil should help to support these stocks.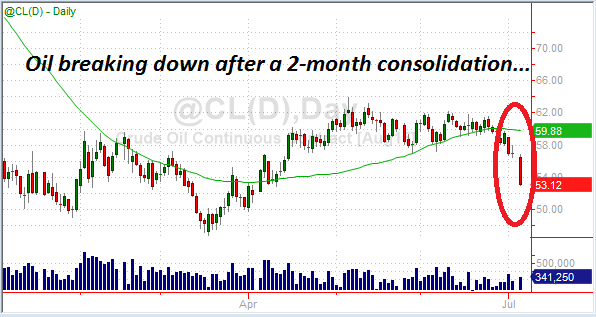 What is surprising is the bearish reaction in pipeline stocks.
Pipeline companies make money by transporting oil and natural gas from the well to refineries (and by transporting refined products to distribution centers). As a general rule, these companies charge by volume and by distance. So the more oil or natural gas shipped, the more money they make.
Ironically, pipeline companies don't necessarily make more money when oil prices are high. In fact, if higher oil prices cause an economy to slow (cutting overall energy demand), pipelines could see volume levels drop and profits follow suit.
In today's market, the opposite is taking place. Oil prices are low, demand is high, and yet pipeline stocks are trading lower. What gives?
While the business environment is great for pipeline companies, there are a few reasons investors appear to be avoiding these stocks. Let's take a look at these issues and determine whether they represent true risks to investors, or opportunities to buy the stocks at lower prices.
Three Reasons for Pipeline Weakness

- Investors Selling Energy
- Interest Rate Concerns
- Fears of Production Cuts
Broad Energy Selloff
Low oil prices have ignited well-founded concern for energy investors.
Energy producers must now sell oil and natural gas at lower prices, which cuts into profits. In many cases, oil companies cannot sustain long-term profitability with oil prices at current levels. Naturally, investors want to avoid this area and reduce exposure to oil and gas producers.
Similarly, oil service stocks (the companies involved in drilling and servicing wells) are also under pressure. With oil prices so low, many projects that would have been profitable a year ago no longer make economical sense. Many drilling contracts have been canceled and it has been hard for oil service companies to generate new business. This is another area that investors have been avoiding.
Rather than buy individual shares of stock, many investors have allocated capital to energy ETFs or mutual funds. While this makes sense for diversification, mass selling of these funds may be having a distortion effect on the market.
As fund managers are forced to sell stock to raise cash for exiting investors, shares of energy producers, oil service stocks and pipelines have all been liquidated. In some cases, selling pressure has knocked down prices for a wide variety of energy stocks - including the stocks of companies such as pipeline operators which are doing quite well.
Rate Sensitivity
Another investment trend that we have been watching is the tendency for investors to sell stocks with high dividend yields.
We warned of this trend back in April when we told readers not to touch that blue-chip dividend stock. With the Fed likely to hike rates in coming months, the "reach for yield" that has helped drive dividend stocks higher is likely to unwind. And that could cause a selloff for blue-chip dividend stocks that are trading at premium valuations.
We don't expect this trend to have much of a negative effect on pipeline stocks, however. That's because conservative investors who bought dividend stocks as an alternative to bonds and CDs were not likely heavily invested in pipeline companies. Instead, they sought out stable blue-chip companies like utilities and consumer staples stocks to generate the income that they needed.
So while some investors may be selling pipeline stocks with high yields in an attempt to game the interest rate cycle, we think these stocks are largely off the radar of conservative traders who may switch back to bonds.
Production Concerns
A third reason pipeline stocks may be trading lower is that investors are concerned that U.S. oil production will fall as a result of lower prices.
This is exactly what Saudi Arabia is counting on as they open the spigots and increase production. The hope is that U.S. producers will not be able to compete, and will be forced to shut down.
At this point, it looks like Saudi Arabia's strategy is backfiring. U.S. shale producers have become more efficient as a result of lower oil prices, and it now takes less time and money to drill shale oil wells.
Over time, low oil prices may put the producers with very high breakeven costs out of business, but U.S. oil production still remains robust - which means oil is still flowing through pipelines and generating a profit for pipeline companies and their investors.
Five Pipeline Stocks To Consider
Energy pipeline stocks are excellent income investments because of the relatively high yields that these stocks produce.
To be more specific (and technically correct), these "stocks" are actually Master Limited Partnerships (or "LPs") which are traded on U.S. exchanges just like stocks. Because they are organized as MLPs, the companies are not required to pay corporate tax. This leaves more cash available to pay to investors in the form of "distributions."
MLPs are required to pay the majority of operating earnings to investors, which has led to a high yield for investors.
We are currently researching five of the top MLP companies as possible investments for our MTI Investor income portfolio. These five companies are:
All five of these stocks are well off their 52-week highs, despite the strong environment for pipeline companies. All five pay an attractive yield as shown in the table below. And all five could offer attractive capital gains when pipeline stocks regain favor with investors.

The distributions that investors receive from MLPs have some interesting tax advantages. A portion of each distribution is classified as a "return of capital." This allows investors to defer paying tax on this distribution, and instead to lower the cost basis for their investment.
Details regarding the return of capital are sent to investors in a K-1 form each year. The K-1 form has all of the information needed to complete an annual tax return.
Due to the tax benefit, it is generally best to use a taxable account when buying shares. This allows investors to take full advantage of the tax benefit from these companies. If you are interested in taking a position in your IRA or other tax-deferred account, it would be wise to consult a tax accountant first.
The bottom line is that pipeline stocks currently offer investors some very attractive opportunities to buy shares at a discount and generate income while waiting for these stocks to rebound. We will likely be taking positions in one or more of these stocks over the next few days.