Income investors are likely having a hard time digesting the fact the S&P 500 is still well over 2,000 and the Dow is only a few percent from all-time highs. There has been a lot of pain in the income space since January of this year.
Real Estate Investment Trusts ("REITs"), even the best of the best such as Ventas, Inc. (NYSE:VTR) and W.P. Carey, Inc. (NYSE:WPC), have been taken to the woodshed over interest rate fears.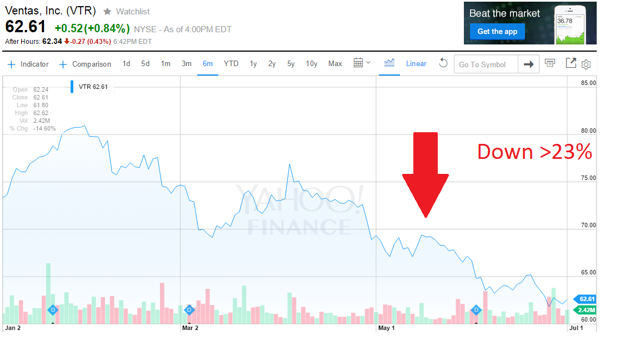 Source: Yahoo! Finance
The sector as a whole has suffered similar losses as we can see via (NYSEARCA:VNQ).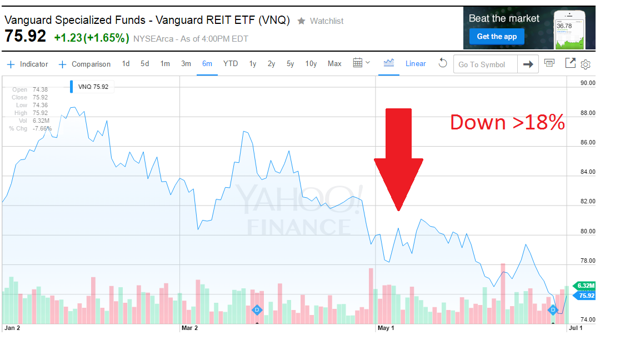 Source: Yahoo! Finance
Investment grade corporate bonds are holding up reasonably well but high yield have begun to struggle as well (a deeper analysis can be found in my Article on energy credit markets) BlackRock's Corporate High Yield Fund (NYSE:HYT) is nearing 5 year lows.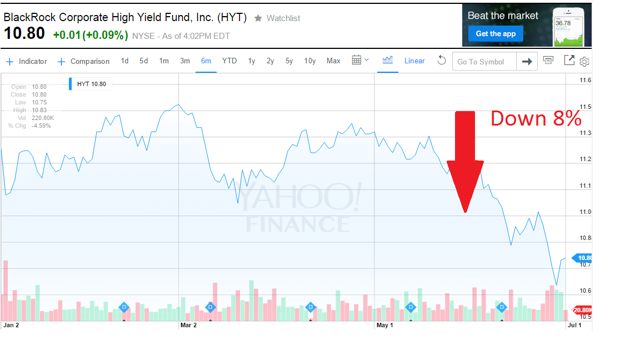 Source: Yahoo! Finance
Business Development Companies ("BDCs") have fared better since their loan portfolios are generally tied to LIBOR plus a fixed risk premium. Even then, BDCs have generally given up any gains made in 2015. Apollo's (NASDAQ:AINV) had been in an upward trend since late 2011 before the chart cracked in early 2015 and is less than $1 from 6 year lows. Some BDCs have significant exposure to the energy sector as well.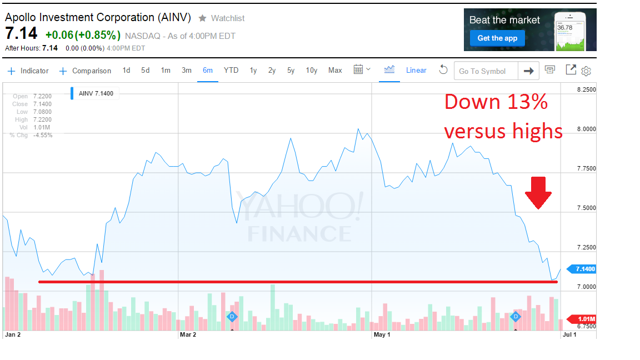 Source: Yahoo! Finance
Preferred shares are trading surprisingly well for being truly fixed payment vehicles. Notice iShares U.S. Preferred Stock ETF (NYSEARCA:PFF) is teeter-tottering at resistance levels but is remains well above the lows set by interest rate fears in late 2013 and early 2014. I wouldn't be surprised to see a 38 handle on PFF very soon.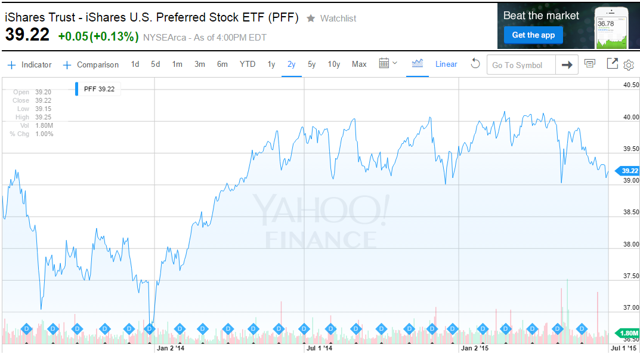 Investment grade bonds have also held up well. High yield issuances are across the board with some trading only 200 basis points above the equivalent U.S. Treasury and others 1,400 basis points above LIBOR.
Not that it would come as a surprise to anyone active on Seeking Alpha over the past few quarters, but many components of the energy sector have suffered truly astounding losses. Energy firms bought primarily for their income, such as MLPs, are facing both lower energy prices and perceived interest rate risk.
As an example, once deemed one of the better managed MLPs with reasonably reliable distribution coverage, easier to understand operations and capital structure, as well as conservative management, Mid-Con Energy Partners, LP (NASDAQ:MCEP) has gone from having one of the most stable charts on the NASDAQ to trading down over 75% to under $5 a share. Most of this was of course due to the collapse in the prices of oil, natural gas, and natural gas liquids. The distribution MCEP is able to muster in the current environment, however, is valued less if interest rates are expected to rise.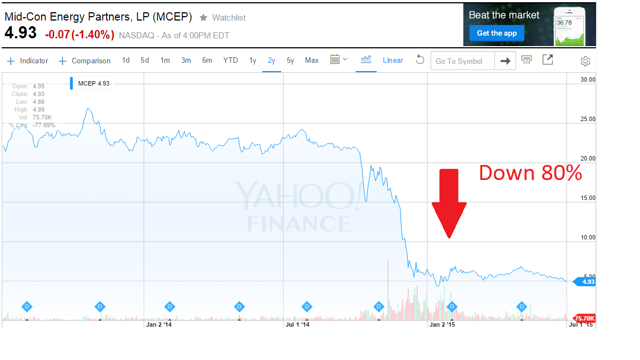 Source: Yahoo! Finance
I own many of the aforementioned securities and usually have multiple portfolio holdings in each of the classic income sectors. This means, unfortunately, that I know the extent of the recent declines as well as most.
Where there is pain in the markets there is often opportunity. I am going to write a short series of Articles about higher yielding stocks that may provide strong risk versus reward propositions. Each will focus on a different area of the market with some analysis yielding compelling buying opportunities and others suggesting to remain patient.
This first Article focuses on the energy sector and will cover companies with large market capitalizations but varying risk profiles and yields. As a read of my recent Article on small cap U.S. Energy Corp. demonstrates, I am far from a perma bull on the sector and focus on looking through a neutral lens at every investing or trading opportunity. Oil's 7%+ decline on 7/6/2015 brought further difficulty to the sector.
Large Capitalization
I normally avoid investing in supermajors for several reasons:
Extremely high capital expenditure requirements
Difficulty in sustaining oil and gas reserves and subsequently production
Firms with multi hundred billion dollar market capitalizations eventually face the law of large numbers and compound annual growth rates eventually decline, usually to approximately the rate of GDP growth
Exposure to geopolitical issues, large fines, and expropriation of assets
Reliance on what can be a non-diversified set of long-term projects with very high abandonment costs
That being said, large oil and gas companies also benefit from:
Financial resources equal to and sometimes greater than many smaller sovereign nations
Functioning as the only entities capable of executing large scale, critical projects such as developing the Arctic
Although national oil companies, such as Saudi Ramco and Rosneft (OTCPK:RNFTF), produce the most hydrocarbons and have the greatest reserves, history suggests that the supermajors have greater engineering, scientific, and management talent
Long track records including some of the most profitable firms in history
We will review a few potential investments and see if we can find opportunity. I chose not to investigate BP in great depth due to its ongoing litigation issues; I consider it more of a special situations play at this point. I reference and compare firms to ExxonMobile (NYSE:XOM) but believe its lower yield and premium valuation make it less desirable than others.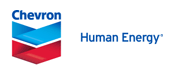 Starting with Chevron (NYSE:CVX), the stock now trades in the mid $90s and yields 4.3%. Chevron has not traded under $100 since the middle of 2012 and has stayed above $90 since the end of 2010. This is not an apples to apples comparison as Chevron paid 72 cents quarterly in dividends in November 2010 and now pays $1.07. Even taking into account a 10% reduction in the dividend, investors would still receive a dividend 33% higher than 5 years ago. Let's go over a few key financial and operational parameters to gauge Chevron's financial health and growth prospects.
Source for the below discussion: Most recent 10-Qs for XOM and CVX. BP's data pulled from reports on its website.
The volatility in commodity prices has made forecasting future cash flows particularly difficult. We see that both British Petroleum (NYSE:BP) and CVX maintained decent liquidity ratios through oil's descent. Net income fell which negatively impacted operating efficiency (e.g. return on assets), net margins, and payout ratios. Exxon experienced similar declines but began from a more conservative base. Despite Chevron's $180 billion market cap, it managed a 5-year equity compound annual growth rate, or CAGR, of 10%. This is a little higher than rival Royal Dutch Shell and about 15% lower than XOM's 11.5%. Its current yield of 4.3% is significantly higher than the 5-year average of 3.17%. The approximately 30% move off its highs has pushed its yield to above average levels and put the P/E ratio at 10.86. These are all favorable outside of the P/E ratio which isn't a contributor to a long case given historical averages relative to the S&P 500. The earnings component of this ratio, however, has experienced too much volatility to be taken without closer examination. Net income dropped from $4.512 billion in Q1 2014 to $2.567 billion in Q1 of this year; this is a decline of 43%. CVX's dividend is not as well supported as XOM's. If we apply CVX's payout ratio of net income in the form of dividends in Q1 to XOM, XOM's yield is 4.7% versus CVX's 4.3%.
GAAP accounting figures for firms with complex or atypical balance sheets can be misleading. Free cash flow, or FCF, often provides a more honest indication of a firm's cash flows than net income while remaining relatively easy to calculate.
FCF = CFO - net capital expenditures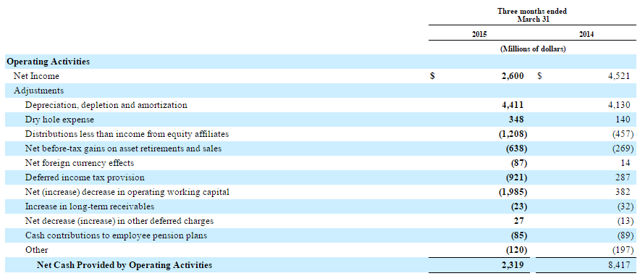 Net Cash Provided by Operating Activities has taken an even bigger hit than net income year over year. Net capital expenditures isn't as straightforward to calculate, especially for a firm like CVX. Looking over the financials, capital expenditures came in at $7.6 billion in Q1 versus $8.5 billion in Q1 2014. Annualizing 2015's figures, CVX posts a negative FCF of about $2.2 per share - which is not far off 2014's (also negative) FCF. The firm was doing better in years prior. CAPEX has been accelerating since 2010 but a corresponding increase in FCF or CFO is not occurring. Part of this is attributable to the uneven CAPEX requirements of involvement in projects worth tens of billions of dollars requiring investments over one to two decades.
A critical component to CVX's future is reserve replacement and growth. All supermajors face this challenge. CVX's approach is to aggressively develop its liquefied natural gas position. Callum Turcan's Article provides a good overview of their LNG strategy. A majority of Chevron's production growth in the near term is from LNG projects. LNG development is often even more capital intensive than other areas of energy. Giant international oil firms have a competitive advantage here due to their enormous scale and resources but they can also get trapped in individual projects and suffer cost overruns so large they alone could keep Greece solvent for a few more years. Chevron is betting it will benefit from LNG demand doubling by 2025 (Chevron's projections). Even if these projections are accurate, Chevron still needs favorable LNG prices and be able to keep costs under control. While it may change in the future, LNG pricing is primarily tied to crude prices. CVX could be considered fairly valued here but I need the valuation to come down considerably, resulting in a share price no higher than the low $80's, before I feel compensated for the risk of relying on uncertain and capital intensive projects to aid the recovery in cash flow necessary for CVX to sustain and meaningfully grow its dividend over time.

Royal Dutch Shell (NYSE:RDS.A) (NYSE:RDS.B), like CVX and XOM, has a strong balance sheet in the sense it has a low debt-to-equity ratio of 26% as of Q1 2015 and ample liquidity given its current ratio exceeds 1.1x. While not on par with XOM's S&P credit rating of AAA, RDS maintains a AA rating which is strongly correlated with favorable access to credit. It is clear RDS management is focused on maintaining a strong financial position and so far they have succeeded. One could argue with some merit that RDS was better positioned financially than CVX or XOM prior to the BG Group deal.
RDS offered BG Group $70 billion consisting of $20.5 billion in cash, a stock exchange, and debt. Having studied the historical returns associated with M&A activity of this type, including what's discussed in CFA materials, I am suspect that this buyout was necessarily the best use of resources. $20 billion cash can buy a lot of shares. The transaction is not expected to close until next year so we do not yet know what the synergies will be. In addition, RDS is involved in Arctic operations that carry even higher risk and greater uncertainty than most large scale oil and gas projects. RDS is committing $5-10 billion to drill offshore of Alaska. As someone who is familiar with Alaska and studied petroleum engineering in graduate school, I know off hand that RDS has not historically been a major player in the area. The other supermajors, including every other name in this section of the Article, does have an operating history in the region with many tracing back 50-100 years. This considerable financial commitment in an inherently risky area that RDS lacks a successful operating history in warrants caution.
Operating wise, Shell doesn't compare as well to peers in a few key areas. Its production growth has been negative as of late while most supermajors have been able to at least post small single digit gains. I need Shell in the high $40's before the valuation becomes sufficiently compelling to build a position.

There is one name in the space with an ample dividend that I have been keeping a close on since its IPO - ConocoPhilips (NYSE:COP)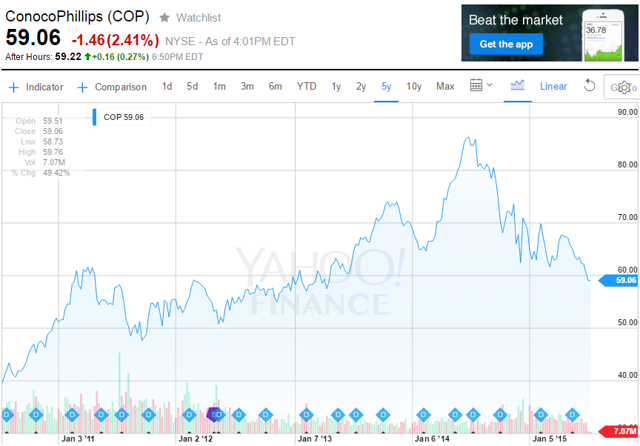 Source: Yahoo! Finance
Conoco spun off its downstream business in 2012; it is not an integrated supermajor like the aforementioned companies but it does claim to be the world's largest Exploration and Development, or E&P, company. It is active in Alaska, the Gulf of Mexico, the oil sands, Australia, as well as onshore in the lower 48. COP's activity in U.S. shale and narrower focus geographically and operationally differentiates it from the crowd. I have more faith in earnings reliability of a firm operating in the Eagle Ford shale than one dependent on the Russian arctic or ultra-deepwater operations.
Positives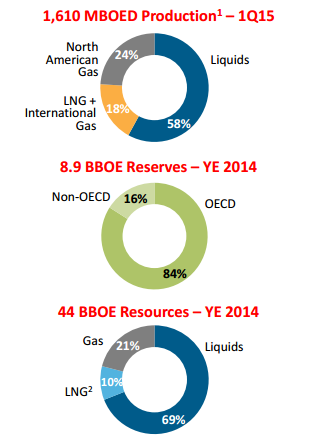 Significant reallocation of capital to improve flexibility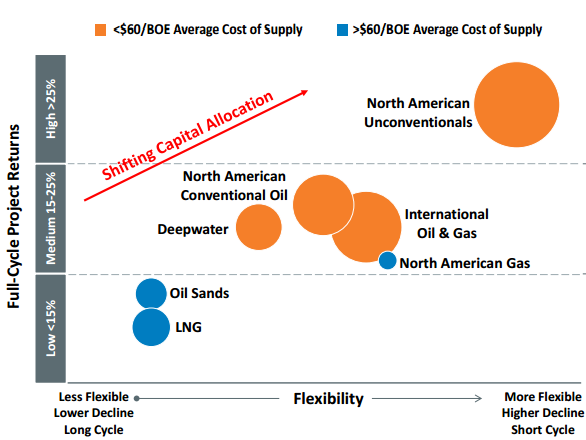 Large portion of the asset base that does not require high commodity prices near term
Majority of production derived from stable nations with robust legal systems
Acceptable Production Growth of 13-14% from 2015 through 2017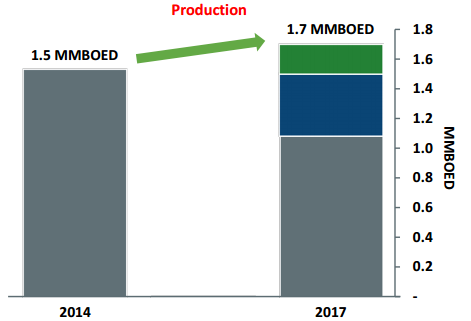 Source: Conoco
Negatives
Cash flow negative until 2017 assuming management's expectations are accurate
S&P A credit rating is lower than the integrated peers it often competes against
Oil needs to stabilize or at least average $75/bbl by 2017 to meet target metrics
Poor current operating performance limits the usefulness of classic valuation methods, such as the P/E ratio. COP's price to sales ratio is currently 1.5x which is on the higher end of the 10-year range of .18 to 1.78. That range, however, includes when the COP was structurally different than today. Other key financial data and how it compares to integrated peers is below.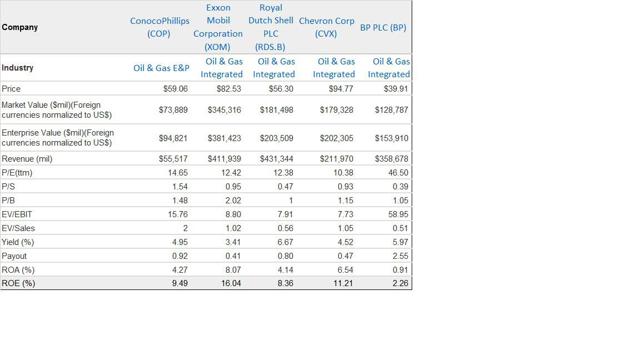 Source: GuruFocus
Taking everything into account, including adjusting the required valuation downward given crude oil's futures curve is less bullish than COP management, I am interested in COP at $50-52 per share which puts the dividend yield over 5.5%. Keep in mind our previous discussion of how that dividend is being funded for the next 1-2 years which is not from operating profits.
Conclusion
Despite decreases in stock prices of 20-40% in the last 12 months, the decay in operating performance of the largest publicly traded oil and gas companies has resulted in valuations that still are not quite at the point I'd consider them favorable. A couple of these firms, notably RDS and COP, are within 10-15% of stock prices that are likely to provide resilient medium and long-term returns.
Next Article, we'll cover an area of the markets I have been active in for many years - Master Limited Partnerships. After that, we'll move on to REITs, BDCs, and what I call "special situations" within the income generating portions of the financial markets.
Disclosure: I am/we are long WPC, MCEP, VTR, HCP, HTA, DOC, BBEP.
I wrote this article myself, and it expresses my own opinions. I am not receiving compensation for it (other than from Seeking Alpha). I have no business relationship with any company whose stock is mentioned in this article.
Additional disclosure: The author can enter long or short positions in any of the positions mentioned in this article at any time.