In this article, I will be examining Home Depot (NYSE:HD) as a quality choice for investors looking for a secure dividend-growth stock. My decision to write this article came after I read an article by fellow author Aristofanis Papadatos, titled: "The Most Secure DGI Stock."
He brought up some great points about many dividend-growth stocks trading at a premium valuation because of their long history of dividend growth & stability. In addition, he brought up the point that some dividend-growth companies have a payout ratio, which is nearing a point of potentially topping out. However, there were a couple issues that I had with his selection of the S&P 500 (NYSEARCA:SPY) as a dividend-growth selection.
Issue #1
The first issue I had was he said (Quote below) that those who depend on dividends for income would be satisfied with a 20% dividend cut during a recession. I believe that logic is completely wrong for the scenario he describes. If I were put into the position of relying on dividend income, a 20% decrease in income is the last thing I would want during a recession. In times of market stress, that is exactly the time when you want/need stability from your source of income.
Even those who depend heavily on dividends for their living would be fully satisfied to incur a 20% cut in the year of the worst recession and see their dividend restored in 3 years and growing ever after." [Aristofanis Papadatos]
In addition, if you are a younger dividend-growth investor and you choose to reinvest dividends in a quality company, in those times of significant market stress, a 20% decline in dividends is not a good thing either. If the dividend is cut, you have less cash available to reinvest in or purchase "cheap" shares. The following quote from Warren Buffett applies to this concept of having cash available, in this case in the form of dividend income available to reinvest or invest strategically if you elect to not reinvest dividends.
Cash combined with courage in a time of crisis is priceless."[Warren Buffett]
Issue #2
The second issue I had was he noted that some dividend-growth companies trade at a premium valuation, which is true in many cases investors have bid up many companies because they have a superior yield to bonds. However, some dividend-growth companies that trade at a premium valuation deserve to trade at a premium valuation. I believe that if a company has significantly higher dividend growth and EPS growth than the S&P 500, along with a payout ratio is moderately low, then that company in my book deserves to trade at a premium to the S&P 500.
My Secure Dividend Selection: Home Depot
In his article, Aristofanis provided data showing that the S&P 500 has grown earnings at 8.6%/year and had dividend growth of 7%/year. I used the Zacks stock screener with those data points along with a dividend yield of greater than 2% because that is right about what the S&P 500 is yielding. I looked through the list of 77 companies and found Home Depot was the most appealing and secure dividend-growth stock on the list with a long dividend history.
S&P 500: Yes
5-year historical EPS growth: >8.6%
5-year historical dividend growth: >7%
Dividend yield: >2%
Home Depot
I selected Home Depot because they have stellar dividend growth, dividend stability and they have grown earnings significantly. In addition, as I will detail in the valuation section below, shares of Home Depot trade at a premium to the S&P 500; however, Home Depot's dividend growth and earnings growth is significantly higher and thus I believe the premium valuation is warranted.
Dividend Growth & Stability
The chart below shows the dividend history for Home Depot over the last twenty years. Over the last twenty years, Home Depot has grown its dividend 22.49%/year compared to the S&P 500, which over the same period has grown its dividend only 5.88%/year. As you can see, Home Depot has had no dividend cuts in the last twenty years, even during the financial crisis. The dividend of Home Depot was able to withstand the financial crisis and the massive housing bubble collapse, both of which directly impacted their business. This gives me confidence that Home Depot's dividend is very secure. For another measure of dividend security, I looked at the payout ratio of Home Depot and found that it currently stands at 47.87%, which is very reasonable and gives the company a lot of flexibility to continue increasing the dividend. In case the stock market goes horribly bad, the low payout ratio gives Home Depot the flexibility as they had in 2007-2009, to keep the dividend stable during stressed markets.
HD Payout Ratio

2015 Dividend Est.

2.36

TTM EPS

4.93

Payout Ratio

47.87%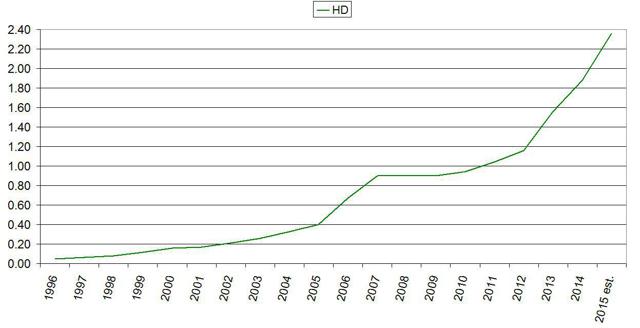 (Source: DividendChannel.com)
Growth
The first chart below shows that EPS growth for Home Depot has grown steadily over the last five years. The EPS growth rate over that period has been 23.72%/year, which is significantly higher than the 8.6% long-term growth rate the S&P 500 has had. Home Depot has grown EPS because of significant revenue growth, share repurchases and margin expansion. Out of those, I believe the most important has been margin expansion. The second chart below shows that Home Depot, over the last five years, has expanded their profit margin significantly. Net margins for Home depot have expanded from 4.91% to 7.63%, which is an increase of 55.40% in a five-year period.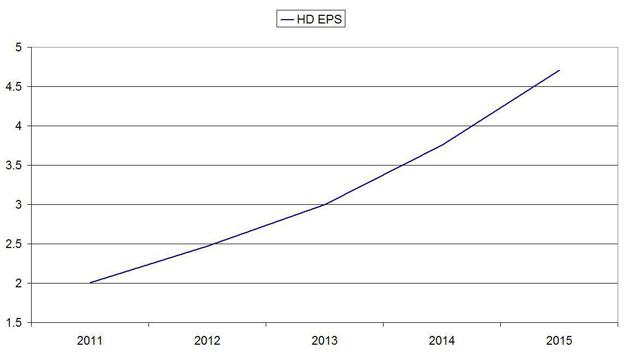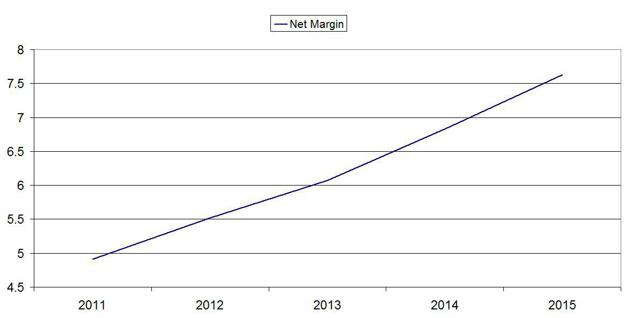 (Source: Gurufocus.com)
The final aspect I will look at is free cash flow growth. Free cash flows are an indication of future dividend increases, share repurchases and company growth. As you can see, free cash flows in 2015 were $6.8 billion, which is 94.90% higher than in 2011 when free cash flows were $3.49 billion. With its ability to generate significant free cash flows, Home Depot can easily support continued dividend increases in the future.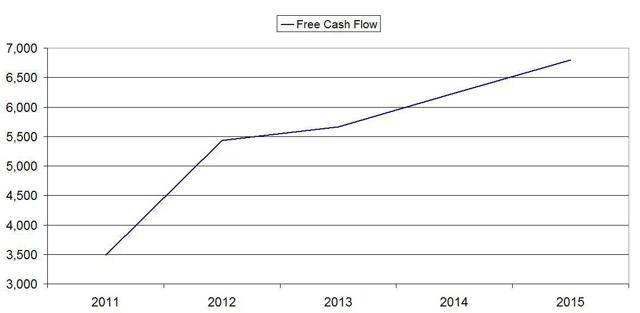 (Source: Gurufocus.com)
Valuation
The following table shows that Home Depot is currently trading at a PE of 22.54, which is modestly higher than the 19.09 PE that the S&P 500 is currently trading. While Home Depot does trade at a premium valuation to the S&P 500 and has traded at a premium valuation for a long time, the premium is justified because Home Depot has higher EPS growth and dividend.
| | |
| --- | --- |
| $4.93 | ttm EPS |
| $111.12 | Current Price |
| 22.54 | PE Ratio |
Closing Thoughts
In closing, I believe Home Depot is a high quality secure dividend stock that has grown its dividend three times faster than the S&P 500 and has grown EPS nearly three times faster than the S&P 500. For dividend growth investors, a 20% dividend decrease is unacceptable, especially if the cut occurs during a period of market stress. Home Depot has proven itself to be a secure dividend stock during those times of stress. The significant free cash flows that Home Depot generates along with its low dividend payout ratio, give Home Depot the potential to keep raising the dividend significantly.
Disclaimer: See here.
Disclosure: I/we have no positions in any stocks mentioned, and no plans to initiate any positions within the next 72 hours.
I wrote this article myself, and it expresses my own opinions. I am not receiving compensation for it (other than from Seeking Alpha). I have no business relationship with any company whose stock is mentioned in this article.