The Chinese stock market is down over 30% from its very recent peak. I like to buy things when they are on sale, especially stocks. Following 18th century British nobleman Baron Rothschild, I try to "Buy when there's blood in the streets, even if the blood is your own." Is blood running in the streets of China or is this just a flesh wound?
A quick analysis of the Shanghai Stock Exchange Composite Index (SSEC ) over the last 22 years shows that the recent sell-off is both:
Larger than two of the last three major sell-offs prior to a new high less than a year later
Smaller than all four of the sell-offs after major tops
Past Sell-offs of the Shanghai Stock Exchange Composite Index were as high as 80% from the top in 1993 to the bottom in 1995. The current sell-off is only 32%, thus buyers now may be catching a falling knife.
Past Sell-offs of the Shanghai SSEC
1993-1994 ~80%
2001-2005 ~57%
2007-2008 ~73%
2009-2013 ~48%
2015- ? ~32% so far
Chart 1a: Linear chart of the Shanghai Stock Exchange $SSEC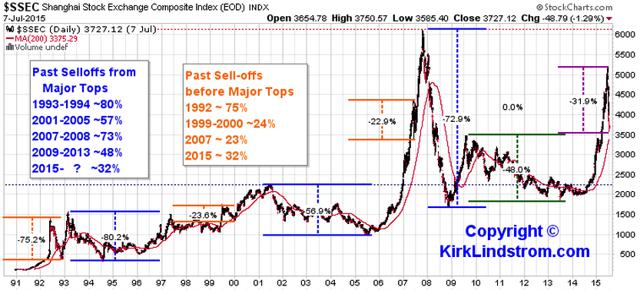 Chart 1b: Close-up of Chart 1a

Mike Holland - China Fund (NYSE:CHN)
Yesterday I saw Mike Holland discuss on CNBC the Chinese stock market and how he invests in China for the past two decades. Among his many accomplishments, Mike Holland is currently a "Director of The China Fund, Inc. and The Taiwan Fund, Inc., both listed on the New York Stock Exchange." I've enjoyed listening to his advice going back to the 1990s when he was a regular guest on "Wall Street Week with Louis Rukeyser."
Seeking Alpha has a copy of the video interview at this link:
Smartest way to invest in China: Pro CNBC • Tue, Jul. 7
Summary of Video:
Holland stopped recommending Chinese ETFs "a long time ago due to crazy valuations..."
Margin buying in China by small, individual investors has many Chinese stocks up to bubble levels similar to the 1999 NASDAQ bubble in the US.
Recommends managers "on the ground" who can find good value during horrible bear markets
Mike is looking for Chinese companies that
make a lot of money
don't have crazy valuations
are trading at 15 to 20 times earnings and pay dividends.
Chart 2: Past Performance of the China Fund (CHN)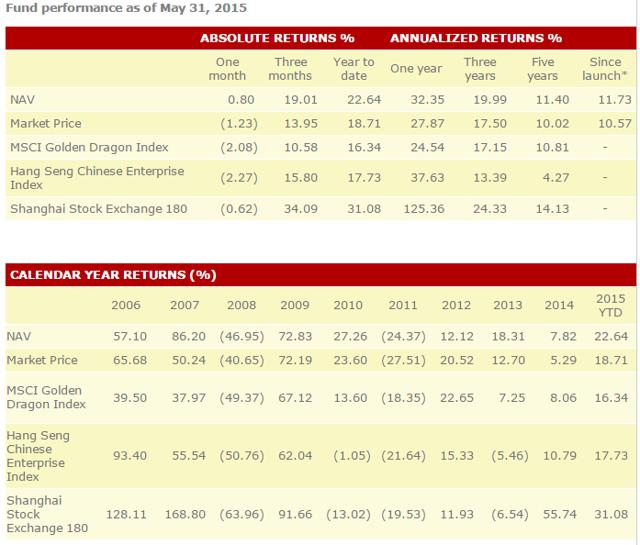 Managed Fund vs Index fund (or ETF)
Obviously, Mike Holland makes great money managing money for investors who believe he can outperform simple index funds or are unaware of the alternatives that I and many others recommend. Managed funds usually have a large expense ratio to overcome compared to index funds.
In my newsletter and here in free articles, I recommend using index funds and ETFs (See SPY Near Record High While ECRI's WLI Rises To 30-Week High) in core portfolio for the majority of your assets then using five to 20% in an "Explore Portfolio" where you can have individual stocks, sector ETF, gold, individual bonds and cash to buy "when there's blood in the streets."
An investment in Holland's China Fund or a Chinese ETF would certainly be appropriate for your own "Explore Portfolio." Below is a comparison of the various options to consider. I wrote this article as I am considering an investment in China for my own "Explore Portfolio" and the article has much of the research I consider before buying.
Table 1 Fund Comparison
Fund Name

Fund Type

Close-End Managed

ETF

ETF

Ticker

CHN

Net Assets ($M)

as of 7/7/2015

338

821.3

7,390

# of Securities

47

306

51

Net Annual Exp. Ratio

0.80%

0.74%

Listing Date

July 10, 1992

Nov. 6, 2013

Oct. 5, 2014

Primary Exchange

NYSE

NYSE

NYSE

Distribution Yield

NA
 

2.41%

12 month trailing yield

NA
NA

2.13%

30 day SEC yield

NA
NA

2.05%
Chart 3: $SSEC Shanghai Stock Exchange, CHN & FXI - Linear Graph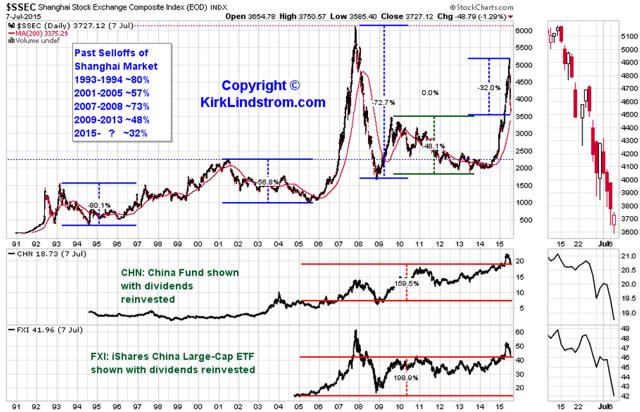 Chart 3 above shows CHN is less volatile than FXI and $SSEC so it may be a better investment going forward if you believe only certain stocks are in a bubble and that the fund managers can outperform the index.
Is it time to Buy Chinese Stocks?
So far, I have not bought Chinese stocks. I own an Emerging Markets ETF and recommend it in both my newsletter "Core" and "Explore" portfolios. I may add to my position on this decline, but as of this writing, I have not bought more.
If the past is any indicator of the future, you don't want to be a buyer when insiders are selling. Back in March 2000 the NASDAQ internet bubble peaked. While the stock market tumbled real estate here in the Silicon Valley went up as insiders sold stocks to lock in their gains and buy hard assets like homes and rental property. Fast forward to 2015 and we have real estate prices soaring here well past old highs with many buyers from China paying with cash. Two years ago, a neighbor sold two homes in China to raise $2.65M cash to buy his home. A similar sized home with a less desirable location just sold for $3.13M to another buyer from mainland China. Zillow estimates his home is worth $3.3M, a gain of 24% in two years. It is highly anecdotal but it sure feels like 2000 and 2001 but with Chinese insiders buying homes here rather than technology company insiders.
Finally, Chinese stocks continue to fall even as the government tries to shore up prices.
Shares slide despite China measures
Published: 8:39am, 8th July 2015
Updated: 4:47pm, 8th July 2015
China announced a flurry of new moves to halt a stock market slide, but the measures resulted in another big dive in share prices.

The government told state companies and executives to buy shares, raised the amount of equities insurance companies can hold and promised more credit to finance trading.

Hundreds of companies have halted trading in their stock after emergency measures announced last weekend failed to stop a rout that has dragged down the benchmark Shanghai Composite Index by more than 30% since early June.

The Shanghai index lost another 5.9% today and Hong Kong's Hang Seng index closed down 5.8% after diving as much as 8.5% earlier in the day.
Just think how low they could fall in a "free market." This is too risky for me but I'll keep my eye on the Chinese market for a potential buying opportunity.
Personally, I prefer to own US companies like Applied Materials (NASDAQ:AMAT), Finisar (NASDAQ:FNSR) and General Electric (NYSE:GE) that will make money selling capital equipment and components to the companies doing business successfully in China.
Disclosure: I am/we are long AMAT, FNSR, GE.
I wrote this article myself, and it expresses my own opinions. I am not receiving compensation for it (other than from Seeking Alpha). I have no business relationship with any company whose stock is mentioned in this article.