Businesses that should benefit from increased air travel
JetBlue Airways Corp. (NASDAQ:JBLU) offer air travel with low cost but with good service and amenities. At least they did, according to "A New Era Has Begun for JetBlue, and Travelers Will Hate It" by Brad Tuttle, November 19, 2014 (time.com). According to a more recent article aimed at investors, the service and amenities are as good as ever, see "SWOT Analysis: JetBlue Airways Corporation" by Iason Dalavagas, June 29, 2015 (valueline.com). But - "JetBlue starts charging for all checked bags" by Carl Surran, SA News Editor, June 30, 2015 (seekingalpha.com).
The policy of never cancelling flights backfired in 2007 when a snowstorm resulted in passengers waiting in a plane for 11 hours, only to have the flight cancelled. JetBlue is not likely to repeat the mistake, instead I see the incident as a general warning that marketing friendly policies might be stuck to rigidly until experience teaches otherwise. There's more company history on Wikipedia.
The Export-Import Bank has closed, meaning overseas airlines won't get new planes subsidized by the U.S. government (find "Boeing's Bank" below).
JetBlue looks cheap on Morningstar with a forward P/E under 11 and Price/Cash flow under 7. Morningstar also shows a high quality of fund ownership, giving five funds 5,5,5,4 and 0 stars out of a maximum of 5. JetBlue's financial history shows that a double digit return on equity and on invested capital was only achieved in 2014 and "ttm". The high leverage is the likely reason why double digit ROE is possible, given the single digit return on assets, which was below 2% from 2005 to 2012. The Operating Cash Flow has been much higher than operating income, but very high capex has resulted in erratic free cash flow, with big negative figures for 2005 to 2008. Although results have ticked up recently, I have not found a convincing reason why the future should follow the recent uptick rather than earlier financial history. If increased demand allowed JBLU to charge for all checked bags without the number of customers falling, sooner or later supply is likely to catch up with demand. My conclusion based on Morningstar's figures and little research could be wrong, and the high quality fund owners could be right.
I have never researched airlines much because I believe they are likely to compete away any benefit to the industry. Warren Buffett has described himself as an "airoholic", and said:
"Think airlines. Here a durable competitive advantage has proven elusive ever since the days of the Wright Brothers. Indeed, if a farsighted capitalist had been present at Kitty Hawk, he would have done his successors a huge favor by shooting Orville down." (Berkshire Hathaway shareholders' letter 2007)
Airports are more like unavoidable toll-gates. I found two companies domiciled in Spain with some airport ownership, I don't like them much but I've written about them in "Aena SA - Spanish airport operator" and "Ferrovial SA - Spanish infrastructure company with an Airports division". There are six other stocks in "Airport stocks list - none in the U.S." (kitchensinkinvestor.wordpress.com).
Airbnb (AIRB) should benefit if air travel increases, but they are not likely to IPO on an attractive valuation, see "Airbnb raising $1 billion in new funding" by Sara Ashley O'Brien, June 18, 2015 (money.cnn.com). Uber might benefit (and might have an IPO) but they face restrictions, e.g. "Uber Drivers Are Getting Into Trouble at DC Airports" by Eric Hal Schwartz, 02/25/15 (streetwise.co). This - "Ride-hailing firm Uber faces big challenges in China" is about the raids, protests and competition in China, which has not deterred Uber from making China their top priority, pushing growth by paying drivers more than the customer pays. See also "Uber Lands Big Chinese Backer".
The stock of hotel and lodging company Marriott International Inc. (NYSE:MAR) has been volatile, with a sharp drop from $75.31 in May 2006 to a low of $12.63 in March 2009, then rising to $74.80 on July 3, 2015 with a P/E of nearly 28. The low in 2009 was reached without much competition from Airbnb which was founded in 2008. To be interested I'd need to learn a good reason why there will be no repetition of the previous 83% drop (or even half that), or of the negative net income and free cash flow from 2005 to 2008, as they don't seem to offer the growth that would compensate for the risk.
For Walt Disney Co (NYSE:DIS) (Morningstar, Seeking Alpha) to be relevant here, there would need to be more tourists attracted to theme parks by cheaper flights or quicker journeys than are encouraged to fly abroad as an alternative to visiting a theme park closer to home. I expect that to be true, especially if tourism from Asia expands. A long-term share price chart shows a low of $15.83 in March 2009, another low of $30.16 in September 2011, and fast share price appreciation up to $114.97 as at July 3, 2015. The fast rise may suggest waiting for a dip.
Warren Buffett said good things about Disney's moat in this PDF - "Buffett Lecture at the University of Florida School of Business October 15, 1998" (tilsonfunds.com), mostly about how Disney's movies are a reliable choice for parents.
The company is excellent at merchandising, and the more characters and franchises it makes money off, the more they can show in the parks (I needed this - "What's the difference between Disneyland, Walt Disney World and the Magic Kingdom?"). The more movies are seen, the more tourists are attracted to the theme parks, and the more they make on rides. A good experience at Disneyland is likely to reinforce brand loyalty.
Apparently, not everyone that gets Disney wants Disney (BTW there was annoying junk on the page) - "Disney Targeted By Cable Bundle Critics In Campaign Urging More Consumer Choice On TV" by Christopher Zara, May 27, 2015 (ibtimes.com). They want Disney in China - "World's largest Disney Store is forced to close just 1 HOUR after grand opening as eager shoppers queue more than a mile to get inside" by Emily Chan and Edward Chow, May 21, 2015 (dailymail.co.uk).
I see aspects of the product as including emotion, experience, utility (keeping kids out of parents' hair) and digitized information. The mix, the reputation and the cross-selling might be good enough for a moat for a long time, but I don't see it as guaranteed. Way back when music came on vinyl, copyright must have seemed like good protection - if the product was consumed, profit would be made. It doesn't work like that now. Disney has not gone the way of record labels, but I can't be 100% certain that the model won't be undermined, although that might just be because I don't know enough or understand enough.
Avis Budget Group (NASDAQ:CAR) and Hertz Global (NYSE:HTZ) are mentioned next, and AeroVironment (NASDAQ:AVAV), Boeing (NYSE:BA), General Electric (NYSE:GE), Lockheed Martin (NYSE:LMT) and Iridium Communications (NASDAQ:IRDM) are mentioned where they are relevant further down.
Car rental
Car rental revenue is likely to increase if the number of enplaned passengers increases. Avis Budget Group, Hertz Global, and Enterprise Rent-A-Car dominate the car rental market and the airport segment in the U.S. However, when a rental company has an on-airport concession, it has to charge fees with names like Customer Facility Charge or Airport Access Fee and give them to the airport. There are also off-airport concessions, with some disadvantage through inconvenience or dependence on the airport. San Francisco International Airport lists "off-airport rental car shuttle" under "Ground Transportation" here, and they will charge the "ground transportation providers" that provide the service.
Industry consolidation has led to this - "Rental-Car Chains Bask in the Power of Higher Prices" by Justin Bachman, August 06, 2014 (bloomberg.com). Car rental companies compete to some extent with Uber, but some people might reject car ownership in favor of a mix of car-sharing, rental, Uber and conventional taxis.
Car-sharing is like rental but for only a few hours, in urban areas. Avis, Hertz and Enterprise all offer car-sharing, and synergies include demand at different times for rental and sharing. See "Avis to Buy Car-Sharing Service Zipcar" by John Kell, January 2, 2013 (wsj.com), and there's a useful insight into how big rental companies profit on disposals, in "Explaining The Avis Takeover Of Zipcar" by Tim Worstall, January 02, 2013 (forbes.com). Generations used to streaming entertainment instead of buying and owning records or movies may be more open to the idea of car-sharing and other alternatives to ownership.
Hertz is at $17.25 (July 5, 2015) compared to a peak of $31.61, possibly due to this - "Hertz Global discloses another $30M in accounting errors" May 18, 2015 (seekingalpha.com), and may be expensive with the forward PE around 20, although Morningstar gives a Price/cash flow ratio not much over two (as at July 3, 2015).
Avis may be a better investment, see "Avis Budget Group Set To Dominate U.S. Rental Cars" by Insider Monkey, May 28, 2015 (seekingalpha.com). Its U.S. airport locations are listed here.
This - "Global Car Rental Market Poised to Hit US$106 Bn by 2020" (March 03, 2015) has a reasonable amount of info but they're hoping you'll want the full report. It's positive about car rental at airports but it assumes the global economy will be good.
Given the fees airports collect from car rental, it's possible that airports may be in a position to grab most of any benefit to car rental from increased enplanement, but that's not a certainty. In fact it's an interesting game theory problem - three rivals who compete but who also have the potential to benefit from cooperation are bidding to rent from not just one local monopolist, but a series of them. The 'series' makes the problem similar to a repeated game, and cooperation is higher in repeated games because there is more opportunity to punish cheaters. If an airport is squeezed too hard by the rental companies, it might be able to force rental customers to take a taxi or other transport to an off-airport car rental site, and make their money from the transport provider. In future, driverless taxis from Google (NASDAQ:GOOG) (NASDAQ:GOOGL) could increase the competition to the advantage of airports, but domination by Google or further consolidation could follow. I have to stress I'm not accusing anyone of anything illegal, although collusion against airports would not excite much condemnation when the airports are using their monopoly position to add to the rental bill.
Imagine using an app to hail a driverless car. There are regulatory hurdles, but the possibility shows how the players need to be watchful and not let change pass them by. In contrast, there isn't much car makers and dealerships can do about car sharing and driverless taxis eating into car ownership, and they're on the wrong side of the discounts which big fleet buyers get, which may explain "Ford Jumps Into the Car-Sharing Pool With Pilot Program" Jun 24, 2015 (go.com).
I mentioned how consumers used to streaming instead of buying might see less need for ownership generally. The change in attitude is likely to spread from the U.S., but it's hard to say how long it would take for the desirability of car ownership to fade in China. Maybe more people need to be able to afford cars before ownership becomes a less important aspiration.
The hospitality market
See this 36 page PDF from Ernst & Young - Global hospitality insights - Top thoughts for 2015. "Outbound investment from Asia" starts on page 10, the outbound hotel investment from Asia reached nearly 42% of the global total and it may continue to rise.
Asian tourists are not getting the service they want from western hotels, and that's especially true for Chinese tourists - "The Services Chinese Tourists Want, But Aren't Getting, From Western Hotels" by Eliza Ronalds-Hannon, Skift (skift.com). See also "The new chinese traveler is on the move and combines business and pleasure", which mentions that Chinese tourists abroad have little interest in gambling.
"Airport hotels could be next investor targets" by Jan Freitag, June 27, 2014 (hotelnewsnow.com) - The chart of ADR (Average Daily Rate, the rental of occupied rooms) shows a rise, but it had not recovered to the peak reached in 2008.
PWC's near-term forecast for annual growth in revenue per available room (RevPAR) in the U.S. is 7.0% for 2015 and 6.1% in 2016.
This piece about San Francisco, "2015 hospitality forecast: Hotel room shortfall puts damper on tourism boom" by Annie Sciacca, Jan 2, 2015 (bizjournals.com), shows that a shortage can develop which is good for hoteliers but bad for tourism. Investors are put off by low occupancy following the DotCom crash and the financial crisis. Normally I'd say that investors would get over it and invest, or over-invest, but awareness of Airbnb will be very high in San Francisco.
From this piece "PKF Hospitality Research Issues Consistent U.S. Lodging Forecast" June 4, 2015 (hotel-online.com) it's possible to infer a long-run average growth in U.S. RevPAR of 3.4% to 3.6%, with twice that predicted for 2016 and 2015.
PWC's "Room for growth: European cities hotel forecast for 2015 and 2016" does not give overall figures for 2015 and 2016, but Dublin is expected to lead with a near 9% increase in RevPAR for 2015. The tone is generally positive, but with a warning that competition is hotting up, and Airbnb is mentioned. One factor is the use of robots and other advanced technology, partly to reduce costs (see "Starwood Introduces Robotic Butlers At Aloft Hotel In Cupertino" by Jordan Crook, Aug 13, 2014 (techcrunch.com)).
Consultants can get it wrong, at least in India - "Bankers reluctant to fund hoteliers as projections go awry" by Anita Bhoir & Varuni Khosla, December 10, 2014 (indiatimes.com).
I found no long-term projections for the hospitality industry.
Tourist arrivals
UNWTO, the United Nations World Tourism Organisation, have published their free booklet "Tourism highlights, 2015 Edition" (PDF). UNWTO use a broad definition of tourists, saying 53% of international tourist arrivals were for leisure, compared to 14% for business (27% were in a broad category including visiting family, pilgramages, etc.). They expect global tourist arrivals to grow 3.3% a year between 2010 and 2030, reaching 1.8 billion. I don't know why a 2015 edition needs to start a projection from five years ago. For emerging markets, the projected growth is 4.4%, double the 2.2% projected for advanced economies. The global figure is lower than IATA's projection for air passengers carried, although the periods are different as well as the item projected (IATA forecast 4.1% average annual growth from 2014 to 2034).
The 2.2% for arrivals in advanced economies is lower than I'd expect from the pieces I've linked to about tourism from China. UNWTO describe China as already being "the world's top tourism source market", and their spending abroad increased by 27% in 2014.
International tourist arrivals grew from 25 million in 1950 to 1,133 million in 2014, averaging 6.14% pa, but with major dips. In the same period, the receipts which destinations earned grew from $2 billion to $1,245 billion, averaging 10.58% pa. Assuming that's not adjusted for inflation, I multiplied the 1950 figure for receipts by 9.80420 to get 19.6084, and the growth in real terms is 6.70% pa. (I used moneychimp and Calculator.net's Inflation Calculator.)
The trend is for more overnight visitors to travel by air, with 54% by air for 2014, and 39% by road.
The interplay of hospitality, airlines and airports
Increased competition in hospitality is bad for margins in hospitality but good for airlines and airports.
Increased competition in airlines is bad for margins in airlines but good for hospitality and airports.
Other factors such as cheaper fuel costs or less fear of terrorism feed through to benefit all three industries.
It's harder for airports to compete with each other, possibly because major cities already have airports and it's not easy to get agreement or permission for another one.
Airport proximity
I found some airports close to each other on "What are the two closest airports to each other in the world?". There are two airports only 1.7 miles apart in the Orkney Islands, Scotland - Westray Airport and Papa Westray Airport (the links are to Wikipedia). The scheduled flight time between them is two minutes, including taxiing. The two closest airports in the U.S. might be Chignik Fisheries Airport and Chignik Lagoon Airport in Alaska. Those four airports are tiny. Zorg en Hoop Airport(small) and Johan Adolf Pengel International Airport (bigger) in Suriname, the smallest sovereign state in South America, are only 4.6 km apart.
While airports can be close, they don't proliferate to the point where oversupply makes earnings crash, whereas in many capital-intensive industries, capacity increases until there's a glut. Bankruptcy is still possible - Ciudad Real Central Airport in Madrid went bust after three years. It's been alleged that the investors benefited from construction contracts and never expected the airport to be viable. "14 of the world's most amazing abandoned airports" has seven U.S. cases, not all civilian or international airports. One airport was attacked by a submarine.
An airport can be a natural monopoly, rather like "one town, one local newspaper" was for towns of the right size before the internet, but that isn't a requirement for pricing power. London in the UK is served by three airports -
London airport ~ passengers in 2014 ~ distance from London center
Heathrow ~ 73.4 million ~ 14 miles
Gatwick ~ 38.1 million ~ 29.5 miles
London City ~ 3.6 million ~ 6.9 miles (smaller planes only)
Even with three airports, London is still so short of capacity that the mayor backed a proposal to put an airport on an estuary island, which would have cost £70 billion to £100 billion ($111 billion to $159 billion). The project, known as 'Boris Island', has been rejected.
Other airport considerations
Privately owned airports are likely to be restricted by regulation which means they can't increase landing fees to maximize their local monopolies (e.g. at Heathrow Airport near London). Disputes over landing fees in the U.S. seem to have been partly settled in 2008 - "Federal policy will let airports charge landing fees" January 15, 2008 (usatoday.com), with airports allowed to base fees on time and traffic volume. The piece expressed the hope that eastern airports close enough to be alternatives to each other would compete on landing charges.
When I looked for material about competition between U.S. airports, all I found was this - "The Decline and Fall of the U.S. Airport" by Patrick Smith, January 24, 2015 (askthepilot.com). It's mostly about long waits caused by the entry procedures for travelers arriving from overseas, even if they're in transit to a third country. The same author wrote "Cockpit Confidential: Why International Business Travelers Avoid U.S. Airports" in May 28, 2013, opening with a survey by CNN that showed a substantial minority of business travelers to the U.S. would not visit again or recommend visiting, due to the procedures. Monopolies have their limits, and for routes of equal distance travelers prefer to go the other direction around the globe to avoid a stop-off in the U.S. The list of taxes and fees collected by the government (e.g. "Federal Segment Fee") indicates that airports don't keep the monopoly benefits all to themselves, although U.S. airports tend not to be privately owned so all the fees go to one level of government or another.
I've only checked reviews for two airports, and picked on Orlando. Orlando Airport scored five out of ten in customer reviews on airlinequality.com, with many complaints about immigration control. The smaller Orlando Sanford Airport scored seven out of ten.
It's not hard to find material about competition between airports in Europe, but I didn't find anything very good. This book promo - "Airport Competition: The European Experience" indicates that it's a complex and subtle issue, and there must be substantial natural monopoly benefits to airports or there would be no need to review the debate in a book, or for a reviewer to asset that competition "can and does exist".
Non aeronautical sources of revenue have been increasing, and increased traffic results in more revenue from parking, transport (ground based), rental cars, retail and duty-free, see "How Do Airports Generate Money? New Study Shows Nearly Half Comes From Non-Aeronautical Sources" by Christopher Harress, November 18, 2013 (ibtimes.com).
Air freight, FedEx and UPS
The same costs that affect passenger transport generally affect freight, with implications for FedEx Corporation (NYSE:FDX) and United Parcel Service, Inc. (NYSE:UPS). Two recent articles are - "FedEx: Down But Not Out" by Daniel Jones, June 22, 2015 (seekingalpha.com) and "United Parcel Service - Will Deliver Returns As The Economy Expands" by Khen Elazar, June 9, 2015 (seekingalpha.com). Investors need to decide if size gives the companies a moat, and if crowdsourced delivery is a threat, see "Amazon eyes crowdsourced delivery service" June 16, 2015 (seekingalpha.com) and "I Just Tried Uber's New Delivery Service 'Rush' And It Got Me My Package In 20 Minutes" by Alyson Shontell, October 23, 2014 (businessinsider.com). (There's also UberEATS.) Obviously it's harder to crowdsource delivery over longer distances, across borders or over seas. The companies ought to benefit from the trend for shopping online.
I have not studied FedEx or UPS in any depth, but they have defined benefit pension schemes and I expect they have employed many staff over the years without very high productivity. Both companies now use "mark-to-market" for the accounting, and maybe I ought to be reassured by this piece - "Five years of mark-to-market pension expense reporting" by Bob Collie, June 10, 2015 (fiduciary-matters.russell.com), which explains that the method is transparent, at the cost of volatility.
Risks to the air travel industry
Air travel is vulnerable to economic downturns, war, terrorism, satellite failure, accidents, strikes, weather and volcanic ash clouds (see "Air travel disruption after the 2010 Eyjafjallajökull eruption"). See also "Cyber-Attack Warning: Could Hackers Bring Down a Plane?" (spiegel.de). This may have been Nato jamming during a military exercise, but they weren't commenting - "Dozens of aircraft briefly vanished from Europe radar" Friday, June 13, 2014 (sott.net, attributed to "Guardian"). Satellite failure is covered in links under "Satellite communications" below.
I have not said much about recent tragedies because I don't think they have seriously affected the air travel industry generally. Malaysia Airlines were technically bankrupt and are relaunching, which is mentioned in "Malaysia Airlines plane makes Melbourne emergency landing" June 12, 2015 (bbc.co.uk).
The world economy faces a few problems. In emerging markets, there's around $9 trillion of dollar-denominated debt which could trigger a 'flight to safety' of capital to the U.S., pushing up the U.S. dollar and making the debt harder to repay. The risk was a theme of mine until I judged the media had caught up enough and the dollar had risen enough to highlight currency risks, although I learned I was way behind the economists Worth Wray and John Mauldin. See "Feeling green - Debt-ridden emerging markets are heading for a nasty dollar hangover" March 21, 2015 (economist.com).
In my opinion, Greece is too small to have much effect on the European or world economy, but it may provide the spark for a big drop in stock or bond prices, given the generally high valuations, or it may spark a 'flight to safety'. For example Greece owes Turkey over $30 billion (from "A Week of Unseen Things", below). The Greek drama could make markets notice and start a flight of capital from Turkey and then maybe other emerging markets. I'm not saying that's likely, I'm using it as an example of possibilities that are hard to predict. Some people believe that reduced liquidity in the bond markets increases the risk of a collapse. In my opinion, liquidity is likely to dry up in any crash, as no-one wants to buy the 'falling knife'. The Fed would probably react with Quantitative Easing, or if interest rates had been raised, lowering them again. With the EU now doing QE, they are likely to do more in extreme circumstances.
Also in my opinion, if Greece or any other country leaves the Euro (the European common currency), 20 years is long enough for recovery from the shock, and the common currency may do more harm to inefficient members than it benefits the exports of efficient members like Germany. Air travel does not seem to be very sensitive to the world economy, find "only a short-lived slowdown in the growth of passengers carried from 2007 to 2009″ below.
Readers have probably heard enough about Russia, but maybe not so much about territorial disputes in Asia. This piece - "Territorial Disputes in Asia Show Sovereignty Still Matters" by Francesco Mancini, July 8, 2013 (theglobalobservatory.org), starts with a fisherman who was killed by Philippine coastguards, leading to outrage in Taiwan, sanctions, and cyber attacks in both directions. The scale is far below Russia's invasion of parts of Georgia and Ukraine, but it may show a tendency for national pride to cause outrage and a refusal to back down or apologize. I'd guess that escalation is possible but unlikely.
This - "Dormant and Unresolved Border, Land, and Maritime Disputes in Southeast Asia: a New Threat For ASEAN?" is a fairly dull list of academic research abstracts, with only one conflict with casualties (Thailand vs. Cambodia), but it claims a "multitude" of dormant and unresolved disputes that could threaten stability. That isn't reflected at all in Wikipedia's List of territorial disputes.
China has extensive claims in the South China Sea based on maps with dashed lines, the earliest of which was published in 1947, according to Wikipedia. There are recent articles relevant to the claims on nine-dashed-line (thediplomat.com), and see "Images show Chinese airstrip on man-made Spratly island nearly finished" by Dean Yates, Thursday, July 2, 2015 (reuters.com).
The Japanese occupation of Korea is still a live issue, e.g. "Korean sexual slavery victim to hold protest rally in front of Japan's embassy in Washington" June 27, 2015, even though South Korea and Japan are both threatened by North Korea. About sites from Japan's industrial revolution - "Korea objects to heritage status for Japan's World War II 'slave labour' sites - by Donald Kirk" The Independent, May 26, 2015 (republicofmining.com). Japan and Korea won't fight a war over their differences, but old issues between East Asian countries could make an effective alliance against Chinese ambitions harder to achieve, or harder to achieve soon enough, which could encourage China to pursue claims more aggressively.
In "Chinese Nationalism: The CCP's 'Double-Edged Sword'" by Jessica Chen Weiss, November 25, 2014 (thediplomat.com), the author/interviewee argues that Chinese demonstrations of nationalist anger are genuine and not the result of party manipulation. Japan is a popular target. When Vietnamese protests over an oil rig led to the killing of Chinese workers, China did what it could to keep its population calm, because their strategic objective had been achieved and there was no point in inflaming the losers.
Probably no-one wants a war, given the economic consequences and the danger of escalation to nuclear levels, and I don't mean to imply that a major war in the region is likely.
Europe isn't free of internal tension, for example "Serbia asks Russia to veto UN resolution that calls Srebrenica massacre 'genocide'" July 4, 2015 (globalnews.ca). There's tension over Greek debt, with occasional reminders about the forgiveness of Germany's debt, see "Greece and Spain helped postwar Germany recover. Spot the difference" by Nick Dearden). Even so, for most of the countries a border incident or military conflict between them is about as unthinkable as for the U.S. and Canada.
The United States vastly outspends other countries on defense. From Wikipedia, for 2013, in billions -
US$640.2
China $188.4
Russia $87.8
Even so, with threats, trouble or tension around Russia, the Middle East, and East Asia, the U.S. could become overstretched.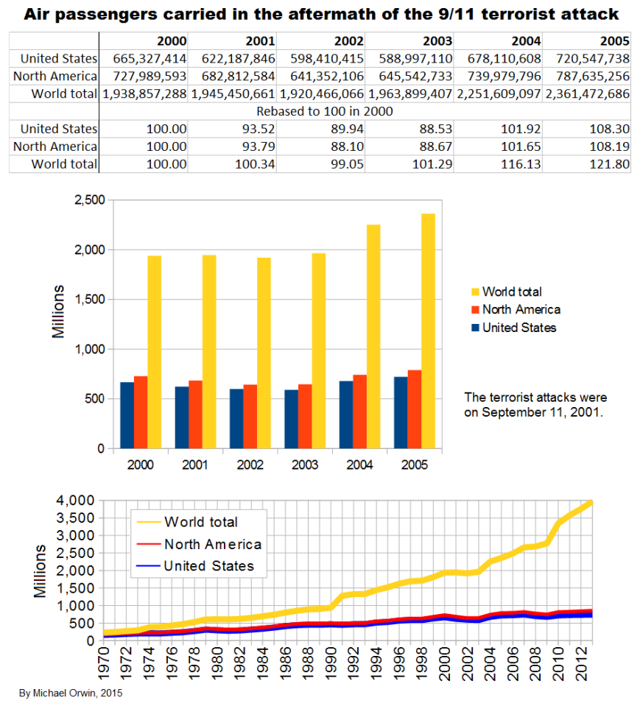 Air passengers 1990 to 2013
The chart is based on figures taken from or derived from a table provided by the World Bank. I calculated "North America" by adding the figures for the USA, Mexico and Canada, and according to Wikipedia, I missed out a lot of countries (see "Spreadsheets" below).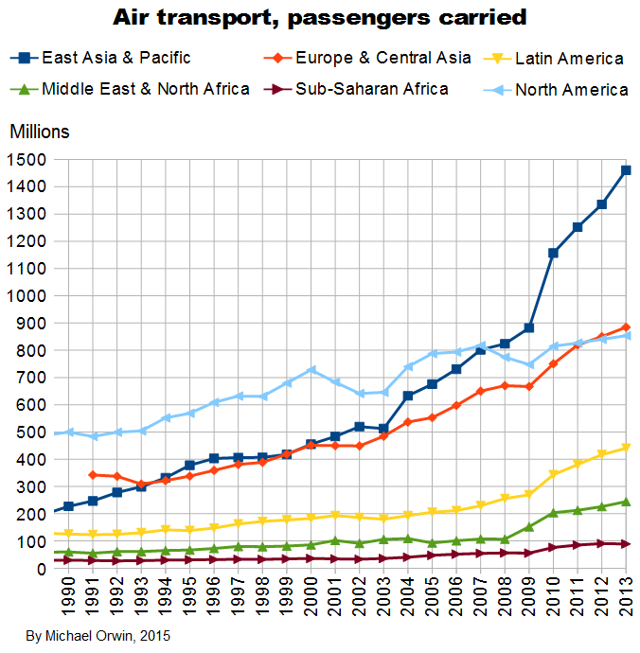 ---------------------------------------
Air passengers 2014 to 2034
The data used for the next chart was taken from the press release "New IATA Passenger Forecast Reveals Fast-Growing Markets of the Future". IATA forecasts 4.1% average annual growth in air passengers carried globally from 2014 to 2034.
There are problems with the data. It's imprecise, for example, the figure of 2.9 billion passengers for Asia-Pacific in 2034 only gives one decimal place, and corresponds to a range between 2,850 million and 2,950 million (minus one). The full report is likely to be more precise, but it costs $2,500. The problem is compounded because in most cases I had to subtract the projected increase to get the 2014 figure, and for Europe I had to work from only the increase and the annual growth rate. Using imprecise figures in calculations leads to even less precision. The categories don't look the same as for the historic data in the previous chart, with "Asia-Pacific" instead of "East Asia & Pacific", "Middle East" instead of "Middle East and North Africa", and "UAE plus Africa" instead of "Sub-Saharan Africa". It's not surprising that the chart is not continuous with the chart up to 2013, but the implied drop in the total from 3,973 million to 3,167 million is 20.3% and may be due to a major difference in methodology.
The figures in the forecast are for flights "to, from and within", although that's only stated for Asia-Pacific. It means a flight from one region to another will be counted in both regions (and presumably a return journey will be counted again). Passengers flying from the U.S. to China can be US travelers to China or Chinese tourists returning home. It doesn't make much difference to plane makers, airports etc but it makes a big difference to businesses in hospitality, attractions, car rental etc., if they are not equally represented in both countries. Increasing Chinese air travel is at least consistent with the "surge in tourists and other visitors to the U.S." (from China) which I mention later.
IATA is the trade association for the world's airlines. While readers should consider that IATA may not be impartial, the forecast was made with a subsidiary of Oxford Economics, who claim "Oxford Economics continues to outperform other global forecasters, August 2013". The reliability of almost any 20-year forecast is doubtful. The inputs from demographics are probably more reliable than the assumptions about economic growth, which may have been optimistic to get the forecasted 4.1% global growth in air passengers carried. However, my charts show only a short-lived slowdown in the growth of passengers carried from 2007 to 2009, while the financial crisis was severe, and recovery from the recession that followed was slow. There has been no shortage of bad news from Europe since then, also concern about China's debt and slowing growth, and demand for commodities cooled, affecting many emerging economies, yet the passengers kept flying in increasing numbers since 2009.
I applied a smooth growth rate to get from the 2014 figures I calculated to the 2034 figures.
There is more information in the press release. Under "Explanation of demand drivers" there are paragraphs for "Living standards", "Population and demographics" (population decline in Japan, Russia, and Ukraine, rapid growth in Africa), and "Price and availability". There's no mention of terrorism, war, or the kind of sub-war conflict that could affect flights. Although a reduction in the real cost of air travel is forecast at around 1% to 1.5% pa, it's my impression that they have probably not fully factored in the potential of "free routing" aircraft across the skies (see below), but find "Price and availability" in the release and see what you think. It's unlikely they've factored in any benefit from holographic radar (see below). There's also this PDF from the FAA - "FAA Aerospace Forecast Fiscal Years 2014 - 2034".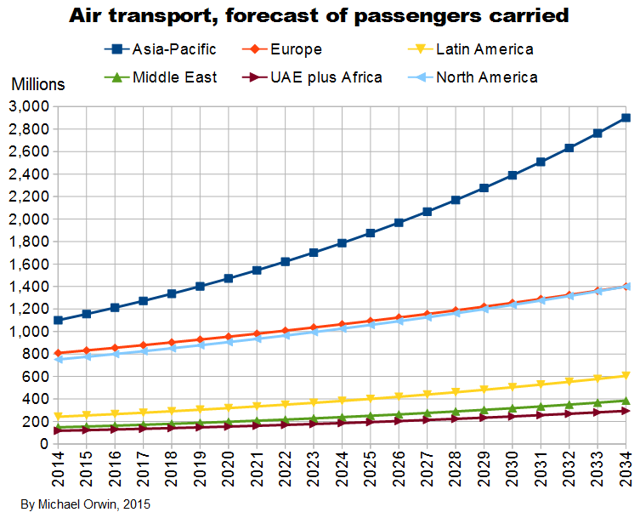 ---------------------------------------
Air passengers 1970 to 2034, log chart
A slowdown from 4% growth to 3% growth might not be clear in a normal chart, but when the logarithm is charted it would show up more clearly as the gradient becoming less steep. The top half of the chart shows the discontinuity between the World Bank's figures which end at 2013, and IATA's projections which start at 2014. In the bottom half I shifted IATA's lines up so they joined with the World Bank's lines. Because I used base 10 (for the logs), an increase of 1.0 represents growth by a factor of ten, e.g. from 7.0 to 8.0 (7.0 means 10,000,000 - with 7 zeros, and 8.0 means 100,000,000 - with 8 zeros). The scale is marked in steps of 0.2, and each increase of 0.2 in the log represents an increase of 58.5% in air passengers carried.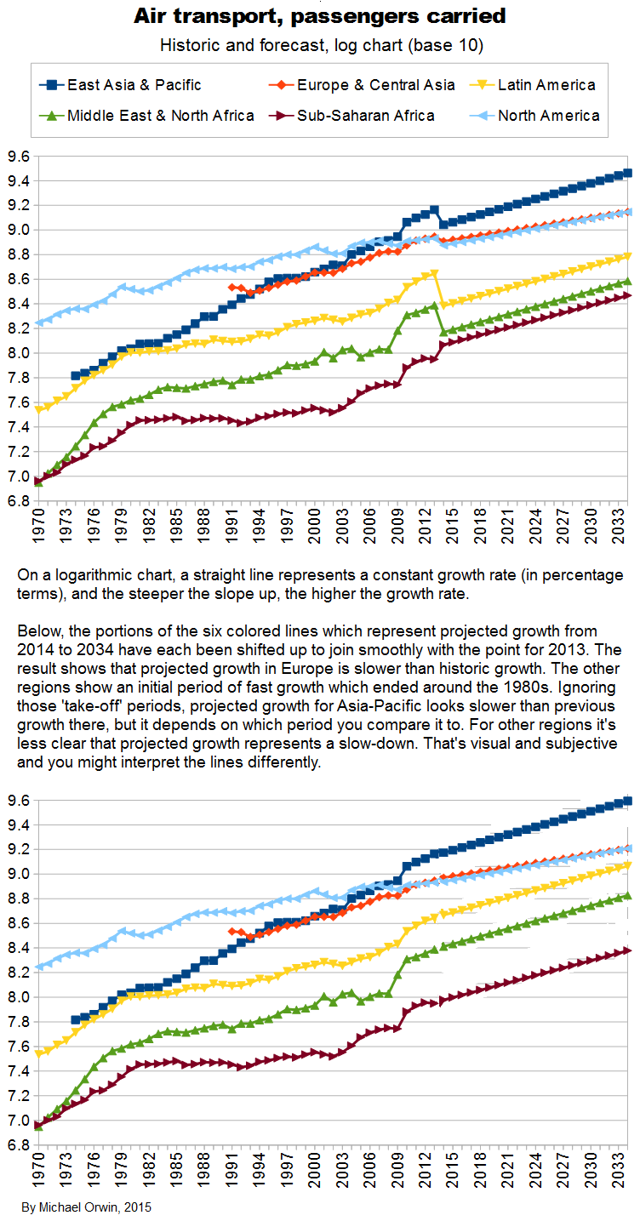 ---------------------------------------
Air passengers, stacked chart
Because the regional figures are for flights "to, from and within" the regions, there will be double counting in the totals represented by the heights of the stacks. The implied totals are good for the percentages in the charts. In other words, without the double counting in the total, I would expect the percentages for each region to add to more than 100%. At least, that's the theory. My "stacked" total for 2034 is 7.0 billion, but IATA project a total of 7.3 billion for 2034. The difference could be due to the problems with the data I mentioned above, in particular the rounding error of figures to only one decimal place, compounded by further calculation. I have not included every warning about the data in every chart.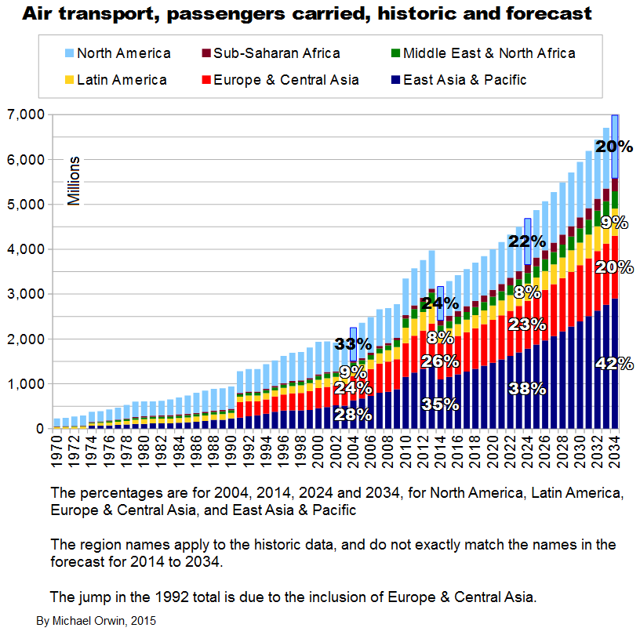 ---------------------------------------
Air passengers, China, the U.S., India, the U.K. and Brazil
I forgot to say the scale is in millions.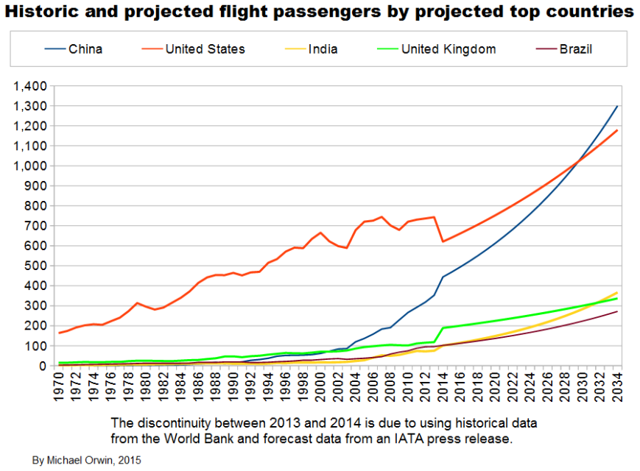 ---------------------------------------
IATA's growth figures and the 2034 top 9
Extracted from their press release, average annual growth in passenger flights 2014 to 2034 (to, from and within regions and countries) -
Total 4.1%
China 5.5%
Asia Pacific 4.9%
Middle East 4.9%
Africa 4.7%
Latin America 4.7%
North America 3.3%
U.S. 3.2%
Europe 2.7%
Japan 1.3%
Predicted top 9 countries for flights in 2034 (by traffic to, from and within) and movement from 2014
China - up from 2
United States - down from 1
India - up from 9
United Kingdom - down from 3
Brazil - up from 10
Indonesia - new in the list
Spain - down from 6
Germany - down from 5
Japan - down from 4
Trends and factors affecting air travel and transport
Tourism and travel from Asia
The low oil price and other cost reductions
Free routing
In more detail -
Tourism and travel from Asia
Increased tourism and travel from Asia and especially China is likely if economic growth continues and discretionary income increases as a result. China's rebalancing from an investment-led economy towards consumption and the private sector should favor growth, spending and travel in the long term, but the huge amount of debt in China could cause problems.
"The Top Chinese Travel Trends to Watch for in 2015" by Rafat Ali, Skift, Dec 24, 2014, (skift.com). One prediction is a surge in tourists and other visitors to the U.S.
I found no evidence of a large number of Chinese tourists heading to Las Vegas. My searches turned up "$4 billion Chinese-themed resort coming to Vegas" and Vegas casino operators with casinos in Macau. Macau (Google map) is a region near Hong Kong with an area of 11.6 sq miles and high population density, which could limit the scope for casinos to expand. For comparison Las Vegas is 135.82 sq miles and the metropolitan area is 83 sq miles.
This piece makes five optimistic predictions - "What will 2015 Bring for Chinese Tourism in the United States?" by Avery Booker, January 6, 2015 (chinaluxuryadvisors.com), about the U.S. vs. Europe, investment, mobile devices, a mobile 'chat' app, and individual tourists.
Value Retail are a private company but they have an interesting business model, selling discounted luxury goods through nine shopping villages in Europe and one in China. They sell to shoppers who want discounted luxury brands and who demand a luxury environment that does not feel like a dumping ground for surplus stock. Shoppers who have traveled thousands of miles particularly value the experience as much as the discount (even if they fund the trip by selling purchases back in China). Brands occupy space in the villages and pay a percentage of sales to Value Retail. The model minimizes the damage that discounting can do to brand image. They followed the principles and predictions of retail guru Marvin Traub, which are in this PDF from 2008.
It looks like Value Retail know how to exploit China's retail tourism - "Value Retail promotes shopping tourism with Chinese airline partnership" by Staff reports, June 5, 2015 (luxurydaily.com) - it's a kind of mutual promotion, or cross-selling between different companies. See also "CEO Talk | Scott Malkin, Chairman, Value Retail" June 5, 2013 (businessoffashion.com), which says quite a lot about Chinese shoppers.
China's retail tourism could be hit by this - "China cuts import taxes to boost consumer demand" May 25, 2015 (bbc.co.uk). Unilateral tariff cuts might seem un-Chinese, but outbound retail tourism costs their economy more than importing the goods, and it's possible that more tax will be collected in total, even with lower tariffs. The effect will be good for luxury goods makers, and bad for air travel.
Not too worried - "Another Glimpse Into China's Debt, And Where It's Heading" by Kenneth Rapoza, May 29, 2015 (forbes.com)
More worried, but about financial zombification rather than a crisis - "The great hole of China" Oct 18, 2014 (economist.com)
There's an ebook with the snappy title "A Great Leap Forward? Making Sense of China's Cooling Credit Boom, Technological Transformation, High Stakes Rebalancing, Geopolitical Rise, & Reserve Currency Dream", where the contributors are mostly pessimistic but not all of them (on Amazon). Here's a long synopsis by co-editor John Mauldin.
The bank HSBC are considering moving their domicile from the UK to Asia, possibly to Hong Kong. If they aren't bluffing to influence UK policy, they are likely to have a positive outlook regarding Asia, and with their large business in the region they should be well placed to judge the prospects. The Guardian's article about it only considers the politics and regulation in the UK.
Because stock prices could conceivably have a wealth-effect on spending, I've linked to "A Week of Unseen Things" by John Mauldin, July 4, 2015 (mauldineconomics.com), find "Shanghai Falls to Earth" in it. More Chinese are piling into stocks but as momentum traders rather than value investors, and the likely result over time is stocks going higher but with volatility and sharp pullbacks. Previously I heard about Chinese investors spending less so they could buy into the bubble, which is the opposite of the usual supposed wealth effect, although I can't substantiate the story. You can get a chart of the Shanghai Composite Index from 1996 on the link by choosing "all data". It shows that the peak in 2007 has not been surpassed (as at June 30, 2015).
Chinese stock valuations are highly uneven, there's room for quality stocks to go up while the crazy valuations fall, and as investors take advantage of liberalization, Hong Kong stocks could rise as Shanghai stocks fall. See "Opinion: China's Stock Connect: More boom and bust?" by Craig Stephen, April 12, 2015 (marketwatch.com).
A high dollar is not good for incoming tourism. One point to consider is that dollar strength tends to go with low commodity prices, including oil.
One of China's aims is to make the remnimbi a reserve currency, challenging the U.S. dollar, but the aim might not be compatible with the growth they want. Reserve currency status seems likely to make the remnimbi higher than otherwise, by increasing demand for the currency. A high remnimbi makes tourism from China more affordable.
It's been projected that half of the world's cruise passengers will be from China by 2020, see "CSSC joins race to build China's first cruise ship" (seatrade-cruise.com). In the U.S., 49% of cruise passengers were aged 50 or older (in 2011), but Chinese cruises are expected to attract younger passengers and families.
Using rough historic approximations, assuming 300 ocean-going cruise ships averaging 2,000 passengers each, guessing 10 days per cruise (so about 37 cruises per ship per year), I get 300 * 2,000 * 37 = 22,200,000 passengers per year, compared to 3,972,988,179 for air travel in 2013 (from summing the World Bank's table). That's about 22 million cruise passengers and 3,973 million air passengers, or 181 air passengers for every cruise passenger. I don't expect cruise holidays to have much effect on air travel.
The low oil price and other cost reductions
The benefit of the lower oil price is passed on to passengers through competition by airlines, and the low oil price could lead to increased discretionary income and more travel (although some employment is favored by a high oil price). Technology such as lighter, stronger materials and more efficient engines (helped by 3-D printing) increases the fuel efficiency of aircraft (although the planes and engines aren't cheap).
In the U.S., the cost of extracting unconventional hydrocarbons is still coming down. Efficiency has been increasing with experience, which is one of the features of extraction from shale that makes it more like manufacturing than conventional extraction. The next link explains it better than I've ever seen before - "The Shale Boom Shifts Into Higher Gear" by Donald L. Luskin and Michael Warren, May 31, 2015 (wsj.com). The fact that shale oil is front-loaded (i.e. a well peaks early) has been seized on by writers who call shale production a "Ponzi scheme", which seems like a loaded term to apply to unconventional production, although the financing may be another matter.
There is still controversy over how much can be extracted, but there's also the possibility of applying the techniques in other parts of the world. In "Govt Report Says Shale Oil Will Run Out Soon, Start Drilling Offshore" March 26, 2015 (marcellusdrilling.com), the government's pessimistic view is disputed. Also, "Shale oil and shale gas resources are globally abundant" January 2, 2014 (eia.gov).
The cost or benefit to a company of short term movements in the oil price depends on how much of the impact is hedged.
There's been much talk of growing algae to make aviation fuel, but Solena Fuels and Velocys plc (VLS.L) (OTCPK:OXFCF) (I'm long VLS.L) are pioneering a "biomass-to-liquids" process, see "GreenSky London site selection" about the production of aviation bio-fuel scheduled for 2017. Solena claims to sell fuel at spot prices with no subsidies. The customer British Airways has committed to buy at long term market competitive rates, which may be lower than the suppliers initially expected. It's possible that the technology could become cheaper once it is established. The partnership lags behind China's Sinopec and Hainan Airlines - "China commercial flight uses Sinopec bio-jet fuel" March 25, 2015 (argusmedia.com).
"Sorry, Everyone, Making Fuel Out of Seawater Isn't Gonna Save Humanity" by Martin Robbins, April 19, 2014 (vice.com) is about the misreporting of the Navy's demonstration of a "fuel from water" process. The author is right that the media is hopeless at reporting such stories accurately, and right in pointing out that the methane by-product is a potent greenhouse gas. There's actually nothing surprising about being able to turn one form of energy into another (except for ambient temperature heat, see "Maxwell's Demon" for the physics), and in this case electrical energy was turned into chemical energy - the energy unlocked when fuel is burned. The conversion efficiency matters (and the by-products), but the volume of water required is probably not very important because no-one cares much about the water produced when fuel is burned. If a suitable region has surplus electric power for some periods, it may be economic to use it to make fuel, depending on various factors.
The cost of solar photovoltaic energy is falling, roughly in line with Swanson's Law, a kind of solar power version of Moore's law. The installation costs are likely to be stickier. To compete more broadly with oil, intermittent renewables need more affordable energy storage, which might still be some way off, and batteries with higher energy density would help the take-up of electric vehicles.
If you google "solid state lithium ion batteries" (without the quotes), you'll find big names like Google and Toyota (NYSE:TM) in the research race. I've also read that Apple (NASDAQ:AAPL) are in the race and General Motors (NYSE:GM) have had some kind of involvement. The U.S. startup Sakti3 seemed to emerge from nowhere, and U.K. appliance-maker Dyson have invested $15 million in them. (I'm long Ilika plc (IKA.L), who are in the race.) Tesla (NASDAQ:TSLA), the high-end electric car-maker, is building a 'Gigafactory' to make conventional li-ion batteries for use in vehicles and the Powerwall home battery unit, and Elon Musk (of Tesla) obviously does not believe that new technology was worth waiting for.
The cost of stored renewable energy will put a ceiling on the price of fossil fuels, and the cost will come down, in the same way that the cost of shale oil puts a ceiling on the oil price, and the cost of extracting shale oil is coming down.
The low price of oil means aviation fuel is cheap, but the relation could conceivably change in extreme circumstances. In theory, if demand for the other fractions of crude oil falls, aviation fuel would get more expensive. In the simple case of two products A and B with production of them in a fixed ratio, increasing demand for A will mean more of B is produced and B will usually be cheaper as a result. Similarly, less demand for A makes B more expensive, and more demand for B makes A less expensive. The economics is more complicated for fractions of oil, partly because the fractions produced can be varied by using heavier or lighter oil, and by cracking or coking. This image for the fractions of crude oil is from "Getting gas from Crude" by Heading Out, March 13, 2006 (theoildrum.com), and is available under a Creative Commons license.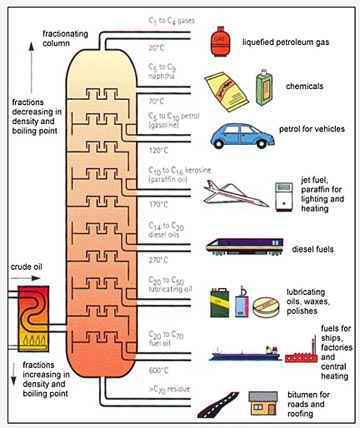 ---------------------------------------
This … "General Electric Bids its Fuel Efficient Future on 3D Printing" by Theo Valich, July 15, 2014 (vrworld.com) is about 'printing' fuel efficient nozzles. 3-D printed parts can also be lighter, because the best design might be lighter and too complicated to make by conventional methods. (Whole jet engines have been 3-D printed, but only two copies of an old engine that were put on display.)
While cheaper oil is good for air travel which is good for sales of planes and their engines, the lower oil price reduces the benefit of fuel efficiency, making it harder to sell expensive fuel-efficient aircraft, according to "Lower Jet Fuel Prices Shake Up Aircraft Market" by Robert Wall, January 19, 2015 (wsj.com). General Electric invested in oil & gas at the top of the market, and the WSJ's "Shake Up" piece implies a risk that the low oil price will hit sales of GE's efficient engines. However, recent sales news has been good - "GE Aviation tallies $19 billion in engine deals at air show" by Chelsey Levingston (daytondailynews.com). There's a piece I like about GE's tech opportunities - "Big Data, The Industrial Internet, And How GE Stands To Profit" by Adam Stockmeister, June 23, 2015 (seekingalpha.com).
Against GE, there's a history of underperformance with the share price of $26.78 (on July 3, 2015) well below the price of $41.40 on September 28, 2007. There's also a lot of debt, which will be reduced due to the divestment of financial operations, but they're having problems closing a big acquisition (Alstom, it's French), while the disposal of Electrolux has hit regulatory opposition. GE's unions won significant improvements in wages, healthcare and pensions, see "GE Announces Details of Proposed Labor Contracts" June 24, 2015 (businesswire.com). They might expect another good deal in four years time. GE were a top-ten beneficiary of export subsidies that have ended, find "Boeing's Bank" below.
Boeing Co. contradict the WSJ's "Shake Up" piece - "Cheaper oil to boost aircraft sales, Boeing official says" March 2, 2015 (thenational.ae), emphasizing the effect of cheaper fuel on increasing air travel.
Boeing's 787 Dreamliner has attracted some sensational headlines, such as "Boeing 787 software problem could lead planes to fall out of the sky". Further investigation shows the problem was quickly solved with a software update. I like the headline "Turn your Boeing 787 off and on again, or it will crash", but for an unsensational overview I suggest "ANALYSIS: After three years in service, how is 787 performing?" by Stephen Trimble, November 14, 2014 (flightglobal.com). Apparently, airlines have tolerated various glitches because they like the fuel efficiency. Al Jazeera have been highly critical of the 787, see "Review: Al Jazeera's 787 Report Misses the Mark" by Vinay Bhaskara, 9/10/2014 (forbes.com). I'm not reassured by the author's claim that it's hard to find any major industrial plant without drug use. Boeing claim to have standard drug-testing procedures. I checked the titles of articles on Seeking Alpha back to Sept 11, 2014, they are mostly positive, and the few negative titles I saw were not concerned with safety.
Competitor Airbus Group SE (OTCPK:EADSF) (OTCPK:EADSY) has also had incidents. On Wikipedia, the four incidents involving the A320 family in 2015 can be summarized as: murderous co-pilot (fatal), wind shear (injuries), loss of height (unexplained) (injuries), and landing accident (no-one hurt). About a military Airbus driven by compter-controlled propellors - "Fatal A400M crash linked to data-wipe mistake" by Leo Kelion, June 10, 2015 (bbc.co.uk).
Boeing subcontracted sub-assemblies for the 787 to various suppliers, it was supposed to reduce costs but the cost reductions have been slow. The 787 is expected to break even this year. The company has good cash flow, but the accounting is complicated - "Boeing 787 unit loss declines, but deferred costs rise" by Stephen Trimble, April 22, 2015 (flightglobal.com). Those deferred costs were for production and the amortization of tooling, and they rose to over $30 billion. A deferred cost is an expense that will be recognized later, which is accounted for as a notional asset. The notional asset gets wiped when the cost is paid (or recognized as paid, on the books). The $30 billion of deferred costs will hit income as they are recognized. Boeing's half-a-trillion dollar backlog should keep the cash coming in, but the deferred costs could build up with it. I suggest doing your own research in the area before investing a lot in BA.
"Boeing's Bank" has shut - "Export-Import Bank Closes: Kill Subsidies To Cut Federal Liabilities, Promote Economic Fairness" by Doug Bandow, June 30, 2015 (forbes.com). The 'bank' provided finance at below market rates (for $67 billion of Boeing's sales over seven years), and took on the risk of non-payment. From the article (page 2) it looks like the financing was not a major factor in closing sales, so if there was any rush to buy Boeing before the bank closed, it was probably not a stampede and not likely to have a massive effect on future sales. Other agencies to promote exports remain.
Boeing and Airbus have been fighting each other over subsidies for years, see "Boeing warns Airbus over reports of state aid" by Russell Hotten, June 17, 2015 (bbc.co.uk).
This is about how China is struggling to make commercial airliners, and the author's reasons are rooted in the technical complexity of a modern airliner and the organizational complexity of making them - "Can the Chinese Create a Competitive Commercial Aviation Industry?" by Thomas Duesterberg, January/February 2015 (aspen.us). The Dreamliner seems to have been a struggle for Boeing, which I put down mostly to the size of the challenge rather than any fault of the company.
"Airbus in China" (airbus.com) is best read after the previous link. A cynic might say it's about how Airbus are giving China their technology and know-how, undermining the future of European and U.S. aircraft manufacturing.
Free routing (next) could mean fewer planes are required for the same number of passengers carried.
Free routing
Flight along legacy air corridors means inefficient zigzagging, and there are moves to bring routing into the twenty-first century.
"Free flight" Sep 6th 2014 (economist.com) is about the prospect of new technology allowing pilots to "free route" and choose direct routes when possible, with the potential of quicker journeys and lower costs. Direct routes increase the 'useful miles flown' per day with no increase in the cost of fuel, aircrew pay, maintenance, or other overheads except for the cost of the new technology. Trajectory-based routes include altitude, and instead of ascent, level, ascent, level, descent, level, descent (etc.), a smoother route in the "height" dimension adds to the efficiency.
One company The Economist mentions is Indra Sistemas SA (OTCPK:ISMAY) (OTC:ISMAF), a diverse Spanish consulting and technology multinational which includes developing air traffic management systems (on their "Air traffic" page).
There's also a promo which summarizes "Free Routing" on "New Space to Fly" December 3, 2014 (click "More"), but to download the radio program you probably have to be in the UK (and you'll need to download the BBC iPlayer).
The U.S. has its "Next Generation Air Transportation System" (Wikipedia) aka "NextGen", which will also allow the selection of direct flight paths. Implementation started in 2012 and should be complete by 2025.
Security is not mentioned in the Economist piece about free routing. The Wikipedia piece about NextGen in the U.S. only mentions that crucial signals are "unencrypted and unauthenticated". The signals are ADS-B (Automatic Dependent Surveillance Broadcast). The paths involved are from transponders in airplanes to other airplanes and to air traffic control. The transponders receive a time signal from GPS satellites from which they calculate their position, which is then transmitted.
I'd say that the more automated a system is, generally the more damage can be done by hacking it. A system which manages too much is more likely to have unforeseen glitches, and hopefully the authorities know what change and what pace of change is safe. If a dynamic automated system operates safely in the air, it could strengthen the case for allowing driverless cars and coordination of their operation on the ground.
One problem with global roll-out is that many Air Navigation Service Providers run systems that are behind the capabilities of modern aircraft, and the focus in air traffic management is on encouraging upgrades to allow harmonization and interoperability. That might need to be complete in a region before starting a program of radical change (the world's nine regions are mapped here).
I'm guessing that another inefficiency exists which technology could fix - when a flight is cancelled, there will be newly available slots for take-off and landing. These are likely to be wasted quite often unless the cancellation is a long time in advance, either because the information system can't cope, or because people prefer to play safe and stick to the filed flight plan, or stick to the plan to avoid the stress and effort of making a new plan within a tight deadline.
Free routing increases the capacity of airplanes to carry passengers between airports (i.e. more flights per airplane per week), and closer spacing between aircraft increases the capacity of the airspace. If those capacities increase, the effect on an airport depends on various factors (these are fairly abstract and complicated) -
In principle, an airport with excess capacity which is limited by the capacity of the airspace would benefit the most, but in practice there's no reason to have provided the excess capacity in the first place.
An airport at around full capacity which can increase its capacity (e.g. by adding a runway) would have the opportunity to increase passenger volume.
'Second choice' airports (further from a city or other destination) get the leftovers, and volume depends on the capacity and pricing of their more convenient competitors in relation to total demand for flight to the destination.
If an airport and its airspace both have excess capacity, there's no benefit from increasing the capacity of either.
If the infrastructure is not a constraint, a city can handle a lot of visitors and departures, but a resort will have limited capacity and too much expansion could ruin the experience.
Although fairly complicated, that's still a simplified version because it ignores time (the difference between peak and off-peak times at airports) and geography (airspace could be congested to the north but not to the south). There are also sub-cases such as where spare capacity becomes a shortfall, and the statements are rough rather than rigorous.
All of those considerations could have some effect on hotels, attractions, conference centers etc. Negative effects only seem likely on a local level, if an airport becomes stranded because a nearby airport can handle more traffic.
The more efficient use of planes will mean lower sales of planes, engines and other parts, unless air travel increases by enough to compensate. Lower costs and increased capacity from free routing and associated upgrades will help to increase air travel, and airlines, airports, car rentals and hospitality will generally see higher volumes than otherwise. Airports may be best placed to capture the cost benefit, but it depends on regulators allowing it.
Rail can sometimes compete with air travel and transport, and while trains obviously can't "free route", there is scope for information technology to allow the spacing between trains to be reduced, increasing capacity without needing to lay new track. They're talking about it in the UK, and working on it in Australia, see "Advanced Train Management System" (lockheedmartin.com). Lockheed Martin Corporation are best known for expensive jet fighters, see "Pentagon's 'Too Big to Fail' F-35 Gets Another $10.6 Billion", but their "What we do" list is diverse enough to include biometrics and robotics.
Existing flight management
Software has already made flight planning easier, see "SkyDemon Flight-Planning Features". The system is visual, and a route can be made by setting waypoints, and then edited for example by dragging, which will be needed if a warning is generated that the flight goes through restricted space. The feature suggests that at least a degree of free-routing has already been implemented, although NextGen is not due for completion until 2025. Journey time and fuel use are displayed.
Flight plans can still be submitted on forms filled in manually, and you can download a flight plan form (PDF) here.
According to Wikipedia's "Flight plan" page, for domestic flights a flight plan should be submitted at least one hour before departure, and for international flights, the minimum is up to three hours before departure. Those are recommendations, and it's possible for a flight plan to be submitted after take off.
The existing systems are already sophisticated, but so far as I can tell, if a change in the weather means that a different route would be more fuel efficient or avoid delay, the pilot is likely to stick with the flight plan that's been filed, rather than go to the trouble of having a more efficient flight plan calculated and submitted. BTW if severe weather threatens safety, an airplane will usually turn back or be routed around it. In "AirAsia QZ8501: Plane crash blamed on weather", it's reported the pilot requested permission to climb to avoid bad weather. Big modern planes have weather radar that usually allows problems to be seen in time, but sometimes (rarely) pilots can under-estimate the risk or make mistakes when conditions get worse quickly.
TRACON stands for "Terminal Radar Approach Control" and a TRACON handles the descent and approach to an airport, usually for more than one airport. A TRACON jurisdiction is divided into sectors with a controller for each sector. The controllers in the TRACON have radar view of all the sectors and can easily communicate with the other controllers, which allows a smooth transition from one sector to another. According to nasa.gov, there is not the same communication between TRACONs, and as a result some routes are longer to preserve safety. Presumably that restriction will be phased out under "NextGen".
For more background see Wikipedia's "Air traffic control".
Holographic radar
The Economist's piece about Free Flying describes the limitations of existing radar. While radar might never be as accurate as positioning by satellite, using satellite signals depends on systems in the plane as well as the satellite. If there's an incident or failure on the plane, or if anything such as a solar storm affects the satellites or the ability to pick up the signal, good ground radar is needed. The good news here is that ground radar has just got better.
When Russian jets fly dangerously close to airliners in the Baltic, the Russians don't respond to radio or give the normal transponder signals that would give position data. The usefulness of ground radar in tracking uncooperative jets depends on how stealthy the jets are. However, it's been suggested that the military pass on some of their radar surveillance data to civilian air traffic control, which implies that the jets are detectable by radar (see "Free route aspirations face rogue jet threat" below).
Holographic radar has been pioneered by Aveillant, a privately owned spin-off from Cambridge Consultants in the UK. According to the sales blurb - "What makes Holographic Radar different?", Aveillant's "static staring" system is on target 100% of the time, compared to under 1% "dwell time" for scanning radars. For decades, engineers have focused on squeezing more info out of that 1%. Previously, radars collected too much information to process effectively, and they operated by electronically filtering out the least useful info. Aveillant's founders say they realized that advances in digital technology meant the filtering could be avoided.
This - "Aveillant pioneers win industry accolade" by Aimee Turner, November 28 (airtrafficmanagement.net) explains the technology fairly simply, and I'll quote - "it observes the complete airspace". It confirms that Aveillant have overcome a key problem - telling a wind turbine from a plane.
There's more about the technology from suppliers Boston Limited - "NVIDIA GPUs and Supermicro UK servers fuel Aveillant's Holographic Radar™" January 13, 2014 (sourcewire.com).
This is the most comprehensive piece about the tech - "All-seeing EYE" May 6, 2015 (aerosociety.com).
The radar is good for knowing the position and velocity of drones, which could favor their civilian use.
Aveillant's CTO is making a 45 minute presentation at the Military Radar Summit 2015 (agenda), on "Holographic Radar - Target Centric Surveillance".
Satellite communications
About satellites and safety - "SB Safety installation marks flight deck comms revolution" August 14, 2014 (inmarsat.com).
About satellites and broadband - "Honeywell partners on advanced in-flight connectivity system" April 14, 2015 (seekingalpha.com).
"Satellite providers angling for new business in air-traffic changes" - More frequent reporting of airplane position will allow them to fly closer, i.e. not so far ahead or behind each other. The increased traffic allowed will be good for airport business, though for a single airport it depends on how often capacity is reached, what limits capacity, would an extra runway be feasible, etc. Demand from aviation for satellite services looks likely to grow in the long term, although it will drop whenever flights or miles flown drop.
The first two links refer to Inmarsat, a UK company which I've put on the "Airport stocks list". A U.S. stock could benefit from the same demand -
Iridium Communications Inc.
The forward P/E is under 10 (as at July 3, 2015). Morningstar's financial history page shows -
Operating cash flow is about twice earnings (very roughly).
Capex about twice OCF.
The returns metrics are poor single digit figures.
Income has grown quickly but the rise in the number of shares means that EPS does not show a clear growth trend.
Iridium depends on successful launches for cash flow to cover interest on debt. I have to give credit to slboomer and 2tired2talk for their comments about launches, cash flow and debt under "Betting Against Beta With Iridium" by Celan Bryant, May 4, 2015 (seekingalpha.com). An obvious point is to be sure IRDM have good insurance before investing in them ahead of critical launches. I don't know if it's possible to insure every aspect of deployment. Iridium's big investment could make life tough for competitors. I've checked that two European projects won't compete - the European Data Relay System will relay satellite data to ground stations by laser, and the EU Sentinel satellites will monitor the earth and the data will be freely available.
See "Iridium NEXT - Iridium's second-generation global satellite constellation". It's probably just coincidence that Iridium use "NEXT" and "second-generation" while "NextGen" (above) is the big Air Transportation System upgrade. Iridium talk about "truly global mobile communications on land, at sea and in the skies".
Getting back to satellites in general -
GPS and the European equivalent GALILEO are provided by governments, but it's a key part of products and services from Iridium and many other companies.
"Why satellites fail?" by Marryl Azriel, March 7, 2013 (spacesafetymagazine.com)
"What would happen if all satellites stopped working?" by Richard Hollingham, June 10, 2013 (bbc.com). Air travel is one of the casualties. The author does not seem certain about the far-reaching consequences, and maybe few people if any know for sure.
"Satellite insurance" (Wikipedia)
This is of historical interest, it's a long slow-burner but the tension gets high - "Elon Musk's Space Dream Almost Killed Tesla" by Ashlee Vance, May 14, 2015 (bloomberg.com).
3-D radar
This is just to give some idea of what radar can already do (i.e. non-holographic radar). 3-D radar has applications in weather monitoring, air defense, surveillance and the imaging of underground structures. Some links -
"3-D Radar of Mystery Object That Hit Louisiana" by AccuWeather.com Staff, October 16, 2012 (accuweather.com)
"Acquisition of 3d-Radar - Chemring Group PLC" about mapping underground structures
"British fleet's new radar system can detect a supersonic tennis ball 25 km away" by David Szondy, March 19, 2013 (gizmag.com)
Other staring radar
My amateur guess was that Aveillant's holographic radar could not do the tennis ball trick (in the previous link), because the best way to pick up a reflection from a small distant fast-moving object is to focus a lot of energy on it, even if it's only for a short time as the object intercepts a swept focused beam. However, the private South African company Reutech has demonstrated a staring radar array which they claim is good for detecting and tracking small fast-moving projectiles. It's good at discriminating between projectiles and complex clutter, which seems similar to Aveillant's radar being able to tell wind turbines from planes. Although developed for military applications, Reutech claim possible applications in automotive, mining and security.
Possible radar losers
It's possible that staring radar threatens part of some companies' defense revenue, such as Raytheon Company (NYSE:RTN). I stress 'part of', e.g. Raytheon look well positioned with their expendable drones (which cost about $400,000 each, but as they're launched from aircraft to jam enemy radar, they wouldn't be as cheap as surveillance drones).
Thales SA (OTCPK:THLEF) (OTCPK:THLEY) supply air traffic management systems (thalesgroup.com). They combine radar and non-radar for surveillance, which may provide some protection from Aveillant's radar, and they should benefit from the need to upgrade the CNS infrastructure (communication, navigation and surveillance) to support free routing and associated improvements. See also "Thales launches STAR NG, revolutionary new ATC radar with specific dual civil/military applications". The name "STAR NG" rather suggests "staring", as in Aveillant and Reutech's staring radar. The picture looks like it's of a directional radar, but there's no caption to say exactly what is pictured. The radar is an "S-Band Primary Surveillance Radar (PSR)", a kind Aveillant claim their holographic radar is superior to.
This is better than Thales' sales spiel at explaining the need for integrated civil/military surveillance - "Thales' STAR NG heralds primary renaissance by Aimee Turner, June 15, 2015 (airtrafficmanagement.net). The immediate problem is (probably) Russian jets flying close to passenger aircraft over the Baltic Sea, as described in "Free route aspirations face rogue jet threat" by Aimee Turner, June 24, 2015 (airtrafficmanagement.net). I'm not sure how free routing aspirations are threatened, as uncooperative aircraft can fly just as close to planes in an air corridor as they can to free-routing planes. The article says the jets were close to the EU region's borders, but the European Commission says -
"Apart from two areas under Russian sovereignty at the far end of the Gulf of Finland and off Kaliningrad, the Baltic Sea is now under the jurisdiction of European Union Member States."
Keying "Russian jets" into Google's search box gets a list of prompts with continuations such as English Channel, American airspace, Irish airspace, Alaska, etc. That only shows what people have been searching for, but I checked for the English Channel (between England and France), and found "UK scrambles jets as Russian planes and ships spotted". IMO using relatively cheap drones to fly dangerously close to Russian jets might be effective (when they are not close to airliners), as it's clear who would have the most to lose in a collision, but I can't be sure about feasibility and the likely responses from Russia need to be considered. In any case, wherever there are uncooperative jets it will be easier for Thales to sell their integrated civil/military surveillance, but I'm not tempted to buy the stock due to the possible impact of Aveillant's radar.
AeroVironment, drone maker
AeroVironment, Inc. makes drones and charging stations for electric vehicles. Most of AVAV's drone business is military, but IMO the opportunity is (or was) in civilian drones.
Data from the EU Sentinel satellites (linked to above) will be free, requiring only registration. For applications where Sentinel's spatial resolution of 10m in the visible spectrum is good enough, observation drones might not get the business, although they have the advantage of being able to fly under clouds and as frequently as needed.
AVAV have been concentrating on the upmarket "Enterprise" segment of the civilian drone business, but there's a strong hint in this - "AeroVironment Timothy Conver on Q4 2015 Results - Earnings Call Transcript" Jun. 30, 2015 (seekingalpha.com) that they will enter the consumer drone business (find "consumer appetite" in the transcript), bringing some kind of technological advance to the market.
The consumer market seems like an easy one for anyone to enter and likely to become highly competitive and low margin. AVAV should probably have entered the market earlier rather than later. If they have an advantage that transfers to the consumer market, I can't see it. Some farmers and small or medium-size businesses might be able to use "consumer" drones, while finding "enterprise" drones too expensive. AVAV's investment in analytics might help.
In "Drones Revolution Means Big Data Cloud Services" by Colin Snow, February 18, 2014 (blogs.sap.com), the president of PrecisionHawk imagines analytics app-stores. That has me thinking, should AVAV be developing an analytics app-store, will they put out their own apps, and will they be late again.
"Military drones, Shaving costs" February 17, 2014 (economist.com). In short: AeroVironment's Raven - $76 thousand, University of Virginia's Razor - $2 thousand. The two drones won't be exactly comparable, and control through a smart phone with apps does not sound secure.
Management are keeping the cash generated by the business to fund growth, and the cash needed to fund growth depends on how opportunities develop. It's good that management realize growth is a marathon, not a sprint (my cliche, not management's).
The financial history on Morningstar is poor. The return metrics have declined since 2006 to pathetic levels, with return on assets, equity and investment all below 1% for fiscal 2015. However, the metrics are based on income, and the operating cash flow and free cash flow have been much higher than operating income for the past three years.
Overflight Fees
One reason for a plane to sometimes avoid a direct route is the overflight fees charged by government agencies (overflight means 'flies over a country without taking off or landing in it'). The FAA's fees look like they go up every October, and they've gone up from $43.82 in 2012 to $56.86 in 2014 (per 100 nautical miles). At least it's simple, unlike the algebra on Eurocontrol.
Every country has the right to deny overflight but there are agreements between countries to allow it, usually under the "Freedoms of the air" (Wikipedia) framework. "Freedom" should not be confused with "no fee", as the deals to allow overflight also allow a fee to be charged. The fees have to be "reasonable", which can mean the same fees as for domestic airlines, but the reasonableness of fees can still be disputed.
Russia did not sign up to the "Freedoms of the air", but they still allow overflights (usually), and earn about €300 million a year from European airlines. They've threatened to stop foreign overflights, but it would hurt them more than the airlines according to "Russia's Still Not Quite Getting These Trade Sanctions Things; Now It's Overflight Rights" by Tim Worstall, 9/09/2014 (forbes.com). I'm not so sure. Russia doesn't seem likely to ban overflights by Chinese airlines, or any airline based in a country which has not hit them with sanctions. I'm not sure that European countries could do much if their airlines complained about competitors having the advantage of overflying Russia.
Greece is probably well positioned (literally) to collect overflight fees.
Exotic air passenger transport
IATA's forecast to 2034 has something missing - "London to Sydney in just two hours? By 2030 travellers will jet the world on a 13,750 mph spaceship" October 2, 2011 (dailymail.co.uk). Unfortunately, in November 2014 Virgin's spaceplane broke apart after prematurely deploying "feathers" that were meant to slow the descent on reentry, and prevent burning up in the atmosphere. I'd guess if anyone has the will and resources to persist through such an ambitious project, it would be the Chinese government, and success would enable them to leap ahead without the expense of working up to a dreamliner. Their "humans in space" capabilities are covered in Wikipedia's page about the Tiangong-1 space station.
Passenger airplanes that look like stealth bombers would have lower drag and better fuel efficiency, if they can solve problems like yaw (horizontal rotation) and where to put the windows - "Northrop Grumman's Futuristic Flying Wing Cribs From its Past" by Jason Paur Gear, 01.25.12 (wired.com).
Electric planes are a long way from being commercial. This plane can fly for up to an hour, and I imagine serious range anxiety.
Solar Impulse have already broken the record for non-stop solo flight with their 118 hour flight from Nagoya in Japan to Hawaii. The solar plane is a sophisticated piece of engineering, but there are practical problems in applying the principles to commercial aircraft. The plane had the wingspan of an Airbus but only carried the pilot, so a purely solar airliner is not feasible. Putting solar cells on airliner wings means less fuel is burned to generate electricity, but the cells and the bonding to the wings would need to be very strong because damage would produce drag and airlines like to keep maintenance needs as low as possible. There's the question, would and should the minimum safe fuel requirement be reduced to take account of the solar energy generated.
Facebook has test-flown a prototype solar powered drone with an airliner's wingspan and a car's weight.
"The Autonomous Human Drone Taxi" (lab.moovel.com). The hanging seat is probably too scary for most passengers. Although it's only 'proof of concept', adding a cabin would increase the weight. It might suit applications like supplementing emergency response in remote areas, rather than city use, if the necessary range is achieved.
Links to gurufocus
Altman Z Score (bankruptcy risk)
AVAV safe, BA grey, CAR distress, DIS safe, GE distress, HTZ distress, IRDM distress, JBLU grey, LMT safe, MAR safe, RTN safe
The score indicates the risk of bankruptcy within two years, with a "grey" zone between the distress zone and the safe zone. It ignores cash quantities because they were not usually disclosed when the test was invented, but it has had good statistical support many years after its invention. Professor Altman's later test is available, for a fee. Like all financial tests that I know of, the Altman Z only considers figures in the main accounts, i.e. nothing off the balance sheet. If your favorite stock is in the distress zone, check the table of history which gurufocus put at the bottom. If it's been in distress every year since 2005 without bankruptcy or other failure, the indication has been false for at least 8 years.
Beneish M-Score for earnings manipulation
AVAV OK, BA OK, CAR OK, DIS OK, GE OK, HTZ OK, IRDM OK, JBLU OK, LMT not calculated, MAR OK, RTN OK
Lockheed Martin are reported as being an earnings manipulator, but gurufocus did not complete the calculation so the result should be ignored. The M-Score is unreliable (I don't mean the calculation by gurufocus) and if a company fails it, further investigation could show there's no real problem.
Spreadsheets
These are on Spreadsheets used for "Air travel - an overview". I have not reproduced the data from the World Bank's tables. It's probably easiest and safest to check my work by reproducing it from the sources, find "was taken from the press release" and "taken from or derived from" above.
To get the historic data in similar categories to the forecast data, I had to calculate the air passengers carried for North America. I did that by adding the figures for the USA, Canada and Mexico. That missed out a number of countries, mostly Caribbean or Central American, at least according to Wikipedia's list (find "Countries, territories, and dependencies"). As a result, the historic totals are under-reported in my spreadsheet and charts. That's in the wrong direction to explain the discontinuity between the historic data and the projected data, which shows as a drop from 2013 to 2014.
And finally …
You've probably heard of 'Lawn chair Larry' (Darwin awards). This YouTube video takes 39 secs before getting to Larry. There's also "On a high: Adventurer becomes first person to cross Channel in chair attached to helium-filled balloons" by Vanessa Allen for the Daily Mail, May 29, 2010.
Thank you for reading this.
Disclosure: I'm long General Electric Company, AeroVironment, Inc.
Disclaimer: Your investment is your responsibility. It is your responsibility to check all material facts before making an investment decision. All investments involve different degrees of risk. You should be aware of your risk tolerance level and financial situations at all times. Furthermore, you should read all transaction confirmations, monthly, and year-end statements. Read any and all prospectuses carefully before making any investment decisions. You are free at all times to accept or reject all investment recommendations made by the author of this blog. All Advice on this blog is subject to market risk and may result in the entire loss of the reader's investment. Please understand that any losses are attributed to market forces beyond the control or prediction of the author. As you know, a recommendation, which you are free to accept or reject, is not a guarantee for the successful performance of an investment.
Editor's Note: This article discusses one or more securities that do not trade on a major U.S. exchange. Please be aware of the risks associated with these stocks.