Overview
InnoLight Technology Corp. (Pending:INLT) has filed a prospectus and will likely make its initial public offering during the third quarter of 2015. Unlike some blockbuster IPOs that will make news headlines, InnoLight may fly under the radar and make a great opportunity for early investors. The company specializes in making optical transceivers for cloud-based networks. Future growth opportunities will come from its leading-edge components capable of 100 gigabits per second (100G). InnoLight's current operations are also well positioned in the 10G and 40G component market, with notable customers like Google (GOOG, GOOGL) and ZTE (OTCPK:ZTCOF).
Value Proposition
2015 has been a great year for cloud-based technologies and companies. Google and Amazon (NASDAQ:AMZN) have emerged as clear leaders in cloud network providers. Even the IPO market has been hot - from Box Inc.'s (NYSE:BOX) much-publicized IPO, to cloud-based analytics services like Inovalon's IPO (NASDAQ:INOV). The market has received cloud-based companies with excitement and seemingly limitless investment dollars.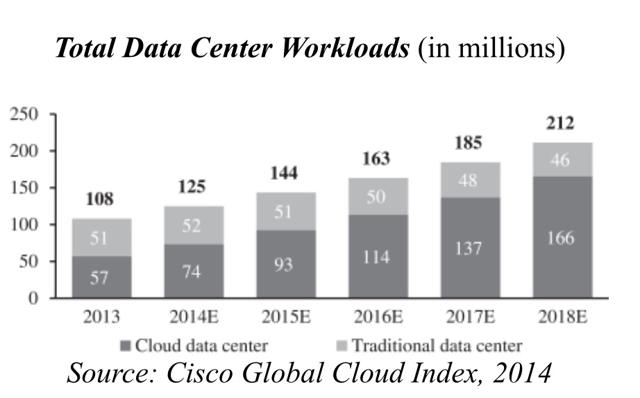 (Source: InnoLight F-1)
The cloud is growing. Demand for data centers, faster computing networks and servers, and general storage is on a rapid rise. The growth is being fueled by both more digital content and proliferation of internet-connected devices, including computers, smartphones, all the way down to home electronics. The Internet of Things (IoT) will require more and more data center networks. As a result, cloud data center workload is projected to more than double from 2014 to 2018.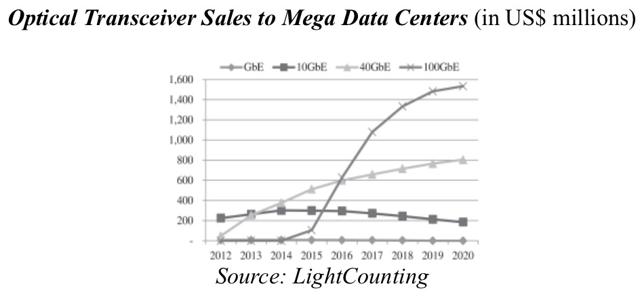 (Source: InnoLight F-1)
InnoLight manufactures the transceivers for cloud data centers. The device simply converts digital signals to fiber optic signals and sends the data across these networks. The transceiver is essential to the data center's operations, and is also a large regulator of the speed and processing capability. Currently, the fastest available speed for commercial use is 40 gigabit per second (40G). The company is developing and beginning to market the next generation of transceivers at 100G, which are forecasted to rapidly replace existing technologies.
Finances
The only thing faster than InnoLight's transceivers may be its growth. The company recorded a two-year compound annual growth rate on revenues in excess of 100%. Over the same time period, gross margin went from 21% to 24% and net profit went from negative to $11.3 million. The ability to manage historical growth so effectively, as well as its future growth prospects make this a very attractive investment opportunity.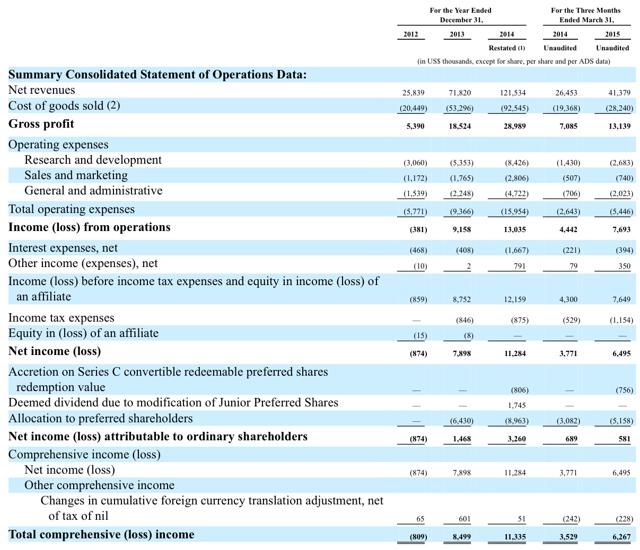 (Source: InnoLight F-1)
The company also boasts a relatively strong balance sheet. It finished Q1 2015 with almost $28 million in cash. Also, on revenue in excess of $100 million, it carries about $72 million in debt and liabilities. IPO proceeds will likely both reduce short-term debt levels and improve working capital positions. Increased working capital may enable InnoLight to capitalize on growth opportunities - including potential acquisitions and manufacturing capacity expansion.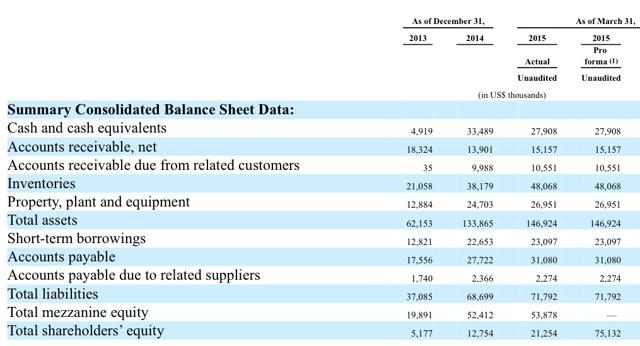 (Source: InnoLight F-1)
Risks
InnoLight's future success is not guaranteed. The cloud data center and transceiver market is growing rapidly and attracting more and more competition. Margin management will become more difficult, and technology is rapidly replaced. Investors will not only be hinged upon 100G technology, but also on future technological improvements. Finally, data center and technology growth is driven by favorable economic conditions and will likely be highly cyclical. Domestic and global economic downturns could threaten growth and profitability.
Summary
The company's growth and future prospects will likely command a higher valuation. The biggest questions will be how much hype the IPO will generate and what the IPO pop will look like. At a 10% profit margin, InnoLight could command P/E ratio valuations in excess of 50x. Early investors that can get in around $500-600 million could easily see short-term gains and be well positioned for long-term growth.
Disclosure: I/we have no positions in any stocks mentioned, and no plans to initiate any positions within the next 72 hours.
I wrote this article myself, and it expresses my own opinions. I am not receiving compensation for it (other than from Seeking Alpha). I have no business relationship with any company whose stock is mentioned in this article.