I read an interesting article in Barron's on a company I was unfamiliar with, Brooks Automation (NASDAQ:BRKS). It piqued my interest and after doing some basic research, the stock looks very interesting at these levels. It has a reasonable valuation, a solid balance sheet, good growth prospects and an almost three percent yield as well.
Brooks Automation, Inc. provides automation, vacuum, and instrumentation solutions for semiconductor manufacturing, life sciences, and clean energy markets worldwide. The company's Brooks Product Solutions segment provides a range of products critical to technology equipment productivity and availability. This segment's products include atmospheric and vacuum tool automation systems, atmospheric and vacuum robots and robotic modules, and cryogenic vacuum pumping, thermal management, and vacuum measurement solutions, which are used to create, measure, and control critical process vacuum applications. (Business Description from Yahoo Finance).
6 Reasons to pick up Brooks Automation at under $11 a share:
It initiated a dividend last year and yields a solid 2.9%.
The stock has had a nice bounce off its recent lows of late summer and just crossed its 200 day moving average (see chart).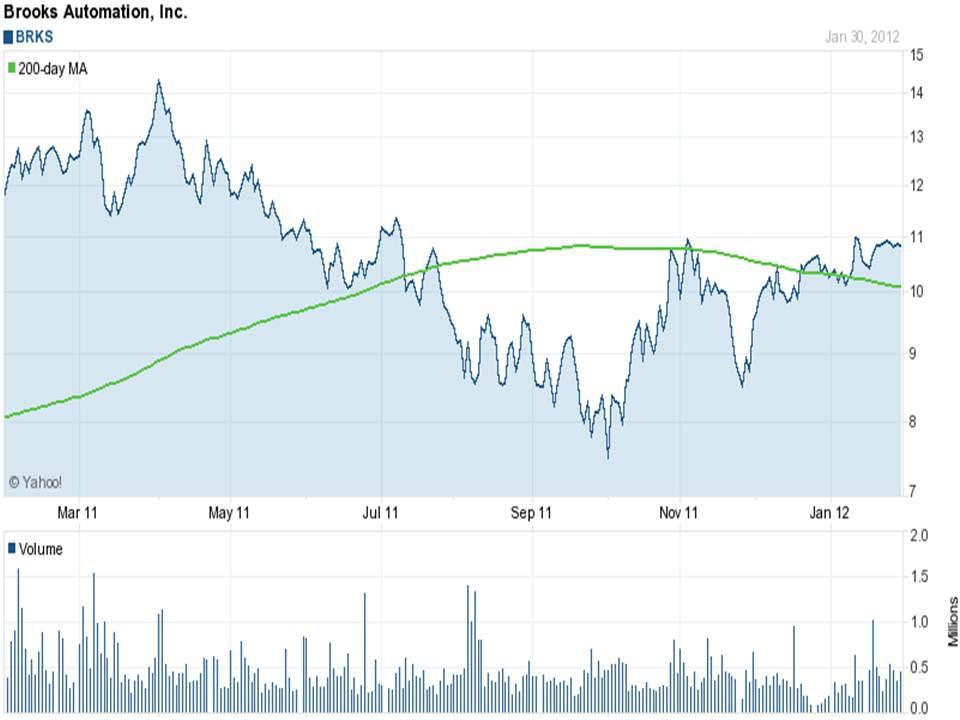 Both Samsung and Intel (NASDAQ:INTC) have raised their 2012 semi capital-expenditure budgets year-over-year recently. This should bode well for firms like BRKS that supplied those firms.
The company has a robust balance sheet with almost $2 a share in net cash on the books.
Analysts project earnings per share will double from the earnings trough of FY2012 to $1.11 a share by FY2013.
The company sells for just 35% over book value, under 10 times forward earnings, just over 7 times cash flow and was just upgraded to "Buy" by Brigantine.
Disclosure: I am long INTC.
Additional disclosure: May go long BRKS in next 72 hours